House Advances Measure to Undo Biden's Tariff Shield for Chinese Solar Panels
The House Rules Committee on April 26 voted for a bill to undo the Biden administration's emergency move shielding some Chinese-made solar panels from tariffs, drawing closer to a vote in the full House and a threatened veto from President Joe Biden. House Joint Resolution 39 passed 9 to 4. "We need more, not less, accountability for unfair trade practices that have given China a dominant position in solar production," said Jason Smith (R-Mo.), a supporter of the bill who chairs the House Ways and Means Committee. "This proposal would directly harm our ability to meet our climate goals. U.S. solar manufacturing's just not sufficient to meet the current demand, and this measure would dramatically slow down solar installation," said Rep. Don Beyer (D-Va.). The resolution was co-sponsored by Democrats and Republicans ranging from Rep. Garret Graves (R-La.) to Rep. Ro Khanna (D-Calif.). Legislation's Path The April 26 vote came after an April 19 vote by the House Ways and Means Committee advancing the same legislation. "Congress must act in this instance to hold accountable bad actors in global trade, and in particular, Chinese wrongdoing," said Smith. The bill may come to the House floor as early as this week. An equivalent bill, the other half of the joint resolution, was introduced in February by Sen. Rick Scott (R-Fla.). The White House on April 24 warned that Biden would veto the legislation. "This rule is necessary to satisfy the demand for reliable and clean energy while ensuring Commerce is able to rigorously enforce U.S. trade laws, hold trading partners accountable, and defend U.S. industries and workers from unfair trade actions," the White House statement reads. Should Biden attempt to quash the joint resolution, the House and Senate would need two-thirds majorities to defeat his veto. Solar Tariff Shield The rule in question follows Biden's June 2022 emergency proclamation concerning a stated need for additional solar energy capacity. "Additions of solar capacity and batteries were expected to account for over half of new electric sector capacity in 2022 and 2023. The unavailability of solar cells and modules jeopardizes those planned additions, which in turn threatens the availability of sufficient electricity generation capacity to serve expected customer demand," the proclamation states. "Electricity produced through solar energy is also critical to reducing our dependence on electricity produced by the burning of fossil fuels, which drives climate change. The Department of Defense has recognized climate change as a threat to our national security," the proclamation continues. Biden's emergency proclamation waives tariffs on solar panels from Thailand, Cambodia, Vietnam, and Malaysia for 24 months. Notably, it came during a Department of Commerce investigation into allegations that China has evaded U.S. tariffs by finishing equipment in those Southeast Asian countries. Following up on Biden's proclamation, a September 2022 rule from Commerce referred to panels finished in the four Southeast Asian countries with "parts and components manufactured in the People's Republic of China." That rule is the target of the resolution of disapproval. The U.S. imposed anti-dumping duties on Chinese solar panels in 2012 in the wake of a Commerce investigation. Commerce came to a preliminary finding in its latest tariff investigation in December 2022. It determined that several firms with production in China "are attempting to bypass U.S. duties by doing minor processing in one of the Southeast Asian countries before shipping to the United States."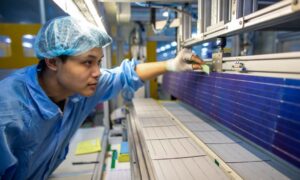 The House Rules Committee on April 26 voted for a bill to undo the Biden administration's emergency move shielding some Chinese-made solar panels from tariffs, drawing closer to a vote in the full House and a threatened veto from President Joe Biden.
House Joint Resolution 39 passed 9 to 4.
"We need more, not less, accountability for unfair trade practices that have given China a dominant position in solar production," said Jason Smith (R-Mo.), a supporter of the bill who chairs the House Ways and Means Committee.
"This proposal would directly harm our ability to meet our climate goals. U.S. solar manufacturing's just not sufficient to meet the current demand, and this measure would dramatically slow down solar installation," said Rep. Don Beyer (D-Va.).
The resolution was co-sponsored by Democrats and Republicans ranging from Rep. Garret Graves (R-La.) to Rep. Ro Khanna (D-Calif.).
Legislation's Path
The April 26 vote came after an April 19 vote by the House Ways and Means Committee advancing the same legislation.
"Congress must act in this instance to hold accountable bad actors in global trade, and in particular, Chinese wrongdoing," said Smith.
The bill may come to the House floor as early as this week. An equivalent bill, the other half of the joint resolution, was introduced in February by Sen. Rick Scott (R-Fla.).
The White House on April 24 warned that Biden would veto the legislation.
"This rule is necessary to satisfy the demand for reliable and clean energy while ensuring Commerce is able to rigorously enforce U.S. trade laws, hold trading partners accountable, and defend U.S. industries and workers from unfair trade actions," the White House statement reads.
Should Biden attempt to quash the joint resolution, the House and Senate would need two-thirds majorities to defeat his veto.
Solar Tariff Shield
The rule in question follows Biden's June 2022 emergency proclamation concerning a stated need for additional solar energy capacity.
"Additions of solar capacity and batteries were expected to account for over half of new electric sector capacity in 2022 and 2023. The unavailability of solar cells and modules jeopardizes those planned additions, which in turn threatens the availability of sufficient electricity generation capacity to serve expected customer demand," the proclamation states.
"Electricity produced through solar energy is also critical to reducing our dependence on electricity produced by the burning of fossil fuels, which drives climate change. The Department of Defense has recognized climate change as a threat to our national security," the proclamation continues.
Biden's emergency proclamation waives tariffs on solar panels from Thailand, Cambodia, Vietnam, and Malaysia for 24 months.
Notably, it came during a Department of Commerce investigation into allegations that China has evaded U.S. tariffs by finishing equipment in those Southeast Asian countries.
Following up on Biden's proclamation, a September 2022 rule from Commerce referred to panels finished in the four Southeast Asian countries with "parts and components manufactured in the People's Republic of China." That rule is the target of the resolution of disapproval.
The U.S. imposed anti-dumping duties on Chinese solar panels in 2012 in the wake of a Commerce investigation.
Commerce came to a preliminary finding in its latest tariff investigation in December 2022.
It determined that several firms with production in China "are attempting to bypass U.S. duties by doing minor processing in one of the Southeast Asian countries before shipping to the United States."