Homemade Strawberry Sauce
This website may contain affiliate links and advertising so that we can provide recipes to you. Read my privacy policy.This quick and easy recipe for Homemade Strawberry Sauce is a must-have! This is a great way to use up fresh summer strawberries or to keep the ones you have in the fridge from going bad. I include plenty of tips for making your sauce thinner or thicker and glossier, too! Looking for some more great recipes to use up fresh strawberries? I think strawberries are one of my absolute favorite fruits so I have so many here. Check out this Strawberry Tart, this easy Strawberry Pie, and Strawberry Lemonade for more refreshing treats! Strawberry Sauce I am definitely a bulk buyer. When I see a good deal at the grocery store, I can't help it, I've gotta have 'em! Especially when it comes to fresh fruit like strawberries. If you are like me and spontaneously come home with an entire box of strawberries, you need to try this strawberry sauce! Another go-to recipe is my homemade strawberry freezer jam, and of course a fresh strawberry milkshake! What is this strawberry sauce for? Well, the first thing that you have to put it on is strawberry shortcake! It's absolutely divine. Then on top of a classic New York cheesecake, um, yes please! You can really put it on top of anything that would benefit from a little fresh flavor, like a chocolate cake, as a filling in a chocolate cupcake, or on top of an ice cream sundae. I love it on my pound cake and angel food cake. It's great on all breakfast pastries and sweet breads. This glossy and gorgeous topping is fit for any occasion, and makes anything look fancier! Ingredients Yup, it's just 4 simple ingredients! And you can leave out the vanilla extract if you feel like it. You can also add other ingredients or fruit like blueberries, blackberries, etc. Actually, you can make any type of fruit sauce using this exact recipe and substituting for the fruit you want. I've made a cherry sauce with this recipe and it was incredible! You can find the measurements below in the recipe card. Strawberries: You will need one pound of strawberries with the tops taken off. I like to hull out the inside too, but that's up to you. You could use frozen strawberries, but they will let off a lot of liquid when they thaw out so you will likely need to drain that first. Granulated Sugar: This helps to sweeten the sauce and helps it thicken up. Lemon Juice: Helps to keep it fresh and brightens up the flavors. Vanilla Extract: I just love it because I think it brings out all the yummy flavors in the sauce! Strawberry Sauce Recipe It doesn't get easier than this strawberry sauce recipe! Seriously, you just put the ingredients in a pot and heat until it's thick. Of course, you'll want to follow each step so that it turns out perfectly. I also share my tips below on how to adjust the thickness, and how to thin it out if you accidentally make it too thick! Add Ingredients: Combine strawberries, sugar, cornstarch, salt, and lemon juice in a saucepan. Cook: Cook over low heat, stirring frequently, until the strawberries release their juices and the mixture is liquidy (about 5 minutes or so). Boil: Bring to a boil and then cook at a boil for one minute. Thicken: Reduce heat and continue to cook until mixture is thickened, but keep in mind that your strawberry sauce will continue to thicken as it cools. Enjoy: Then serve! Strawberry sauce is always best served warm (at least in my opinion!) Tips for Making Strawberry Sauce This homemade strawberry sauce is super simple to whip up. I am going to share a few tips that can help you adjust your sauce to be perfect for whatever you are making. Add Cornstarch: You can add 1 tablespoon of cornstarch to make a thicker sauce. Just add it in at the same time as the other ingredients and cook as directed. The cornstarch is optional. I love it because it speeds up the process of thickening the sauce and yields a lush, glossy sauce in a matter of minutes. If you leave out the cornstarch, you won't get the same thick sauce and it will take a lot longer to thicken properly (think closer to 20 minutes rather than 5). Thickening: This sauce will continue to thicken once it's finished cooking as it cools. Keep this in mind while judging whether your sauce is finished or not; when you take it off the stovetop it should be a bit thinner than you want the finished product to be. Thin Your Sauce: Accidentally cook your sauce too long and make it too thick? No fear, you're not stuck with strawberry jam! Simply add a tablespoon or two more water with the heat on low and cook until the water is nicely combined and the sauce is smooth. Storing Leftovers This recipe makes a good amount of homemade strawberry sauce! If you end up with some leftover, here is ho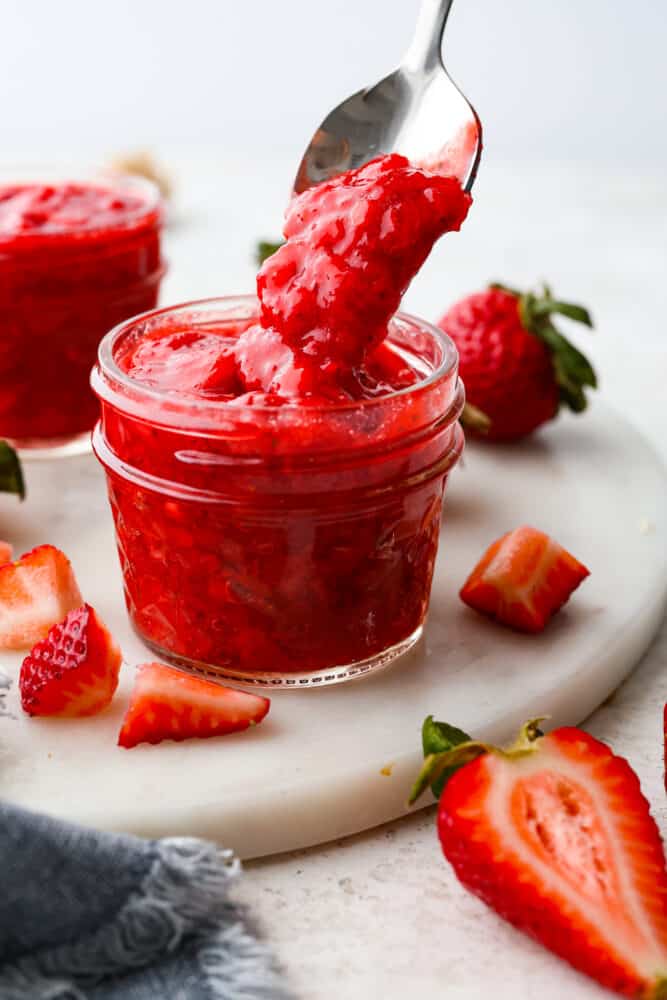 This quick and easy recipe for Homemade Strawberry Sauce is a must-have! This is a great way to use up fresh summer strawberries or to keep the ones you have in the fridge from going bad. I include plenty of tips for making your sauce thinner or thicker and glossier, too!
Looking for some more great recipes to use up fresh strawberries? I think strawberries are one of my absolute favorite fruits so I have so many here. Check out this Strawberry Tart, this easy Strawberry Pie, and Strawberry Lemonade for more refreshing treats!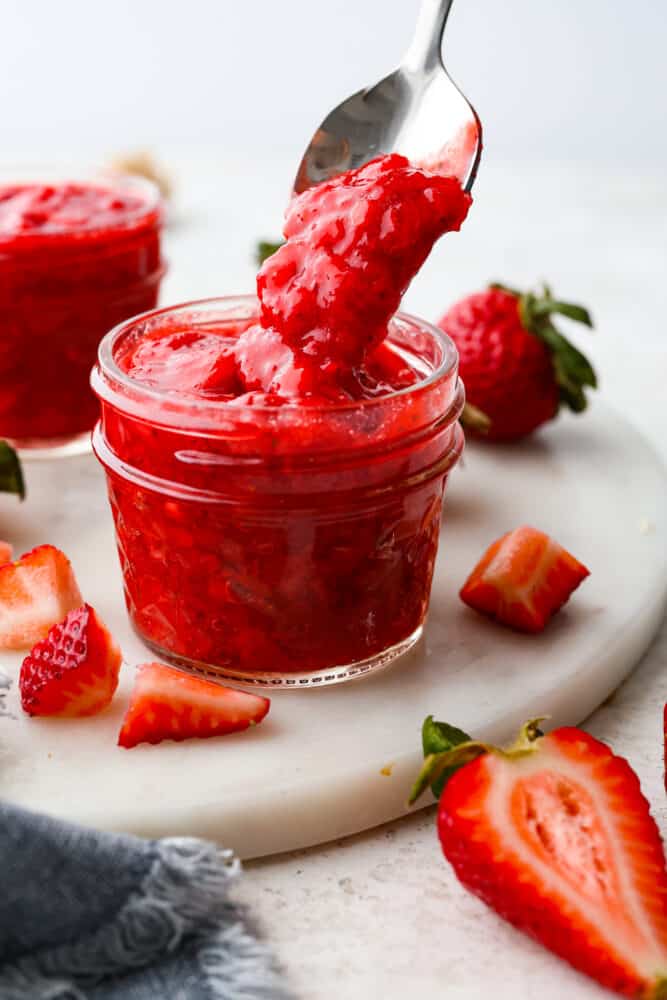 Strawberry Sauce
I am definitely a bulk buyer. When I see a good deal at the grocery store, I can't help it, I've gotta have 'em! Especially when it comes to fresh fruit like strawberries. If you are like me and spontaneously come home with an entire box of strawberries, you need to try this strawberry sauce! Another go-to recipe is my homemade strawberry freezer jam, and of course a fresh strawberry milkshake!
What is this strawberry sauce for? Well, the first thing that you have to put it on is strawberry shortcake! It's absolutely divine. Then on top of a classic New York cheesecake, um, yes please! You can really put it on top of anything that would benefit from a little fresh flavor, like a chocolate cake, as a filling in a chocolate cupcake, or on top of an ice cream sundae. I love it on my pound cake and angel food cake. It's great on all breakfast pastries and sweet breads. This glossy and gorgeous topping is fit for any occasion, and makes anything look fancier!
Ingredients
Yup, it's just 4 simple ingredients! And you can leave out the vanilla extract if you feel like it. You can also add other ingredients or fruit like blueberries, blackberries, etc. Actually, you can make any type of fruit sauce using this exact recipe and substituting for the fruit you want. I've made a cherry sauce with this recipe and it was incredible! You can find the measurements below in the recipe card.
Strawberries: You will need one pound of strawberries with the tops taken off. I like to hull out the inside too, but that's up to you. You could use frozen strawberries, but they will let off a lot of liquid when they thaw out so you will likely need to drain that first.
Granulated Sugar: This helps to sweeten the sauce and helps it thicken up.
Lemon Juice: Helps to keep it fresh and brightens up the flavors.
Vanilla Extract: I just love it because I think it brings out all the yummy flavors in the sauce!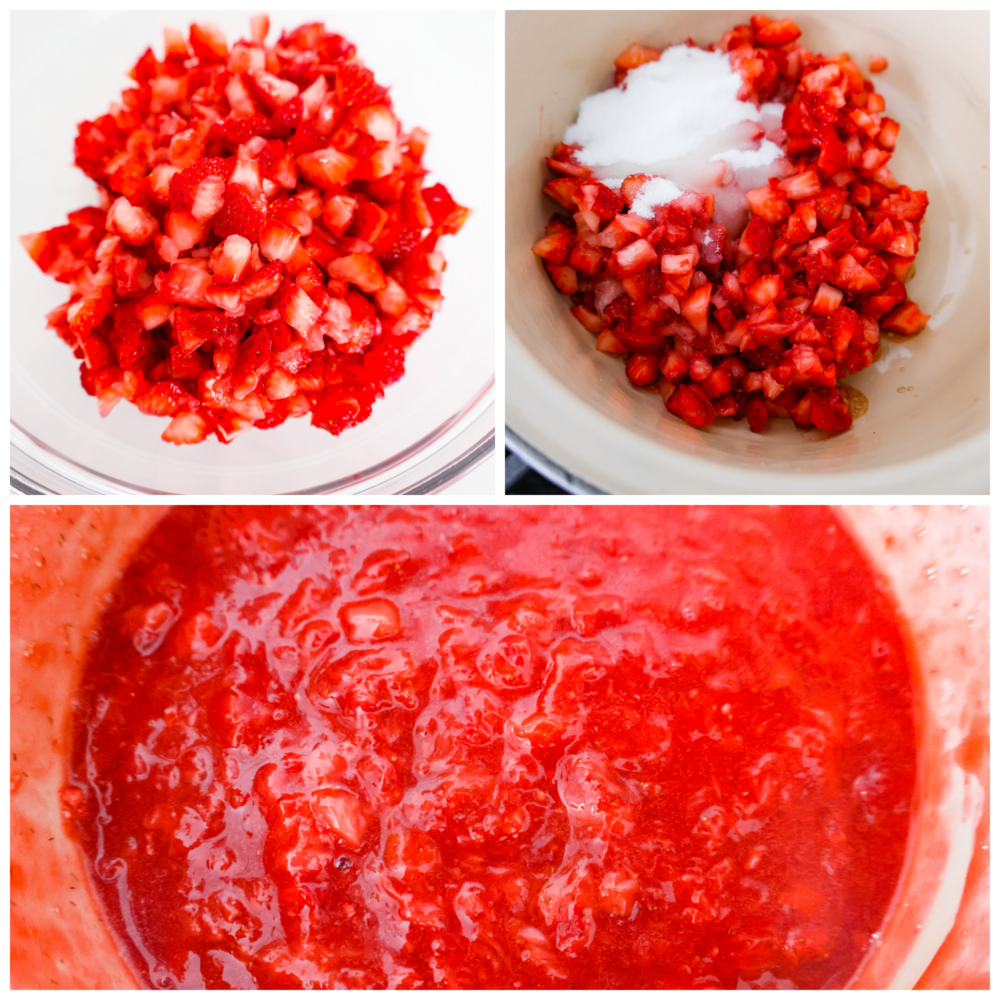 Strawberry Sauce Recipe
It doesn't get easier than this strawberry sauce recipe! Seriously, you just put the ingredients in a pot and heat until it's thick. Of course, you'll want to follow each step so that it turns out perfectly. I also share my tips below on how to adjust the thickness, and how to thin it out if you accidentally make it too thick!
Add Ingredients: Combine strawberries, sugar, cornstarch, salt, and lemon juice in a saucepan.
Cook: Cook over low heat, stirring frequently, until the strawberries release their juices and the mixture is liquidy (about 5 minutes or so).
Boil: Bring to a boil and then cook at a boil for one minute.
Thicken: Reduce heat and continue to cook until mixture is thickened, but keep in mind that your strawberry sauce will continue to thicken as it cools.
Enjoy: Then serve! Strawberry sauce is always best served warm (at least in my opinion!)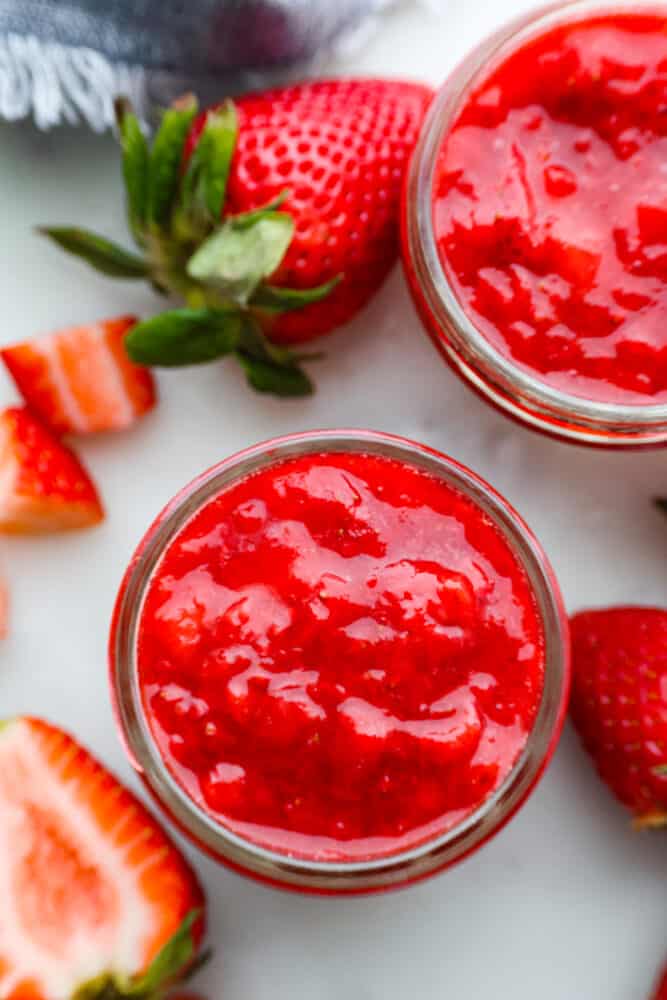 Tips for Making Strawberry Sauce
This homemade strawberry sauce is super simple to whip up. I am going to share a few tips that can help you adjust your sauce to be perfect for whatever you are making.
Add Cornstarch: You can add 1 tablespoon of cornstarch to make a thicker sauce. Just add it in at the same time as the other ingredients and cook as directed. The cornstarch is optional. I love it because it speeds up the process of thickening the sauce and yields a lush, glossy sauce in a matter of minutes. If you leave out the cornstarch, you won't get the same thick sauce and it will take a lot longer to thicken properly (think closer to 20 minutes rather than 5).
Thickening: This sauce will continue to thicken once it's finished cooking as it cools. Keep this in mind while judging whether your sauce is finished or not; when you take it off the stovetop it should be a bit thinner than you want the finished product to be.
Thin Your Sauce: Accidentally cook your sauce too long and make it too thick? No fear, you're not stuck with strawberry jam! Simply add a tablespoon or two more water with the heat on low and cook until the water is nicely combined and the sauce is smooth.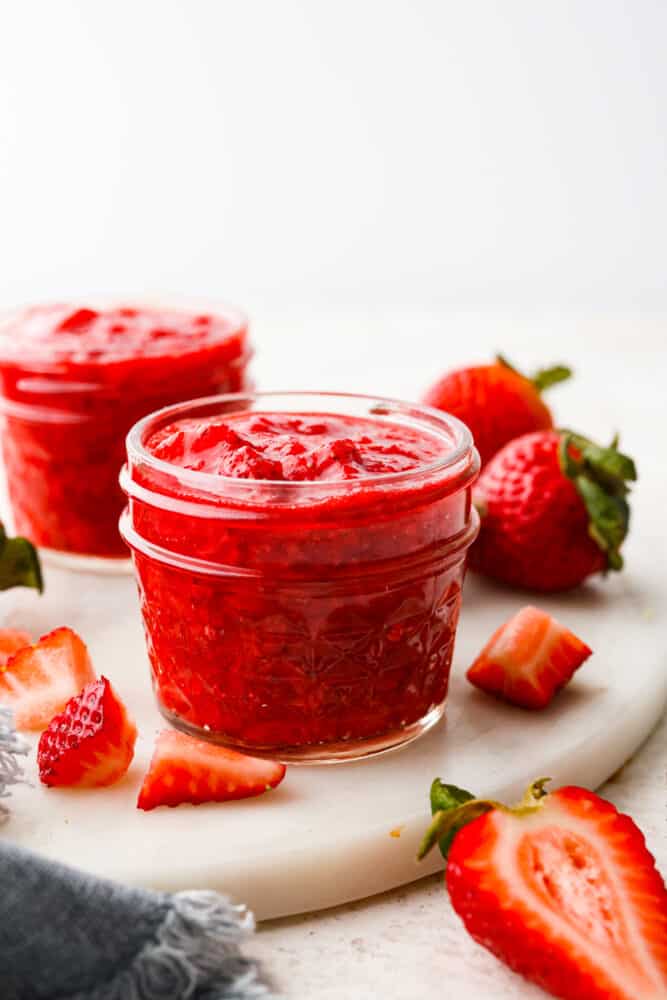 Storing Leftovers
This recipe makes a good amount of homemade strawberry sauce! If you end up with some leftover, here is how to store it.
In the Refrigerator: Store in an airtight container in the refrigerator for up to 7 days.
In the Freezer: You can freeze your homemade sauce in a freezer safe container for up to 3 months. Just thaw and enjoy!
---
Combine strawberries, sugar, lemon juice, and vanilla in a medium-sized pot.

Cook over medium-low heat for about 15-20 minutes. Stir frequently until the berries release their juices and the sauce starts to thicken.

Remove from heat and allow the sauce to cool on the counter or in the refrigerator. The sauce will continue to thicken as it cools.

Serve over ice cream, on pancakes, or enjoy with any dessert!
---
Originally posted June 14, 2019 Updated April 11, 2023
---
Serves: 8
Serving2tablespoonsCalories51kcal (3%)Carbohydrates13g (4%)Protein0.4g (1%)Fat0.2gSaturated Fat0.01gPolyunsaturated Fat0.1gMonounsaturated Fat0.03gSodium1mgPotassium89mg (3%)Fiber1g (4%)Sugar11g (12%)Vitamin A7IUVitamin C34mg (41%)Calcium9mg (1%)Iron0.2mg (1%)
All nutritional information is based on third party calculations and is only an estimate. Each recipe and nutritional value will vary depending on the brands you use, measuring methods and portion sizes per household.