Guide to shopping in Jaipur, Rajasthan
Lac bangles are one of the top things to buy in Jaipur Complete guide to shopping in Jaipur and the best things to buy Jaipur is one of the best places to shop in India. There is no doubt. A city of artisans, Jaipur is famous for fabrics, textiles, clothing, handicrafts, rugs, jewelry, gemstones, lac bangles, leather shoes, wood furniture, arts and crafts, and much more. Shopping in Jaipur is a treat because it is also famous for markets, bazaars, and successful stores such as Anokhi and Amrapali. But most of all, Jaipur is known especially for block-printed fabric, clothing, and textiles such as bedspreads, curtains, tablecloths, wall hangings, and much more. Jaipur handicrafts are second to none. Jaipur, the capital of Rajasthan, is a paradise for shopping enthusiasts. From unique jewelry designs to handmade carpets, to embellished shoes (called juttis), there is a lot that you can buy in Jaipur as a souvenir or a gift. If you want precious gemstones, gold jewelry, or silver jewelry, then a Jaipur market is the perfect place – it's the gem capital of India. Jaipur shopping is a great tourist activity, it's a fun way to get to know the culture. In this guide to Shopping in Jaipur by guest author Simran Raju, we'll cover boutiques in Jaipur, the main things to buy, top Jaipur shopping places, and information about some of the best Jaipur markets and how to snap up a good deal. Just remember to leave space in your suitcase when packing to carry your precious purchases home. Guest post by Simran Raju. Simran is is a Delhi based travel writer. Writing well-researched articles on travel, preparing detailed itineraries, and creating destination guides is her forte. An MBA degree holder, Simran opted out of the rat race to pursue a career in writing. In the Pink City market, with Hawa Mahal in the background. Photo credit: Aditya Siva, Unsplash. Top 10 things to buy in Jaipur Jewelry Clothes Leather shoes Textiles Blue pottery Handicrafts Gem stones Rugs Meenakari work Lac bangles Hand-block printing demonstration at a workshop in Jaipur The best things to buy in Jaipur A city of artisans, Jaipur is famous for handmade crafts. The list includes fabrics, textiles, clothing, handicrafts, rugs, jewelry, leather shoes, and much more. There are many markets, bazaars, shops, and high-end stores to choose from.  Rajasthani jewelry Jaipur (and Rajasthan) is world-famous for jewelry design. Kundan, polki, and jadau are three popular traditional types of Rajasthani crafts. The intricate designs in the necklaces, bracelets, and earrings are stunning.  Jaipur is a good place to buy precious and semi-precious jewelry as it is the gem capital of India. Precious gemstones such as rubies and emeralds can make for a great buy – if you know what you are doing.  Jaipur is also known for lac bangles. They are colourful, lightweight, and affordable. India is the world's largest producer and exporter of lac jewelry.  Handicrafts Jaipur is a great destination to pick up handicrafts. They are affordable, make for great souvenirs and gifs, and are a good addition to your home decor. The beauty of handicrafts are they are made with love and care by talented local artisans. The detailing is spectacular, much better than machine-made products. The top crafts include pottery, brassware, wooden furniture, marble sculptures, and more. Consider picking up these crafts – and if you want something bigger or heavier, many stores will arrange to ship items internationally for an additional cost. Kathputlis are Rajasthani puppets that you can buy in a market in Jaipur Kathputlis (Rajasthani puppets) Rajasthan is where the Rajput kings and queens reigned. Rajasthan has a rich culture which includes many interesting characters and their stories. Kathputlis are used as a medium to narrate these stories.  These puppets are made of wood and come in different sizes. They wear traditional Rajasthani garments and are easy to pack and light to carry. Kathputlis are easily available in popular markets of Jaipur. Blue pottery Blue pottery is among the most appealing and beautiful pottery around in the world. Blue pottery is a bit expensive, but it makes for a great product if you plan to carry just one product from Jaipur. You can opt to buy a wall plate, soap dispenser, soap box, small vase, ashtray etc. Blue pottery products are easily available, but if you don't want to compromise on quality Jaipur Blue Art Pottery Centre has a fine collection of blue pottery as well other ceramics.  Blue pottery tiles are a popular item to buy in Jaipur Meenakari Meenakari is the art of painting, ornamenting, and colouring the surface of metal. Bright and vibrant colours are infused to make the piece beautiful. One can find meenakari art done on jewelry, photo frames, wall plates, etc. While the art form is not exclusive to Jaipur, it would not be wrong to say meenakari products of Jaipur are among the finest. It would also not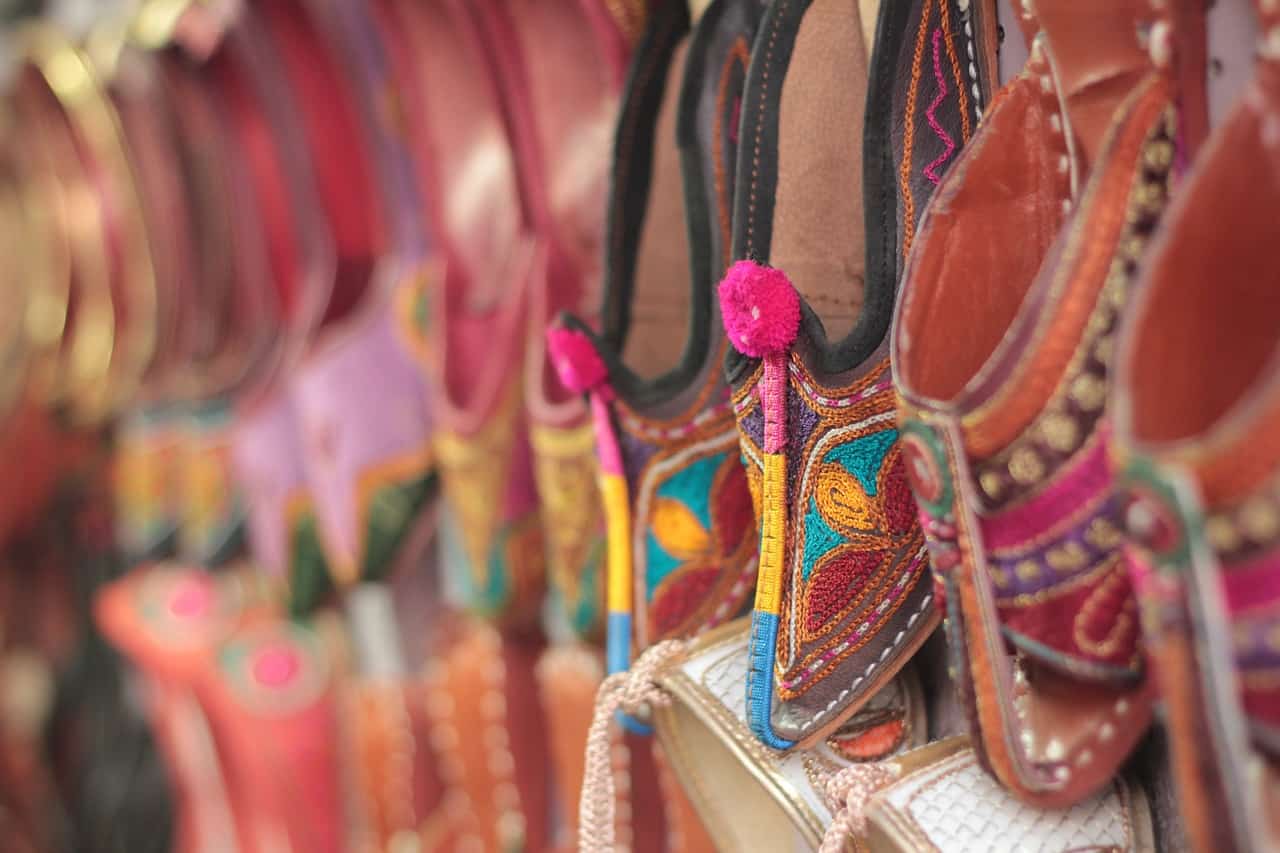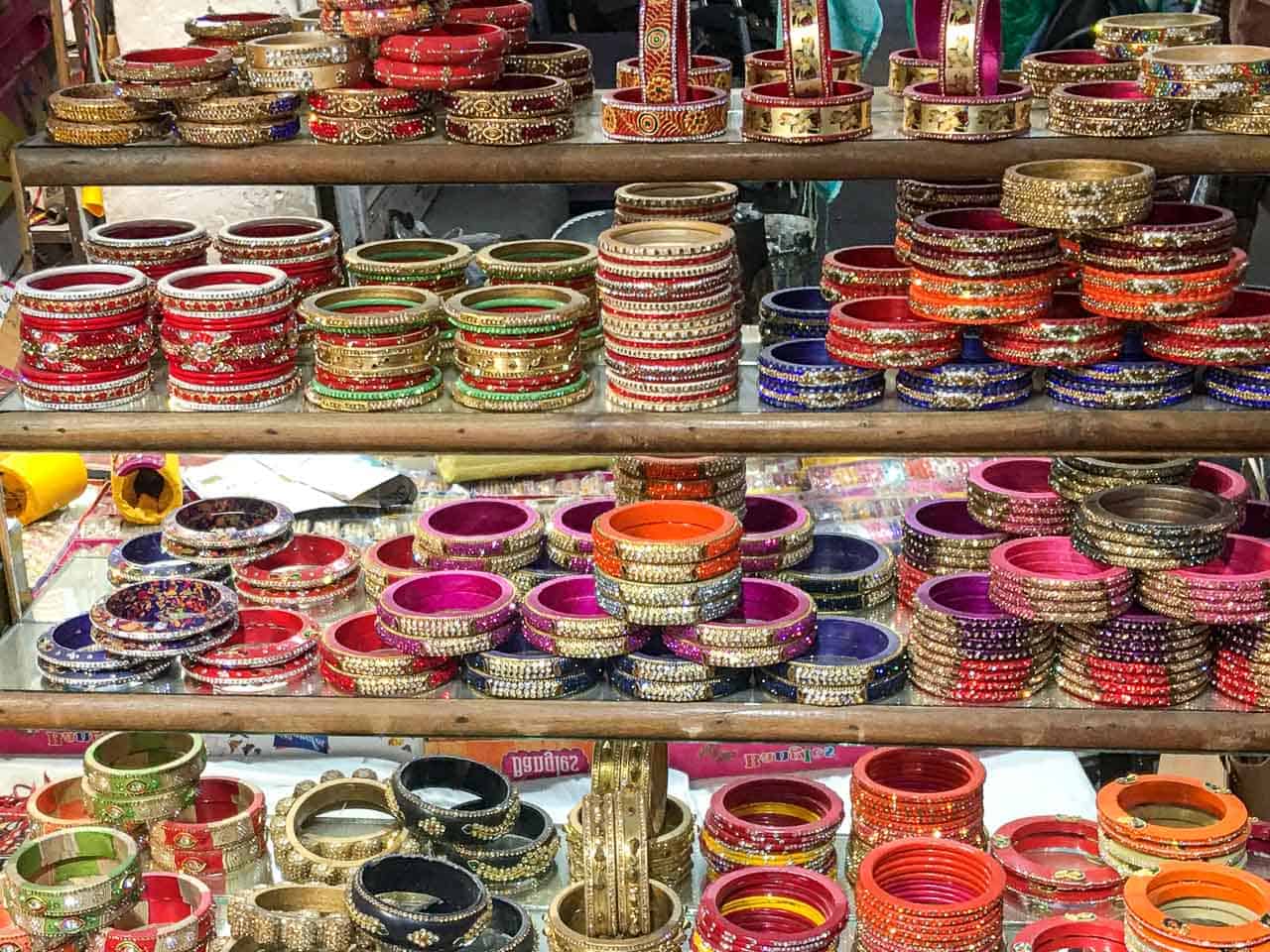 Complete guide to shopping in Jaipur and the best things to buy
Jaipur is one of the best places to shop in India. There is no doubt. A city of artisans, Jaipur is famous for fabrics, textiles, clothing, handicrafts, rugs, jewelry, gemstones, lac bangles, leather shoes, wood furniture, arts and crafts, and much more. Shopping in Jaipur is a treat because it is also famous for markets, bazaars, and successful stores such as Anokhi and Amrapali. But most of all, Jaipur is known especially for block-printed fabric, clothing, and textiles such as bedspreads, curtains, tablecloths, wall hangings, and much more. Jaipur handicrafts are second to none.
Jaipur, the capital of Rajasthan, is a paradise for shopping enthusiasts. From unique jewelry designs to handmade carpets, to embellished shoes (called juttis), there is a lot that you can buy in Jaipur as a souvenir or a gift. If you want precious gemstones, gold jewelry, or silver jewelry, then a Jaipur market is the perfect place – it's the gem capital of India. Jaipur shopping is a great tourist activity, it's a fun way to get to know the culture.
In this guide to Shopping in Jaipur by guest author Simran Raju, we'll cover boutiques in Jaipur, the main things to buy, top Jaipur shopping places, and information about some of the best Jaipur markets and how to snap up a good deal. Just remember to leave space in your suitcase when packing to carry your precious purchases home.
Guest post by Simran Raju. Simran is is a Delhi based travel writer. Writing well-researched articles on travel, preparing detailed itineraries, and creating destination guides is her forte. An MBA degree holder, Simran opted out of the rat race to pursue a career in writing.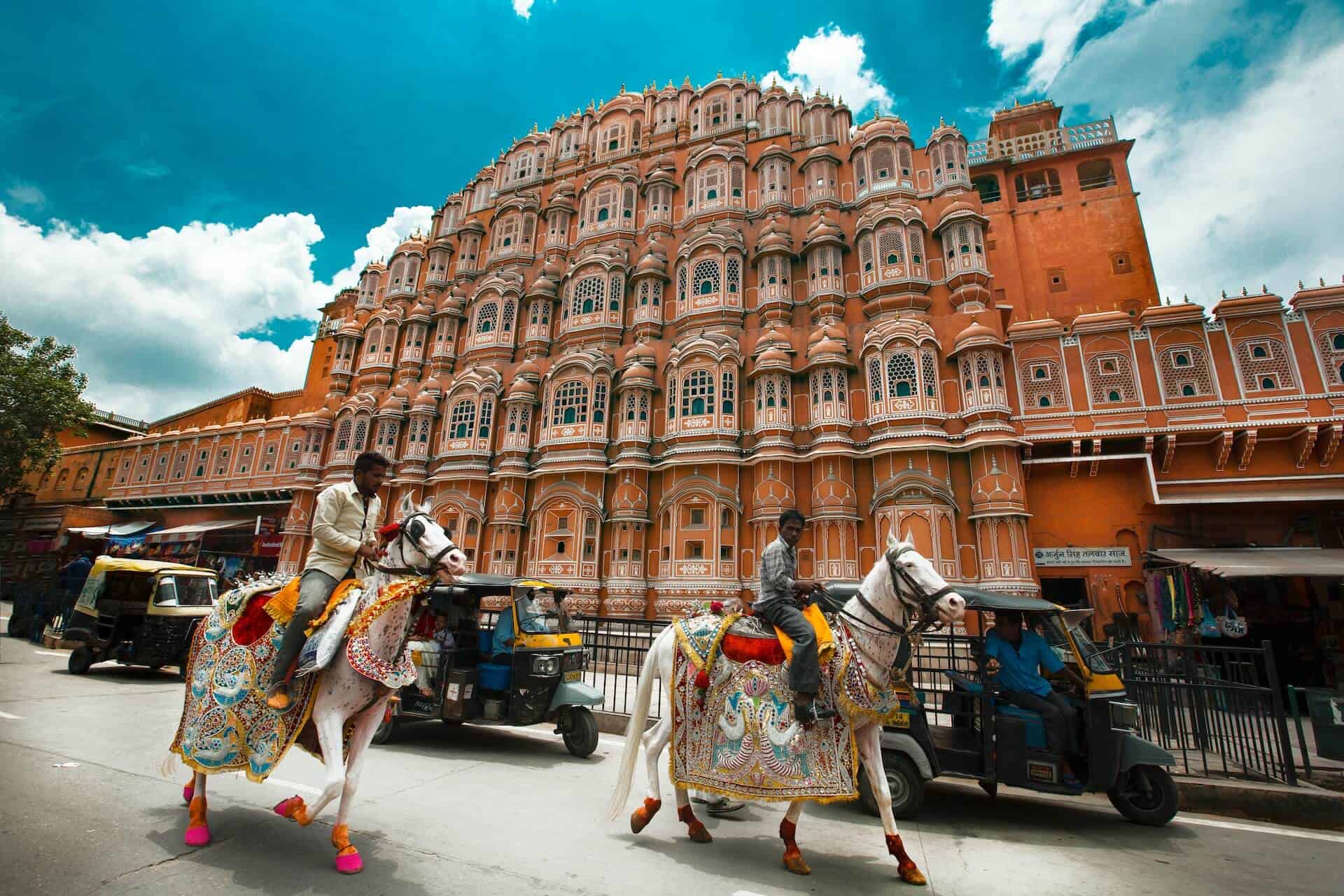 ---
Top 10 things to buy in Jaipur
Jewelry
Clothes
Leather shoes
Textiles
Blue pottery
Handicrafts
Gem stones
Rugs
Meenakari work
Lac bangles
---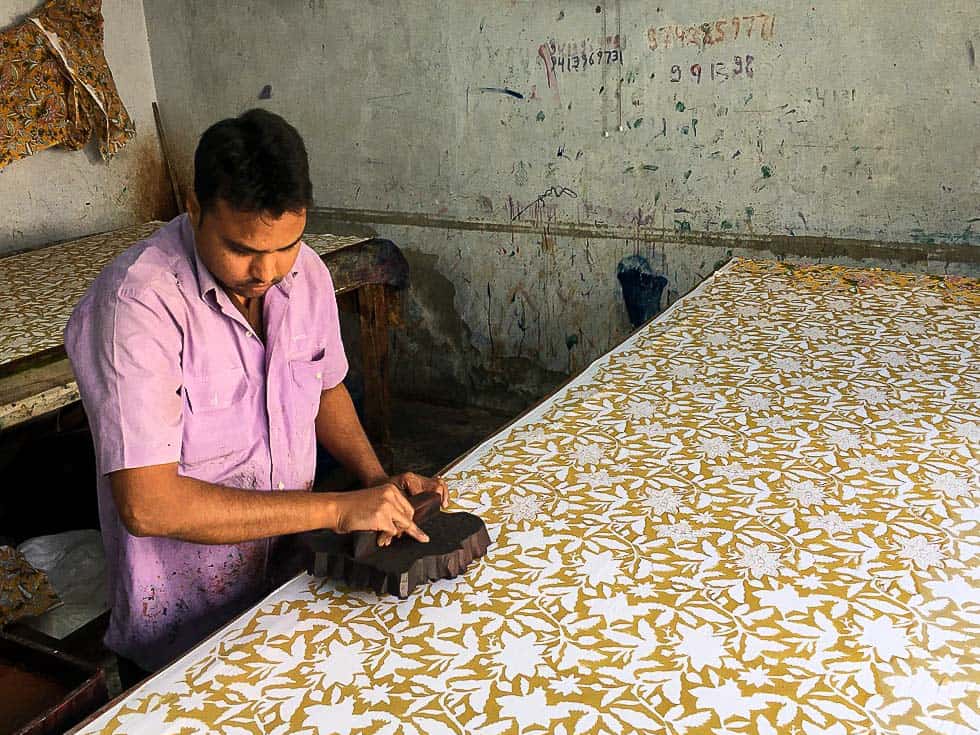 The best things to buy in Jaipur
A city of artisans, Jaipur is famous for handmade crafts. The list includes fabrics, textiles, clothing, handicrafts, rugs, jewelry, leather shoes, and much more. There are many markets, bazaars, shops, and high-end stores to choose from.
Rajasthani jewelry
Jaipur (and Rajasthan) is world-famous for jewelry design. Kundan, polki, and jadau are three popular traditional types of Rajasthani crafts. The intricate designs in the necklaces, bracelets, and earrings are stunning.
Jaipur is a good place to buy precious and semi-precious jewelry as it is the gem capital of India. Precious gemstones such as rubies and emeralds can make for a great buy – if you know what you are doing.
Jaipur is also known for lac bangles. They are colourful, lightweight, and affordable. India is the world's largest producer and exporter of lac jewelry.
Handicrafts
Jaipur is a great destination to pick up handicrafts. They are affordable, make for great souvenirs and gifs, and are a good addition to your home decor. The beauty of handicrafts are they are made with love and care by talented local artisans. The detailing is spectacular, much better than machine-made products.
The top crafts include pottery, brassware, wooden furniture, marble sculptures, and more. Consider picking up these crafts – and if you want something bigger or heavier, many stores will arrange to ship items internationally for an additional cost.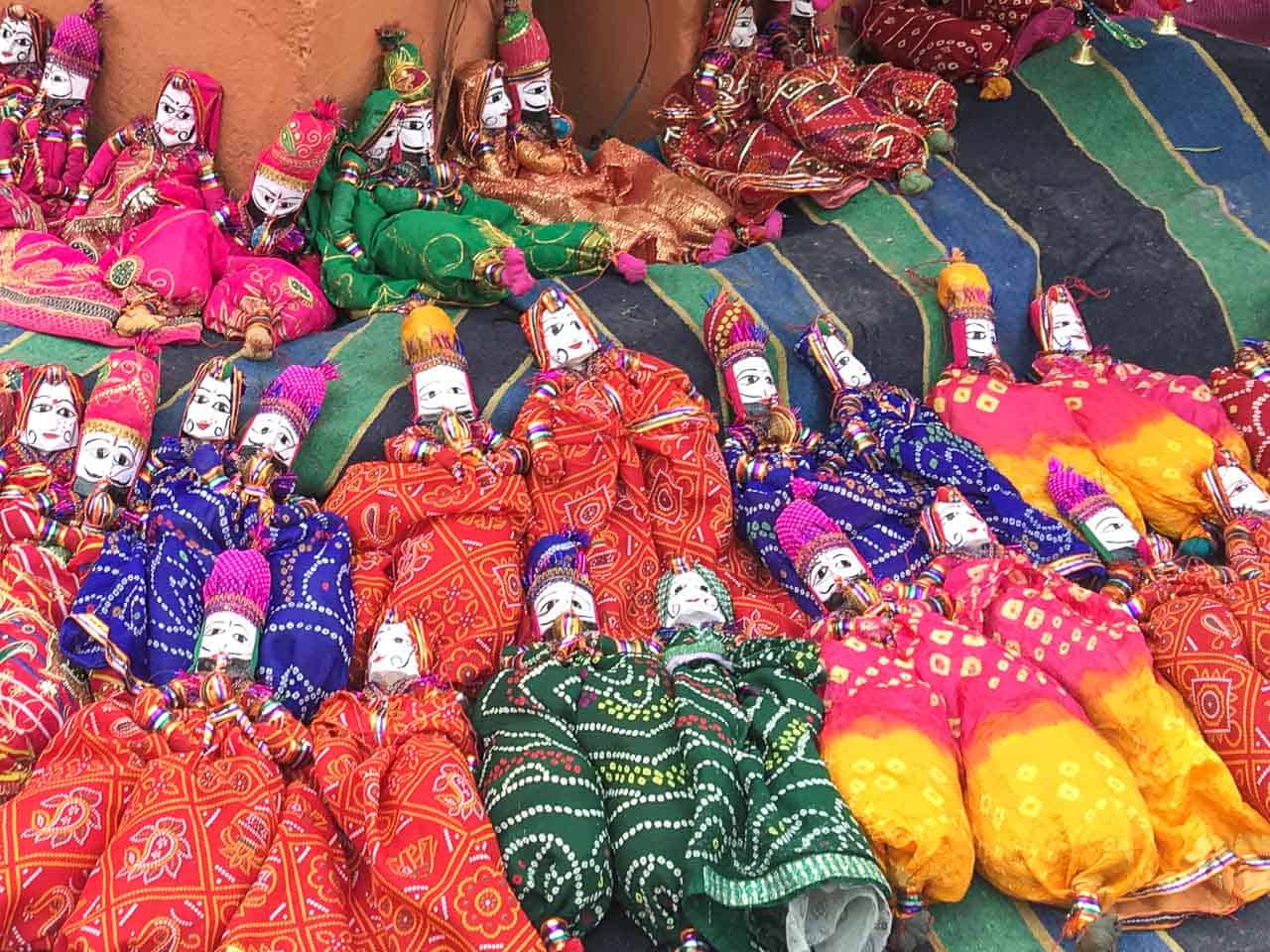 Kathputlis (Rajasthani puppets)
Rajasthan is where the Rajput kings and queens reigned. Rajasthan has a rich culture which includes many interesting characters and their stories. Kathputlis are used as a medium to narrate these stories. These puppets are made of wood and come in different sizes. They wear traditional Rajasthani garments and are easy to pack and light to carry. Kathputlis are easily available in popular markets of Jaipur.
Blue pottery
Blue pottery is among the most appealing and beautiful pottery around in the world. Blue pottery is a bit expensive, but it makes for a great product if you plan to carry just one product from Jaipur. You can opt to buy a wall plate, soap dispenser, soap box, small vase, ashtray etc. Blue pottery products are easily available, but if you don't want to compromise on quality Jaipur Blue Art Pottery Centre has a fine collection of blue pottery as well other ceramics.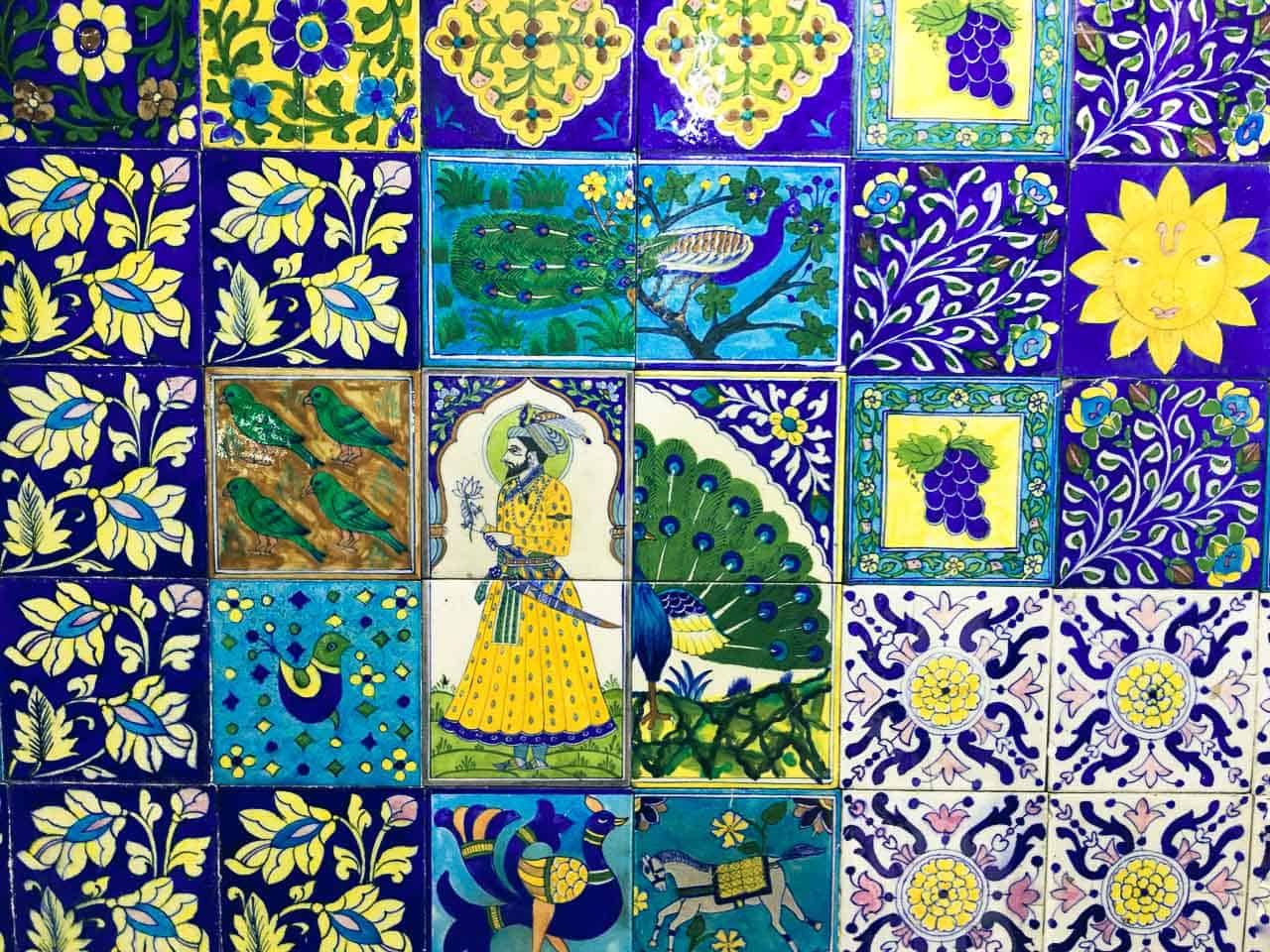 Meenakari
Meenakari is the art of painting, ornamenting, and colouring the surface of metal. Bright and vibrant colours are infused to make the piece beautiful. One can find meenakari art done on jewelry, photo frames, wall plates, etc. While the art form is not exclusive to Jaipur, it would not be wrong to say meenakari products of Jaipur are among the finest. It would also not be wrong to say that meenakari art is what Jaipur is famous for. The prices are reasonable and they are pretty light to carry.
Rajasthani art
Art from Jaipur (and Rajasthan in general) is exquisite – there is a long tradition to draw on. The most commonly available paintings depict images of Rajasthani maharajas and maharanis (kings and queens), and also the beloved god Krishna. These paintings are done on paper, fabric, wood, and even metal. You can easily roll up the paper and fabric paintings and get them framed back home.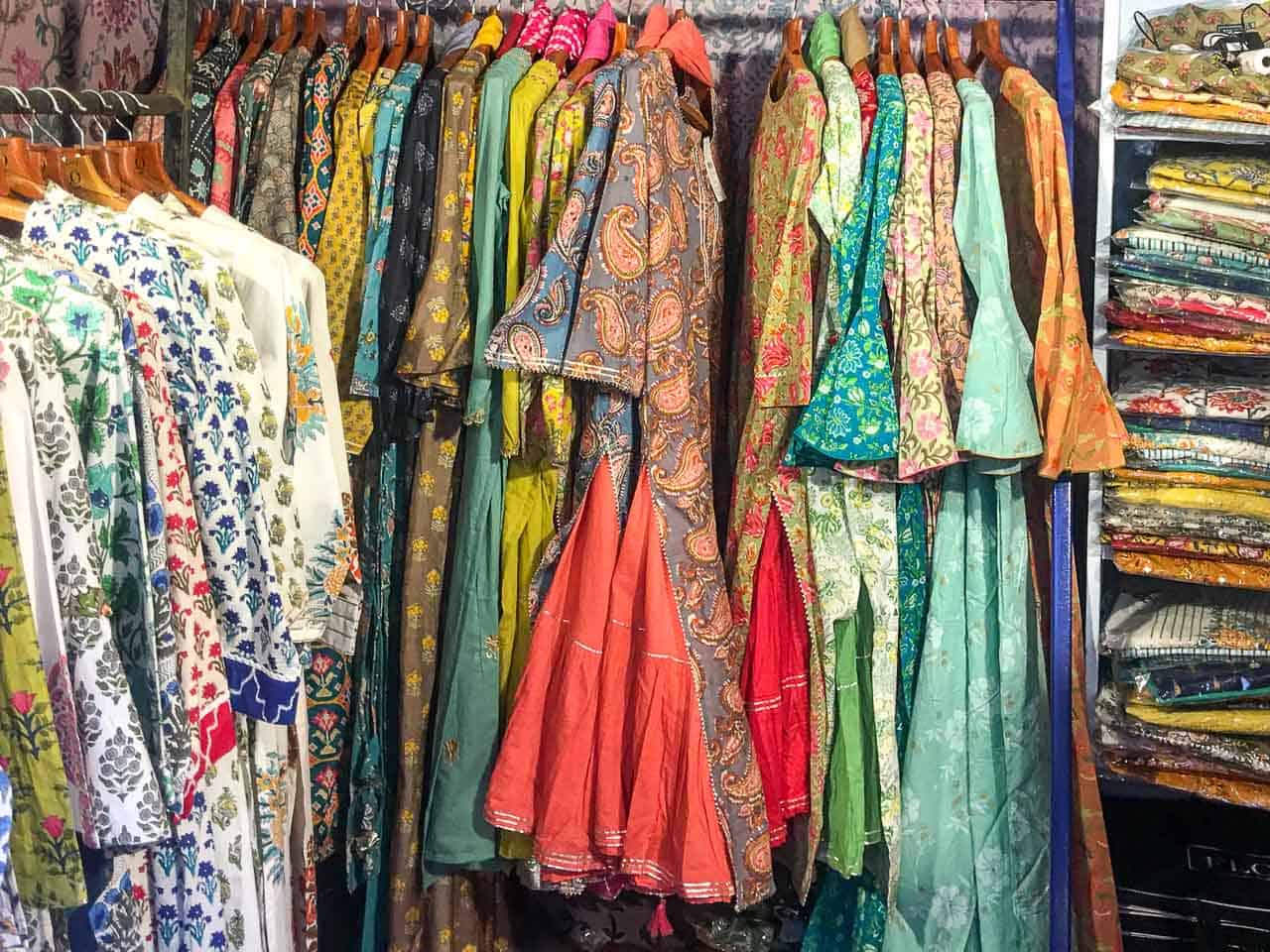 Rajasthani clothes
Rajasthan is best known for its block-printed textiles and offers an astounding range of beautiful ghagra choli (skirts), lehengas (wedding wear), and sarees (traditional Indian attire). Bandhej and Bandhani prints are exclusive to Rajasthan. You will find these prints in other Indian cities, but they may lack the finesse and quality.
The state of Rajasthan is also known for block printing. Bagru and Sanganeri prints are popular and the markets are full of them.
Popular chain stores Fabindia, Anokhi, and Cottons Jaipur carry a range of fashions made from block-print fabrics and can be found all over India. Please note: the colour of fabrics can bleed, even if you buy it from a store. So wash separately, and consider getting items dry cleaned the first time you wash them.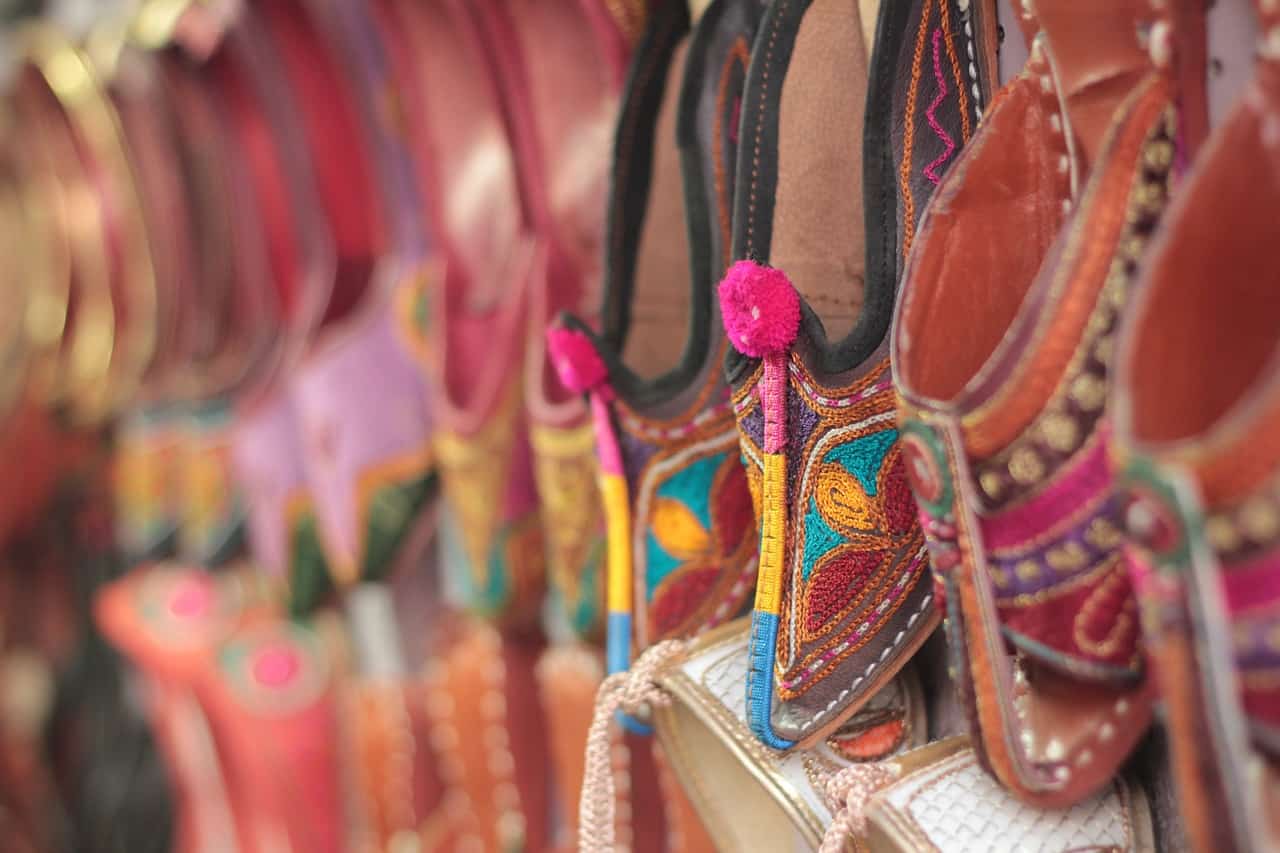 Rajasthani footwear
Mojaris are the traditional Rajasthani footwear. Flat shoes that are usually made of leather, you can easily spot them in shoe shops. Mojaris are typically worn by men, are made of leather, have a curled toe, and are backless. Juttis are from Punjab but they are also widely available in the markets of Jaipur. They are usually worn by women, are flat, and have an enclosed back. Both mojaris and juttis are made the same for both feet — when you wear them, they conform to your foot shape.
If you are attending an Indian function, juttis are a great choice as they are in fashion nowadays. They come in a variety of designs and colours, some are embroidered, some are embellished with beads, they are comfortable, and they can be worn with western wear.
Before buying, keep in mind that mojaris and juttis will stretch a bit after you wear them a couple of times. Secondly, do consider the padding. Good padding enhances the comfort level. Mojaris and juttis make for a good purchase in Jaipur.
Rajasthani textiles
Colourful Rajasthani textiles are loved by all. Rajasthan is a colourful state, which is reflected in almost every product of Rajasthan. There is a very wide range of textiles available in Jaipur and Rajasthan, such as the following:
Bed sheets and covers: Who does not like the bed sheets and covers of Rajasthan? They are absolutely outstanding. Some are only printed while some are embroidered. The most useful ones are made of cotton. Dohars are a type of bed cover that can be found in light muslin – perfect for hot, summer weather.
Table covers: Just like bed sheets, Rajasthan table covers make for a great purchase. There is a massive range of colours, styles, prints, and sizes. The only problem will be choosing among them!
Quilts: Quilts from Rajasthan, called razais in Hindi, are very popular. The filling of the Jaipuri razais is cotton and they can be found in colourful traditional floral prints. Dry cleaning is advisable.
Durris (hand-loomed rugs)
Hand-loomed rugs in India are referred to as durris. They come in a myriad of colours, shapes, and sizes. Jaipur is also known for hand-knotted rugs and carpets, and they are popular not only in India but abroad as well. Rugs can be made of wool, silk, jute, and synthetic fibers as well. Synthetic fiber has the advantage of durability. Buying a rug or carpet in Jaipur can be a big temptation. If you choose a large one, too big for packing, you can often get the store to ship it home for you.
---
More reading on Breathedreamgo
---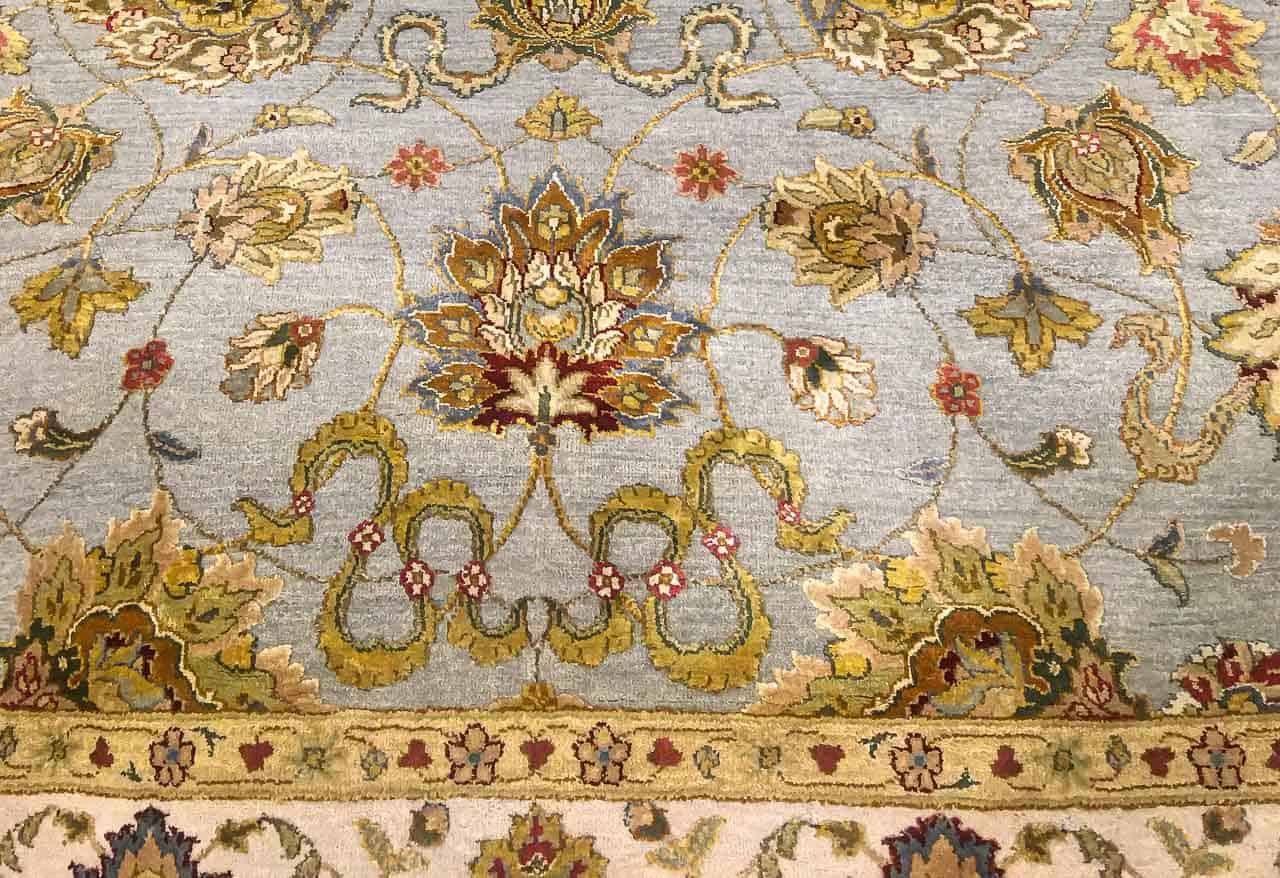 Where to shop in Jaipur
There is an astounding number of places for shopping in Jaipur. You can choose to shop in markets, bazaars, stores, and malls. Malls in Jaipur tend to be more expensive and many of the stores are international brands such as Marks and Spencer. As a visitor to Jaipur, it is much more fun to hit the local markets and bazaars – and especially those in the Pink City. There is really nothing like a Jaipur shopping market.
The markets and bazaars of Jaipur are like stepping into Aladdin's cave – a vast treasure trove of dazzling products. They are open day and night, every day, and you will find local handicrafts at reasonable prices – though bargaining is the best way to get the best price. This is true for shopping in India, in general.
Here are some of the best bazaars in Jaipur:
Johari Bazaar: The main and the most famous market in Jaipur is the Johari Bazaar, in the Pink City. It is the oldest and biggest bazaar in Jaipur. There are about 400 shops selling a wide array of products. Johari literally translated to English means jeweler.
You will find many jewelry shops selling real as well as artificial jewelry in Johar Bazaar. If you have time to cover only one bazaar, head to Johari Bazaar. Alongside the shops, you will see vendors selling their wares from carts. It's a bit of a madhouse, always busy, and always fascinating.
Timings: 10:00 a.m.-11:00 p.m.
Bapu Bazaar: Bapu Bazaar is another popular market in Jaipur. Just 10 minutes from Johari Bazaar, here too you will find an astounding variety of local products.
Timings: 10:00 a.m.-11:00 p.m.
Other prominent bazaars of Jaipur are Chaura Raasta, Kishanpole Bazaar, and Chandpole Bazaar. They all carry similar products, and the timings are similar, too, usually 10:00 a.m.-11:00 p.m.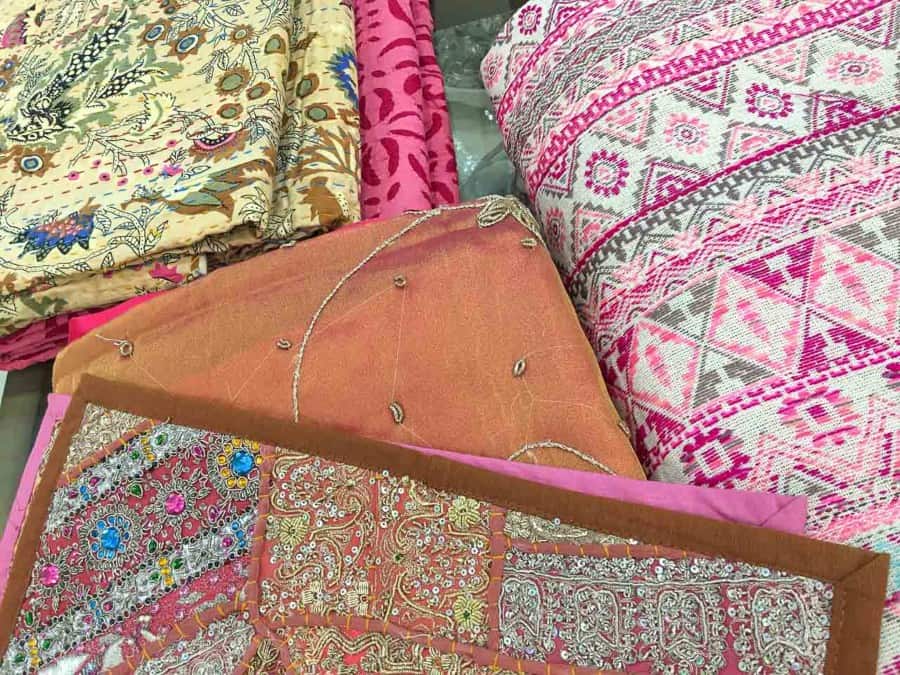 Tips for shopping in Jaipur
Local bazaars are crowded, so keep your belongings close to you and be aware of pickpockets. All the shopkeepers will try to lure you into their shops, so you have to keep moving – unless of course, you see a shop you want to go into. Be very careful when paying, and count your change.
How to bargain or haggle
Bargaining, or haggling, works wonders in local bazaars. The vendors tend to ask foreigners for much higher prices, so whether shopping in a shop or at a street vendor, always try to bargain the price down. For pricier products such as carpets, you can sometimes bring the price down by thousands of rupees. With jewelry, you may not be able to get a bargain on the gemstones, but you can bargain on fees for custom work.
Best time to shop in Jaipur?
Bazaars in Jaipur are open all day, every day. However, some shops close on Sundays and Tuesdays. Weekends tend to be busier.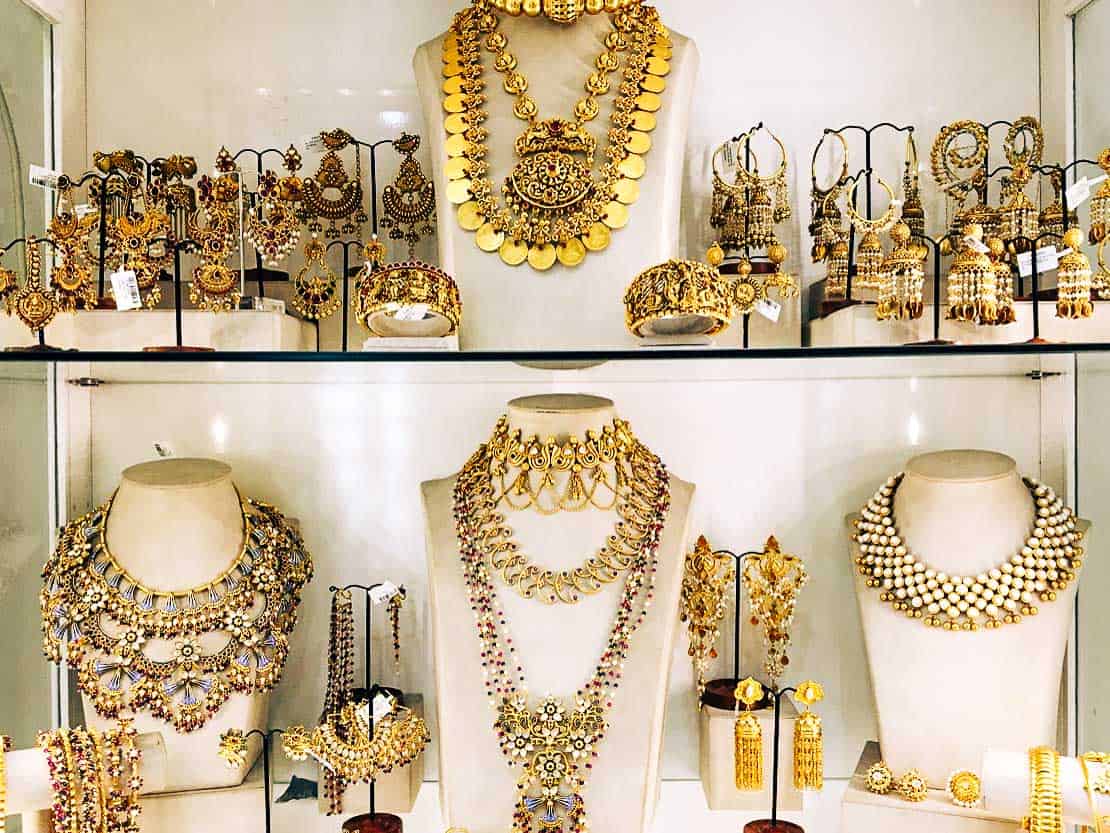 How expensive is shopping in Jaipur?
Shopping in Jaipur can be very cheap, very expensive, and everything in between. You will find products of every quality. Usually, you get what you pay for – but not always. When shopping for luxury items, such as in Jaipur jewelry shops, it's best to get some help to make sure you do in fact get what you paid for. India for Beginners offers a shopping tour in Jaipur with a local guide who knows where to shop for authentic items.
Otherwise, if you shop at local branded stores such as FabIndia, Anokhi, Cottons Jaipur, and Amrapali, where you can trust the quality.