German insurers deny extending Nord Stream cover – Reuters
Munich RE and Allianz say they will not extend insurance for the bombed Russian pipeline German insurance firm Munich RE will not be covering Russia's Nord Stream 1 natural gas pipeline after the current contract expires later this year, the company's spokesperson told Reuters on Thursday.The statement came after fellow insurer Allianz, which is also a part of a consortium of the pipeline's underwriters, said it did not plan to renew the project's policy.Both announcements were made after media reports emerged this week claiming that the companies did in fact intend to continue insuring Nord Stream 1. Analysts suggested that the renewals of insurance could mean that the pipeline may at some point be repaired and restarted.Natural gas deliveries to the EU via Nord Stream 1 were first lowered and then halted in mid-2022, amid Western sanctions and technical setbacks. In September last year, the pipeline was blown up, which made it completely inoperable. European authorities have launched several probes into the incident, but the culprit has not yet been identified.In February, renowned investigative journalist Seymour Hersh reported that the blasts were a joint American-Norwegian operation ordered by US President Joe Biden to prevent Europe from buying cheap Russian gas. Russian President Vladimir Putin later said that Washington in particular benefited from the incident due to its ambitions regarding LNG supplies to the region. READ MORE: Kremlin 'regrets' lack of Nord Stream probe by UN Both the US and Norway, however, have denied the accusations. Last month, Russia failed to pass a resolution in the UN to launch an independent investigation of the sabotage.For more stories on economy & finance visit RT's business section You can share this story on social media: Follow RT on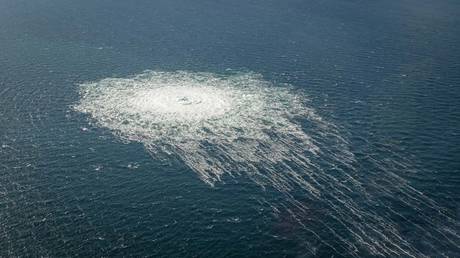 Munich RE and Allianz say they will not extend insurance for the bombed Russian pipeline
German insurance firm Munich RE will not be covering Russia's Nord Stream 1 natural gas pipeline after the current contract expires later this year, the company's spokesperson told Reuters on Thursday.
The statement came after fellow insurer Allianz, which is also a part of a consortium of the pipeline's underwriters, said it did not plan to renew the project's policy.
Both announcements were made after media reports emerged this week claiming that the companies did in fact intend to continue insuring Nord Stream 1. Analysts suggested that the renewals of insurance could mean that the pipeline may at some point be repaired and restarted.
Natural gas deliveries to the EU via Nord Stream 1 were first lowered and then halted in mid-2022, amid Western sanctions and technical setbacks. In September last year, the pipeline was blown up, which made it completely inoperable. European authorities have launched several probes into the incident, but the culprit has not yet been identified.
In February, renowned investigative journalist Seymour Hersh reported that the blasts were a joint American-Norwegian operation ordered by US President Joe Biden to prevent Europe from buying cheap Russian gas. Russian President Vladimir Putin later said that Washington in particular benefited from the incident due to its ambitions regarding LNG supplies to the region.
Both the US and Norway, however, have denied the accusations. Last month, Russia failed to pass a resolution in the UN to launch an independent investigation of the sabotage.
For more stories on economy & finance visit RT's business section
You can share this story on social media: