German defense minister warns of 'worst case' US elections scenario
Europe would face "unimaginable challenges" in supporting Kiev if Washington reduces its support after election next year, Berlin has said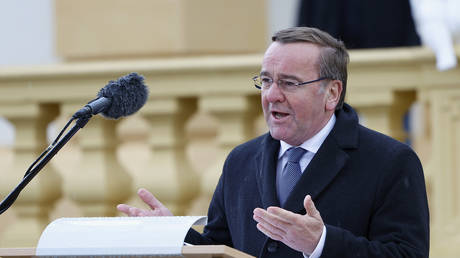 German defense minister warns of 'worst case' US elections scenario
Washington could 'distance itself' from Europe and the Ukrainian conflict in the wake of the 2024 elections, Boris Pistorius said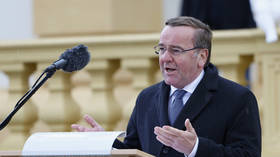 European NATO members may face big trouble in continuing to support Kiev in its conflict with Russia after the US elections in 2024, German Defense Minister Boris Pistorius has warned. Washington's aid to Ukraine is likely to be reduced regardless of the voting results, he told Welt am Sonntag newspaper in an interview published on Saturday.
The US will have to pay more attention to the Indo-Pacific region after 2024, even if a "pro-European" president wins the elections next year, Pistorius believes. A "worst case" scenario might as well spell doom for the West's support to Kiev, the minister warned.
"Should the worst case [scenario] come to life and an American president, who has distanced himself from Europe and NATO, move into the White House, we will have challenges that are currently unimaginable," Pistorius said. Europe will then have to "compensate" for reduced American commitments to the defense of the military bloc, the minister warned, adding that it would be "on top of what we are already doing today."
Pistorius also said that Germany's own defense issues would hardly be resolved by that time. The supply and funding problems the German Army, the Bundeswehr, has been facing for years are unlikely to be resolved before 2030, the minister admitted. He also said the Bundeswehr's stocks are limited and in particular refused to pledge more German-made tanks to Ukraine.
The minister did not elaborate on whose victory in the 2024 presidential elections he would consider "the worst-case" scenario. Yet, several prominent potential GOP candidates, including the former president Donald Trump, have already cast doubt on support for Ukraine, sparking concerns in Kiev.
In March, Trump said that, were he to be elected again, Kiev should expect that "there will be little more money coming from us." Another potential candidate, Florida Governor Ron DeSantis, described the conflict as a "territorial dispute" and that it was not in the US' interests to get more actively involved in it.
US President Joe Biden, whose administration secured $112 billion in Ukraine-related funding from Congress last year, has also been repeatedly criticized by some Republicans for what they called writing a "blank check" for Kiev.
In late March, Ukrainian President Vladimir Zelensky told the Associated Press (AP) that he was worried about the potentially dwindling US support and said that "if they stop helping us, we will not win."