Fun Things to do on Riviera Maya
Riviera Maya is located on the Caribbean Coastline in Mexico and is known for its beautiful resorts, white sand beaches, and spectacular sceneries. It's a great vacation spot for the entire family and makes for a wonderful place to explore.  Tulum, also located in Riviera Maya, is known for its meditation retreats on the beaches, where you can relax and blow off some steam. Riviera Maya has something for everyone – whether you like to party, go on adventures, or just chill back and relax, this is the place for you! If you're looking for the best things to do on Riviera Maya, then you've come to the right spot.  Ruins of Tulum, Mexico overlooking the Caribbean Sea in the Riviera Maya 10 Fun Things to do on Riviera Maya Why visit Riviera Maya? Riviera Maya is an excellent spot for couples and honeymooners who want to spend some quality romantic time with their significant other. Moreover, the Barceló Maya Riviera – Adults only ***** let you party and have the time of your life!  Keep reading to find out more about what activities you can enjoy at this paradise of a coastline.  1. Visit the best beaches in Riviera Maya Puerto Morelos beach in Riviera Maya at Mayan Mexico If you're looking for a place to relax and have fun with your family, visit the beautiful beaches in Riviera Maya.  Here are some of the best beaches in Riviera Maya you should visit: Puerto Morelos – Only 20 minutes away from the Cancun International Airport, this beach is a great spot to relax or enjoy water sport activities. You can go snorkeling and explore marine life with over 65 species spotted in the area. Playa Del Carmen – This beautiful beach is tucked away from the crowds, making it the perfect spot for a romantic getaway with your significant other. Xpu-Ha beach – If you're looking to party, then this is the best beach in Riviera Maya for you. Enjoy drinks on the beach while listening to live music and dance the night away! Playa Maroma – This is a private beach where you can get all the privacy you want! Just purchase a pass for a day and enjoy your time on this secluded and beautiful beach.  2. Xcaret Park With over 50 attractions, Xcaret Park is the best place to have some fun while discovering Mexico's culture.  Explore the underground rivers, swim with the dolphins, go snorkeling, get a massage, visit the coral reef aquarium, have fun watching traditional Mexican dances and enjoy delicious Mexican food! It provides a complete leisure package for you and your family. Visiting this Park is one of the best things to do on Riviera Maya! Head over to their official website for more details on pricing and timing. 3. Visit Dos Ojos Cenote Dos Ojos Cenote is a beautiful cave system that extends for over 80 km. It's a great place to go with your family and have some family bonding time! It's best to go with a guide because some places are closed off to the general public and only the guide can get you in. Explore the 1st cave, 2nd cave, and then the bat cave.  You can go snorkeling, scuba diving, or swimming in the water. There are lots of fish, birds, and bats that you can discover in the caves.  If you're an experienced diver, you should also dive the Barbie line here!  4. Visit Tulum Archaeological site Tulum Caribbean turquoise beach in Riviera Maya of Mayan Mexico Set on the seaside, this beautiful archaeological site contains a beautiful collection of Maya ruins on top of stunning cliffs You get to explore the magnificent ruins while enjoying panoramic views of the Caribbean Sea. The most beautiful temples there include the Temple of the Frescoes, El Castillo, and the Temple of the Descending God.  Taking Instagramable pictures here is one of the best things to do on Riviera Maya.  Make sure you go early in the morning to avoid the crowds. 5. Explore Rio Secreto Head over to Rio Secreto and explore the stunning underground river over there. It's one of the best excursions in the Riviera Maya. The caves are beautiful and provide a nice, cool atmosphere where you can swim, protected from the high temperatures outside. You start your trip mountain biking until you reach the point where your hike starts. Next, you hike through the jungle and caves till you reach the point where you start swimming.  You should change into your swimming gear here! It's also a great idea to pause for a while and enjoy lunch after the hike before you go swimming.  Make sure you're physically fit to endure this adventurous journey. Forget comfort and get ready for some adventure! Also, bring your water bottles for hiking because you need to stay hydrated throughout the trip.  6. Visit Sian Ka'an Biosphere Reserve This is one of the best excursions in the Riviera Maya for nature lovers! Sian Ka'an Biosphere Reserve is a UNESCO World Heritage Site and it's home to thousands of different plant and animal species.  Embark on a snorkeling tour and observe many marine sp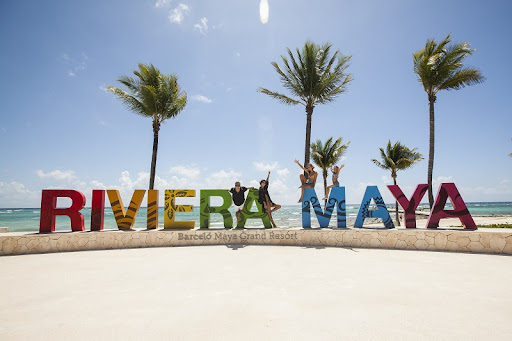 Riviera Maya is located on the Caribbean Coastline in Mexico and is known for its beautiful resorts, white sand beaches, and spectacular sceneries. It's a great vacation spot for the entire family and makes for a wonderful place to explore.
Tulum, also located in Riviera Maya, is known for its meditation retreats on the beaches, where you can relax and blow off some steam.
Riviera Maya has something for everyone – whether you like to party, go on adventures, or just chill back and relax, this is the place for you! If you're looking for the best things to do on Riviera Maya, then you've come to the right spot.
Ruins of Tulum, Mexico overlooking the Caribbean Sea in the Riviera Maya
10 Fun Things to do on Riviera Maya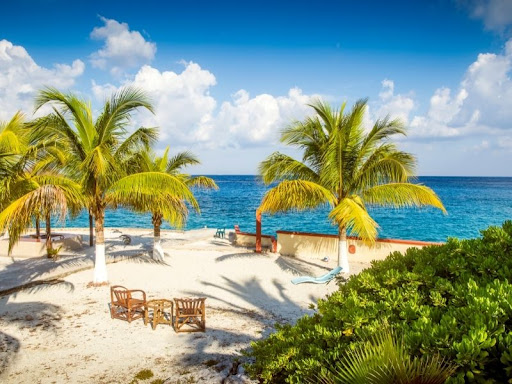 Why visit Riviera Maya?
Riviera Maya is an excellent spot for couples and honeymooners who want to spend some quality romantic time with their significant other.
Moreover, the Barceló Maya Riviera – Adults only ***** let you party and have the time of your life!
Keep reading to find out more about what activities you can enjoy at this paradise of a coastline.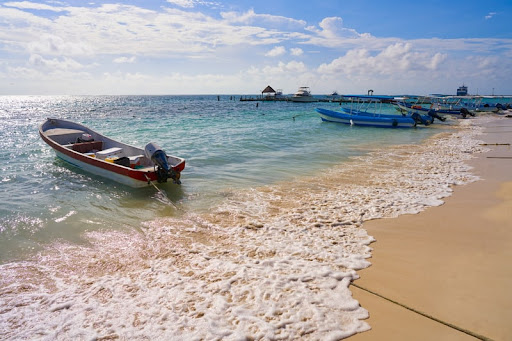 1. Visit the best beaches in Riviera Maya
Puerto Morelos beach in Riviera Maya at Mayan Mexico
If you're looking for a place to relax and have fun with your family, visit the beautiful beaches in Riviera Maya.
Here are some of the best beaches in Riviera Maya you should visit:
Puerto Morelos – Only 20 minutes away from the Cancun International Airport, this beach is a great spot to relax or enjoy water sport activities. You can go snorkeling and explore marine life with over 65 species spotted in the area.
Playa Del Carmen – This beautiful beach is tucked away from the crowds, making it the perfect spot for a romantic getaway with your significant other.
Xpu-Ha beach – If you're looking to party, then this is the best beach in Riviera Maya for you. Enjoy drinks on the beach while listening to live music and dance the night away!
Playa Maroma – This is a private beach where you can get all the privacy you want! Just purchase a pass for a day and enjoy your time on this secluded and beautiful beach.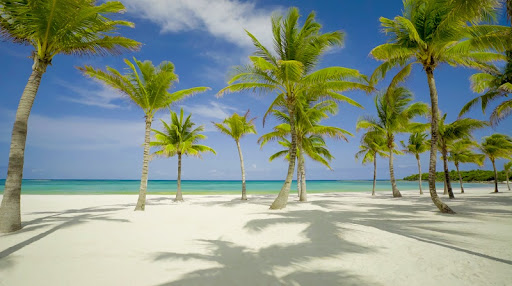 2. Xcaret Park
With over 50 attractions, Xcaret Park is the best place to have some fun while discovering Mexico's culture.
Explore the underground rivers, swim with the dolphins, go snorkeling, get a massage, visit the coral reef aquarium, have fun watching traditional Mexican dances and enjoy delicious Mexican food!
It provides a complete leisure package for you and your family. Visiting this Park is one of the best things to do on Riviera Maya!
Head over to their official website for more details on pricing and timing.
3. Visit Dos Ojos Cenote
Dos Ojos Cenote is a beautiful cave system that extends for over 80 km. It's a great place to go with your family and have some family bonding time!
It's best to go with a guide because some places are closed off to the general public and only the guide can get you in. Explore the 1st cave, 2nd cave, and then the bat cave.
You can go snorkeling, scuba diving, or swimming in the water. There are lots of fish, birds, and bats that you can discover in the caves.
If you're an experienced diver, you should also dive the Barbie line here!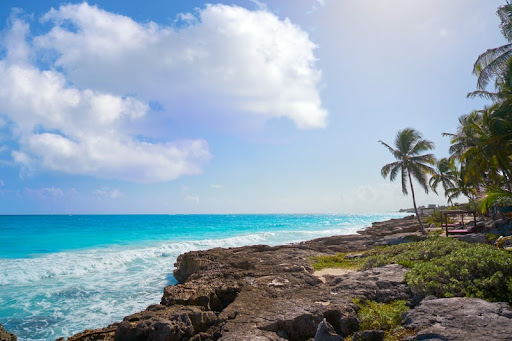 4. Visit Tulum Archaeological site
Tulum Caribbean turquoise beach in Riviera Maya of Mayan Mexico
Set on the seaside, this beautiful archaeological site contains a beautiful collection of Maya ruins on top of stunning cliffs
You get to explore the magnificent ruins while enjoying panoramic views of the Caribbean Sea. The most beautiful temples there include the Temple of the Frescoes, El Castillo, and the Temple of the Descending God.
Taking Instagramable pictures here is one of the best things to do on Riviera Maya. Make sure you go early in the morning to avoid the crowds.
5. Explore Rio Secreto
Head over to Rio Secreto and explore the stunning underground river over there. It's one of the best excursions in the Riviera Maya.
The caves are beautiful and provide a nice, cool atmosphere where you can swim, protected from the high temperatures outside.
You start your trip mountain biking until you reach the point where your hike starts. Next, you hike through the jungle and caves till you reach the point where you start swimming.
You should change into your swimming gear here! It's also a great idea to pause for a while and enjoy lunch after the hike before you go swimming.
Make sure you're physically fit to endure this adventurous journey. Forget comfort and get ready for some adventure!
Also, bring your water bottles for hiking because you need to stay hydrated throughout the trip.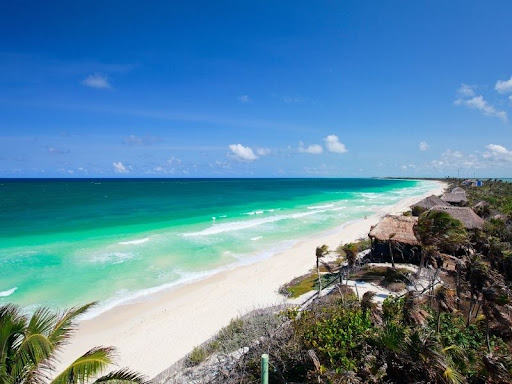 6. Visit Sian Ka'an Biosphere Reserve
This is one of the best excursions in the Riviera Maya for nature lovers! Sian Ka'an Biosphere Reserve is a UNESCO World Heritage Site and it's home to thousands of different plant and animal species.
Embark on a snorkeling tour and observe many marine species including stunning coral reefs, dolphins, turtles, and over 500 fish species. The Mesoamerican Reef located here is one of the 5 largest reefs in the world!
Explore the beautiful mangrove canals and observe large crocodiles and manatees on your way. You should also walk the boardwalk trail and observe the Muyil ruins from a viewpoint.
Don't forget to go bird watching at sunset. Watching the sun paint the sky with beautiful hues of orange and red with birds dotting the canvas is an experience of its own!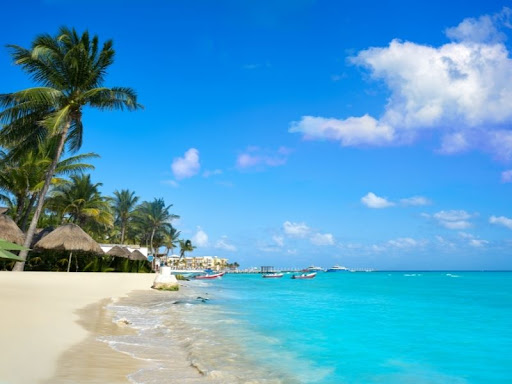 7. Party in Playa del Carmen
Playa del Carmen is home to beautiful and lively beaches where you can party and dance the night away!
Attend the Coco Bongo show here, which is one of the best nightclubs in Riviera Maya. Go wild with the best ambiance and music here at Coco Bongo!
The show is definitely not your average nightclub show and it's definitely worth attending. It can get very crowded here so make sure you take care of all your belongings properly.
Kids aren't allowed to enter Coco Bongo!
You can also go on the Xoximilco Dinner Cruise, a lively cruise where you get to explore beautiful canals while blasting on music and enjoying delicious food.
Partying in Playa del Carmen is one of the best things to do on Riviera Maya. Dance and drink your worries away and have the time of your life!
8. Eat out in Cozumel
Cozumel is a beautiful island in the Caribbean Sea where you can go scuba diving and explore one of the largest coral reefs in the world, the Mesoamerican Reef.
It also has plenty of beautiful and serene places where you can dine out with your family while enjoying the beautiful views that the island has to offer. Here are some of the best places to eat out in Cozumel:
La Cucina Italiana – Enjoy delicious and authentic Italian food here.
Le Chef Cozumel – Offers scrumptious Mediterranean food.
El Abuelo Gerardo – Known for their delicious breakfast and seafood, this place is a must-visit!
Chocolateria Isla Bella – Satisfy your sweet tooth here with rich and satisfying chocolate!
If you're a foodie, eating out in Cozumel is one of the best things to do on Riviera Maya.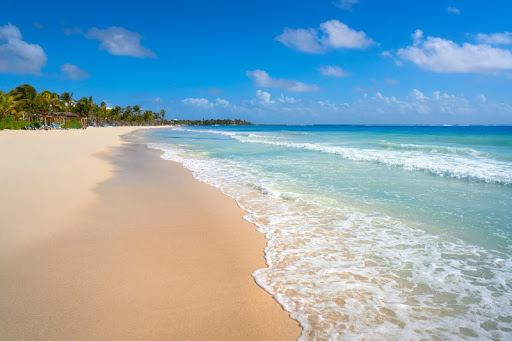 9. Relax in Akumal
Akumal bay Caribbean beach in Riviera Maya of Mayan Mexico
Akumal is the best resort in Riviera Maya where you can sit back and relax after a hectic day. It's a beautiful paradise that will take all your stress away.
Akumal is known for the endangered green sea turtles that you can spot here (and swim alongside as well), which is why it's also called the "Place of the Turtles."
The Central Akumal beach is one of the best beaches here. You can find many shops, restaurants, hotels, and bars alongside the beach.
Have a picnic by the beachside, or just lay down and enjoy the views from your resort. It's also a great place to have a romantic weekend with your significant other.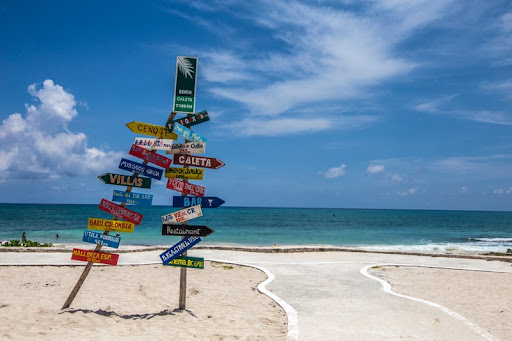 10. Do an excursion to Isla Mujeres
Isla Mujeres is a small but beautiful island situated in the Caribbean Sea. It's home to white sand beaches, clear water, and delicious cuisine prepared with fresh seafood.
The Playa Norte Beach located on the island is considered one of the best beaches in Riviera Maya. Dotted with palm trees, it's an ideal spot for relaxing and cooling off.
Here are some of the best things to do on Riviera Maya, Isla Mujeres:
Explore the island on a golf cart
Attend the Isla Mujeres Artist Fair that takes place on Thursdays
Visit the Mayan temple and the sculpture garden
Explore the Shell House, one of the most interesting and unusual houses in the world. The bathrooms and kitchens are made out of corals and shells.
Head over to Garrafon Reef Park and enjoy snorkeling, kayaking and swimming.
Head over to La Tortuga Granja, the Turtle Farm. You can watch thousands of baby turtles here if you come at the right time of the year!
Explore Museum Capitan Dulche.
These are a few of the many activities to enjoy at Isla Mujeres. Don't forget to enjoy Mexican food at the numerous restaurants here after you're done exploring the beautiful island!