French food giant to rebrand in Russia
French dairy producer Danone may rebrand some of its popular products in the Russian market as it seeks to maintain a share in production in the sanctioned country, Telegram channel Mash reported on Tuesday.According to the report, the food giant is considering renaming Activia yogurt to 'Take it easy', and Actimel milk drink to 'Delicious. Healthy. It's a deal'.The company has confirmed plans to abandon names such as Activia, Alpro, Actimel, and Danone, and is "considering ways to make brands more relevant to the local market."The rebranding is set to take place in the coming months, according to the media outlet."Danone may not object to the use of consonant names for global brands and recognizable packaging design elements – for example 'ActiviYA' instead of 'ActiviA,'" the head of Streda Consulting, Aleksey Gruzdev, said. READ MORE: South American country looks to boost coffee exports to Russia Among other options for switching to local brands, Danone is also reportedly considering a transition to another brand. According to Gruzdev, the company is now testing an expansion of the product line under the Prostokvashino brand. New products such as yogurts and desserts have already appeared in Russian supermarkets. Danone owns Russia's top dairy brand, Prostokvashino, with 12 production sites and 8,000 employees in the country.The rebranding began after Danone announced its intention to transfer control over its dairy and plant-based foods unit in Russia to local management last October. The move came amid a wider exodus of Western corporations from the sanctioned country. According to industry experts, the company will most likely retain a buyback option, but will not transfer global names to the new owner.For more stories on economy & finance visit RT's business section You can share this story on social media: Follow RT on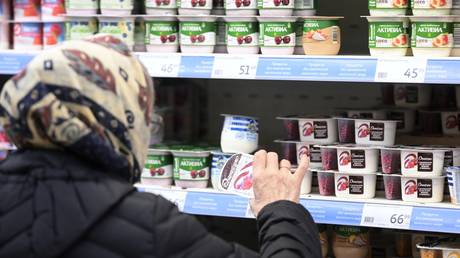 French dairy producer Danone may rebrand some of its popular products in the Russian market as it seeks to maintain a share in production in the sanctioned country, Telegram channel Mash reported on Tuesday.
According to the report, the food giant is considering renaming Activia yogurt to 'Take it easy', and Actimel milk drink to 'Delicious. Healthy. It's a deal'.
The company has confirmed plans to abandon names such as Activia, Alpro, Actimel, and Danone, and is "considering ways to make brands more relevant to the local market."
The rebranding is set to take place in the coming months, according to the media outlet.
"Danone may not object to the use of consonant names for global brands and recognizable packaging design elements – for example 'ActiviYA' instead of 'ActiviA,'" the head of Streda Consulting, Aleksey Gruzdev, said.
Among other options for switching to local brands, Danone is also reportedly considering a transition to another brand. According to Gruzdev, the company is now testing an expansion of the product line under the Prostokvashino brand. New products such as yogurts and desserts have already appeared in Russian supermarkets. Danone owns Russia's top dairy brand, Prostokvashino, with 12 production sites and 8,000 employees in the country.
The rebranding began after Danone announced its intention to transfer control over its dairy and plant-based foods unit in Russia to local management last October. The move came amid a wider exodus of Western corporations from the sanctioned country. According to industry experts, the company will most likely retain a buyback option, but will not transfer global names to the new owner.
For more stories on economy & finance visit RT's business section
You can share this story on social media: