Flower portraits: Beautiful examples and must-have tips
From Horst P. Horst's 1951 picture of the fashion model Evelyn Tripp in a ballgown to Tyler Mitchell's now-famous 2018 cover photo of Beyoncé for Vogue magazine, flowers have always had a place in creative portrait photography. A few years ago, Emily Soto made this portrait for Allure on film to celebrate springtime in New York. On 500px, contemporary photographers like Jovana Rikalo, Bella Kotak, and Eivind Hansen continue to master the art of floral portraits, incorporating the golden yellows of the winter mimosa flower, the vivid reds of fresh roses, or the deep purples of gypsophila. In honor of springtime, we curated this selection of photographs from the 500px community for inspiration and put together some of our favorite tips for working with flowers in portraits. Use color to your advantage When brainstorming for your next portrait session, consider the color wheel. Two classic and timeless color palettes to consider are monochromatic and complementary schemes. In the first one, you'll use the same color throughout the portrait, matching the flowers, clothing, background, and makeup so that they're all different shades of the same hue—similar to what Bella has done with purples in the portrait above. In a complementary color scheme, you'll use two colors on opposite sides of the color wheel: yellow and purple, red and green, or blue and orange. These pairings create contrast while also keeping your palette simple yet eye-catching. When photographing amongst the dahlias on a summer evening, Bella selected a blue dress to perfectly complement the salmon oranges of the flowers themselves. Consider your wardrobe Flowers give you permission to embrace and experiment with fashion; sometimes, it's the clothing that inspires your choice of flowers, and sometimes, it's the other way around. Feel free to play with romantic vintage finds and timeless, thrifted items to give your photos a one-of-a-kind vibe. When making this portrait, Laura Ferreira brought out a pale 1980s wedding frock to harmonize with these blush-colored periwinkle flowers. Incorporate symbolism Throughout art history, flowers have carried specific meanings: at times, carnations symbolized love, while rosebuds have represented courage. When selecting flowers, consider their histories and meanings. The photographer Eivind Hansen created this richly symbolic portrait using a headpiece he made himself, with flowers supplied by the florist Yan Skates. It's part of the project Forget Me Not, created to honor the beauty of marginalized communities and named after the Myosotis flower, a symbol of love and remembrance. The individual flower(s) were chosen to represent the unique experiences of the models themselves. Open your aperture One beautiful way to photograph people with flowers is to widen your lens's aperture to create a shallow depth of field. As you put the flowers in front of, or behind, your model, you'll find that they fall out of focus, creating a dreamy blur, while leaving your subject in focus. Lauren Naylor opened up her lens to f/1.8 to create a painterly, ethereal atmosphere in the portrait below, causing the flowers to resemble brush strokes. Change your perspective Adjusting your angles so that you're looking up at or down on your model can elevate your portraiture, so consider bending down or using a ladder to shift your vantage point. Try a closeup of the face, and then step back to include more of the environment to see what works best. Position your subject to the side in relation to your light source for dramatic side-lighting, or place them in front for glowy backlighting. Go for the golden hour If you're shooting outdoors, aim for the early morning or late evening for the best light. The warm tones of the golden hour naturally bring out the softness of floral portraits, as in this sunset frame by Natalia Brodalka. Play with shadows Shadows on the face can make or break a portrait, and Segun-Kabir Sani is a master of using them to creative effect. As this portrait proves, sometimes the shadows cast by flowers can be just as romantic and delicate as the florals themselves. Move your flowers around and see how the light falls; try different angles to see what you can create. Ratan Ravesh, meanwhile, takes shadows further into the realm of abstraction with this shadow self-portrait, where the shadows create contrast and allow the flowers themselves to pop off the page (or screen). Plan ahead Certain flowers, like cherry blossoms, only last for a very short window (a matter of days, in some cases). So, if you plan to photograph a specific flower, especially in the wild, a botanical garden, or a private garden, be prepared well in advance. Some parks, like New York's Central Park, also have cherry blossom trackers and similar tools to help you plan. Sergey Vinogradov made this portrait during Ma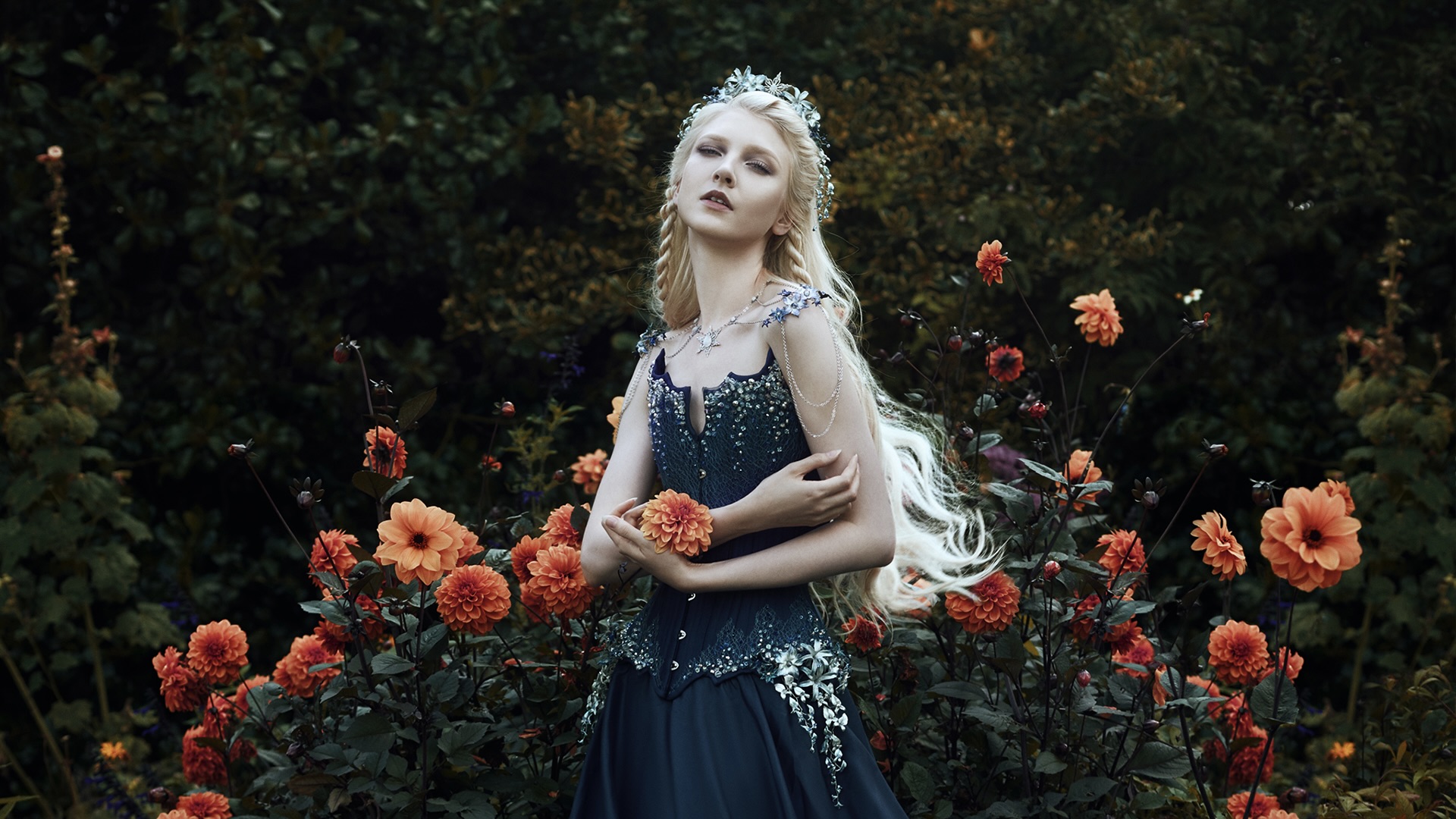 From Horst P. Horst's 1951 picture of the fashion model Evelyn Tripp in a ballgown to Tyler Mitchell's now-famous 2018 cover photo of Beyoncé for Vogue magazine, flowers have always had a place in creative portrait photography.
A few years ago, Emily Soto made this portrait for Allure on film to celebrate springtime in New York.
On 500px, contemporary photographers like Jovana Rikalo, Bella Kotak, and Eivind Hansen continue to master the art of floral portraits, incorporating the golden yellows of the winter mimosa flower, the vivid reds of fresh roses, or the deep purples of gypsophila.
In honor of springtime, we curated this selection of photographs from the 500px community for inspiration and put together some of our favorite tips for working with flowers in portraits.
Use color to your advantage
When brainstorming for your next portrait session, consider the color wheel. Two classic and timeless color palettes to consider are monochromatic and complementary schemes. In the first one, you'll use the same color throughout the portrait, matching the flowers, clothing, background, and makeup so that they're all different shades of the same hue—similar to what Bella has done with purples in the portrait above.
In a complementary color scheme, you'll use two colors on opposite sides of the color wheel: yellow and purple, red and green, or blue and orange. These pairings create contrast while also keeping your palette simple yet eye-catching.
When photographing amongst the dahlias on a summer evening, Bella selected a blue dress to perfectly complement the salmon oranges of the flowers themselves.
Consider your wardrobe
Flowers give you permission to embrace and experiment with fashion; sometimes, it's the clothing that inspires your choice of flowers, and sometimes, it's the other way around. Feel free to play with romantic vintage finds and timeless, thrifted items to give your photos a one-of-a-kind vibe. When making this portrait, Laura Ferreira brought out a pale 1980s wedding frock to harmonize with these blush-colored periwinkle flowers.
Incorporate symbolism
Throughout art history, flowers have carried specific meanings: at times, carnations symbolized love, while rosebuds have represented courage. When selecting flowers, consider their histories and meanings. The photographer Eivind Hansen created this richly symbolic portrait using a headpiece he made himself, with flowers supplied by the florist Yan Skates.
It's part of the project Forget Me Not, created to honor the beauty of marginalized communities and named after the Myosotis flower, a symbol of love and remembrance. The individual flower(s) were chosen to represent the unique experiences of the models themselves.
Open your aperture
One beautiful way to photograph people with flowers is to widen your lens's aperture to create a shallow depth of field. As you put the flowers in front of, or behind, your model, you'll find that they fall out of focus, creating a dreamy blur, while leaving your subject in focus. Lauren Naylor opened up her lens to f/1.8 to create a painterly, ethereal atmosphere in the portrait below, causing the flowers to resemble brush strokes.
Change your perspective
Adjusting your angles so that you're looking up at or down on your model can elevate your portraiture, so consider bending down or using a ladder to shift your vantage point. Try a closeup of the face, and then step back to include more of the environment to see what works best. Position your subject to the side in relation to your light source for dramatic side-lighting, or place them in front for glowy backlighting.
Go for the golden hour
If you're shooting outdoors, aim for the early morning or late evening for the best light. The warm tones of the golden hour naturally bring out the softness of floral portraits, as in this sunset frame by Natalia Brodalka.
Play with shadows
Shadows on the face can make or break a portrait, and Segun-Kabir Sani is a master of using them to creative effect. As this portrait proves, sometimes the shadows cast by flowers can be just as romantic and delicate as the florals themselves. Move your flowers around and see how the light falls; try different angles to see what you can create.
Ratan Ravesh, meanwhile, takes shadows further into the realm of abstraction with this shadow self-portrait, where the shadows create contrast and allow the flowers themselves to pop off the page (or screen).
Plan ahead
Certain flowers, like cherry blossoms, only last for a very short window (a matter of days, in some cases). So, if you plan to photograph a specific flower, especially in the wild, a botanical garden, or a private garden, be prepared well in advance. Some parks, like New York's Central Park, also have cherry blossom trackers and similar tools to help you plan.
Sergey Vinogradov made this portrait during May's peak lilac season. It can help to have a mood board or even some sketches to share with your model before the shoot; if you're working with a stylist or makeup artist, share your ideas with them as well. That way, when the flowers do bloom, you'll be ready to go with talent, wardrobe, and any props you might need.
Shop local
Choosing locally-grown flowers is more sustainable, and it also gives your work a unique, personal touch. Do some research into what flowers are in season throughout the year in your area, or visit a farmers' market to connect with local growers who will have seasonal tips they can share. For natural, sustainable bouquets, choose flowers grown without harmful pesticides. Online shops like ReVased also offer sustainable options.
It's best to use the flowers right away when they're at their freshest, but if you have to wait, you can store them in water in the fridge.
Think creatively
From flower crowns to bouquets and far beyond, there are countless ways to incorporate florals into your portrait photography. You can use smaller flowers to adorn your model's hair, as in the portrait above by Naja Benali, or apply individual petals to the face with eyelash glue.
Experiment with new settings and ideas. Jovana Rikalo used a shallow inflatable pool when creating this dreamy, fairytale-inspired water portrait. "Avoid harsh light," she suggests. To follow her lead, look for areas of soft light and open shade.