First European firm to reach $500 billion market value
French luxury goods giant LVMH became the first European company to surpass $500 billion in market value on Monday due to a surge in its share price and a strengthening euro.The luxury group, controlled by billionaire Bernard Arnault, reported a 17% increase in revenue in its first-quarter results earlier this month – more than double analyst expectations. Shares of the parent company of Louis Vuitton, Moët & Chandon and Hennessy as well as brands including Givenchy, Christian Dior, Bulgari and Sephora, soared following the results.Shares in the Paris-listed company climbed 0.3% to €903.70 ($996.19) on Monday morning, valuing the company at €454 billion ($500.5 billion).LVMH reported revenue of €79.2 billion ($87 billion) for 2022, with profit from recurring operations reaching €21.1 billion ($23 billion), representing the second straight year of record performance. READ MORE: Brits cut back on luxuries – Barclays The latest figures showed that demand for luxury goods such as Louis Vuitton handbags and Christian Dior gowns has held up, even as spiraling EU inflation and surging interest rates threaten to bring the world into a recession.China's reopening following the lifting of its zero-Covid policy has also contributed to strong results as booming sales in the Asian country are fueling growth across the luxury products industry.LVMH's rising value has driven the wealth of Bernard Arnault, the world's richest man, to a new high. His fortune stands at almost $212 billion, according to the Bloomberg Billionaires Index.For more stories on economy & finance visit RT's business section You can share this story on social media: Follow RT on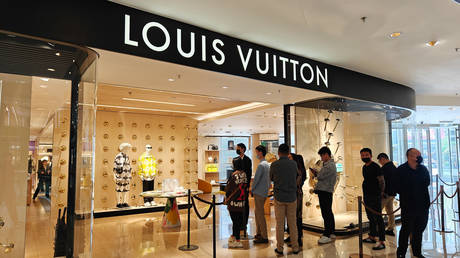 French luxury goods giant LVMH became the first European company to surpass $500 billion in market value on Monday due to a surge in its share price and a strengthening euro.
The luxury group, controlled by billionaire Bernard Arnault, reported a 17% increase in revenue in its first-quarter results earlier this month – more than double analyst expectations. Shares of the parent company of Louis Vuitton, Moët & Chandon and Hennessy as well as brands including Givenchy, Christian Dior, Bulgari and Sephora, soared following the results.
Shares in the Paris-listed company climbed 0.3% to €903.70 ($996.19) on Monday morning, valuing the company at €454 billion ($500.5 billion).
LVMH reported revenue of €79.2 billion ($87 billion) for 2022, with profit from recurring operations reaching €21.1 billion ($23 billion), representing the second straight year of record performance.
The latest figures showed that demand for luxury goods such as Louis Vuitton handbags and Christian Dior gowns has held up, even as spiraling EU inflation and surging interest rates threaten to bring the world into a recession.
China's reopening following the lifting of its zero-Covid policy has also contributed to strong results as booming sales in the Asian country are fueling growth across the luxury products industry.
LVMH's rising value has driven the wealth of Bernard Arnault, the world's richest man, to a new high. His fortune stands at almost $212 billion, according to the Bloomberg Billionaires Index.
For more stories on economy & finance visit RT's business section
You can share this story on social media: