Ex-president urges West to sanction Georgia
Former Georgian President Mikhail Saakashvili has urged the collective West to impose sanctions against his country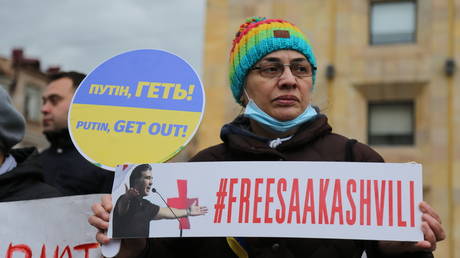 Ex-president urges West to sanction Georgia
Doing so would deliver a blow to Vladimir Putin and prove the US and the EU remain committed to "democracy," Mikhail Saakashvili claims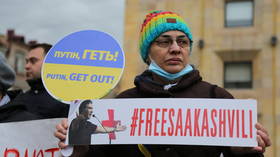 The West should impose sweeping economic sanctions and embargoes on Georgia, the country's former President Mikhail Saakashvili has said. Doing so would not only secure his release from jail but also reassert the US and its allies as beacons of "democracy, decency and justice," as well as purportedly deliver "another blow" to Russian President Vladimir Putin.
Saakashvili produced the call on Friday in a large piece, titled 'I am a political prisoner in Georgia, and I am dying,' the incarcerated ex-president penned for Politico. The article largely revolved around his purported struggle against Putin, with the ex-leader claiming he continues "to defend democracy against Putin and his allies" even from his jail cell.
Now, however, said "democracy" is under threat again in Georgia and elsewhere, Saakashvili argued, accusing the ruling Georgian Dream party of doing Putin's bidding and showing "solidarity with Russia." The government, which has abstained from joining Western anti-Russian sanctions over the ongoing conflict between Moscow and Kiev, should do more to support Ukraine, he wrote.
"While there is, of course, legitimate apprehension about being openly hostile to the Kremlin given the danger Georgia faces, the vast majority of Georgians support the Ukrainian cause," Saakashvili asserted.
The former president, who got elevated into power in 2003 after the US-backed Revolution of the Roses and ruled Georgia until late 2013, detailed his purported efforts in bringing "democracy" to Georgia, noting that "after just months in power," he "was praised by leaders in Europe and the US for championing democracy and free markets."
Having fled the country after finishing his second tenure, Saakashvili briefly relocated to the US, but moved to Ukraine just two years later and went on to assume the role of governor of Odessa Oblast under then-president Pyotr Poroshenko.
Saakashvili abruptly returned to Georgia in late 2021, ending up arrested and remaining in custody ever since, with several pending criminal cases over alleged abuses of power and other offenses during his time in office. Multiple senior Georgian officials have alleged the ex-president was deliberately sent in by Kiev to destabilize the situation in the country and even stage a coup.
The ex-president also implied that the Russian president would have preferred him to die in jail, claiming that his "martyrdom will certainly be considered a victory for Putin – a powerful symbol to all leaders in this region, and possibly the world, who fail to stand up to Russian imperialism." Securing his release through putting pressure on Tbilisi, on the contrary, would somehow become a blow to the Russian president, he asserted.
"If, however, the US Congress and the Biden administration can work with the EU to secure my release through sanctions, economic embargoes, the suspension of funding and visa restrictions, it will not only be another blow to Putin, but it will also send a strong signal that the US and Europe remain committed to the ideals of democracy, decency and justice," Saakashvili concluded.