Everyday objects that reveal the truth
As his new show opens, the acclaimed Chinese artist talks imprisonment, solutions, and making sense of the world. "Only in difficulties can we find ways to solve problems," he tells Precious Adesina.Ai Weiwei is one of the best-known artists alive today. But asked recently when he first realised he wanted to be an artist, he responded: "Do I really want to be an artist? I'm still undecided." For anyone who has followed the Chinese contemporary artist-and-activist's 45-year-long career, such a response is unsurprising. While Ai has spent decades pushing the boundaries of art, questioning the practices of several institutions, and bringing social issues to the fore, he has always also offered a sense of provocation and humour.   More like this: -          Striking images by Africa's new wave -          Ten artworks that caused a scandal -          The 'new Bayeux tapestries' Ai's oeuvre transcends mediums, having worked with sculpture, printmaking, photography, installation, writing, film-making and architecture. Ai Weiwei: Making Sense at London's Design Museum explores the 65-year-old artist's work through a design lens. "It will wrestle with what humans have made and continue to make; how they make; what they chose to keep and what to destroy," the museum's director Tim Marlow writes in the exhibition catalogue, noting that it will question "what all this reveals about our changing values socially, culturally, economically and, of course, politically." Ai's Coloured House is displayed outside the main exhibition space at the Design Museum (Credit: Courtesy of Ai Weiwei Studio)One of Ai's most famous pieces, a series of photographs titled Dropping a Han Dynasty Urn(1995), depicts the artist seemingly destroying a 2,000-year-old artefact. The images solidified Ai as the prolific iconoclast we know today. "As part of humanity, artists construct and deconstruct to create new definitions, constantly scrutinising and evaluating our value system and the possibilities of our existence," Ai tells  BBC Culture. "This is how I always approach problems, by standing on the opposite side of the issue, or even the opposite side of myself. I believe this measure is the most trustworthy one." How have your personal experiences informed your work?  To put it simply, everything I have done in the past, what I am doing now, and what I will do in the future is all directed towards one question: "who am I?" It's common knowledge that our understanding of ourselves is closely tied to our life experiences, memories, and how we respond to everyday situations. This can be a struggle since our self-perception is not something that can be easily detached from reality and memories. It was rather late when I fully realised this. For over 50 years before 2011, I was very confused. On 3 April 2011, I was secretly detained. It was a very important moment for me because this experience forced me to re-evaluate my situation, where I came from, and who I truly was. After 81 days in secret detention, I was surprisingly released. It was then that I realised I needed to understand what happened in the past, why my father, a poet, was exiled, and how my time with him had influenced me.The new exhibition, Ai Weiwei: Making Sense, explores the value of everyday objects (Credit: Courtesy of Ai Weiwei studio)Even though I cannot fully comprehend why what happened to my father came back to me, I found that holding on to my personal experiences and expressing them was like holding on to something that kept someone sinking in water afloat. You have been exploring ancient artefacts for around three decades now. Has your understanding of them changed during this time? My interest in ancient artefacts began in 1993 when I returned to Beijing from New York. Beijing felt very unfamiliar to me as I had grown up during Mao's Cultural Revolution. It was very clear to me that I had a limited understanding of myself, my country, and the land. Luckily, I slid into a period of time when a tremendous amount of ancient artefacts underground were discovered during China's rapid development. On the ground above, everything had been cleansed and destroyed, but underground, layers of earth and mud hid thousands of years of history.Over a period of about 10 years, I dedicated myself to researching history through excavated artefacts. I studied how people used different ideologies, measures, materials and artistry throughout different dynasties. This was incredibly important to me because I felt that the world unknown to me was too vast.Han Dynasty Urn with Coca-Cola Logo, 2014 – Ai has been exploring ancient artefacts in his work from the start of his career (Credit: Courtesy of Ai Weiwei studio)This period of learning gave me a deep understanding of language and craftsmanship, including how the trends and changes in art and style throughout different time periods can serve as the most important basis for our understanding of the humanity of a particular period of time

As his new show opens, the acclaimed Chinese artist talks imprisonment, solutions, and making sense of the world. "Only in difficulties can we find ways to solve problems," he tells Precious Adesina.
Ai Weiwei is one of the best-known artists alive today. But asked recently when he first realised he wanted to be an artist, he responded: "Do I really want to be an artist? I'm still undecided." For anyone who has followed the Chinese contemporary artist-and-activist's 45-year-long career, such a response is unsurprising. While Ai has spent decades pushing the boundaries of art, questioning the practices of several institutions, and bringing social issues to the fore, he has always also offered a sense of provocation and humour.  
More like this:
-          Striking images by Africa's new wave
-          Ten artworks that caused a scandal
-          The 'new Bayeux tapestries'
Ai's oeuvre transcends mediums, having worked with sculpture, printmaking, photography, installation, writing, film-making and architecture. Ai Weiwei: Making Sense at London's Design Museum explores the 65-year-old artist's work through a design lens. "It will wrestle with what humans have made and continue to make; how they make; what they chose to keep and what to destroy," the museum's director Tim Marlow writes in the exhibition catalogue, noting that it will question "what all this reveals about our changing values socially, culturally, economically and, of course, politically."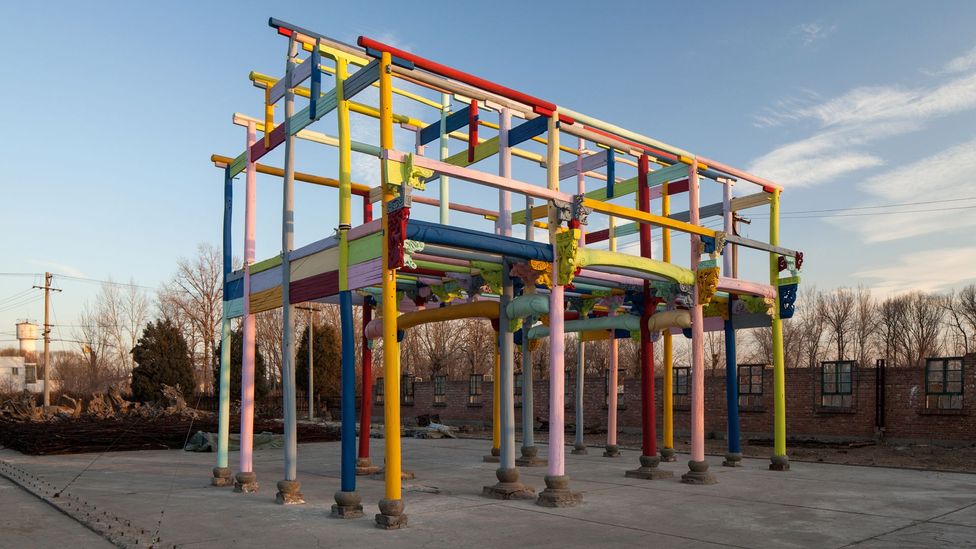 Ai's Coloured House is displayed outside the main exhibition space at the Design Museum (Credit: Courtesy of Ai Weiwei Studio)
One of Ai's most famous pieces, a series of photographs titled Dropping a Han Dynasty Urn(1995), depicts the artist seemingly destroying a 2,000-year-old artefact. The images solidified Ai as the prolific iconoclast we know today. "As part of humanity, artists construct and deconstruct to create new definitions, constantly scrutinising and evaluating our value system and the possibilities of our existence," Ai tells  BBC Culture. "This is how I always approach problems, by standing on the opposite side of the issue, or even the opposite side of myself. I believe this measure is the most trustworthy one."
How have your personal experiences informed your work? 
To put it simply, everything I have done in the past, what I am doing now, and what I will do in the future is all directed towards one question: "who am I?" It's common knowledge that our understanding of ourselves is closely tied to our life experiences, memories, and how we respond to everyday situations. This can be a struggle since our self-perception is not something that can be easily detached from reality and memories.
It was rather late when I fully realised this. For over 50 years before 2011, I was very confused. On 3 April 2011, I was secretly detained. It was a very important moment for me because this experience forced me to re-evaluate my situation, where I came from, and who I truly was. After 81 days in secret detention, I was surprisingly released. It was then that I realised I needed to understand what happened in the past, why my father, a poet, was exiled, and how my time with him had influenced me.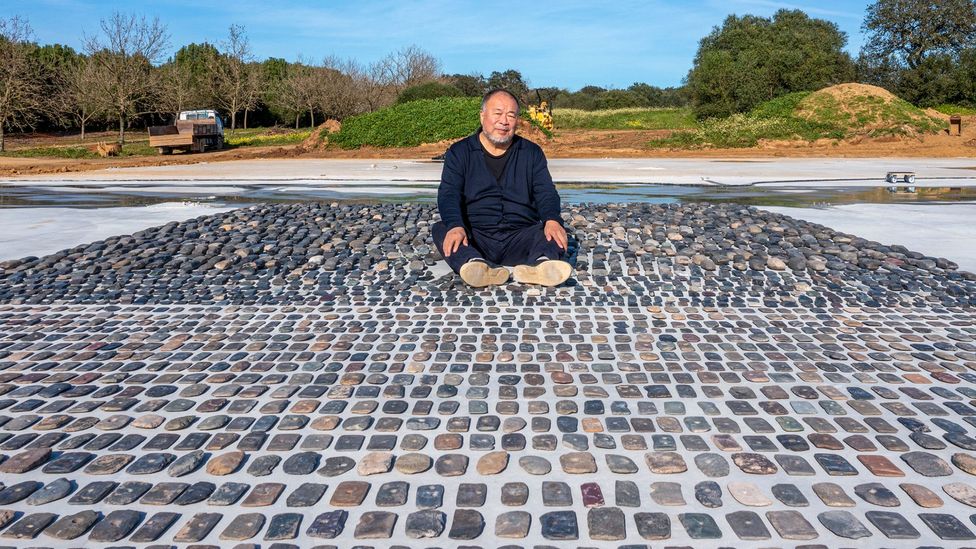 The new exhibition, Ai Weiwei: Making Sense, explores the value of everyday objects (Credit: Courtesy of Ai Weiwei studio)
Even though I cannot fully comprehend why what happened to my father came back to me, I found that holding on to my personal experiences and expressing them was like holding on to something that kept someone sinking in water afloat.
You have been exploring ancient artefacts for around three decades now. Has your understanding of them changed during this time?
My interest in ancient artefacts began in 1993 when I returned to Beijing from New York. Beijing felt very unfamiliar to me as I had grown up during Mao's Cultural Revolution. It was very clear to me that I had a limited understanding of myself, my country, and the land.
Luckily, I slid into a period of time when a tremendous amount of ancient artefacts underground were discovered during China's rapid development. On the ground above, everything had been cleansed and destroyed, but underground, layers of earth and mud hid thousands of years of history.
Over a period of about 10 years, I dedicated myself to researching history through excavated artefacts. I studied how people used different ideologies, measures, materials and artistry throughout different dynasties. This was incredibly important to me because I felt that the world unknown to me was too vast.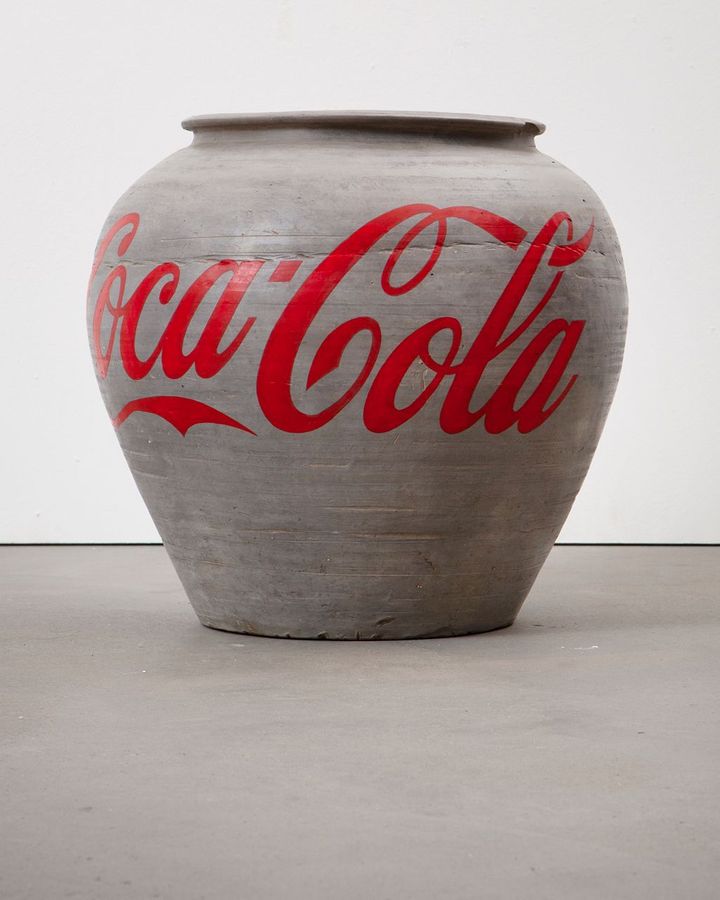 Han Dynasty Urn with Coca-Cola Logo, 2014 – Ai has been exploring ancient artefacts in his work from the start of his career (Credit: Courtesy of Ai Weiwei studio)
This period of learning gave me a deep understanding of language and craftsmanship, including how the trends and changes in art and style throughout different time periods can serve as the most important basis for our understanding of the humanity of a particular period of time.
You have had an interesting connection with Lego since 2014. What has Lego come to symbolise for you since then?
In 2011, after my release, I was under constant surveillance and unable to leave the country for exhibitions. It was during this time that I discovered Lego. I was preparing for an exhibition on freedom that took place in Alcatraz, an old federal prison, which was ironic given my own lack of freedom. I realised that Lego could help me as it was convenient and could be produced by others, regardless of who produced the artwork, where, or at what time, without changing my initial creation. I came to understand that our understanding of freedom often arises from difficult situations. Only in difficulties can we find ways to solve problems and develop a suitable language. 
Later on, I found that Lego provided unimaginable support for long-term concepts; the meaning of an artwork is defined by its concept, and measures, language and vocabulary are all critical components only when they support the concept. Lego gave me this possibility, and enabled me to face the fragmented and colourful worlds of politics and culture that were far removed from our conventional understanding.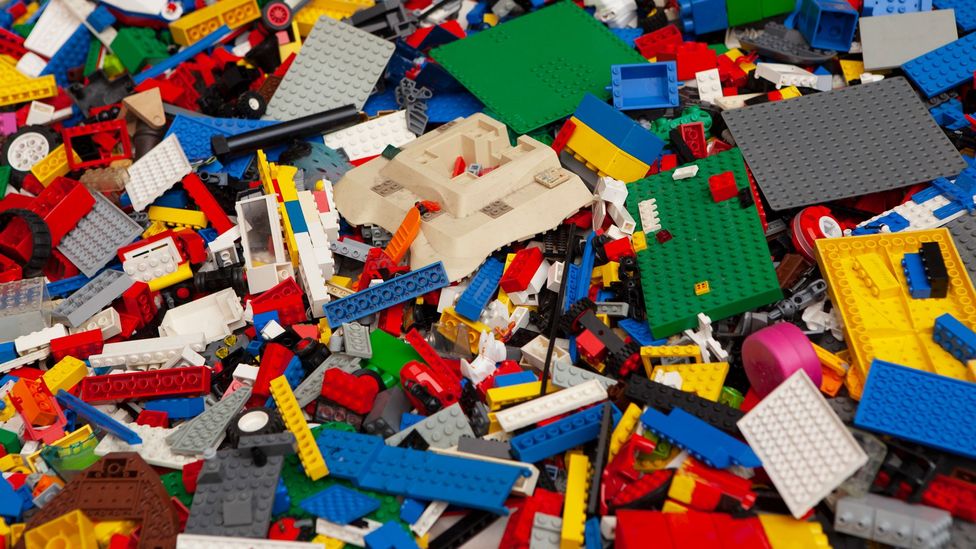 Ai believes that as an artist, using new languages is critical – pictured, Untitled (Lego incident) (Credit: Courtesy of Ai Weiwei studio)
As an artist, a new language is critical; an artist without their own language cannot survive. Without a language, artists would become pale and weak artisans. Lego helped me see the light at the end of the tunnel. By using this material, I could detach myself from my personal techniques, and it could be widely accepted by the public.
In the exhibition, you have three toilet-paper sculptures made of glass and marble, referencing the pandemic. How do everyday objects become items that carry so much weight?
In our everyday existence, life is experienced one day at a time. It is in the objects we encounter in our daily lives and feel secure in that we often find the most striking insights into our living conditions, both in terms of our understanding of them and our ability to subvert them. These objects, dubbed "readymades" by Duchamp, challenge the stable conceptual structures that we have come to rely on. Such subversive language has a powerful impact on our neural pathways and our value system, as it has the potential to undermine our pre-existing structures.
A case in point is the ubiquitous toilet paper. This object has the potential to remind us of the fragility of life and the instability of our understanding of social, national, familial and personal situations. While it may be overlooked in our daily routine, it has taken on a wider meaning and definition during the pandemic, much like the facial masks. It can be seen as a monument of this period of time, a tangible reminder of what truly matters in life.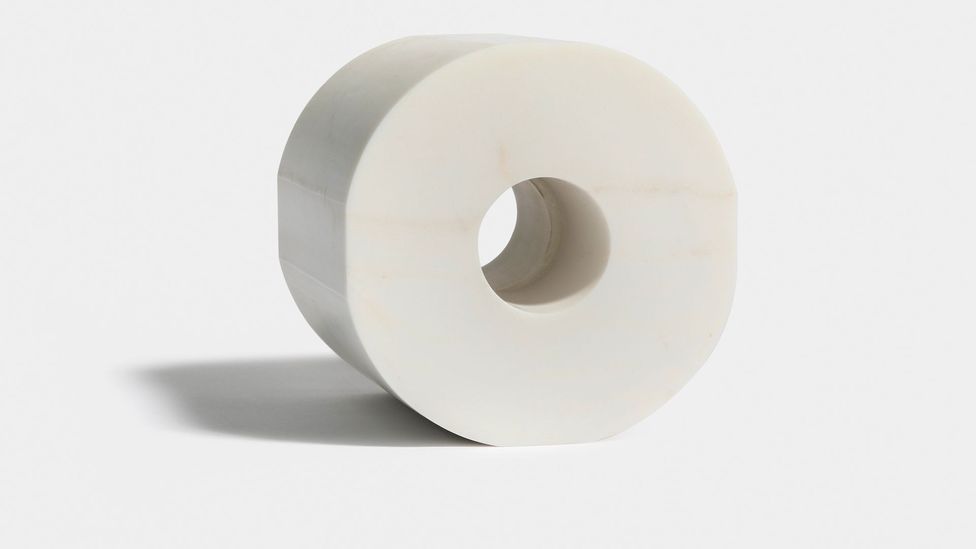 Marble Toilet Paper, 2020, considers the significance of everyday objects to humanity (Credit: Courtesy of Ai Weiwei studio)
Scale is an important part of your work. How would you say this influences how people experience or understand it?
The size of an object is not the most important factor when it comes to scale. Rather, it is about finding an appropriate way to express the concept we wish to convey and determining the appropriate volume or magnitude of the work. For instance, the production of one porcelain sunflower seed requires the same amount of craftsmanship as the production of 100 million porcelain sunflower seeds. Yet creating a large-scale installation of sunflower seeds requires a significant amount of time and manpower, as well as emotional investment, which differs from the reasons for typical art creation. This is what I value. 
I would like to blend my artworks into everyday life, much like how art can be integrated into our daily experiences. Often, we need a certain quantity of objects to perceive the passage of time, and our understanding of space can be distorted without an appropriate number of objects. That's why I create both large-scale and small-scale artworks. Unexpectedly, the small-scale works that hold great significance for me often go unnoticed by others. Meanwhile, large-scale installations may merely distort our perception of reality and reinforce our flawed judgments of the world. 
Ai Weiwei: Making Sense is at the Design Museum, London, until 30 July 2023.
If you would like to comment on this story or anything else you have seen on BBC Culture, head over to our Facebook page or message us on Twitter.
And if you liked this story, sign up for the weekly bbc.com features newsletter, called The Essential List. A handpicked selection of stories from BBC Future, Culture, Worklife and Travel, delivered to your inbox every Friday.