Evangeline Lilly Says Marvel Is 'Very Respectful' About Her View on COVID-19 Vaccines
Actress Evangeline Lilly, who appeared in a number of Marvel movies, revealed last week that she has always been respected by the superhero movie franchise when it comes to her views on COVID-19 vaccinations and their mandates. Lilly made the remark during an episode of the "Happy Sad Confused" podcast that aired on Feb. 16, saying "Ant-Man" director Peyton Reed contacted her about "cancellation" rumors due to her position on COVID-19 mandates in Canada. However, Lilly said that those rumors "didn't come from Marvel," noting that the company has never told her how to live her personal life. "They're very respectful," Lilly said, referring to her outspoken position on the COVID-19 shots. "In fact, I've had direct conversations with them that I have instigated and they've always said, 'That's not our business. That's not for us to tell you how to live your life or what opinions to have.'" "And, I actually even got a really supportive phone call from Peyton Reed at one point and just saying like, 'Just so you know, there's some rumors spreading about Marvel ditching you or canceling you," she continued, adding that the cancellation rumors "didn't come from Marvel and that didn't come from us, so just ignore that.'" Talk of her being canceled and let go by Marvel, which is owned by Disney, was spurred due to the 43-year-old "Ant-Man And The Wasp: Quantumania" star speaking out against COVID-19 vaccine mandates while attending the "Defeat the Mandates" rally in Washington D.C. in January 2022. On Jan. 27, 2022, Lilly wrote in the caption of an Instagram post, which showed herself rallying in support of Canadian truckers at a protest sparked by a mandate that required cross-border truckers to be vaccinated against COVID-19, that she believes mandatory vaccinations and coercive measures are "not the way." "I was in DC this weekend to support bodily sovereignty while Canadian truckers were rallying for their cross-country, peaceful convoy in support of the same thing," Lilly wrote. "I believe nobody should ever be forced to inject their body with anything, against their will, under threat of: violent attack, arrest or detention without trial, loss of employment, homelessness, starvation, loss of education, alienation from loved ones, excommunication from society … under any threat whatsoever," the Canadian actress continued. Lilly is among a number of prominent names in the entertainment and sports industry, including Ice Cube and Serbian tennis player Novak Djokovic, who've been faced with controversy due to their personal position on COVID-19 vaccinations and their mandates. Ice Cube, whose real name is O'Shea Jackson, revealed during an appearance on "The Million Dollaz Worth of Game" podcast in November 2022  that he lost a $9 million film role because he refused to get the shot, saying that he doesn't know "how Hollywood feels about [him] right now." "I turned down a movie cause I didn't want to get the [explicit] jab," the 53-year-old actor told the weekly podcast. "I turned down $9 million, cause I didn't want to get the jab. [Explicit] that jab. [Explicit] ya'll for trying to make me get it."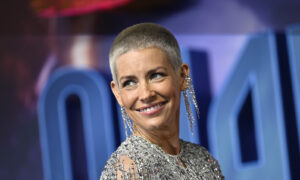 Actress Evangeline Lilly, who appeared in a number of Marvel movies, revealed last week that she has always been respected by the superhero movie franchise when it comes to her views on COVID-19 vaccinations and their mandates.
Lilly made the remark during an episode of the "Happy Sad Confused" podcast that aired on Feb. 16, saying "Ant-Man" director Peyton Reed contacted her about "cancellation" rumors due to her position on COVID-19 mandates in Canada. However, Lilly said that those rumors "didn't come from Marvel," noting that the company has never told her how to live her personal life.
"They're very respectful," Lilly said, referring to her outspoken position on the COVID-19 shots. "In fact, I've had direct conversations with them that I have instigated and they've always said, 'That's not our business. That's not for us to tell you how to live your life or what opinions to have.'"
"And, I actually even got a really supportive phone call from Peyton Reed at one point and just saying like, 'Just so you know, there's some rumors spreading about Marvel ditching you or canceling you," she continued, adding that the cancellation rumors "didn't come from Marvel and that didn't come from us, so just ignore that.'"
Talk of her being canceled and let go by Marvel, which is owned by Disney, was spurred due to the 43-year-old "Ant-Man And The Wasp: Quantumania" star speaking out against COVID-19 vaccine mandates while attending the "Defeat the Mandates" rally in Washington D.C. in January 2022.
On Jan. 27, 2022, Lilly wrote in the caption of an Instagram post, which showed herself rallying in support of Canadian truckers at a protest sparked by a mandate that required cross-border truckers to be vaccinated against COVID-19, that she believes mandatory vaccinations and coercive measures are "not the way."
"I was in DC this weekend to support bodily sovereignty while Canadian truckers were rallying for their cross-country, peaceful convoy in support of the same thing," Lilly wrote.
"I believe nobody should ever be forced to inject their body with anything, against their will, under threat of: violent attack, arrest or detention without trial, loss of employment, homelessness, starvation, loss of education, alienation from loved ones, excommunication from society … under any threat whatsoever," the Canadian actress continued.
Lilly is among a number of prominent names in the entertainment and sports industry, including Ice Cube and Serbian tennis player Novak Djokovic, who've been faced with controversy due to their personal position on COVID-19 vaccinations and their mandates.
Ice Cube, whose real name is O'Shea Jackson, revealed during an appearance on "The Million Dollaz Worth of Game" podcast in November 2022 that he lost a $9 million film role because he refused to get the shot, saying that he doesn't know "how Hollywood feels about [him] right now."
"I turned down a movie cause I didn't want to get the [explicit] jab," the 53-year-old actor told the weekly podcast. "I turned down $9 million, cause I didn't want to get the jab. [Explicit] that jab. [Explicit] ya'll for trying to make me get it."