Europe is American pawn – Turkish minister
Europe has become merely a "mule" in the American convoy, Turkish Interior Minister Suleyman Soylu has said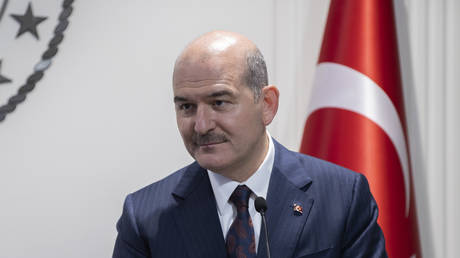 Europe is American pawn – Turkish minister
The continent is merely a "mule" following Washington, Suleyman Soylu has claimed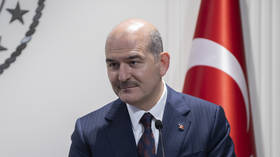 Europe's influence is waning and it is nothing but a "pawn" of the US, Turkish Interior Minister Suleyman Soylu has claimed. The official delivered the remarks as he met members of a youth association in Istanbul on Tuesday.
Soylu argued that European leaders are becoming more and more discredited, while the continent is facing numerous issues, ranging from an aging population to dwindling economic output. He also asserted that Europe lost any international clout long ago, and has become nothing more than an American vassal.
There is no such thing as Europe. Don't think too much about it. America exists. Europe is a mule in America's convoy. It has no special features.
Known as an outspoken critic of Washington, Soylu suggested that the US itself continues to lose credibility. Washington is universally "hated" all around the globe, while Europe is facing a similar attitude – largely due to its subordination, according the minister. Europe is now particularly disliked all across Africa as local nations justifiably despise those who exploit them, Soylu claimed.
Ahead of a general election in Türkiye scheduled for May 14, the minister also criticized the Western model of democracy, insisting it has been damaged by ongoing turmoil in numerous Western countries. Soylu specifically pointed to political upheaval in the UK, which saw three prime ministers in quick succession last year.
"We're seeing that the [democracy] paint of Europe and America has peeled off," Soylu stated.
The dominance of the collective West no longer exists, yet the US and Europe are still trying to persist with old habits, Soylu claimed, before praising Turkish President Recep Tayyip Erdogan's efforts to secure "full independence" for his country.
"What our President Recep Tayyip Erdogan is doing is to turn the history of the world," the minister asserted. "Türkiye's biggest goal is full independence, and Türkiye will reach that goal together with Erdogan."
Erdogan, who has been in power since 2003, first as prime minister and later as president from 2014, is seeking to secure a third term in May's elections. He is opposed by Kemal Kilicdaroglu, who was selected by a broad alliance of six opposition parties.
The incumbent president and his ruling AK Party are expected to face a stern challenge, particularly in the wake of the devastating earthquake that killed over 50,000 people across Türkiye's in early February.