EU teases 'new era' of foreign policy
The EU is planning to build relationships with other countries on the basis of their position towards Russia and China, Josep Borrell says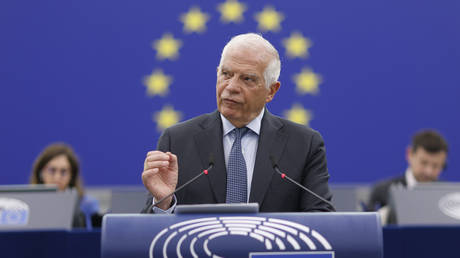 25 Apr, 2023 00:41
HomeWorld News
EU teases 'new era' of foreign policy
Countries will be judged by how they relate to Russia and China, Josep Borrell says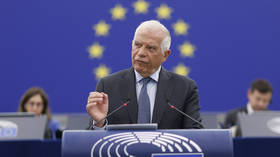 The European Union is planning to build relationships with other countries on the basis of their position towards Russia and China, EU foreign policy chief Josep Borrel said on Monday. His remarks came as the EU discussed the geopolitical consequences of the Russian military operation in Ukraine.
Speaking at a press conference in Brussels, Borrell emphasized that the EU must increase its bilateral engagements with "third countries" and present a plan that goes "beyond everyday crisis management." He also highlighted the need to counter the "Russian narrative" in Asia, Africa and Latin America.
The EU's "Global Gateway Initiative" is the way to engage with countries at a time when the world has been divided between "two different ecosystems of technological developments," each trying to win people over to its side, Borell said.
The EU must adopt a "structural approach" to policy when it comes to countries that "do not look at this world with the same eyes, the same lenses, as us," and do not want to take sides, said Borrell.
They have to take a position with respect to the war in Ukraine and with respect to the relationship with the growing role of China.
The EU foreign policy chief also dismissed the "peace ideas" for Ukraine floated in recent months by China and Brazil, saying they "put on the same level the aggressor and the victim."
Brazilian President Luiz Inacio Lula da Silva has suggested the US and its European allies were "encouraging war" in Ukraine by providing weapons to Kiev. His blueprint for peace talks was praised by Russian Foreign Minister Sergey Lavrov last week, while the White House accused the Brazilian president of "parroting Russian and Chinese propaganda without looking at the facts."
Last week, China's ambassador to France Lu Shaye questioned whether former Soviet republics can today be regarded as sovereign within the current framework of international law. He also said that Crimea had originally been Russian and had been gifted to Ukraine by Soviet leader Nikita Khrushchev in 1954.
"Beijing has distanced itself from the unacceptable remarks of its ambassador to Paris... So, it is good news," Borrell said. Speaking to the press on Monday, Chinese foreign ministry spokeswoman Mao Ning reiterated that Beijing "respects the sovereign-state status of the participating republics after the dissolution of the Soviet Union."