EU reveals Serbia-Kosovo 'normalization' proposal
The proposal amounts to recognition of Kosovo by Serbia in practice, while claiming to abide by international law and the UN Charter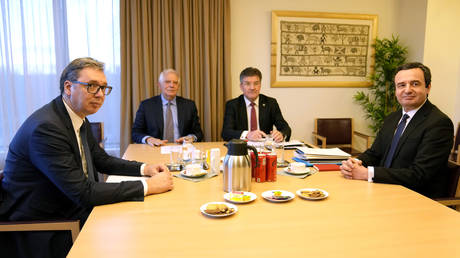 28 Feb, 2023 00:42
HomeWorld News
EU reveals Serbia-Kosovo 'normalization' proposal
The bloc demands Belgrade's de facto recognition of the breakaway province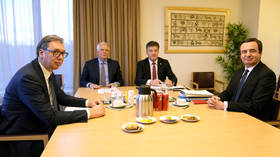 The European Union on Monday published the text of the so-called Franco-German proposal for a "path to normalization" of relations between Serbia and its breakaway province of Kosovo. While implying that Belgrade and Pristina agreed to the plan, EU foreign policy chief Josep Borrell said another meeting in March will discuss its implementation.
"President Aleksandar Vucic and Prime Minister Albin Kurti have today agreed that no further discussions are needed on the EU Proposal," Borrell tweeted after the meeting in Brussels, also attended by the EU envoy to the Balkans Miroslav Lajcak. "We have made some progress today, but more work is needed."
Kurti told reporters that the agreement was not signed because Vucic refused to do so, even though he "agreed to" the EU proposal. "I offered to sign it formally, but Serbia was not ready," he said.
"What we agreed was to continue negotiating," said Vucic, saying that he insisted on having Kurti first carry out the obligation Pristina undertook 10 years ago, namely to establish an association of Serb municipalities in the province. He said another meeting will take place on March 18, and that the European Council will discuss the situation on March 23-24.
Those dates coincide with the start of NATO's bombing campaign against Serbia in 1999, on behalf of ethnic Albanian separatists. The US-led bloc eventually deployed troops in Kosovo, and backed the Albanians' declaration of independence in 2008, contrary to the UN Security Council Resolution 1244 that guaranteed Serbia's territorial integrity.
The EU has insisted on Serbia recognizing Kosovo's independence as a precondition for joining the bloc, even though five member countries – including Borrell's Spain and Lajcak's Slovakia – have yet to do so.
Though French and German diplomats presented the proposal to Belgrade and Pristina last month, it had not been made public until now. A recent poll in Serbia showed 57% of respondents supporting a fictional version of it, in which there would be no recognition of Kosovo – but only 9% backing what was reported to be the actual offer.
According to the text published by the EU's External Action Service, Serbia and Kosovo would "develop normal, good-neighborly relations with each other on the basis of equal rights," which would include exchanging "Permanent Missions" and mutually recognizing each other's "respective documents and national symbols, including passports, diplomas, license plates, and customs stamps."
Under the EU proposal, both parties "proceed on the assumption that neither of the two can represent the other in the international sphere or act on its behalf," while Serbia in particular "will not object to Kosovo's membership in any international organization."
The EU also claimed the dialogue will be "guided by the aims and principles laid down in the UN Charter, especially those of the sovereign equality of all States, respect for their independence, autonomy and territorial integrity, the right of self-determination, the protection of human rights, and non-discrimination."