EU reliant on rebadged Russian oil from India - Bloomberg
India has become the bloc's top fuel supplier by re-exporting Russian supplies, according to the outlet The EU is still powering its economy with Russian oil despite sanctions, Bloomberg reported this week. Member states are now said to be buying the sanctioned fuel through India.In December, the EU, G7, and allied countries imposed an embargo and a $60-per-barrel price cap on Russian crude and later introduced similar restrictions for exports of petroleum products.But India has not joined the ban and instead has ramped up purchases of Russian oil that Moscow has been offering at discounts.In 2022-2023, Indian refiners bought between 970,000 and 981,000 barrels of Russian oil per day, accounting for more than a fifth of the country's overall imports, which were between 4.5 million and 4.6 million barrels per day (bpd), Kpler and Vortexa data showed.Not only has India become Russia's top oil buyer since the ban went into effect, New Delhi is now on track to become the bloc's largest supplier of refined fuels.Indian processing plants have been snapping up cheap Russian oil, turning it into fuels and reselling it to the EU at a competitive price."Russian oil is finding its way back into Europe despite all the sanctioning and India ramping up fuel exports to the west is a good example of it," a lead crude analyst at Kpler, Viktor Katona, told Bloomberg. "With India taking in so much Russian barrels, it's inevitable," he added. Imports of fuel from India to the EU are set to jump above 360,000 bpd, overtaking shipments from Saudi Arabia, according to Kpler.Diesel powers large sectors of the European economy with more than a third of it coming from Russia prior to the conflict in Ukraine. Now that the EU has stopped accepting refined products from Moscow, the bloc needs to source the fuel from alternative suppliers, which means higher shipping costs and tighter competition between refineries, the outlet said.Meanwhile, Russian crude oil arrivals to India are expected to surpass 2 million bpd in April, representing almost 44% of the nation's overall crude imports, data from Kpler showed.For more stories on economy & finance visit RT's business section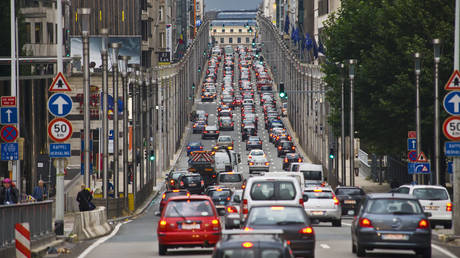 India has become the bloc's top fuel supplier by re-exporting Russian supplies, according to the outlet
The EU is still powering its economy with Russian oil despite sanctions, Bloomberg reported this week. Member states are now said to be buying the sanctioned fuel through India.
In December, the EU, G7, and allied countries imposed an embargo and a $60-per-barrel price cap on Russian crude and later introduced similar restrictions for exports of petroleum products.
But India has not joined the ban and instead has ramped up purchases of Russian oil that Moscow has been offering at discounts.
In 2022-2023, Indian refiners bought between 970,000 and 981,000 barrels of Russian oil per day, accounting for more than a fifth of the country's overall imports, which were between 4.5 million and 4.6 million barrels per day (bpd), Kpler and Vortexa data showed.
Not only has India become Russia's top oil buyer since the ban went into effect, New Delhi is now on track to become the bloc's largest supplier of refined fuels.
Indian processing plants have been snapping up cheap Russian oil, turning it into fuels and reselling it to the EU at a competitive price.
"Russian oil is finding its way back into Europe despite all the sanctioning and India ramping up fuel exports to the west is a good example of it," a lead crude analyst at Kpler, Viktor Katona, told Bloomberg. "With India taking in so much Russian barrels, it's inevitable," he added.
Imports of fuel from India to the EU are set to jump above 360,000 bpd, overtaking shipments from Saudi Arabia, according to Kpler.
Diesel powers large sectors of the European economy with more than a third of it coming from Russia prior to the conflict in Ukraine. Now that the EU has stopped accepting refined products from Moscow, the bloc needs to source the fuel from alternative suppliers, which means higher shipping costs and tighter competition between refineries, the outlet said.
Meanwhile, Russian crude oil arrivals to India are expected to surpass 2 million bpd in April, representing almost 44% of the nation's overall crude imports, data from Kpler showed.
For more stories on economy & finance visit RT's business section