Estonian towns 'reluctant' to host destroyed Russian tank exhibition – media
The Baltic nation's defense ministry has planned a 'tour' for a tank handed over by the Ukrainian forces A plan by the Estonian Defense Ministry to stage a "tour" for a destroyed Russian tank through several Estonian cities has faced opposition from the local authorities. Some of them called it a political stunt ahead of the upcoming parliamentary elections, while others treated it like a "natural disaster," Estonia's Postimees newspaper reported on Tuesday."After all, we all understand that it is propaganda," Triin Varek, the mayor of the northern Estonian city of Rakvere, said, adding that it would be out of place ahead of the parliamentary elections scheduled for early March."At any other time, yes, please. But at the moment, this tank would be inappropriate between the political parties' election tents," Varek said, adding that the city "has not given permission to the Ministry of Defense to organize a public event."The head of Estonia's north-eastern region of Johvi, which includes a city of the same name, opposed the very idea of the tank being put on display in the city. Some of the local government officials believe "the tank should not be brought here at all," Maris Toomel, the Johvi municipal head, told the media, adding that the region has a sizable Russian-speaking community and the exhibition could lead to "confrontation." According to Postimees, the Estonian cities of Johvi, Narva, and Rakvere have "explicitly refused" to host the exhibition and the south-western port city of Parnu is still "considering" the proposal. Other cities, like Tartu and Viljandi in the south, agreed to the defense ministry's proposal, the media outlet said.The ministry insisted on Tuesday that it would not change the exhibition plan despite opposition from local authorities, according to Postimees."The cities that have demonstrated an interest in hosting the tank have not changed their minds," the ministry told the newspaper, adding that an exact route of the "tour" would be revealed shortly.The tank, which arrived in Estonia from Ukraine and was put on display at a central square of the Estonian capital of Tallinn over the weekend, has already sparked some controversy, as some of the locals started laying flowers by it, much to the dismay of the local authorities.On Tuesday, the Estonian police slapped a man with a fine after he refused to take back flowers he placed at the destroyed military equipment despite repeated demands from the law enforcement officers, Postimees reported. You can share this story on social media: Follow RT on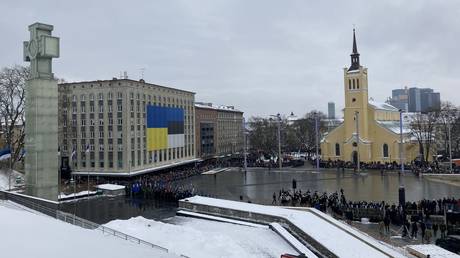 The Baltic nation's defense ministry has planned a 'tour' for a tank handed over by the Ukrainian forces
A plan by the Estonian Defense Ministry to stage a "tour" for a destroyed Russian tank through several Estonian cities has faced opposition from the local authorities. Some of them called it a political stunt ahead of the upcoming parliamentary elections, while others treated it like a "natural disaster," Estonia's Postimees newspaper reported on Tuesday.
"After all, we all understand that it is propaganda," Triin Varek, the mayor of the northern Estonian city of Rakvere, said, adding that it would be out of place ahead of the parliamentary elections scheduled for early March.
"At any other time, yes, please. But at the moment, this tank would be inappropriate between the political parties' election tents," Varek said, adding that the city "has not given permission to the Ministry of Defense to organize a public event."
The head of Estonia's north-eastern region of Johvi, which includes a city of the same name, opposed the very idea of the tank being put on display in the city. Some of the local government officials believe "the tank should not be brought here at all," Maris Toomel, the Johvi municipal head, told the media, adding that the region has a sizable Russian-speaking community and the exhibition could lead to "confrontation."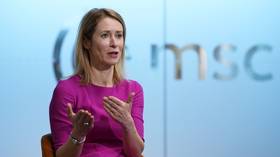 According to Postimees, the Estonian cities of Johvi, Narva, and Rakvere have "explicitly refused" to host the exhibition and the south-western port city of Parnu is still "considering" the proposal. Other cities, like Tartu and Viljandi in the south, agreed to the defense ministry's proposal, the media outlet said.
The ministry insisted on Tuesday that it would not change the exhibition plan despite opposition from local authorities, according to Postimees.
"The cities that have demonstrated an interest in hosting the tank have not changed their minds," the ministry told the newspaper, adding that an exact route of the "tour" would be revealed shortly.
The tank, which arrived in Estonia from Ukraine and was put on display at a central square of the Estonian capital of Tallinn over the weekend, has already sparked some controversy, as some of the locals started laying flowers by it, much to the dismay of the local authorities.
On Tuesday, the Estonian police slapped a man with a fine after he refused to take back flowers he placed at the destroyed military equipment despite repeated demands from the law enforcement officers, Postimees reported.