Equipment to best exercise outdoors with your Dog
Using the right dog equipment and exercising outdoors is a great way to bond with your furry friend, whilst staying active and healthy.What kinds of exercises can you do with your Dog?There are several outdoor exercise activities you can do with your dog, including:Running and joggingHikingPlaying fetchSwimmingWalkingFrisbeeRollerbladingTrekkingBall games like fetching a ball or playing with a ball thrower.Depending on the health and fitness of your dog, you can start with lower-intensity activities and gradually increase the intensity as your dog gets used to the routine.When considering outdoor activities with your dog a suitable leash is the first go-to piece of equipment. Think about the environment in which you'll be exercising and also the size of your dog, as some leashes may not be suitable for rough terrain, crowded areas, or bigger dogs.What leads do you use when walking and running with your dog?It's important to use a suitable leash to ensure both your safety and your dog's safety when exercising and other are around. Here are some leads that you can take a look at,Hand-held LeashesThese are traditional leashes that are hand-held. They are suitable for walking at a leisurely pace.We think some great options are;Leashboss Shock Dog Leash for Dog TrainingThis is a good one because it can even handle larger dogs such as Great Danes and German Shepherds. This specific model comes in a few different lengths, either the 12-inch leash, which helps you control your dog up close or the 24-inch leash, which gives them a bit more length to work with. There's also the 18-inch, which is somewhere in the middle.  Although, if you're looking for a leash with more length to it, probably give this one a miss.Carhartt Shoch Absorbing Dog LeashThis nylon dog leash is simple to use and is quite durable thanks to its design. It also comes with an extra gated clip for multiple quick attachment options. Some users have reported that the metal claw in the attachment system can be a little loose sometimes.PLUTUS PET 10'' Short Dog LeashThis model prioritizes comfort and controllability; it comes in either a 10-inch variant or an 18-inch variant. As a bonus, the insides are padded with soft neoprene; after all, you should be just as comfortable as your canine friend! The only downside to this leash is that it's quite short, which doesn't give you much flexibility.Leashes that wrap around the wristThese leashes are designed to be worn around the wrist and are good for running and jogging with your dog. They provide more freedom of movement and help keep your hands free while you exercise.APBFH Short Dog LeashThis leash has the benefit that you can attach it to a baby stroller if you prefer walking your baby with your canine companion in tow. This model does not have a breakaway feature, so if this feature is important, then have a look at some of the other leash options.Gooby Soft Mesh Wrist Band Surfer LeashThe leash itself is hands-free and is wrapped around the wrist with padding on the inner side. This could be a tricker leash to use if you have a more energetic dog.Leashes that wrap around the waistSimilar to wrist leashes, waist leashes are designed to be worn around the waist. They are ideal for running and jogging with your dog and provide more stability and control.Kurgo 6 in 1 Hands-Free Dog LeashKurgo's 6-in-1 leash is as universal as a leash can get. It can be used as a conventional handheld leash, you can wear it in a courier style, and you can wear it around your waist. One thing to consider is that some users report that the clip is a bit insecure.Kurgo Hands-Free Dog Running BeltAnother Kurgo product, this one is designed specifically for running. It includes inner padding with a breathable mesh, ensuring the user's comfort. It also has the MOLLE system, which allows you to attach MOLLE-compatible pouches to the side for extra carrying capacity.Furhaven Trail Pup Hands-Free Waist BeltOne of the biggest downsides with waist leashes can be their inflexibility, the bungee leash eliminates this by allowing the leash to extend and contract, based on the movements of both the dog and the owner.Equipment that you'll need for outdoor activities with your dog1) Leash2) Collar – A well-fitted collar is important for ensuring your dog's safety when exercising outdoors. Consider a reflective or brightly colored collar for better visibility in low-light conditions.3) Fetching ball – ball thrower.4) Frisbee – this can be a lot of fun with your best pal and can make them have a great workout too.5) Water bottle and snacks for your dog. It's important to keep your dog hydrated during exercise, so bring along a water bottle and snacks for your dog. There are now several small portable collapsible dog water dishes that you can take with you.6) Dog coat – good in winter for some dogs which don't have thick coats7) Dog poo bags – clean up after your dog!8) Whistle – if this works for you in calling back your dog.Hydrate & res
Using the right dog equipment and exercising outdoors is a great way to bond with your furry friend, whilst staying active and healthy.
What kinds of exercises can you do with your Dog?
There are several outdoor exercise activities you can do with your dog, including:
Running and jogging
Hiking
Playing fetch
Swimming
Walking
Frisbee
Rollerblading
Trekking
Ball games like fetching a ball or playing with a ball thrower.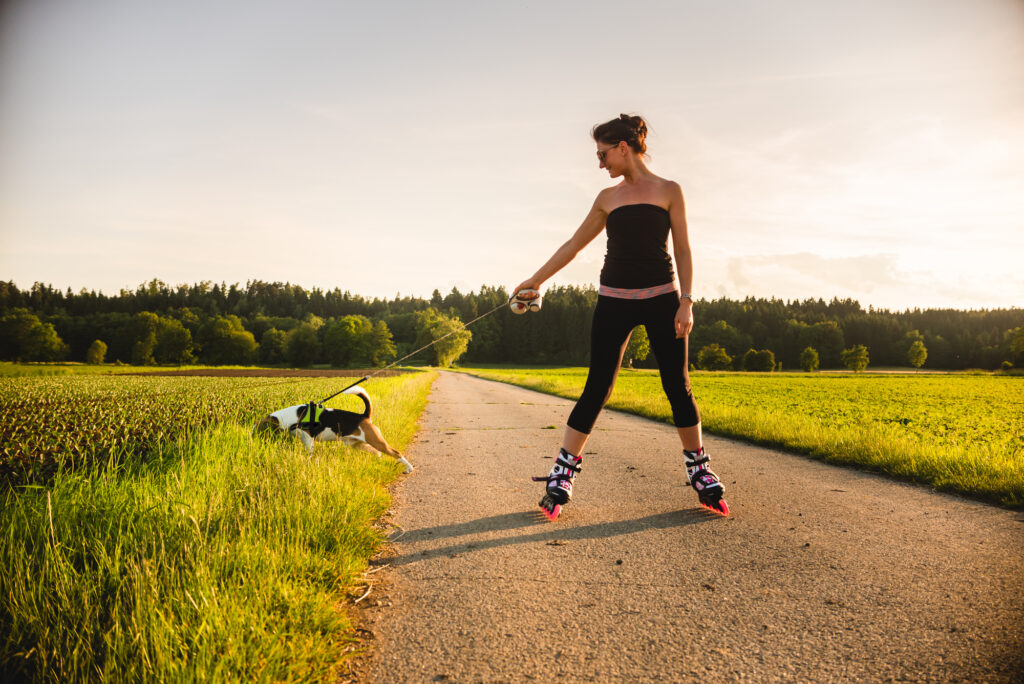 Depending on the health and fitness of your dog, you can start with lower-intensity activities and gradually increase the intensity as your dog gets used to the routine.
When considering outdoor activities with your dog a suitable leash is the first go-to piece of equipment. Think about the environment in which you'll be exercising and also the size of your dog, as some leashes may not be suitable for rough terrain, crowded areas, or bigger dogs.
What leads do you use when walking and running with your dog?
It's important to use a suitable leash to ensure both your safety and your dog's safety when exercising and other are around. Here are some leads that you can take a look at,
Hand-held Leashes

These are traditional leashes that are hand-held. They are suitable for walking at a leisurely pace.

We think some great options are;

Leashboss Shock Dog Leash for Dog Training



This is a good one because it can even handle larger dogs such as Great Danes and German Shepherds. This specific model comes in a few different lengths, either the 12-inch leash, which helps you control your dog up close or the 24-inch leash, which gives them a bit more length to work with. There's also the 18-inch, which is somewhere in the middle. Although, if you're looking for a leash with more length to it, probably give this one a miss.

Carhartt Shoch Absorbing Dog Leash

This nylon dog leash is simple to use and is quite durable thanks to its design. It also comes with an extra gated clip for multiple quick attachment options. Some users have reported that the metal claw in the attachment system can be a little loose sometimes.

PLUTUS PET 10'' Short Dog Leash

This model prioritizes comfort and controllability; it comes in either a 10-inch variant or an 18-inch variant. As a bonus, the insides are padded with soft neoprene; after all, you should be just as comfortable as your canine friend! The only downside to this leash is that it's quite short, which doesn't give you much flexibility.

Leashes that wrap around the wrist

These leashes are designed to be worn around the wrist and are good for running and jogging with your dog. They provide more freedom of movement and help keep your hands free while you exercise.

APBFH Short Dog Leash

This leash has the benefit that you can attach it to a baby stroller if you prefer walking your baby with your canine companion in tow. This model does not have a breakaway feature, so if this feature is important, then have a look at some of the other leash options.

Gooby Soft Mesh Wrist Band Surfer Leash

The leash itself is hands-free and is wrapped around the wrist with padding on the inner side. This could be a tricker leash to use if you have a more energetic dog.

Leashes that wrap around the waist

Similar to wrist leashes, waist leashes are designed to be worn around the waist. They are ideal for running and jogging with your dog and provide more stability and control.

Kurgo 6 in 1 Hands-Free Dog Leash

Kurgo's 6-in-1 leash is as universal as a leash can get. It can be used as a conventional handheld leash, you can wear it in a courier style, and you can wear it around your waist. One thing to consider is that some users report that the clip is a bit insecure.

Kurgo Hands-Free Dog Running Belt

Another Kurgo product, this one is designed specifically for running. It includes inner padding with a breathable mesh, ensuring the user's comfort. It also has the MOLLE system, which allows you to attach MOLLE-compatible pouches to the side for extra carrying capacity.

Furhaven Trail Pup Hands-Free Waist Belt

One of the biggest downsides with waist leashes can be their inflexibility, the bungee leash eliminates this by allowing the leash to extend and contract, based on the movements of both the dog and the owner.
Equipment that you'll need for outdoor activities with your dog
1) Leash
2) Collar – A well-fitted collar is important for ensuring your dog's safety when exercising outdoors. Consider a reflective or brightly colored collar for better visibility in low-light conditions.
3) Fetching ball – ball thrower.
4) Frisbee – this can be a lot of fun with your best pal and can make them have a great workout too.
5) Water bottle and snacks for your dog. It's important to keep your dog hydrated during exercise, so bring along a water bottle and snacks for your dog. There are now several small portable collapsible dog water dishes that you can take with you.
6) Dog coat – good in winter for some dogs which don't have thick coats
7) Dog poo bags – clean up after your dog!
8) Whistle – if this works for you in calling back your dog.
Hydrate & rest your dog afterward – they need recovery time too!
Water
Provide shade – provide shade for your dog to rest in, especially on hot days.
Small & frequent meals – to help replenish their energy levels.
Allow for rest time.
Bath or set up a sprinkler in the backyard to assist with cooling them down.
Consider supplements – consider giving your dog supplements, such as glucosamine and chondroitin, to help support joint health.
Visit the vet – if you notice any unusual symptoms or changes in your dog's health, visit the vet for a check-up. It is recommended at least once a year for a general check-up, including a musculoskeletal exam. However, if your dog is a bit more elderly, you may need to go more often.
In conclusion
Exercising with your dog can be a great way to bond and stay active, but it's even better when you use the right equipment for everyone's safety.