Elon Musk Reacts to Tucker Carlson's Video Surpassing Cable News Ratings
Elon Musk has provided his insight into a video message posted on Twitter by former Fox News host Tucker Carlson after the clip netted more views than the media personality's old primetime show. Musk commented on the matter during an interview Friday night with "Real Time" host Bill Maher, who asked the Tesla CEO about Carlson's video getting some 23 million views and 78 million impressions. Is it right that Carlson's two-minute video drew more viewers "than every cable news monologue?" Maher asked the 51-year-old billionaire. "Well, Twitter has a tremendous audience, so there's 250 million people that spend an average of half an hour on Twitter, so it's about 120 to 130 million user hours per day and it's been increasing," Musk said. "We didn't do anything—to be clear—we did nothing special whatsoever," he continued. "I learned about it afterward that he had posted something on Twitter. … It's just that Twitter has a lot of people's attention and it tends to be the people that are—that read a lot or are interested in current events, and generally are pretty influential," he added, without directly answering Maher's question. While it's true that more people watched Carlson's self-made clip in the space of one hour in comparison to those who tuned into his old 8 p.m. ET show, several reports inaccurately indicated that his tweet's video received more views than cable news shows did on the day the media personality posted it. Carlson posted the clip at 8 p.m. ET on Wednesday—the same time as his former Fox News show "Tucker Carlson Tonight"—and received roughly 1.8 million views in less than an hour after its release. For comparison, "Fox News Tonight" with temporary host Brian Kilmeade drew about 1.7 million viewers Tuesday night. The metrics of TV ratings and social media user data figures, however, are obviously not directly like-for-like comparisons. Other Details On social media, several people inaccurately highlighted that Carlson's video received more views than cable news shows did on the day it was posted. "Tucker Carlson had more views on his first Twitter monologue on Wednesday than all cable news shows for the entire day COMBINED," one user said, sharing figures that show Carlson's video netting 72.7 million views compared to the 53.1 combined million views cable news programs generated on Wednesday. Wow — Elon Musk (@elonmusk) April 28, 2023 The post, however, was questioned by several Twitter users, including reporter Matt Binder, who said it's not true that Carlson's video received more views than all cable news shows. Some reports used the total number of impressions, 72.7 million, which is the total number of views of Carlson's tweet, but not the actual number of people who watched the tweet's monologue—which as of April 29 netted some 23 million views. Additionally, Twitter's video view metric already triggers when a user watches a video for at least two seconds and sees at least half of the clip in view, which applies to view metrics for both uploaded videos and live broadcasts. Ratings Take a Hit After Carlson's sudden Fox News exit earlier this week, the cable channel's ratings appear to be impacted by more than just the timeslot that the media figure hosted for years on the network. Carlson's finale a week ago drew 2.65 million viewers, according to Nielsen. The data shows that Brian Kilmeade's substitute hosting gig for "Fox News Tonight" saw ratings of 2.59 million on Monday, 1.7 million on Tuesday, and 1.33 million on Wednesday. But the 9 p.m. Fox News program hosted by Sean Hannity drew about 2.5 million on Monday, 2 million on Tuesday, and 1.7 million on Wednesday night, according to Nielsen. In comparison, Hannity drew about 2.6 million viewers the Wednesday a week before, the ratings show. In response to the Nielsen rating numbers, Fox News said in a statement to news outlets that Fox has been cable news' most-watched network for 21 years, with its team "trusted more by viewers than any other news source." When reached for comment, a Fox spokesperson also told that "Fox News led cable news on Monday and Tuesday across total day and primetime with viewers and A25-54," referring to the 25–54 age demographic coveted by advertisers. Jack Phillips contributed to this report. From NTD News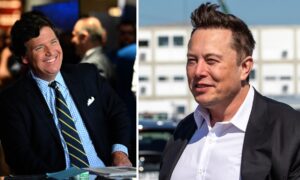 Elon Musk has provided his insight into a video message posted on Twitter by former Fox News host Tucker Carlson after the clip netted more views than the media personality's old primetime show.
Musk commented on the matter during an interview Friday night with "Real Time" host Bill Maher, who asked the Tesla CEO about Carlson's video getting some 23 million views and 78 million impressions.
Is it right that Carlson's two-minute video drew more viewers "than every cable news monologue?" Maher asked the 51-year-old billionaire.
"Well, Twitter has a tremendous audience, so there's 250 million people that spend an average of half an hour on Twitter, so it's about 120 to 130 million user hours per day and it's been increasing," Musk said.
"We didn't do anything—to be clear—we did nothing special whatsoever," he continued. "I learned about it afterward that he had posted something on Twitter. … It's just that Twitter has a lot of people's attention and it tends to be the people that are—that read a lot or are interested in current events, and generally are pretty influential," he added, without directly answering Maher's question.
While it's true that more people watched Carlson's self-made clip in the space of one hour in comparison to those who tuned into his old 8 p.m. ET show, several reports inaccurately indicated that his tweet's video received more views than cable news shows did on the day the media personality posted it.
Carlson posted the clip at 8 p.m. ET on Wednesday—the same time as his former Fox News show "Tucker Carlson Tonight"—and received roughly 1.8 million views in less than an hour after its release.
For comparison, "Fox News Tonight" with temporary host Brian Kilmeade drew about 1.7 million viewers Tuesday night. The metrics of TV ratings and social media user data figures, however, are obviously not directly like-for-like comparisons.
Other Details
On social media, several people inaccurately highlighted that Carlson's video received more views than cable news shows did on the day it was posted.
"Tucker Carlson had more views on his first Twitter monologue on Wednesday than all cable news shows for the entire day COMBINED," one user said, sharing figures that show Carlson's video netting 72.7 million views compared to the 53.1 combined million views cable news programs generated on Wednesday.
Wow

— Elon Musk (@elonmusk) April 28, 2023
The post, however, was questioned by several Twitter users, including reporter Matt Binder, who said it's not true that Carlson's video received more views than all cable news shows.
Some reports used the total number of impressions, 72.7 million, which is the total number of views of Carlson's tweet, but not the actual number of people who watched the tweet's monologue—which as of April 29 netted some 23 million views.
Additionally, Twitter's video view metric already triggers when a user watches a video for at least two seconds and sees at least half of the clip in view, which applies to view metrics for both uploaded videos and live broadcasts.
Ratings Take a Hit
After Carlson's sudden Fox News exit earlier this week, the cable channel's ratings appear to be impacted by more than just the timeslot that the media figure hosted for years on the network.
Carlson's finale a week ago drew 2.65 million viewers, according to Nielsen. The data shows that Brian Kilmeade's substitute hosting gig for "Fox News Tonight" saw ratings of 2.59 million on Monday, 1.7 million on Tuesday, and 1.33 million on Wednesday.
But the 9 p.m. Fox News program hosted by Sean Hannity drew about 2.5 million on Monday, 2 million on Tuesday, and 1.7 million on Wednesday night, according to Nielsen. In comparison, Hannity drew about 2.6 million viewers the Wednesday a week before, the ratings show.
In response to the Nielsen rating numbers, Fox News said in a statement to news outlets that Fox has been cable news' most-watched network for 21 years, with its team "trusted more by viewers than any other news source."
When reached for comment, a Fox spokesperson also told that "Fox News led cable news on Monday and Tuesday across total day and primetime with viewers and A25-54," referring to the 25–54 age demographic coveted by advertisers.
Jack Phillips contributed to this report.
From NTD News