Drone incident hindered US intelligence gathering – CNN
US official tells CNN that intelligence gathering on the Russia-Ukraine conflict has been hindered by rerouting of spy drones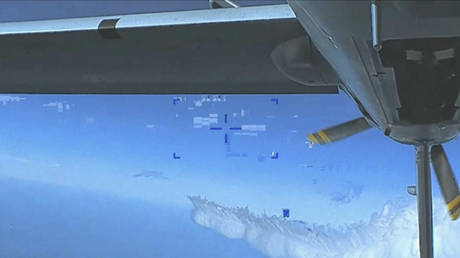 Drone incident hindered US intelligence gathering – CNN
The Pentagon has rerouted its spy drones over Black Sea following an encounter with a Russian jet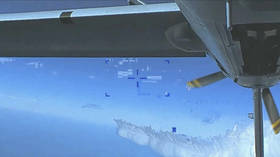 A decision by President Joe Biden's administration to reroute drone flights over the Black Sea to avoid provoking a direct conflict with Russian forces has curtailed intelligence gathering on the Ukraine crisis, a senior US military official has told CNN.
Flying drones at greater distances from the conflict zone and at higher altitudes has reduced the quality of the intelligence that they can gather, CNN reported on Tuesday, citing the senior official without identifying the source. The rerouting was allegedly ordered earlier this month, after a US Air Force MQ-9 Reaper drone was forced down over the Black Sea by a Russian Sukhol Su-27 fighter jet on March 14.
Although the Pentagon was publicly dismissive of Russian complaints about the drone flight, declaring that the US will continue to "fly and operate wherever international law allows," Washington began routing its unmanned aerial vehicles (UAVs) further south, keeping them at a greater distance from the Crimean peninsula and eastern portions of the Black Sea.
The rerouting was done to "avoid being too provocative," CNN previously cited another US official as saying. However, the outlet said, there is already "an appetite" to resume flying the UAVs closer to Crimea.
A Pentagon spokesman declined to comment on how, if at all, the quality of intelligence gathering in the Black Sea has been affected. "We maintain a robust ISR (intelligence, surveillance and reconnaissance) capability in the region and beyond," he said.
The Pentagon accused Russian pilots of reckless flying, claiming that one of the jets clipped the propeller of the unmanned aircraft, causing it to go down. However, the footage purportedly shot by the drone, only showed a Sukhoi Su-27 fighter jet buzzing over it and allegedly ejecting fuel in the process. Russia denied hitting the drone or using weapons against it, and said the US aircraft was flying with its transponder switched off in a no-go zone declared by the Russian military.
The new drone routes have kept the flights more than 40 nautical miles not only from Crimea but the Ukrainian coast as well, rather than the 12 miles normally recognized as the limit of a nation's airspace, CNN said. Having moved the flights further south, it may be more difficult to return to the former routes and assert freedom of international airspace for US aircraft, the senior official said. US Navy vessels have stayed out of the Black Sea since December 2021.