Dozens killed in Sudan military clashes
Dozens of people have reportedly been killed and scores more injured in fierce clashes between the rival factions in Sudan on Saturday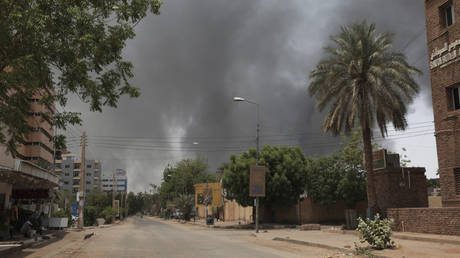 16 Apr, 2023 01:06
HomeAfrica
Dozens killed in Sudan military clashes
The Army and the RSF paramilitary are battling each other for the control of the country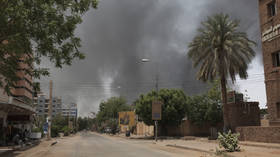 Dozens of people have reportedly been killed and scores more injured in fierce clashes between the rival factions in Sudan, as the country's Army and the Rapid Support Forces continue to accuse each other of sparking the bloodshed and make conflicting claims of their successes.
At least 27 people were confirmed dead and another 183 wounded as of Saturday night, according to the Sudan Doctor's Syndicate, although the group told AP it was unclear how many of the victims were civilians and warned about "many uncounted casualties" in other parts of the country.
The row over how the RSF should be integrated into the military, as well as which authority should oversee the process erupted in bloodshed on Saturday morning, with gunfire and explosions heard across the capital throughout the day and into the night.
Both sides used armored vehicles and pick-up trucks with mounted machine guns in battles in and around Khartoum, according to dramatic videos. Witnesses also reported seeing tanks and jets, as the military said it launched several airstrikes against the RSF positions.
The paramilitary unit claimed to have seized the presidential palace, state TV station, multiple airports and the army chief's residence, and said it had inflicted heavy casualties on the Sudanese army. The leader of RSF claimed his forces are in control of 90% of strategic sites in the capital of Khartoum.
The military insists that all strategic facilities in the capital and elsewhere across the country are still under its control. The military ruled out negotiations with the RSF, calling it a "rebellious militia" that must be dissolved.
The rivalry dates back to the rule of President Omar al-Bashir, who was ousted in April 2019. Sudan has since been in a state of political crisis. The country is currently led by the Transitional Sovereign Council. Its president – and de facto ruler of the nation – is army Chief General Abdel Fattah Al-Burhan. RSF commander General Mohamed Hamdan Dagalo, also known as Hemedti, is the deputy chairman.