Day trips from Seattle Washington
There's so many fun day trips from Seattle, Washington that you can easily do for a nice quick getaway or even a weekend trip. With so much gorgeous landscapes, nature, rivers and mountain areas to explore, it doesn't take to much effort to get out of the metropolis to go out and explore the surrounding attractions and connect with nature or some popular monuments and parks. I've asked some travel writers and bloggers share some of their favorite day trips from Seattle and you'll be amazed by all the cool places to explore below and put this in your bucket list of places to visit just outside of the Seattle area. Fun and cool day trips to do around Seattle, Washington  North Cascades National Park Wander through the ruggedness of Washington's wildest corners in North Cascades National Park, one of the least visited national parks in the United States. With its endlessly picturesque mountain peaks and over 300 glaciers, North Cascades is often referred to as "The American Alps". Start early for your excursion from Seattle to the winding roads of Highway 20. From downtown, it takes 2.5 hours (116 miles) to arrive at the North Cascades National Park visitor center. Part of the North Cascades is accessible all year, but winter road closures due to avalanche risk block access to certain areas between November to May. The best time to visit is during the summer months when the facilities in the park are fully open, and the chance for good weather is at its highest. There is only one paved road that bisects the park, so you'll have to hit the trails or bring a kayak to best experience North Cascades National Park. Marvel at the jade blue waters of Lake Diablo Vista Point, tramp through the wildflowers of Maple Pass Loop, or stroll to the hydroelectric dam of Gorge Lake Overlook. These are some of the best things to do in North Cascades National Park. Just make sure you leave enough time to see the entire 30 mile stretch of the North Cascades Highway Scenic Drive.  With a limited choice of food vendors within the park, pick up food in nearby Marblemount or pack a lunch to picnic on the shores of Diablo Lake. Otherwise, the only restaurant establishment, North Cascades Lodge at Stehekin on the northern end of Lake Chelan, is exclusively accessible by plane, boat, or foot. Issaquah Alps – Seattle's Favorite Hiking Area If you're looking for a great place to hike near Seattle, consider visiting the Issaquah Alps. Nestled in the foothills of the Cascade Mountains, this small mountain range is packed with fabulous hiking trails. The area is a favorite stomping ground for locals and makes for a perfect Seattle day trip. And the best part – it's located only 30 minutes away from Seattle on the I-90 Freeway. Poo Poo Point Trail is one of the best-loved hikes in the Issaquah Alps. Located on Tiger Mountain, Poo Poo Point features stunning views of Puget Sound and Mt. Rainier. It is also used by paragliders from the Seattle Paragliding School who use it as a jumping off point. Be prepared for crowds, however. Poo Poo Point is a popular hiking area and can get busy on the weekends. Consider arriving mid-week or taking the Trailhead Direct Bus to ensure you won't encounter a full parking lot. If you prefer encountering fewer people, choose one of Issaquah's other mountains such as Taylor or Squak. These peaks are also filled with terrific trails but see a fraction of the crowds. The Issaquah Alps range is located near the city of Issaquah – a charming suburb with a cute downtown area and some great restaurants. After you've worked up an appetite on the trails, head to the Triple XXX Rootbeer Drive-In for a burger and a rootbeer float. Or, for a more traditional sit-down dinner, check out Jak's Grill for a spectacular steak. Issaquah has a mild climate and rarely experiences snow, so you can typically hike year-round. That being said, plan to hike in the summer months if you want to avoid the rain. Contributed by Katy of A Rambling Unicorn Columbia River road trip An easy day trip from Seattle would be to cruise along the Columbia River on the Washington or Oregon side and visit some of the cool towns, waterfalls and scenic spots to visit along the way. If wine tasting is your thing, there's also plenty of fantastic wineries that you can visit  Popular spots to visit along the Columbia River route includes: the iconic and historic Vista House with stunning river views from above, check out the Visitors Center at the Bonneville Dam, visit the Dalles Lock and Dam, tour the fish hatchery at the Bonneville Dam, Check out the gorgeous Multnomah Falls and walk to the bridge viewpoint. Water adventure seekers will want to do the Columbia River Sternwheeler cruise, go kayaking on the river or do some fun windsurfing on the Hood River. If you are up to more scenic drives then driving along both coastal roads along the Columbia River Gorge is a fun and easy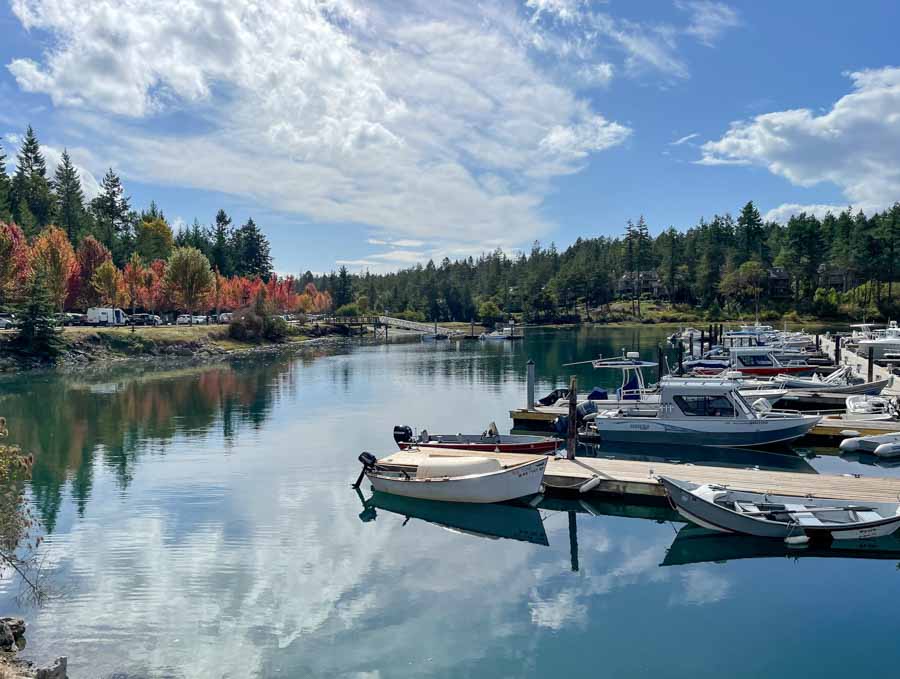 There's so many fun day trips from Seattle, Washington that you can easily do for a nice quick getaway or even a weekend trip. With so much gorgeous landscapes, nature, rivers and mountain areas to explore, it doesn't take to much effort to get out of the metropolis to go out and explore the surrounding attractions and connect with nature or some popular monuments and parks. I've asked some travel writers and bloggers share some of their favorite day trips from Seattle and you'll be amazed by all the cool places to explore below and put this in your bucket list of places to visit just outside of the Seattle area.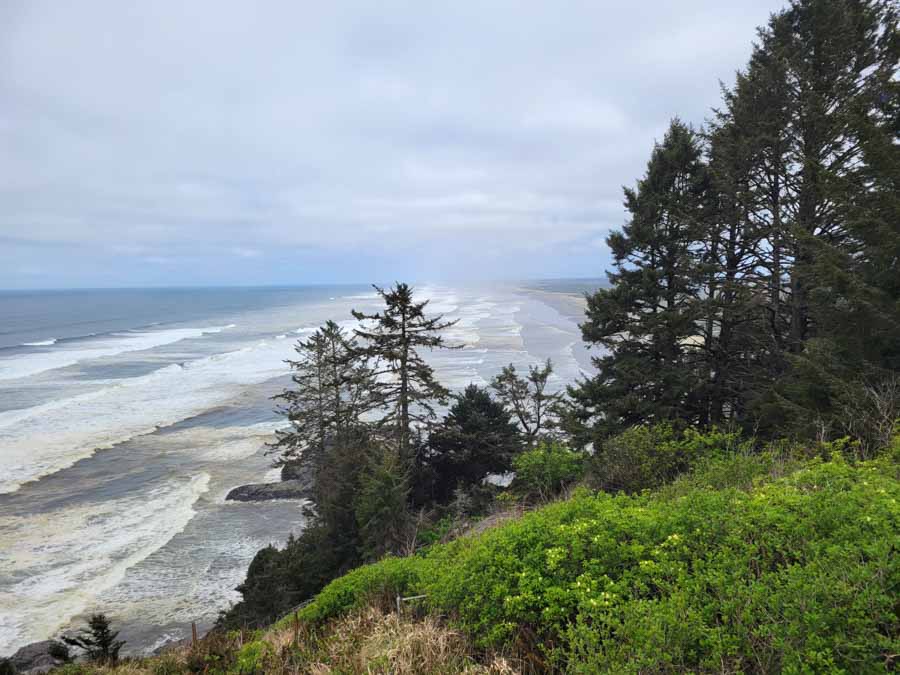 Fun and cool day trips to do around Seattle, Washington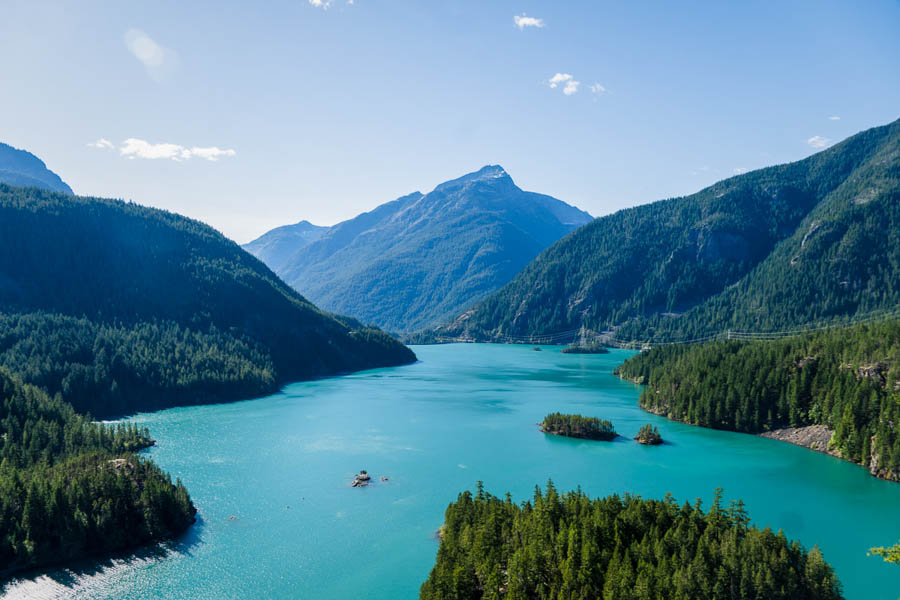 North Cascades National Park
Wander through the ruggedness of Washington's wildest corners in North Cascades National Park, one of the least visited national parks in the United States. With its endlessly picturesque mountain peaks and over 300 glaciers, North Cascades is often referred to as "The American Alps".
Start early for your excursion from Seattle to the winding roads of Highway 20. From downtown, it takes 2.5 hours (116 miles) to arrive at the North Cascades National Park visitor center.
Part of the North Cascades is accessible all year, but winter road closures due to avalanche risk block access to certain areas between November to May. The best time to visit is during the summer months when the facilities in the park are fully open, and the chance for good weather is at its highest.
There is only one paved road that bisects the park, so you'll have to hit the trails or bring a kayak to best experience North Cascades National Park. Marvel at the jade blue waters of Lake Diablo Vista Point, tramp through the wildflowers of Maple Pass Loop, or stroll to the hydroelectric dam of Gorge Lake Overlook. These are some of the best things to do in North Cascades National Park. Just make sure you leave enough time to see the entire 30 mile stretch of the North Cascades Highway Scenic Drive.
With a limited choice of food vendors within the park, pick up food in nearby Marblemount or pack a lunch to picnic on the shores of Diablo Lake. Otherwise, the only restaurant establishment, North Cascades Lodge at Stehekin on the northern end of Lake Chelan, is exclusively accessible by plane, boat, or foot.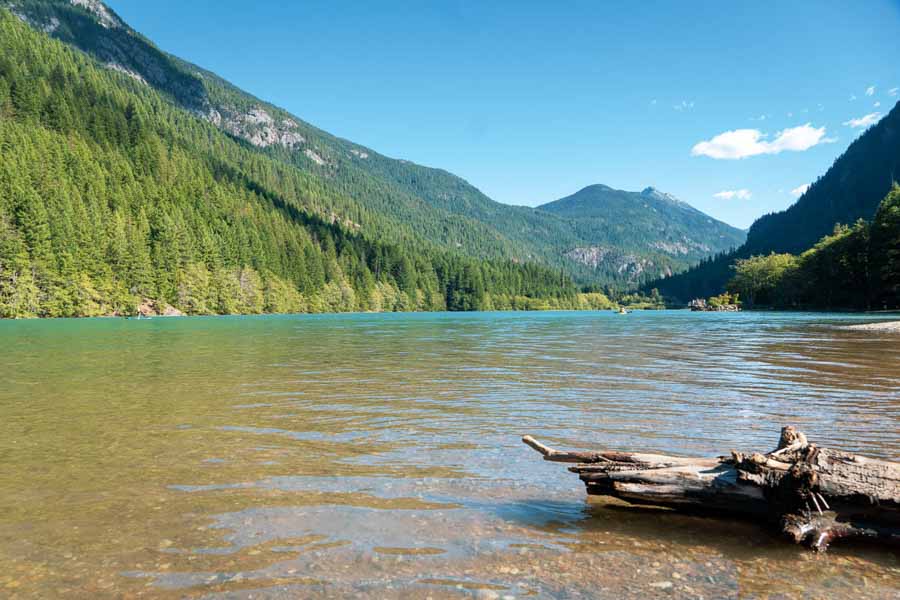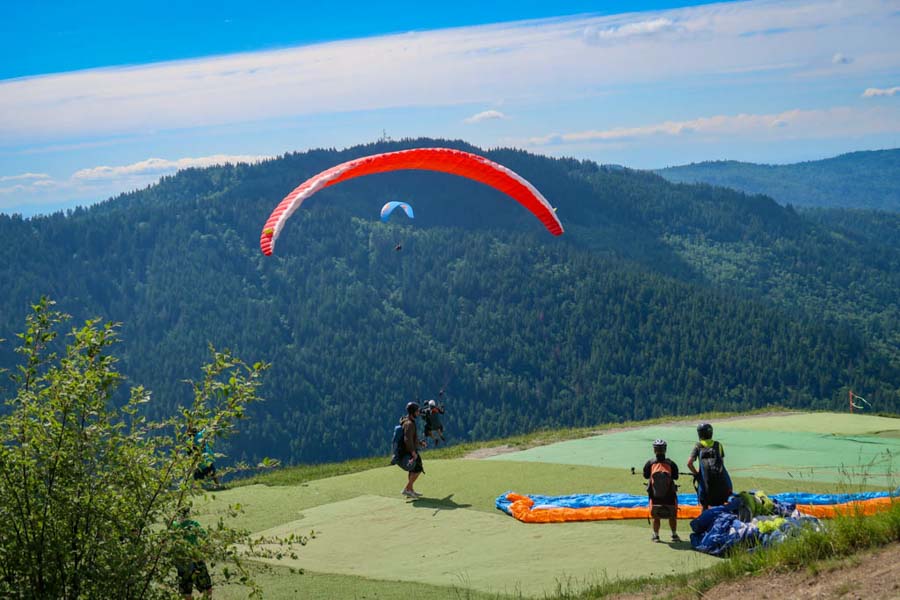 Issaquah Alps – Seattle's Favorite Hiking Area
If you're looking for a great place to hike near Seattle, consider visiting the Issaquah Alps. Nestled in the foothills of the Cascade Mountains, this small mountain range is packed with fabulous hiking trails. The area is a favorite stomping ground for locals and makes for a perfect Seattle day trip.
And the best part – it's located only 30 minutes away from Seattle on the I-90 Freeway.
Poo Poo Point Trail is one of the best-loved hikes in the Issaquah Alps. Located on Tiger Mountain, Poo Poo Point features stunning views of Puget Sound and Mt. Rainier. It is also used by paragliders from the Seattle Paragliding School who use it as a jumping off point.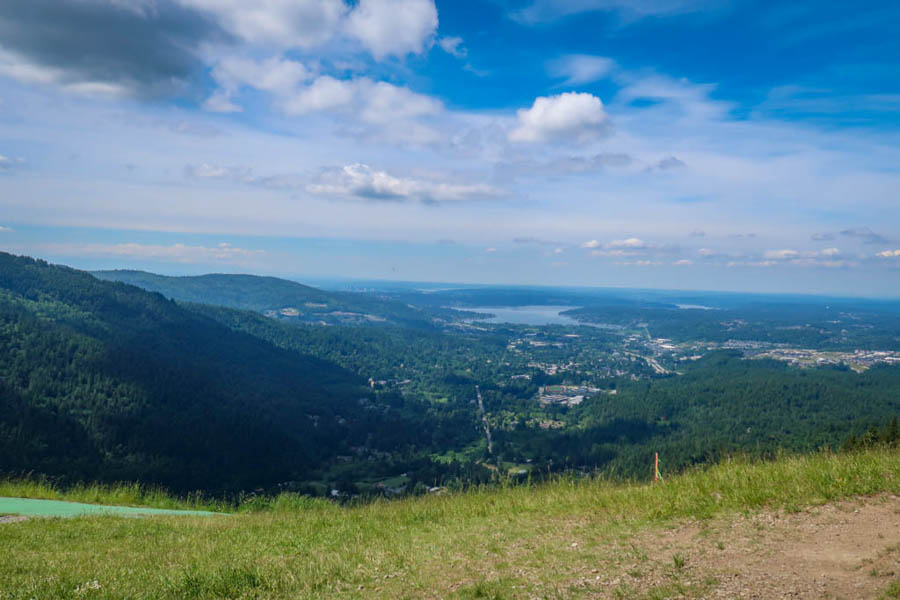 Be prepared for crowds, however. Poo Poo Point is a popular hiking area and can get busy on the weekends. Consider arriving mid-week or taking the Trailhead Direct Bus to ensure you won't encounter a full parking lot.
If you prefer encountering fewer people, choose one of Issaquah's other mountains such as Taylor or Squak. These peaks are also filled with terrific trails but see a fraction of the crowds.
The Issaquah Alps range is located near the city of Issaquah – a charming suburb with a cute downtown area and some great restaurants. After you've worked up an appetite on the trails, head to the Triple XXX Rootbeer Drive-In for a burger and a rootbeer float. Or, for a more traditional sit-down dinner, check out Jak's Grill for a spectacular steak.
Issaquah has a mild climate and rarely experiences snow, so you can typically hike year-round. That being said, plan to hike in the summer months if you want to avoid the rain.
Contributed by Katy of A Rambling Unicorn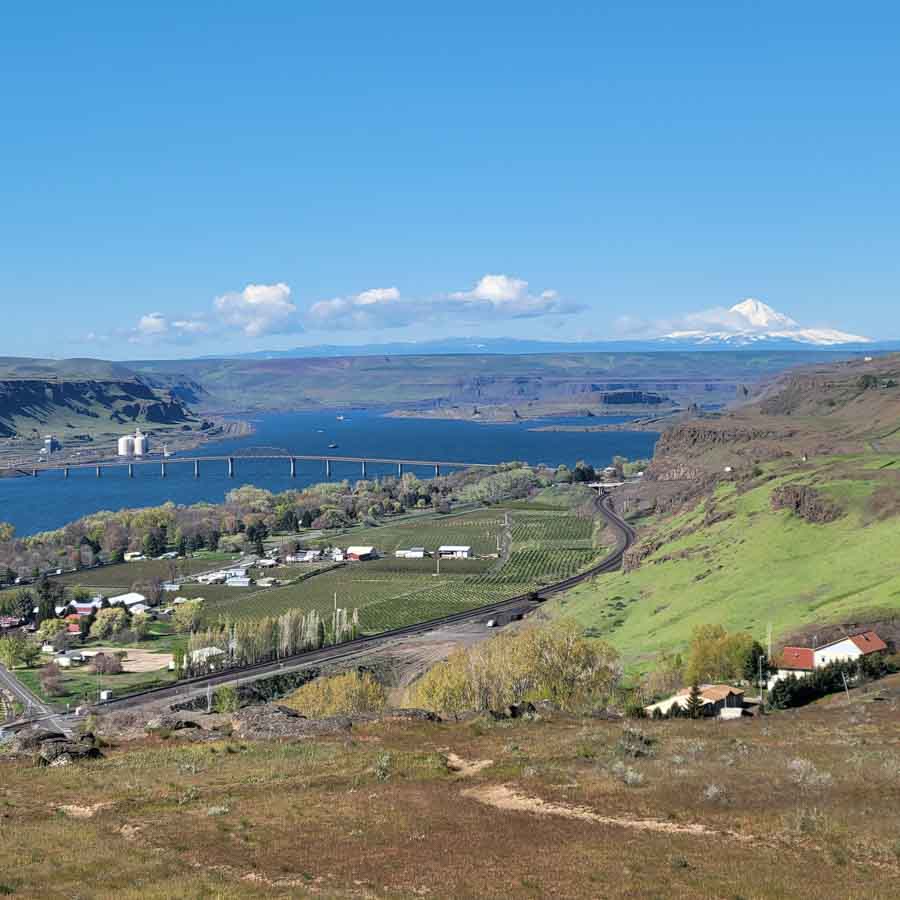 Columbia River road trip
An easy day trip from Seattle would be to cruise along the Columbia River on the Washington or Oregon side and visit some of the cool towns, waterfalls and scenic spots to visit along the way. If wine tasting is your thing, there's also plenty of fantastic wineries that you can visit Popular spots to visit along the Columbia River route includes: the iconic and historic Vista House with stunning river views from above, check out the Visitors Center at the Bonneville Dam, visit the Dalles Lock and Dam, tour the fish hatchery at the Bonneville Dam, Check out the gorgeous Multnomah Falls and walk to the bridge viewpoint.
Water adventure seekers will want to do the Columbia River Sternwheeler cruise, go kayaking on the river or do some fun windsurfing on the Hood River. If you are up to more scenic drives then driving along both coastal roads along the Columbia River Gorge is a fun and easy day trip from Seattle to do.

Visit to Mount Hood National Forest
Mount Hood National Forest is a beautiful area near Portland worth visiting at any time of year. From Seattle, travel down I-5 and the through Sandy towards the Westside of Mount Hood, or drive on I-84 through the Columbia River Gorge towards Hood River and the Eastside of the mountain.
The best thing to do in Summer at Mount Hood is go hiking on one of the many trails in the National Forest. Tom, Dick, and Harry Mountain is one of the best hikes for a view of Mount Hood. There are also several waterfall trails in this area including Ramona Falls and Tamanawas Falls. If you don't feel like hiking instead relax by Trillium Lake where you can swim, kayak, or paddleboard. This lake is beautiful at both sunrise and sunset and has a picture-perfect view of Mount Hood. There is also plenty of campsites in the National Forest if you want to extend your trip.
In the Winter, Mount Hood becomes a winter wonderland. There are plenty of opportunities for skiing, snowboarding, and snowshoeing around the mountain.
For food, dine at the famous Timberline Lodge or head into Sandy or Hood River. There is also a variety of diners and restaurants between Government Camp and Sandy.
Before arriving at your desired trailhead or parking spot, check if you need a pass. Many areas require the Northwest Forest Pass or America the Beautiful Pass.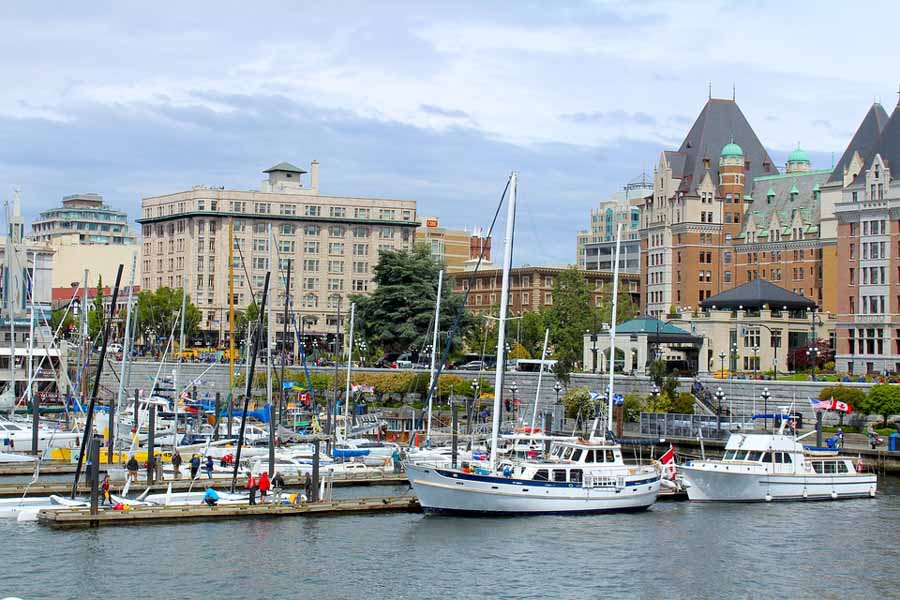 Victoria, British Columbia
Victoria, the capital of British Columbia Canada, is located on other side of the border. But it makes for a nice day trip from Seattle due to the plethora of cruises (clippers) that are available between these two cities of the Pacific Northwest.
Everything in Victoria is quintessentially European from the harbourfront, city centre to the museums. The city is the historical capital of the Colony of Vancouver Island, and was the headquarters of the Hudson's Bay Company from 1843 to 1860.
During this time period, the colony grew steadily, as a large number of British settlers arrived in search of gold and other minerals. Today, Victoria is a popular tourist destination, known for its mild climate, beautiful scenery, and Victorian architecture.
The city is also home to the Royal BC Museum, which is a must-see. The museum houses artifacts and exhibits on the natural and human history of British Columbia. Visitors can also explore the nearby Craigdarroch Castle, a beautifully preserved Victorian mansion.
For those looking to enjoy the outdoors, Victoria is home to a number of parks and gardens, including the famous Butchart Gardens. The gardens feature over 55 acres of stunning floral displays, making it a perfect place to relax and enjoy the beauty of nature.
By Mayuri From ToSomePlaceNew
Make it a getaway and stay longer with these fabulous top places to stay here in Victoria.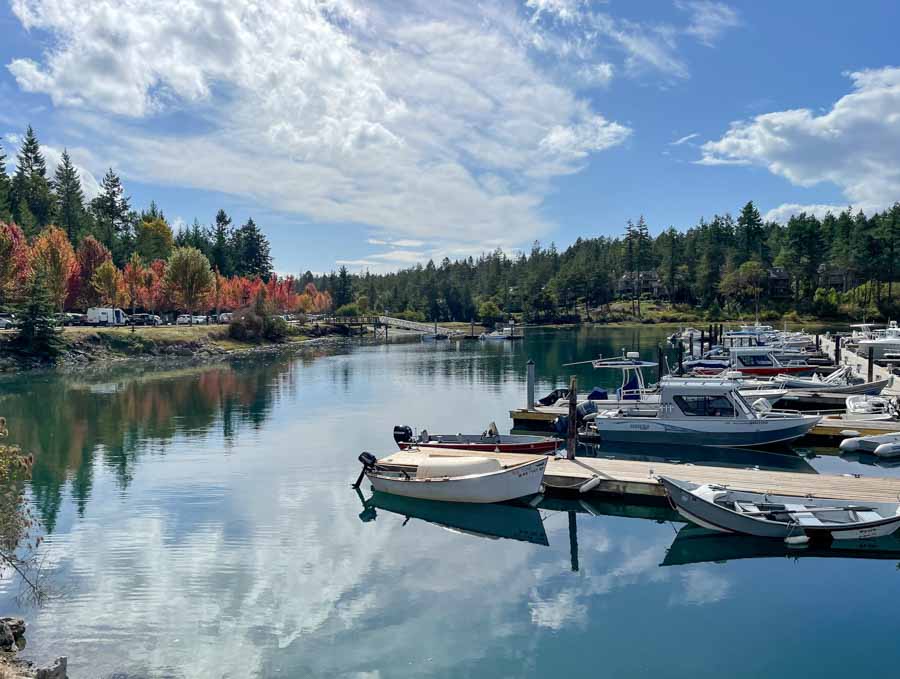 Explore the San Juan Islands
Perched near the northwestern border of Washington is where you can find the stunningly beautiful San Juan Islands. A true hidden gem of Washington State, the San Juan Islands, has become a popular location to escape the city life for a relaxing and laid-back vacation on the remote islands.
The San Juan Islands is composed of over 170 islands. However, there are only three that visitors frequent. San Juan, Orcas, and Lopez Island are home to the majority of the lodging, restaurants, and other tourism activities. If you are planning a day trip or excursion from Seattle, Friday Harbor on San Juan Island is the perfect destination.
Getting to Friday Harbor is an adventure in itself. The island is only accessible by ferry or small plane. The best way to get there from Seattle would be to drive from the airport to Anacortes and board the Washington State Ferry. A convenient perk is you can walk, bike, or even drive your car onto the ferry.
There are many adventurous and unique things to do during your stay in Friday Harbor. Spend the day hiking, biking scenic trails on the island, kayaking, wine tasting, whale and wildlife watching tours, or visit the boutique shops and restaurants downtown.
An insider's tip, if you want to see whales from land and without a tour, visit Lime Kiln Point State Park. Make your way down to the rocky bluff and keep your eyes peeled for pods of Humpback Whales, Orcas, and Minke Whales near the shoreline.
The best time of year to visit Friday Harbor is between mid-June through early September. During those months you will experience gorgeous sunny weather and are more likely to see the whales.
A trip to the San Juan Islands is an unforgettable experience. You will not regret visiting this one of kind location on your next trip to Seattle.
Make it a getaway and stay longer with these fabulous top places to stay here in the San Juan Islands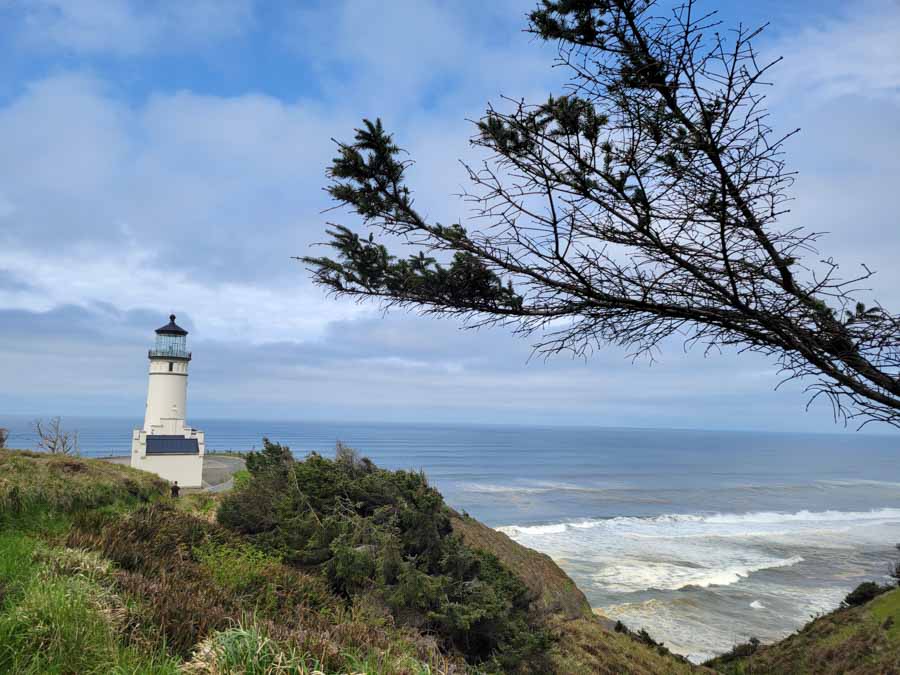 Long Beach Peninsula
A long stretch of the Long Beach Peninsula on the south western region of the state is a real off the beaten path region with gorgeous forests, stunning coastlines with scenic views and lighthouses and vast stretches of wilderness. For outdoor lovers, adventure seekers you can bike, hike, sail, kayak, fish and do almost any time of outdoor pursuit and mostly on your own without the crowds. Foodies and especially seafood lovers will enjoy all the amazing food choices, local eateries and amazing food markets, farmers markets and wonderful dining venues around the region to enjoy.
If you are looking to connect with nature, wild preserves and coastlines that are almost isolated and fun to explore, watch sunsets or have a bonfire and picnic, then the Long Beach Peninsula is the place to be. Popular events and summer venues do draw in a local and regional crowd but outside of the summer season, you can have a lot of the region to explore and do some fun adventure tours based on your interest and time allocated to explore this beautiful stretch of Peninsula that really is worth doing a drive or weekend trip to discover. Check out my post on some of the best things to do in Long Beach here for more inspiration to visiting this wild and beautiful area of Washington state.
Noel with The Mature Traveler
Make it a getaway and stay longer with these fabulous top places to stay here in the Long Beach area.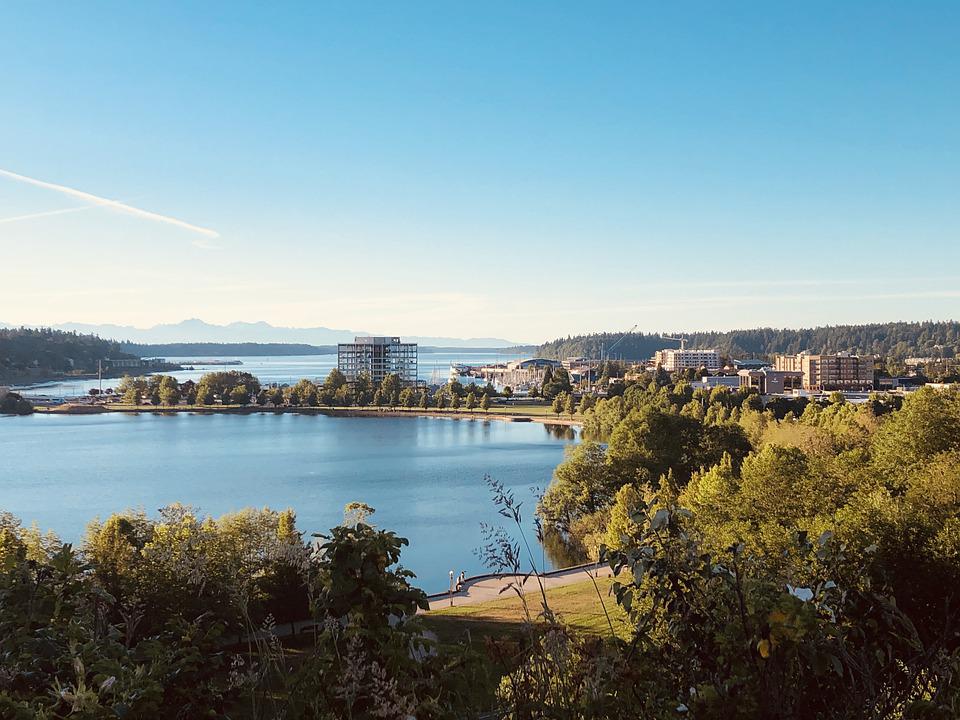 A visit to Olympia, Washington
One of the best day excursions from Seattle is a visit to the capital city of Washington State – Olympia, WA. Olympia is a quirky, diverse, and cute place with plenty to keep you and the family entertained! There are a few options to reach Olympia from Seattle: a car ride would only take a bit over an hour, and if you want to opt for a more scenic route, you can take the Amtrak train which runs several times a day between Olympia and Seattle. Olympia is great to visit any time of year, but the summer is especially wonderful as the sun is out and activities abound.
Some of the best things to do in Olympia include visiting famous Farmers Market, which is on every Thursday-Sunday from 10am-3pm. The market has wonderful artisan food and crafts from local vendors, and is a great way to experience the pulse of the city! Other great activities include exploring the quaint shops and establishments in the city's downtown area, kayaking on the Sound, hiking in one of the numerous local parks and forest areas, and of course, roaming around the Capitol Building grounds.
Olympia has a truly excellent selection of healthy food, gourmet farm-to-table offerings, and eclectic food trucks. No visit to Olympia is complete without a visit to the famous Olympia Coffee Roasters. Also be sure to check out Dockside Bistro & Wine Bar for great views, Vic's Pizzeria for incredible vegan pizza, Lemongrass for Asian fare, and Humble Cow for ice cream. Regardless of how long you have to savor the city of Olympia, it makes a perfect getaway from Seattle!
Submitted by Sumeeta from Sumeeta Seeks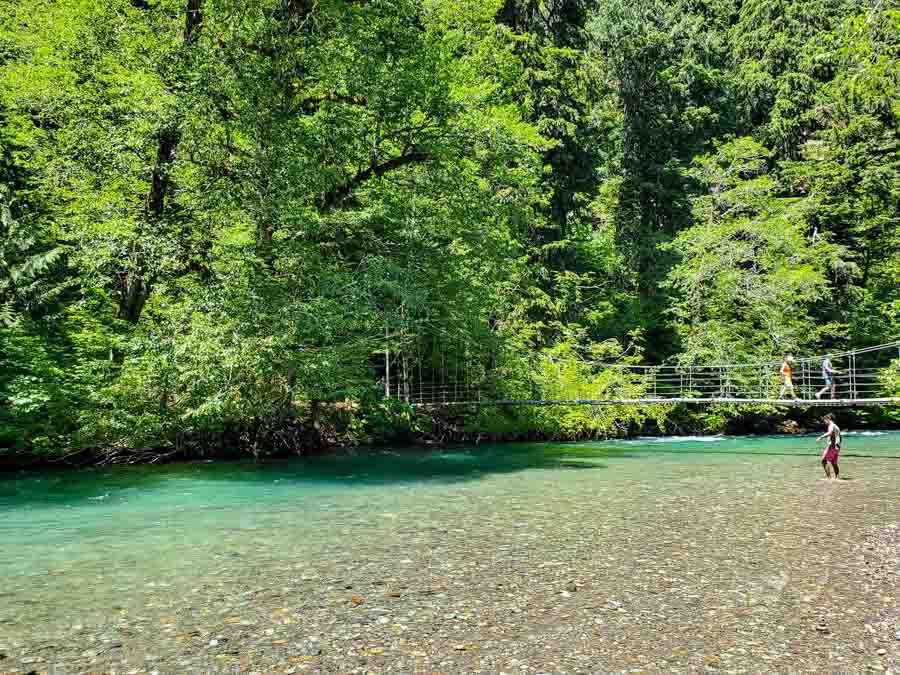 Mount Rainier National Park
Mount Rainier is the largest volcano in Washington State, and is a must-see excursion from Seattle. Depending on what side of the mountain you visit, it'll take a little over 2 hours to get there from the city. The easiest way is to go by car, but there are also many tour bus options. Mount Rainier National Park is stunning and has some of the state's most iconic hikes and scenery, and is well worth the time it takes to get there.
Most first-time visitors to Mount Rainier will choose to hike Paradise. This is the most popular area of the mountain, and for good reason. With a relatively leisurely hike, visitors can make it up to the glaciers (there are 26 on Mount Rainier) and enjoy playing in the snow in the middle of summer – no sweatshirt needed!. And if you come during early summer months, you will be rewarded with absolutely stunning fields of wildflowers punctuating the glacial landscape. This is the best time to visit, without a doubt.
If you are planning to do any camping, book ahead to try to visit Ohanapecosh. This campground is beloved by Seattleites, and a perfect jumping-off point to hike the old-growth forest that surrounds the mountain. In fact, this is the best location to get to one of MRNP's other most popular destinations: Grove of the Patriarchs. This hike, which is only 1.5 miles and includes a suspension bridge, takes you to visit ancient Douglas firs, some of which are over 1,000 years old!
Mount Rainier is a symbol of Seattle. On a clear day, you can easily see it from the city (and actually even from as far away as Vancouver, BC!). In fact, the local way to praise a fair-weather day is to say, "the mountain is out!". And while you can actually see several mountains, you'll know exactly which one is Rainier, because at 14,411 feet, it towers on the horizon. If you can find the time to make it out to experience the wonder of this active volcano, you won't forget it.
Dani Ward with Diapers in Paradise
Make it a getaway and stay longer with these fabulous top places to stay here in Mount Rainer area