Daily Wire's Matt Walsh Says an 'Insider' Was Behind His Twitter Account Hack
Conservative commentator and filmmaker Matt Walsh said his team is still working to find out exactly who hacked his Twitter account, noting that an "insider" might have given the hacker access to his phone. "As soon as the hacking attack started, I was on the phone with our tech team, security team, lawyers and executives," said Walsh of Daily Wire's "What Is a Woman" documentary in a statement on Twitter Thursday. "They all worked around the clock. They're still working to find out exactly what happened, who did it, and how." Walsh's Twitter account was compromised on Tuesday evening, with the profile being changed to promote a rap Spotify account called "Sassy Shooters." The hacked account was used to make a series of unhinged posts before Walsh regained control, including ones that called podcast host Joe Rogan a "pedophile" and Daily Wire commentator Ben Shapiro a "closeted homosexual." Walsh, who was mocked for the trolling messages that were not sent by him, said an insider appeared to have leaked his personal information to the hacker. "Apparently the hacker had an 'insider' who gave him access to my phone," he wrote. "A lot we still don't know. But we're finding out. And there will be consequences." According to Daily Wire co-founder Jeremy Boreing, the hack went beyond Twitter and extended to many years of personal emails from Walsh. "The hackers have managed to gain access to, well, everything, including twenty years of Matt's emails," Boreing wrote in a Twitter thread documenting a cluster of "flagging, banning, throttling, shadow banning, and demonetizing" efforts against Daily Wire personalities across multiple social media platforms within a span of 48 hours. "What scandalous information will the hackers find in Matt's email? I do not know," Boreing said. "I'm sure I said things in my twenties that I wouldn't feel great having aired publicly." Journalist Booted From Twitter Over Hacked Materials Dell Cameron, a senior reporter for Wired, was permanently banned from Twitter after he asked for and obtained hacked materials from Walsh's personal email account. According to screenshots shared by Cameron on Mastodon, Cameron was "permanently suspended" for violating Twitter's rules against the distribution of hacked material. In a Wired story published Wednesday, someone purporting to be the person behind the hack provided Cameron with screenshots of "an apparent copy of Walsh's W2 tax form," "emails between Walsh and the conservative commentator Steven Crowder," and "a photo of Walsh holding up a paper dated November 2020—apparently used to authenticate some type of accompanying message." The alleged hacker, identified as "Doomed," said that he used a method called SIM swapping, in which a hacker would contact the victim's mobile carrier posing as that person and claim to have a SIM card to activate on their account. The carrier will then reassign the victim's phone number to the hacker's SIM card, allowing the hacker to get the target's passwords and two-factor authentication. "Doomed" also claimed that he was bored and felt like "stirring up some drama" when he hacked Walsh's phone with help from an insider. Hemal Jhaveri, Wired's managing editor, weighed in on Wednesday, demanding that Twitter reinstate Cameron's account. He also claimed that the article did not contain the hacked material, and neither did Cameron ask for any stolen data. "Neither Dell's story nor his Twitter feed contained hacked materials. We do not believe his account violated Twitter's policy," Jhaveri wrote in a statement. "We have not received any further explanation from Twitter and our attempts to reach Twitter's press office were met with the customary poop emoji. We ask that the account be reinstated and that Twitter provide an explanation." Meanwhile, Walsh has implied that he and Daily Wire might pursue legal actions against Wired over the "Doomed" article. "I have also made note of the members of the media who openly solicited stolen information from my phone," he said. "There will be consequences there too. Fortunately we can afford very good lawyers."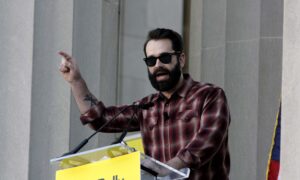 Conservative commentator and filmmaker Matt Walsh said his team is still working to find out exactly who hacked his Twitter account, noting that an "insider" might have given the hacker access to his phone.
"As soon as the hacking attack started, I was on the phone with our tech team, security team, lawyers and executives," said Walsh of Daily Wire's "What Is a Woman" documentary in a statement on Twitter Thursday. "They all worked around the clock. They're still working to find out exactly what happened, who did it, and how."
Walsh's Twitter account was compromised on Tuesday evening, with the profile being changed to promote a rap Spotify account called "Sassy Shooters." The hacked account was used to make a series of unhinged posts before Walsh regained control, including ones that called podcast host Joe Rogan a "pedophile" and Daily Wire commentator Ben Shapiro a "closeted homosexual."
Walsh, who was mocked for the trolling messages that were not sent by him, said an insider appeared to have leaked his personal information to the hacker.
"Apparently the hacker had an 'insider' who gave him access to my phone," he wrote. "A lot we still don't know. But we're finding out. And there will be consequences."
According to Daily Wire co-founder Jeremy Boreing, the hack went beyond Twitter and extended to many years of personal emails from Walsh.
"The hackers have managed to gain access to, well, everything, including twenty years of Matt's emails," Boreing wrote in a Twitter thread documenting a cluster of "flagging, banning, throttling, shadow banning, and demonetizing" efforts against Daily Wire personalities across multiple social media platforms within a span of 48 hours.
"What scandalous information will the hackers find in Matt's email? I do not know," Boreing said. "I'm sure I said things in my twenties that I wouldn't feel great having aired publicly."
Journalist Booted From Twitter Over Hacked Materials
Dell Cameron, a senior reporter for Wired, was permanently banned from Twitter after he asked for and obtained hacked materials from Walsh's personal email account.
According to screenshots shared by Cameron on Mastodon, Cameron was "permanently suspended" for violating Twitter's rules against the distribution of hacked material.
In a Wired story published Wednesday, someone purporting to be the person behind the hack provided Cameron with screenshots of "an apparent copy of Walsh's W2 tax form," "emails between Walsh and the conservative commentator Steven Crowder," and "a photo of Walsh holding up a paper dated November 2020—apparently used to authenticate some type of accompanying message."
The alleged hacker, identified as "Doomed," said that he used a method called SIM swapping, in which a hacker would contact the victim's mobile carrier posing as that person and claim to have a SIM card to activate on their account. The carrier will then reassign the victim's phone number to the hacker's SIM card, allowing the hacker to get the target's passwords and two-factor authentication.
"Doomed" also claimed that he was bored and felt like "stirring up some drama" when he hacked Walsh's phone with help from an insider.
Hemal Jhaveri, Wired's managing editor, weighed in on Wednesday, demanding that Twitter reinstate Cameron's account. He also claimed that the article did not contain the hacked material, and neither did Cameron ask for any stolen data.
"Neither Dell's story nor his Twitter feed contained hacked materials. We do not believe his account violated Twitter's policy," Jhaveri wrote in a statement. "We have not received any further explanation from Twitter and our attempts to reach Twitter's press office were met with the customary poop emoji. We ask that the account be reinstated and that Twitter provide an explanation."
Meanwhile, Walsh has implied that he and Daily Wire might pursue legal actions against Wired over the "Doomed" article.
"I have also made note of the members of the media who openly solicited stolen information from my phone," he said. "There will be consequences there too. Fortunately we can afford very good lawyers."