Crockpot Apricot Chicken
This website may contain affiliate links and advertising so that we can provide recipes to you. Read my privacy policy.Apricot chicken is a super easy and incredibly delicious dinner your whole family is going to love! Tender, juicy chicken covered in a sweet and savory glaze. It only takes 4 ingredients to make, and all you have to do is throw everything in your slow cooker! It's the perfect hearty weeknight meal. As much as I love my air fryer, crock pot dinners are the best for busy days. I love them because I can turn on my slow cooker in the morning, go run errands, and then come home to a hearty, flavorful meal! After you try out this amazing apricot chicken, you'll have to add crockpot Tuscan chicken, Italian chicken and potatoes, and lemon chicken piccata to the dinner lineup! Apricot Chicken in the Slow Cooker A friend made this for all of us last summer. At first, I was a little unsure about it because of the apricot jam in the sauce, but I loved it! It balances out the savory flavor of the Russian dressing. Trust me on this one, the flavor combination is the best. The sauce is sweet and savory with a hint of spice. It also has the best consistency and coats the chicken perfectly! Apricot chicken makes any busy days become stress free. It's one less thing I have to worry about and my family is happy that they get a home-cooked dinner! I love slow cooker "set it and forget it" dinners. And a miracle happened, even my youngest who is an extremely picky eater ate it. This child does not like anything it seems and she had seconds. If she likes it, I know it's a hit! Ingredients for Easy Apricot Chicken With ingredients as simple as these, you can throw apricot chicken together on a busy day and have a delicious dinner ready when you are. I always like to serve mine up with rice and broccoli, but it's also great with mashed potatoes, pasta, or roasted veggies of your choice! Apricot Preserves: For the perfect touch of sweetness! You can also use apricot jam if you prefer. Russian Dressing: Use your favorite brand, I used Wishbone dressing! Dry Onion Soup Mix: This adds herbs and spices to give the chicken savory flavor. Try making your own blend for the best flavor possible! Chicken Thighs: You can use bone-in chicken thighs, boneless chicken thighs or even chicken breasts. Whatever you prefer! Cooking Oil: This is for cooking the chicken in so it has a slightly crispy skin. I used vegetable oil, but you can use your favorite cooking oil here. How To Make Apricot Chicken in the Crockpot Besides putting all of your ingredients in a slow cooker, the only extra step you have is to quickly brown the chicken. Remember this isn't to cook it through completely, just to give the skin some texture and flavor. Combine: In a medium bowl mix together the preserves, dressing and soup mix. Brown: This is optional but I highly recommend it. Generously salt and pepper the chicken. Place in a skillet that has been heated to medium high with a Tablespoon of oil in the bottom. Cook each side for 1-2 minutes so it's golden brown. Add to Crockpot:  Place the chicken in the bottom of the slow cooker and then pour the sauce mixture over it. Cook: Cook on low for 3-4 hours or until the internal temperature reaches 165 degrees F. Tips and Tricks The wonderful thing about this apricot chicken recipe is that it is forgiving and can be adjusted to your liking! Here are a few ways to customize and perfect the dish. Chicken: Using bone-in and skin onchicken thighs will give you the juiciest chicken. You can also use chicken breasts or skinless boneless chicken thighs, but it may not be as moist. Thighs contain the darker part of the chicken and darker meat is naturally juicer. Keeping the bone in and skin on will add even more moisture. Browning: Similar to searing beef, searing chicken can lock in juice and add immense flavor. It's an extra step that you do not have to do, but I highly recommend it! Preserves: If you don't have apricot jam or cannot find it, try these other options. You can use pineapple, mango, orange or peach instead. You can also try a mixture of apricot and peach or pineapple for a nice twist in flavor. Dressing: Russian dressing can be tricky to find sometimes. Substituting Catalina or French Dressing will give you similar results. Add Potatoes: For an all-in-one crock pot meal, add baby Yukon or red potatoes with the chicken. Different Protein: This slow cooker apricot chicken recipe also works really well with pork chops! Storing Leftovers Apricot chicken makes amazing leftovers! It's great for heating up when you want a hearty, flavorful meal. You can also freeze your leftovers if you want them to stay good for longer! It's a great option for meal prep. In the Refrigerator: If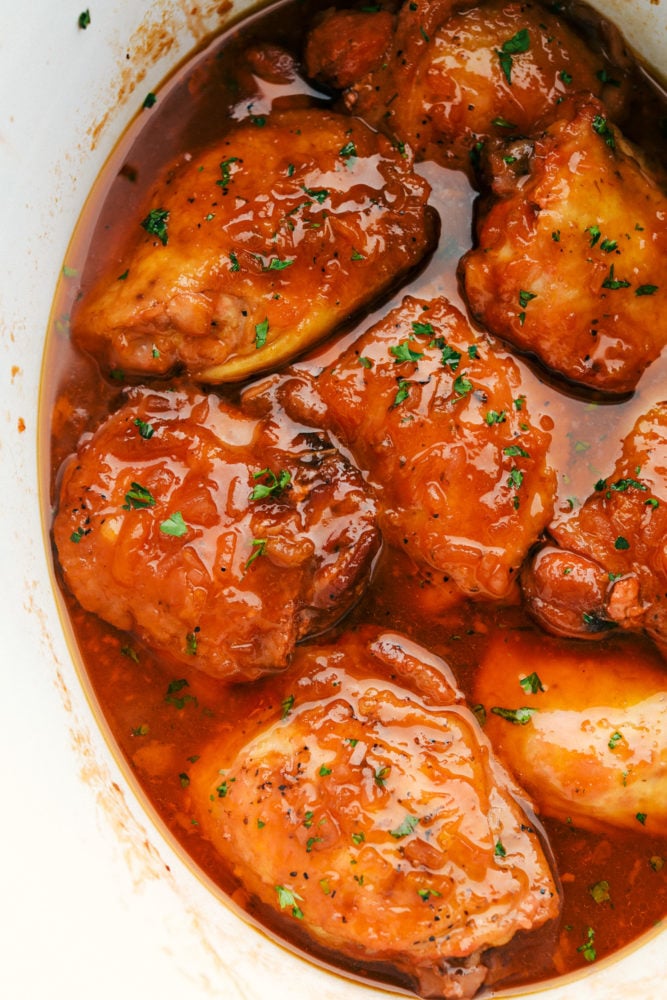 Apricot chicken is a super easy and incredibly delicious dinner your whole family is going to love! Tender, juicy chicken covered in a sweet and savory glaze. It only takes 4 ingredients to make, and all you have to do is throw everything in your slow cooker! It's the perfect hearty weeknight meal.
As much as I love my air fryer, crock pot dinners are the best for busy days. I love them because I can turn on my slow cooker in the morning, go run errands, and then come home to a hearty, flavorful meal! After you try out this amazing apricot chicken, you'll have to add crockpot Tuscan chicken, Italian chicken and potatoes, and lemon chicken piccata to the dinner lineup!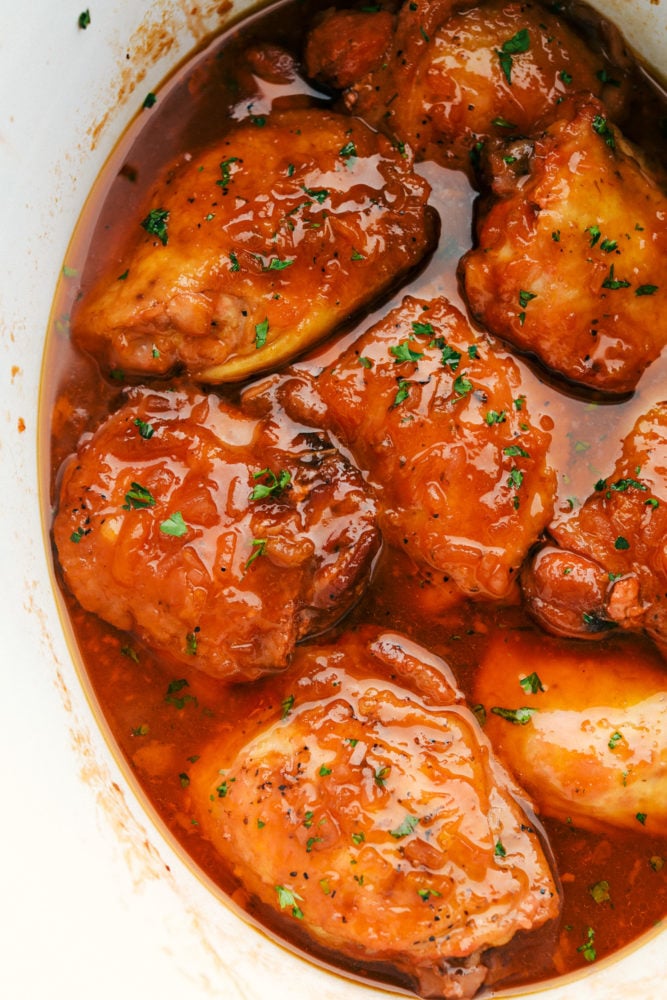 Apricot Chicken in the Slow Cooker
A friend made this for all of us last summer. At first, I was a little unsure about it because of the apricot jam in the sauce, but I loved it! It balances out the savory flavor of the Russian dressing. Trust me on this one, the flavor combination is the best. The sauce is sweet and savory with a hint of spice. It also has the best consistency and coats the chicken perfectly!
Apricot chicken makes any busy days become stress free. It's one less thing I have to worry about and my family is happy that they get a home-cooked dinner! I love slow cooker "set it and forget it" dinners. And a miracle happened, even my youngest who is an extremely picky eater ate it. This child does not like anything it seems and she had seconds. If she likes it, I know it's a hit!
Ingredients for Easy Apricot Chicken
With ingredients as simple as these, you can throw apricot chicken together on a busy day and have a delicious dinner ready when you are. I always like to serve mine up with rice and broccoli, but it's also great with mashed potatoes, pasta, or roasted veggies of your choice!
Apricot Preserves: For the perfect touch of sweetness! You can also use apricot jam if you prefer.
Russian Dressing: Use your favorite brand, I used Wishbone dressing!
Dry Onion Soup Mix: This adds herbs and spices to give the chicken savory flavor. Try making your own blend for the best flavor possible!
Chicken Thighs: You can use bone-in chicken thighs, boneless chicken thighs or even chicken breasts. Whatever you prefer!
Cooking Oil: This is for cooking the chicken in so it has a slightly crispy skin. I used vegetable oil, but you can use your favorite cooking oil here.
How To Make Apricot Chicken in the Crockpot
Besides putting all of your ingredients in a slow cooker, the only extra step you have is to quickly brown the chicken. Remember this isn't to cook it through completely, just to give the skin some texture and flavor.
Combine: In a medium bowl mix together the preserves, dressing and soup mix.
Brown: This is optional but I highly recommend it. Generously salt and pepper the chicken. Place in a skillet that has been heated to medium high with a Tablespoon of oil in the bottom. Cook each side for 1-2 minutes so it's golden brown.
Add to Crockpot: Place the chicken in the bottom of the slow cooker and then pour the sauce mixture over it.
Cook: Cook on low for 3-4 hours or until the internal temperature reaches 165 degrees F.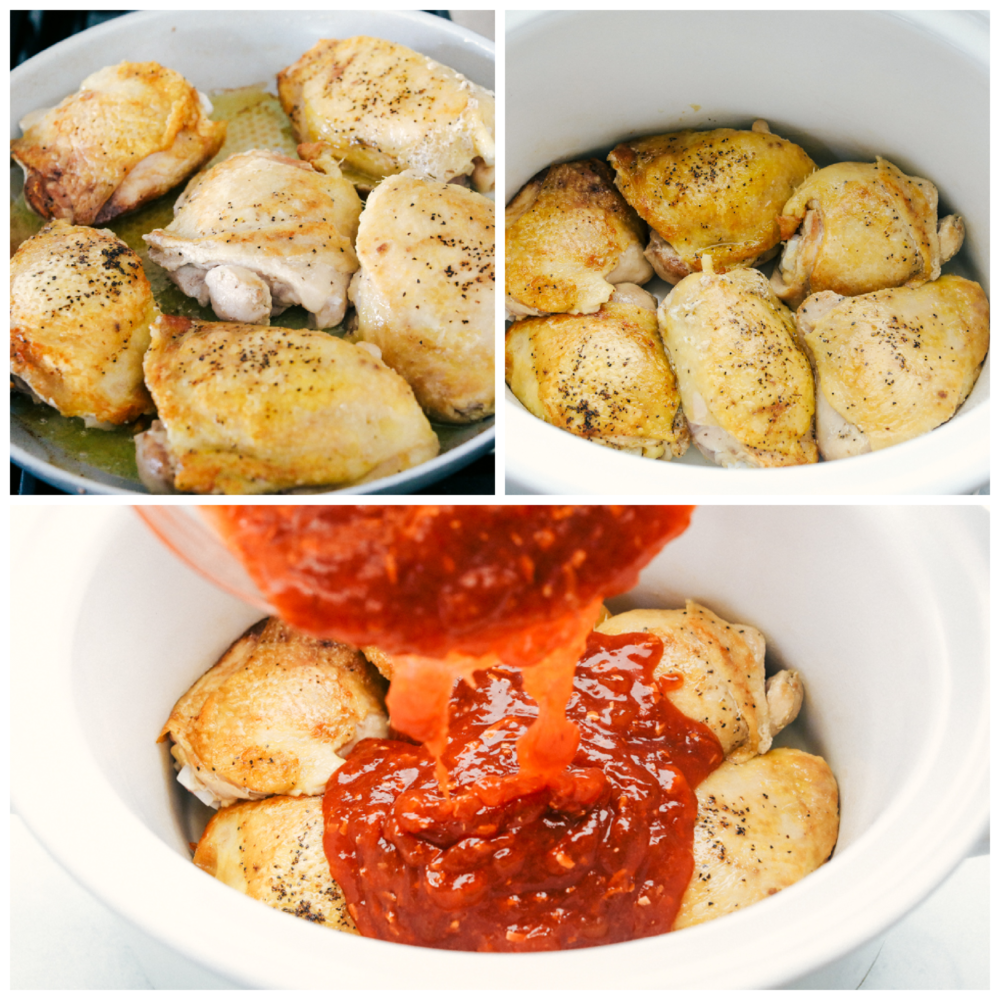 Tips and Tricks
The wonderful thing about this apricot chicken recipe is that it is forgiving and can be adjusted to your liking! Here are a few ways to customize and perfect the dish.
Chicken: Using bone-in and skin on
chicken thighs will give you the juiciest chicken. You can also use chicken breasts or skinless boneless chicken thighs, but it may not be as moist. Thighs contain the darker part of the chicken and darker meat is naturally juicer. Keeping the bone in and skin on will add even more moisture.
Browning: Similar to searing beef, searing chicken can lock in juice and add immense flavor. It's an extra step that you do not have to do, but I highly recommend it!
Preserves: If you don't have apricot jam or cannot find it, try these other options. You can use pineapple, mango, orange or peach instead. You can also try a mixture of apricot and peach or pineapple for a nice twist in flavor.
Dressing: Russian dressing can be tricky to find sometimes. Substituting Catalina or French Dressing will give you similar results.
Add Potatoes: For an all-in-one crock pot meal, add baby Yukon or red potatoes with the chicken.
Different Protein: This slow cooker apricot chicken recipe also works really well with pork chops!
Storing Leftovers
Apricot chicken makes amazing leftovers! It's great for heating up when you want a hearty, flavorful meal. You can also freeze your leftovers if you want them to stay good for longer! It's a great option for meal prep.
In the Refrigerator: If you have leftovers, place them in a sealed container and store in the fridge for 4-5 days. Reheat leftovers in the microwave or over the stove until warmed through.
In the Freezer: Let the chicken cool and then transfer to a freezer-safe bag. Tightly seal and freeze for up to 3 months. When you're ready to serve it, thaw the bag overnight in the fridge and then reheat over the stove or in the microwave.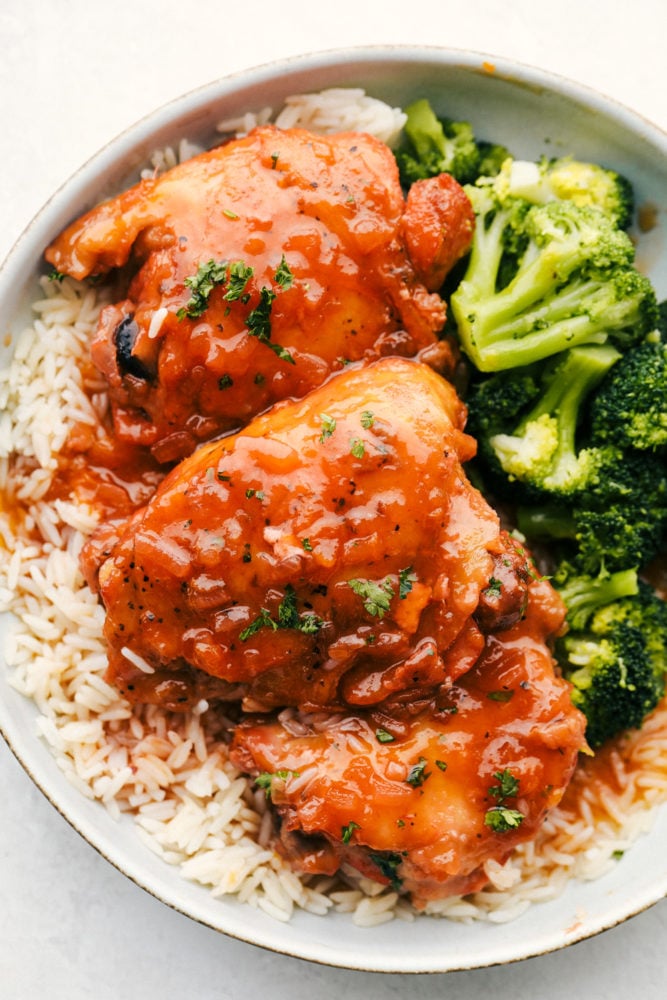 ---
Mix together the preserves, dressing and soup mix.

Place chicken in bottom of slow cooker; pour mixture over chicken.

Cook on Low and continue cooking for 3-4 hours.
---
Updated on April 24, 2023 Originally Posted on July 10, 2012
---
Serves: 6
Calories420kcal (21%)Carbohydrates42g (14%)Protein49g (98%)Fat6g (9%)Saturated Fat1g (5%)Cholesterol145mg (48%)Sodium821mg (34%)Potassium930mg (27%)Fiber1g (4%)Sugar26g (29%)Vitamin A189IU (4%)Vitamin C8mg (10%)Calcium33mg (3%)Iron1mg (6%)
All nutritional information is based on third party calculations and is only an estimate. Each recipe and nutritional value will vary depending on the brands you use, measuring methods and portion sizes per household.