Confucius Institutes Are 'Propaganda Centres,' Says Former PM, Foreign Minister Urged to Shut Centres Down
Former Australian Prime Minister Tony Abbott has described the controversial CCP-run Confucius Institutes as "propaganda centres" while calling on Australia to exercise more caution when engaging with Beijing. This follows Victorian Senator Sarah Henderson's comments at the Universities Australia conference on Feb. 23 where she called on Foreign Minister Penny Wong to use legislative powers under the Foreign Relations Act to close down Confucius Institutes in Australian Universities. Confucius Institutes have been touted as a Chinese cultural and language program, however, the centres have been under increasing scrutiny for their potential as a trojan horse for the CCP's soft power propaganda push in the west. There are currently 12 Confucius Institutes across Australia. "Everything the Chinese government does is done with strategic intent, and these Confucius centres are essentially propaganda centres," former prime minister Tony Abbott told Sky News host Peta Credlin on Feb. 23. "These [Confucius] institutes were set up back in the day when we were all reasonably optimistic about China and the West being on a converging path. "I think that all of us have had a huge wake-up call on the Beijing government over the last five or six years." The Confucius Institutes have reportedly interfered with free speech on Australian university campuses, with teachers being required to avoid topics like the Tiananmen Square massacre, Tibet, and Falun Gong in the classroom, as per CI's policy. If pressed by a student for an answer, teachers were required to state the party line. Discriminatory hiring practices and espionage have also been reported. Meanwhile, the newly appointed shadow minister for education, Sarah Henderson, spoke of her concerns over Senator Wong's inaction in cancelling current Confucius Institute arrangements at Australian universities. "While the government has said it will not approve new agreements for a Confucius Institute at an Australian university, I am concerned that the Foreign Minister has not used her powers under the Foreign Relations Act, introduced by the Coalition government, to cancel any of the existing agreements. This conflicting position is difficult to reconcile," Henderson said in her address to the 2023 Universities Australia Conference on Feb. 23. "I note the alarm bells rung by the Director General of ASIO, Mike Burgess, in his fourth annual threat assessment—who has called out public servants, academics and business identities who have asked for an 'easing up' on ASIO's foreign interference and espionage operations at a time of unprecedented espionage and foreign interference activity in Australia. "Clearly, there is still more work to be done." Henderson also acknowledged the education sector's role in combating foreign interference and influence while "safeguarding our values in the face of increasing threats from others who want to do us harm." Foreign Minister's Response to Report on Foreign Interference Risks On Feb. 14, Senator Wong, along with Home Affairs Minister Clare O'Neil and Education Minister Jason Clare, issued a joint statement that addressed a report on foreign interference risks to Australia's higher education and research sector. The Parliamentary Joint Committee on Intelligence and Security (PJCIS) report (pdf) made 27 recommendations, which considered the broad national security risks present in the higher education sector, with a particular focus on the prevalence, characteristics and significance of foreign interference, undisclosed foreign interference, data theft and espionage and associated risks to Australia's national security. "The Government welcomes and broadly supports the majority of the recommendations," the report states. Senator Wong said the federal government remained concerned about potential risks to academic freedom "through some foreign arrangements at universities and will keep these arrangements under review." "The Government is working closely with universities to strengthen resilience to foreign interference and ensure consistency in international engagement," Wong said. "Universities play an important role in Australia's international engagement, and I welcome the sector's close cooperation with the Department of Foreign Affairs and Trade under the Foreign Arrangements Scheme." Foreign Arrangement Scheme The Foreign Arrangement Scheme, which commenced on December 2020, requires states and territories and their entities to seek approval from the Foreign Affairs Minister if they seek to negotiate or enter into an arrangement with foreign national governments and/or their proxies. The scheme requires those lobbying on behalf of foreign governments or actors to be put on a register. However, security expert Katherine Mansted told AAP that the scheme is seen as a name-and-shame list, with there being no distinction between authoritarian states like China and Australia's democratic allies. "The enforcement regi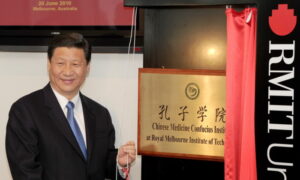 Former Australian Prime Minister Tony Abbott has described the controversial CCP-run Confucius Institutes as "propaganda centres" while calling on Australia to exercise more caution when engaging with Beijing.
This follows Victorian Senator Sarah Henderson's comments at the Universities Australia conference on Feb. 23 where she called on Foreign Minister Penny Wong to use legislative powers under the Foreign Relations Act to close down Confucius Institutes in Australian Universities.
Confucius Institutes have been touted as a Chinese cultural and language program, however, the centres have been under increasing scrutiny for their potential as a trojan horse for the CCP's soft power propaganda push in the west.
There are currently 12 Confucius Institutes across Australia.
"Everything the Chinese government does is done with strategic intent, and these Confucius centres are essentially propaganda centres," former prime minister Tony Abbott told Sky News host Peta Credlin on Feb. 23.
"These [Confucius] institutes were set up back in the day when we were all reasonably optimistic about China and the West being on a converging path.
"I think that all of us have had a huge wake-up call on the Beijing government over the last five or six years."
The Confucius Institutes have reportedly interfered with free speech on Australian university campuses, with teachers being required to avoid topics like the Tiananmen Square massacre, Tibet, and Falun Gong in the classroom, as per CI's policy. If pressed by a student for an answer, teachers were required to state the party line. Discriminatory hiring practices and espionage have also been reported.
Meanwhile, the newly appointed shadow minister for education, Sarah Henderson, spoke of her concerns over Senator Wong's inaction in cancelling current Confucius Institute arrangements at Australian universities.
"While the government has said it will not approve new agreements for a Confucius Institute at an Australian university, I am concerned that the Foreign Minister has not used her powers under the Foreign Relations Act, introduced by the Coalition government, to cancel any of the existing agreements. This conflicting position is difficult to reconcile," Henderson said in her address to the 2023 Universities Australia Conference on Feb. 23.
"I note the alarm bells rung by the Director General of ASIO, Mike Burgess, in his fourth annual threat assessment—who has called out public servants, academics and business identities who have asked for an 'easing up' on ASIO's foreign interference and espionage operations at a time of unprecedented espionage and foreign interference activity in Australia.
"Clearly, there is still more work to be done."
Henderson also acknowledged the education sector's role in combating foreign interference and influence while "safeguarding our values in the face of increasing threats from others who want to do us harm."
Foreign Minister's Response to Report on Foreign Interference Risks
On Feb. 14, Senator Wong, along with Home Affairs Minister Clare O'Neil and Education Minister Jason Clare, issued a joint statement that addressed a report on foreign interference risks to Australia's higher education and research sector.
The Parliamentary Joint Committee on Intelligence and Security (PJCIS) report (pdf) made 27 recommendations, which considered the broad national security risks present in the higher education sector, with a particular focus on the prevalence, characteristics and significance of foreign interference, undisclosed foreign interference, data theft and espionage and associated risks to Australia's national security.
"The Government welcomes and broadly supports the majority of the recommendations," the report states.
Senator Wong said the federal government remained concerned about potential risks to academic freedom "through some foreign arrangements at universities and will keep these arrangements under review."
"The Government is working closely with universities to strengthen resilience to foreign interference and ensure consistency in international engagement," Wong said.
"Universities play an important role in Australia's international engagement, and I welcome the sector's close cooperation with the Department of Foreign Affairs and Trade under the Foreign Arrangements Scheme."
Foreign Arrangement Scheme
The Foreign Arrangement Scheme, which commenced on December 2020, requires states and territories and their entities to seek approval from the Foreign Affairs Minister if they seek to negotiate or enter into an arrangement with foreign national governments and/or their proxies.
The scheme requires those lobbying on behalf of foreign governments or actors to be put on a register.
However, security expert Katherine Mansted told AAP that the scheme is seen as a name-and-shame list, with there being no distinction between authoritarian states like China and Australia's democratic allies.
"The enforcement regime … doesn't capture the right information," she told a parliamentary inquiry on Feb. 21.
Mansted added some organisations were changing how they operate in order to use grey zones and loopholes to hide relationships.
Former prime minister Malcolm Turnbull said the scheme needed to focus more on Chinese-associated entities.
"There is apparently no organisation in Australia that has any association with the United Front Work Department of the Communist Party of China," he told an inquiry on Feb. 21.
"I would love to think that was true, but regrettably, I can say absolutely that it is not true."
The United Front Work Department oversees Confucius Institutes, according to the Australian Strategic Policy Institute (ASPI).
"The united front system's reach beyond the borders of the People's Republic of China (PRC)—such as into foreign political parties, diaspora communities and multinational corporations—is an exportation of the CCP's political system. This undermines social cohesion, exacerbates racial tension, influences politics, harms media integrity, facilitates espionage, and increases unsupervised technology transfer," ASPI states.
In September 2018, Victoria University cancelled a screening of a film called "In the Name of Confucius," which is critical of the Confucius Institutes, was cancelled after concerns were raised by the Chinese consulate to the international director of the university's Confucius Institute.
Group of Eight—which comprises Australia's top 8 universities—chief executive Vicki Thomson said there needed to be a clear distinction between foreign influence and foreign interference to improve the scheme's effectiveness.
"Influence is by its nature open, transparent and part of normal diplomatic relations," she said.
"Interference, in contrast, is clandestine, coercive, deceptive or corrupting."
The attorney general's department, which oversees the register, says the scheme has been effective in building greater awareness about foreign influence targeting the federal government but could be improved.