Coca-Cola chemical leak prompts evacuation
A chemical leak at a Coca-Cola factory in Florida triggered an evacuation of employees and a shelter in place order for nearby residents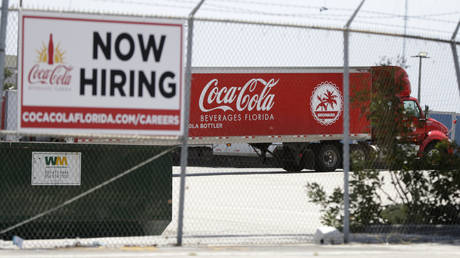 16 Mar, 2023 01:54
HomeWorld News
Coca-Cola chemical leak prompts evacuation
Ammonia escaping from a 20,000-gallon container stoked concerns of wider contamination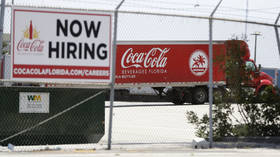 Workers at a Coca-Cola plant in Florida were forced to evacuate following a major chemical leak, local officials said. The spill also prompted a brief shelter-in-place order for residents in the area.
A massive 20,000-gallon tank was found to be leaking ammonia at a facility in Auburndale, Florida early on Wednesday morning, a city spokesperson told a local Fox affiliate, noting that all employees were evacuated from the plant.
Residents living in a two-block area near the plant were also asked to take shelter following the discovery, though the order was lifted several hours later, after fire crews successfully capped the leak. Clean-up operations were reportedly completed sometime around 3:30pm.
There have been no reports of serious injuries to plant employees or local residents, though the Coca-Cola Company later issued a statement noting that "a few electrical employees working nearby" sought medical attention "for minor eye and throat irritations."
Deputy Fire Chief David Cash also said some citizens called to complain about a chemical odor and "irritation" that may have been caused by the spill, but claimed the substance had been largely contained in the plant.
"[Ammonia] comes out as a liquid then it evaporates into vapor," he said. "We had both issues going on. Vapor went up and outside the plant, a small amount of it. The liquid was contained, and we mixed water with it. You can spray water on it and that minimizes it and that was all contained inside the plant and inside their filtration system so none of that escaped off the scene."
Cash said the leak was caused by a problem with "piping" on the 20,000-gallon container, adding that while contractors were doing work in the plant near the site of the spill, "They followed all the rules and did everything right." It is unclear what the chemical was used for at the facility.
Coca-Cola also apologized to employees and other locals "for the inconvenience this may have caused them," insisting its "first priority is always the safety of our people and nearby residents."