Chinese tourists change travel destinations
A number of countries have imposed flight restrictions and entrance rules aimed exclusively at Beijing The gradual reopening of China's economy following the end of Covid-19 lockdowns has propelled tourism outside its borders, but lingering pandemic-induced problems have seen Chinese altering their travel preferences, CNBC reported this week, citing data from booking website Ctrip.According to the report, travel bookings by Chinese tourists going abroad surged by 640% during the Lunar New Year holidays compared with the same time last year, while overseas hotel bookings have quadrupled.Last year Chinese travelers singled out Europe, Australia, Canada, Japan and South Korea as their top travel spots, but this year the majority of travelers went instead to Bangkok, Singapore, Kuala Lumpur, Manila and Bali.The change is based partly on flight restrictions, visa issues and lingering pandemic-related entrance rules affecting Chinese passport holders.Chinese citizens were unable to obtain visas to South Korea and Japan after both countries stopped processing them over concerns about China's recent surge in Covid-19 infections.In Europe, vacationers from China have to wait an extended period of time to obtain visas due to high demand. Prior to the pandemic, EU visa applications took only several days to be processed, while now applicants have to wait up to two months to get a Schengen stamp, according to the SchengenVisaInfo.com website. Thailand is the top choice for Chinese group tours at the moment, according to Ctrip data, with Maldives and Egypt coming in as the second and third most popular choices. Group tours are now also allowed from China to Indonesia, Cambodia, the Philippines, Malaysia, Singapore and Laos, as well as the UAE, South Africa, Hungary, Cuba and Russia. Meanwhile Japan, South Korea and Vietnam still prohibit group tours.China's borders were largely closed to tourist travel from 2019 due to the Covid pandemic. The reopening that kicked off in December last year saw the government scrapping mandatory quarantines for those visiting mainland China, restarting its visa-free policy and resuming group tour travel. Analysts expect Beijing's move to help restore Asia's pandemic-battered retail sector and hotel industry.For more stories on economy & finance visit RT's business section You can share this story on social media: Follow RT on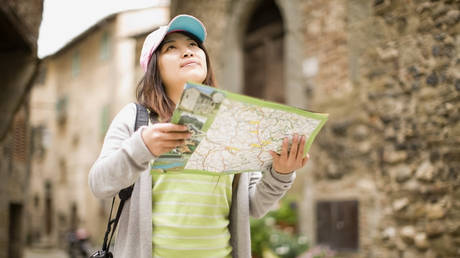 A number of countries have imposed flight restrictions and entrance rules aimed exclusively at Beijing
The gradual reopening of China's economy following the end of Covid-19 lockdowns has propelled tourism outside its borders, but lingering pandemic-induced problems have seen Chinese altering their travel preferences, CNBC reported this week, citing data from booking website Ctrip.
According to the report, travel bookings by Chinese tourists going abroad surged by 640% during the Lunar New Year holidays compared with the same time last year, while overseas hotel bookings have quadrupled.
Last year Chinese travelers singled out Europe, Australia, Canada, Japan and South Korea as their top travel spots, but this year the majority of travelers went instead to Bangkok, Singapore, Kuala Lumpur, Manila and Bali.
The change is based partly on flight restrictions, visa issues and lingering pandemic-related entrance rules affecting Chinese passport holders.
Chinese citizens were unable to obtain visas to South Korea and Japan after both countries stopped processing them over concerns about China's recent surge in Covid-19 infections.
In Europe, vacationers from China have to wait an extended period of time to obtain visas due to high demand. Prior to the pandemic, EU visa applications took only several days to be processed, while now applicants have to wait up to two months to get a Schengen stamp, according to the SchengenVisaInfo.com website.
Thailand is the top choice for Chinese group tours at the moment, according to Ctrip data, with Maldives and Egypt coming in as the second and third most popular choices. Group tours are now also allowed from China to Indonesia, Cambodia, the Philippines, Malaysia, Singapore and Laos, as well as the UAE, South Africa, Hungary, Cuba and Russia. Meanwhile Japan, South Korea and Vietnam still prohibit group tours.
China's borders were largely closed to tourist travel from 2019 due to the Covid pandemic. The reopening that kicked off in December last year saw the government scrapping mandatory quarantines for those visiting mainland China, restarting its visa-free policy and resuming group tour travel. Analysts expect Beijing's move to help restore Asia's pandemic-battered retail sector and hotel industry.
For more stories on economy & finance visit RT's business section
You can share this story on social media: