Children illegally sent to US slaughterhouses
A contractor has been fined for hiring minors as young as 13 to clean meatpacking equipment US cleaning contractor Packers Sanitation Services Inc. (PSSI) has been busted for illegally employing children, including some as young as 13, to work in slaughterhouses, one of the country's most dangerous labor environments.The Wisconsin-based company employed at least 102 children from ages 13 to 17 and assigned them to work overnight shifts at 13 meatpacking plants in eight states, the US Department of Labor said on Friday. PSSI, which is one of the largest US providers of food safety and sanitation services, paid more than $1.5 million in fines, amounting to $15,138 for each child that it illegally employed.Federal investigators found that the minors hired by PSSI worked with dangerous chemicals and cleaned slaughterhouse equipment, such as back saws and head splitters. At least three of the children were injured, including a 14-year-old who worked from 11pm to 5am as many as six days a week, and missed school after suffering a chemical burn. Meatpacking is one of the most dangerous industries in the US, with workers three times more likely to suffer serious injury than the average American laborer, according to government data. With saws, grinders, hooks and extruders all around, common injuries include finger or hand amputations, fractures, burns and head trauma."These children should never have been employed in meatpacking plants, and this can only happen when employers do not take responsibility to prevent child labor violations from occurring in the first place," said Jessica Loman, a deputy administrator with the Department of Labor.The department found that PSSI ignored the notices it received when its own systems flagged some of its hires as minors. When investigators arrived with warrants, company officials allegedly tried to derail their probe."No child should be subjected to the conditions found in this investigation," said Seema Nanda, solicitor at the Department of Labor. US labor law permits companies to hire minors for some jobs, but not those that are considered hazardous.  You can share this story on social media: Follow RT on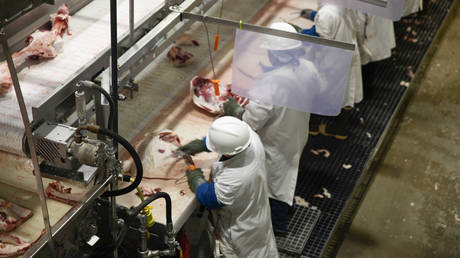 A contractor has been fined for hiring minors as young as 13 to clean meatpacking equipment
US cleaning contractor Packers Sanitation Services Inc. (PSSI) has been busted for illegally employing children, including some as young as 13, to work in slaughterhouses, one of the country's most dangerous labor environments.
The Wisconsin-based company employed at least 102 children from ages 13 to 17 and assigned them to work overnight shifts at 13 meatpacking plants in eight states, the US Department of Labor said on Friday. PSSI, which is one of the largest US providers of food safety and sanitation services, paid more than $1.5 million in fines, amounting to $15,138 for each child that it illegally employed.
Federal investigators found that the minors hired by PSSI worked with dangerous chemicals and cleaned slaughterhouse equipment, such as back saws and head splitters. At least three of the children were injured, including a 14-year-old who worked from 11pm to 5am as many as six days a week, and missed school after suffering a chemical burn.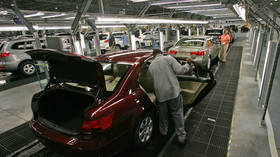 Meatpacking is one of the most dangerous industries in the US, with workers three times more likely to suffer serious injury than the average American laborer, according to government data. With saws, grinders, hooks and extruders all around, common injuries include finger or hand amputations, fractures, burns and head trauma.
"These children should never have been employed in meatpacking plants, and this can only happen when employers do not take responsibility to prevent child labor violations from occurring in the first place," said Jessica Loman, a deputy administrator with the Department of Labor.
The department found that PSSI ignored the notices it received when its own systems flagged some of its hires as minors. When investigators arrived with warrants, company officials allegedly tried to derail their probe.
"No child should be subjected to the conditions found in this investigation," said Seema Nanda, solicitor at the Department of Labor. US labor law permits companies to hire minors for some jobs, but not those that are considered hazardous.