Canada threatens to fine grocery stores over high prices
Chains will face consequences if they do not come up with ways to stabilize prices, the authorities have said The Canadian government is taking aim at grocery stores, warning them of "big consequences" if they fail to provide "relief for Canadians" by stabilizing food prices by October 9. This comes amid rising inflation in the country and as Prime Minister Justin Trudeau's Liberal Party trails badly in the polls.Speaking at the Liberals' national caucus retreat in London, Ontario on Thursday, Trudeau said he expects "to hear from them [the largest grocery chains] by Thanksgiving on what their plan is to stabilize prices," adding that "if their plan doesn't provide real relief for the middle class and people working hard to join it, then we will take further action, and we are not ruling anything out, including tax measures." The minister of innovation, science and industry, Francois-Philippe Champagne, said in an interview with the CBC that he sent out invitations to the CEOs of Loblaw, Sobeys, Metro, Costco, and Walmart – the biggest grocery chains in the country – to attend a meeting in Ottawa on Monday to come up with "meaningful action that would reduce price inflation in the grocery sector." Champagne did not elaborate on what kind of "tax measures" the prime minister had in mind, but reiterated that there would be "consequences" if they failed "to come to the table with a meaningful solution." The move comes amid soaring prices in Canada and reports that the grocery giants have seen record profits."It's not okay that our biggest grocery stores are making record profits while Canadians are struggling to put food on the table," Trudeau said at a press conference on Thursday. The CEOs of the grocery giants denied the allegations of price-gouging and profiteering, arguing that "the grocery chains operate with extremely small profit margins and have minimal influence on inflation." The Retail Council of Canada, which represents Canada's biggest grocery chains, argues that focusing solely on grocery stores will not solve the problem of rising food prices, as it is just the tip of the iceberg, and instead urged the government to "look in the mirror." According to Karl Littler, the senior vice president of public relations at the Retail Council, it is the government's policies, such as the growing carbon tax, which affects farmers and food distribution, and limiting the use of plastic which keeps food fresh that mainly contribute to the rising prices. "If they don't look at what's below the surface and what's actually driving food prices, then it's not going to be a very helpful exercise," Littler said. The public has shown growing discontent with Trudeau's handling of the economy, with recent polls indicating that only 26% of Canadians would vote for the Liberals if an election were held today, with the Conservatives in the lead.For more stories on economy & finance visit RT's business section You can share this story on social media: Follow RT on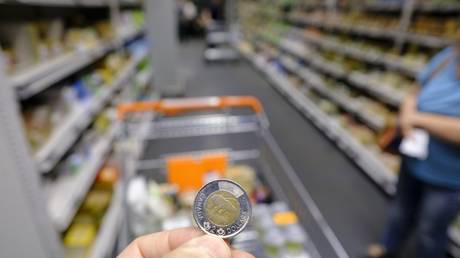 Chains will face consequences if they do not come up with ways to stabilize prices, the authorities have said
The Canadian government is taking aim at grocery stores, warning them of "big consequences" if they fail to provide "relief for Canadians" by stabilizing food prices by October 9. This comes amid rising inflation in the country and as Prime Minister Justin Trudeau's Liberal Party trails badly in the polls.
Speaking at the Liberals' national caucus retreat in London, Ontario on Thursday, Trudeau said he expects "to hear from them [the largest grocery chains] by Thanksgiving on what their plan is to stabilize prices," adding that "if their plan doesn't provide real relief for the middle class and people working hard to join it, then we will take further action, and we are not ruling anything out, including tax measures." 
The minister of innovation, science and industry, Francois-Philippe Champagne, said in an interview with the CBC that he sent out invitations to the CEOs of Loblaw, Sobeys, Metro, Costco, and Walmart – the biggest grocery chains in the country – to attend a meeting in Ottawa on Monday to come up with "meaningful action that would reduce price inflation in the grocery sector." 
Champagne did not elaborate on what kind of "tax measures" the prime minister had in mind, but reiterated that there would be "consequences" if they failed "to come to the table with a meaningful solution."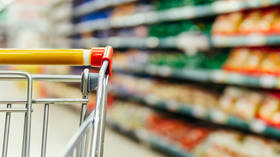 The move comes amid soaring prices in Canada and reports that the grocery giants have seen record profits.
"It's not okay that our biggest grocery stores are making record profits while Canadians are struggling to put food on the table," Trudeau said at a press conference on Thursday. 
The CEOs of the grocery giants denied the allegations of price-gouging and profiteering, arguing that "the grocery chains operate with extremely small profit margins and have minimal influence on inflation." 
The Retail Council of Canada, which represents Canada's biggest grocery chains, argues that focusing solely on grocery stores will not solve the problem of rising food prices, as it is just the tip of the iceberg, and instead urged the government to "look in the mirror." According to Karl Littler, the senior vice president of public relations at the Retail Council, it is the government's policies, such as the growing carbon tax, which affects farmers and food distribution, and limiting the use of plastic which keeps food fresh that mainly contribute to the rising prices. 
"If they don't look at what's below the surface and what's actually driving food prices, then it's not going to be a very helpful exercise," Littler said.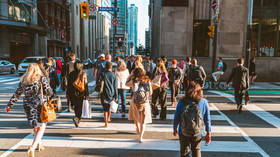 The public has shown growing discontent with Trudeau's handling of the economy, with recent polls indicating that only 26% of Canadians would vote for the Liberals if an election were held today, with the Conservatives in the lead.