Border city tidies up for Biden visit
El Paso, Texas, removes migrants from its streets ahead of President Joe Biden's visit after weeks of being inundated with illegal aliens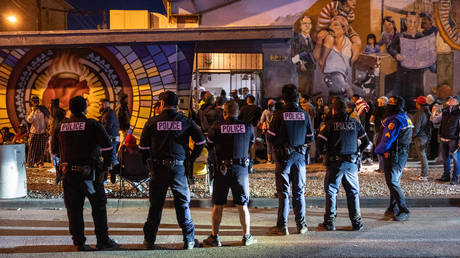 8 Jan, 2023 00:47
HomeWorld News
Border city tidies up for Biden visit
El Paso has cleared out several migrant camps as it prepares to host the president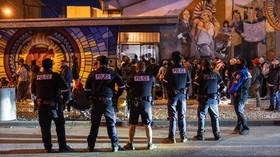 After weeks of being jammed with illegal aliens flooding across the southern US border amid America's immigration crisis, El Paso, Texas, is reportedly clearing migrants from its streets and cleaning out their downtown encampments as the city prepares to host a visit by President Joe Biden.
With the president scheduled to arrive on Sunday, El Paso authorities have dismantled massive migrant camps in recent days, including those near the downtown bus station and the Sacred Heart Church. Hundreds of migrants have reportedly been sent back over the Rio Grande River into Juarez, the Mexican city that sits across the border from El Paso.
Buses loaded with mostly Venezuelan migrants were seen crossing a downtown bridge to Juarez, the New York Post wrote on Saturday. Police allegedly escorted dozens more migrants to a pedestrian crossing.
US Representative Mayra Flores, a Texas Republican who last year became the first Mexican-born woman elected to Congress, suggested that the cleanup is being done for Biden's visit.
"Why not show him what our border community and law enforcement officials are dealing with on a daily basis," Flores said. Thousands of migrants have streamed into El Paso in recent weeks, reflecting a border crisis that has mushroomed since Biden took office in January 2021. The president reportedly hasn't been to the southern US border since being driven to a campaign event in New Mexico from the El Paso airport in 2008.
El Paso, located in the southwestern corner of Texas, has been so overwhelmed that videos posted on social media showed dozens of migrants sleeping on the floor of the city's airport with Red Cross blankets. El Paso's Democrat mayor, Oscar Leeser, declared a state of emergency last month and even suggested in a CNN interview that the United Nations should intervene to help resolve the humanitarian crisis.
Border crossings by illegal aliens surged to an all-time high of 2.76 million in the government's last fiscal year, which ended on September 30. The union for US Border Patrol officers said El Paso's cleanup for Biden would make the city look like "nothing unusual ever happened there." The group added, "We suggest landing in Des Moines, Iowa, and telling him it's El Paso. He'll never know the difference."