Bohemian Rhapsody revealed as favourite song in listener vote
BBC Radio 2 today reveals that Bohemian Rhapsody is Your Ultimate Queen Song following a listener vote to discover the nation's favourite Queen song.Don't Stop Me Now is in second place, Somebody to Love in third place, We Are The Champions / We Will Rock You in fourth, and Radio Ga Ga rounded off the top five. The full Top 40 countdown hosted by Steve Wright is available on BBC Sounds from Friday 31 March and highlights of the Top 40 will be broadcast on Radio 2 on Monday 10 April at 4pm.From Monday 20 February, listeners were asked to vote for up to three of their favourite songs from Queen's Top 75 UK chart singles, including collaborations with the band following Freddie Mercury's death. Voting closed on Wednesday 8 March, with the results compiled for this special show, Your Ultimate Queen Song.Bohemian Rhapsody was released as the lead single from Queen's fourth album, A Night at the Opera, in 1975 and became the band's first number one. Written by Freddie Mercury and referred to by him as a 'mock opera', the track - often regarded as Queen's signature song - is one of the few progressive rock songs of the 1970s to achieve widespread commercial success. It topped the UK Singles Chart for nine weeks, plus a further five weeks following Freddie Mercury's death in 1991, and remains the UK's third best-selling single of all time. In 2004, it was inducted into the Grammy Hall of Fame and, following the release of the 2018 biopic Bohemian Rhapsody, it became the most streamed song of the twentieth century.Sir Brian May says: "Hello all you beautiful Radio 2 listeners. Thank you for voting for this song. I guess we're very thrilled not only because you voted for that particular track, but because you voted at all and it means that we're still in your hearts and your minds and we're very grateful, and I'm hoping that we'll be out there doing our thing for you before too long. Bohemian Rhapsody, of course, is the greatest testament to the powers of our dear Freddie and I know he would be delighted to hear this news. What could be better. Thank you."Steve Wright says: "This is the real life, not just fantasy! The Radio 2 listeners have spoken and it's clear that nothing can stop them now from loving Queen's iconic hit Bohemian Rhapsody. I'm thrilled to crown this timeless hit the winner, proving that it still rocks the airwaves decades after its release."The Top 40, as voted by Radio 2 listeners1. Bohemian Rhapsody (1975)2. Don't Stop Me Now (1979)3. Somebody To Love (1976)4. We Are The Champions / We Will Rock You (1977)5. Radio Ga Ga (1984)6. Who Wants To Live Forever (1986)7. Killer Queen (1974)8. Under Pressure (1981)9. Love Of My Life (1979)10. These Are The Days Of Our Lives (1991)11. I Want to Break Free (1984)12. The Show Must Go On (1991)13. Seven Seas Of Rhye (1974)14. Hammer To Fall (1984)15. You're My Best Friend (1976)16. A Kind Of Magic (1986)17. Fat Bottomed Girls (1978)18. Another One Bites The Dust (1980)19. Crazy Little Thing Called Love (1979)20. Good Old Fashioned Lover Boy (1977)21. One Vision (1985)22. Innuendo (1991)23. Now I'm Here (1975)24. Tie Your Mother Down (1977)25. Spread Your Wings (1978)26. Somebody To Love - Five Live EP (1992)27. I Want It All (1989)28. Breakthru (1989)29. We Will Rock You (2000)30. Flash (1980)31. Bohemian Rhapsody (Queen & The Muppets, 2009)32. Save Me (1980)33. Bicycle Race (1978)34. Too Much Love Will Kill You (1996)35. It's A Hard Life (1984)36. I'm Going Slightly Mad (1991)37. Friends Will Be Friends (1986)38. No-One But You (Only the Good Die Young) (1998)39. Las Palabras De Amor (1982)40. Headlong (1991)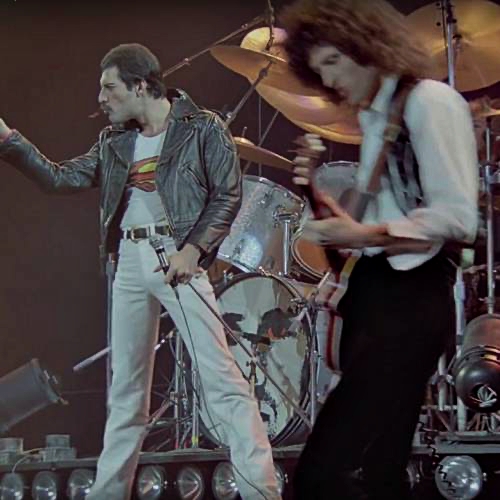 BBC Radio 2 today reveals that Bohemian Rhapsody is Your Ultimate Queen Song following a listener vote to discover the nation's favourite Queen song.
Don't Stop Me Now is in second place, Somebody to Love in third place, We Are The Champions / We Will Rock You in fourth, and Radio Ga Ga rounded off the top five. The full Top 40 countdown hosted by Steve Wright is available on BBC Sounds from Friday 31 March and highlights of the Top 40 will be broadcast on Radio 2 on Monday 10 April at 4pm.
From Monday 20 February, listeners were asked to vote for up to three of their favourite songs from Queen's Top 75 UK chart singles, including collaborations with the band following Freddie Mercury's death. Voting closed on Wednesday 8 March, with the results compiled for this special show, Your Ultimate Queen Song.
Bohemian Rhapsody was released as the lead single from Queen's fourth album, A Night at the Opera, in 1975 and became the band's first number one. Written by Freddie Mercury and referred to by him as a 'mock opera', the track - often regarded as Queen's signature song - is one of the few progressive rock songs of the 1970s to achieve widespread commercial success. It topped the UK Singles Chart for nine weeks, plus a further five weeks following Freddie Mercury's death in 1991, and remains the UK's third best-selling single of all time. In 2004, it was inducted into the Grammy Hall of Fame and, following the release of the 2018 biopic Bohemian Rhapsody, it became the most streamed song of the twentieth century.
Sir Brian May says: "Hello all you beautiful Radio 2 listeners. Thank you for voting for this song. I guess we're very thrilled not only because you voted for that particular track, but because you voted at all and it means that we're still in your hearts and your minds and we're very grateful, and I'm hoping that we'll be out there doing our thing for you before too long. Bohemian Rhapsody, of course, is the greatest testament to the powers of our dear Freddie and I know he would be delighted to hear this news. What could be better. Thank you."
Steve Wright says: "This is the real life, not just fantasy! The Radio 2 listeners have spoken and it's clear that nothing can stop them now from loving Queen's iconic hit Bohemian Rhapsody. I'm thrilled to crown this timeless hit the winner, proving that it still rocks the airwaves decades after its release."
The Top 40, as voted by Radio 2 listeners
1. Bohemian Rhapsody (1975)
2. Don't Stop Me Now (1979)
3. Somebody To Love (1976)
4. We Are The Champions / We Will Rock You (1977)
5. Radio Ga Ga (1984)
6. Who Wants To Live Forever (1986)
7. Killer Queen (1974)
8. Under Pressure (1981)
9. Love Of My Life (1979)
10. These Are The Days Of Our Lives (1991)
11. I Want to Break Free (1984)
12. The Show Must Go On (1991)
13. Seven Seas Of Rhye (1974)
14. Hammer To Fall (1984)
15. You're My Best Friend (1976)
16. A Kind Of Magic (1986)
17. Fat Bottomed Girls (1978)
18. Another One Bites The Dust (1980)
19. Crazy Little Thing Called Love (1979)
20. Good Old Fashioned Lover Boy (1977)
21. One Vision (1985)
22. Innuendo (1991)
23. Now I'm Here (1975)
24. Tie Your Mother Down (1977)
25. Spread Your Wings (1978)
26. Somebody To Love - Five Live EP (1992)
27. I Want It All (1989)
28. Breakthru (1989)
29. We Will Rock You (2000)
30. Flash (1980)
31. Bohemian Rhapsody (Queen & The Muppets, 2009)
32. Save Me (1980)
33. Bicycle Race (1978)
34. Too Much Love Will Kill You (1996)
35. It's A Hard Life (1984)
36. I'm Going Slightly Mad (1991)
37. Friends Will Be Friends (1986)
38. No-One But You (Only the Good Die Young) (1998)
39. Las Palabras De Amor (1982)
40. Headlong (1991)