Boeing Says Parts Shortages Persist, Hampering Plane Production
Boeing Co. is still facing parts shortages as the supply chain remained unstable and unpredictable, its finance chief said on Wednesday. Boeing aims to increase production of its bestselling 737 MAX narrowbody jetliner from a stable rate of about 31 jets a month to 38 by the end of the year. The timeline for the ramp-up will hinge on whether MAX suppliers are stable and ready to support the higher rate, Chief Financial Officer Brian West said at a Cowen conference. "The supply chain continues to have its moments of disruption," West said. Operations had improved at suppliers at the tier one level, or subassemblies and systems; visibility of constraints had improved at tier two, components; and tier three, parts, he said. "We're just not there yet," West said. Deliveries of the MAX in February were expected to drop to the "low 20s" from 35 in January, West said, then ramp back up to allow Boeing to meet its goal of delivering 400–450 MAX planes this year. Boeing plans to boost MAX deliveries to 50 planes a month by the 2025–2026 timeframe, while at the same time creating a fourth production line in Everett, Washington. The line will initially focus on producing MAX jets with more complicated configurations, but West hinted it could also accommodate future demand beyond 50 planes per month. The 787 Dreamliner has also experienced production lags, including pauses in production due to supply chain delays at Spirit Aerosystems, which makes the forward fuselage, West said. "Our expectation is that they will get back to that three per month, and then as we move through the course of this year, be exiting the year more closer to five per month," he said. Boeing intends to deliver all 100 787s in its inventory over the next two years, West said. He said the company had confidence in its 2023 cash flow goal of $3 billion to $5 billion. By Valerie Insinna and Abhijith Ganapavaram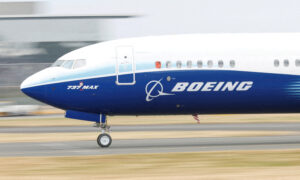 Boeing Co. is still facing parts shortages as the supply chain remained unstable and unpredictable, its finance chief said on Wednesday.
Boeing aims to increase production of its bestselling 737 MAX narrowbody jetliner from a stable rate of about 31 jets a month to 38 by the end of the year. The timeline for the ramp-up will hinge on whether MAX suppliers are stable and ready to support the higher rate, Chief Financial Officer Brian West said at a Cowen conference.
"The supply chain continues to have its moments of disruption," West said. Operations had improved at suppliers at the tier one level, or subassemblies and systems; visibility of constraints had improved at tier two, components; and tier three, parts, he said.
"We're just not there yet," West said.
Deliveries of the MAX in February were expected to drop to the "low 20s" from 35 in January, West said, then ramp back up to allow Boeing to meet its goal of delivering 400–450 MAX planes this year.
Boeing plans to boost MAX deliveries to 50 planes a month by the 2025–2026 timeframe, while at the same time creating a fourth production line in Everett, Washington. The line will initially focus on producing MAX jets with more complicated configurations, but West hinted it could also accommodate future demand beyond 50 planes per month.
The 787 Dreamliner has also experienced production lags, including pauses in production due to supply chain delays at Spirit Aerosystems, which makes the forward fuselage, West said.
"Our expectation is that they will get back to that three per month, and then as we move through the course of this year, be exiting the year more closer to five per month," he said.
Boeing intends to deliver all 100 787s in its inventory over the next two years, West said.
He said the company had confidence in its 2023 cash flow goal of $3 billion to $5 billion.