Big banks to face lawsuit over Epstein ties
Two lawsuits filed by victims of the convicted sex offender and one filed by the US Virgin Islands can progress in a modified fashion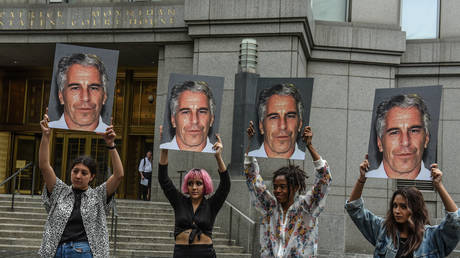 Big banks to face lawsuit over Epstein ties
JP Morgan and Deutsche Bank knowingly benefited from their links to sexual predator Jeffrey Epstein, the suits claim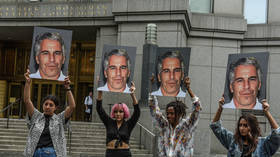 A US judge has cleared the way for three lawsuits to move forward against banking giants JP Morgan and Deutsche Bank, alleging both companies knowingly benefited from their relationships with convicted sex predator Jeffrey Epstein. Manhattan District Judge Jed Rakoff issued the four-page accusation on Tuesday, with a fuller statement to be published "in due course."
The first lawsuit against JP Morgan, filed by an unnamed "Jane Doe" representing a group of the pedophile's victims, argues the US-based bank "knowingly benefited from participating in a sex trafficking venture" led by Epstein, who was a client there from 1998 through 2013, and "negligently failed to exercise reasonable care to prevent physical harm."
The US Virgin Islands' own suit against JP Morgan alleges the bank enabled the late predator's sex trafficking operation, though Judge Rakoff also threw out three of the four claims in that suit.
Mimi Liu, the lawyer for the US Virgin Islands, where Epstein owned a private island, claimed current JP Morgan CEO Jamie Dimon was aware that his "billionaire client was a child trafficker" at the time of his felony conviction for soliciting prostitution from a minor in 2008. Dimon kept him as a client for another five years anyway.
JP Morgan's lawyers had argued the plaintiffs failed to meet the threshold of proof that they had known about or participated in Epstein's sex trafficking operation. Brad Edwards, Doe's attorney, countered that the disgraced financier's trafficking activities would have been "impossible without the assistance of JPMorgan Chase, and later Deutsche Bank," arguing the pedophile was given special treatment because he brought in wealthy clients.
Eight of the 12 claims from Doe's lawsuit against Deutsche Bank, which took on Epstein as a client in 2013, even though he had been a registered sex offender since 2008, were also dismissed.
Rakoff's decision allows the plaintiffs to pursue further pretrial discovery. Former JP Morgan CEO Jes Staley, a central figure in both lawsuits against the bank who resigned in 2021 over his links with Epstein, is reportedly due to be deposed later this week. Court filings show he exchanged over 1,200 emails with Epstein, with more than a few referencing young women.
Last week, Rakoff tentatively scheduled trial dates for both JP Morgan cases for October 23.