Best Pollution Masks 2023 | Comfort vs Value
Considering the global increase in pollution, allergens and unhealthy fumes, it's no wonder that you're considering a good pollution mask. Your health is a priority, which is why it's important to know which masks are the best pollution masks at filtering out the bad particles in the air and which masks don't live up to the marketing hype. Anybody who has ever spent time wearing one of those disposable 3M masks while doing tasks around the house such as woodworking or painting knows that disposable masks are just that… …disposable. Not to mention uncomfortable. Aside from wanting to throw them away after one use, there are a number of other reasons why these masks don't make good sense to take with you when you travel or move to a polluted area. As we look at what makes some of the best pollution masks worth buying and packing, we'll be rating them based on very specific criteria: Is it Comfortable? You're not going to want to wear an uncomfortable pollution mask. Is it Washable / Refillable? Pollution masks, like any filter, get dirty. The best pollution masks give you the ability to either clean or replace the filter easily. Is it Effective? Of course, just because a mask looks and feels good doesn't make it the best. It needs to be effective. Masks worth buying should be marked by either "N95" or "N99", indicating that they filter out either 95% or 99% of the pollutants respectively. So with these criteria in mind, I've come up with the following ratings that you can read about further below: Now, let's take a look more closely at these pollution masks to see what's going to work best for you whether you're in your home country or you're traveling to a heavily polluted country like China or India. Note: Some of the links in this article are Amazon affiliate links, which means that at no extra cost to you, I may be compensated if you choose to purchase a mask. Base Camp Pollution Mask | Most Comfortable If you're looking for the most comfortable pollution mask that you can keep on for long periods of time, look no further than the Base Camp mask. Because it straps around the head, it alleviates the pressure most pollution masks put on the ears. Pros of Base Camp Rated N99 to filter 99% of all pollution, pollen, and dust; Comfortable nylon material that wraps around the head instead of around the ears; Adjustable strap allows for a customized fit; Replaceable filters and discharge valves; Cons of Base Camp Only two color options; Not particularly suited for small faces; One of the most popular pollution and dust masks is also one of the most versatile. Base Camp's masks offer an adjustable strap to fit different-sized heads and comes with six (6) extra filters. Each filter is supposed to last for only 20-30 hours of use (they don't say this, but that's the average life cycle of any air filter). With six filters, the purchase of one Base Camp pollution mask should theoretically last for a couple months. Cambridge Pollution Mask | Best Value The Cambridge Mask is the cheapest option on the list here, but don't let that fool you – it's still good quality. For this reason, I've named it the "best value" on this list of best pollution masks. Pros | Cambridge Mask Rated N99 (removes 99% of all pollutants); Offered in adult and children's sizing; Washable respirator (no new filter purchases required); Multiple fun colors and patterns to choose from Cons | Cambridge Mask Washable respirator still has a short shelf life; Wraps around the ears, which some people find to be uncomfortable; Founded by a Cambridge University graduate (how did you guess!?), the Cambridge Masks have become so popular that you'll likely find a number of different knock-off style masks on Amazon and other retailers. If you prefer to a fun color or style, or if you need a mask that will fit your child, these masks are a great option. The mask and respirator are "washable", but don't let that marketing fool you. They won't last forever and you'll need to replace it eventually. Besungo Face Masks | Best Multi-Purpose Mask The Besungo face masks are marketed for those who are doing construction, lawn care or sanitation work, but the truth is they're also great at blocking out pollutants. Pros | Besungo Masks Comfortable mask made of premium nylon & mesh; Offers multiple colors to choose from; Velcro fastening makes for easy adjustments; Replaceable filters available; Cons | Besungo Masks Since the mask wraps around the neck, not the head, the fit of this mask changes based on how much you move your head. Some people prefer to have a mask like the Besungo Dust Mask that fastens at the neck (as opposed to over the ears or behind the head). If that's you, you'll enjoy this mask more than the others listed above. In my experience, especially when I'm wearing a motorcycle helmet, these kinds of masks t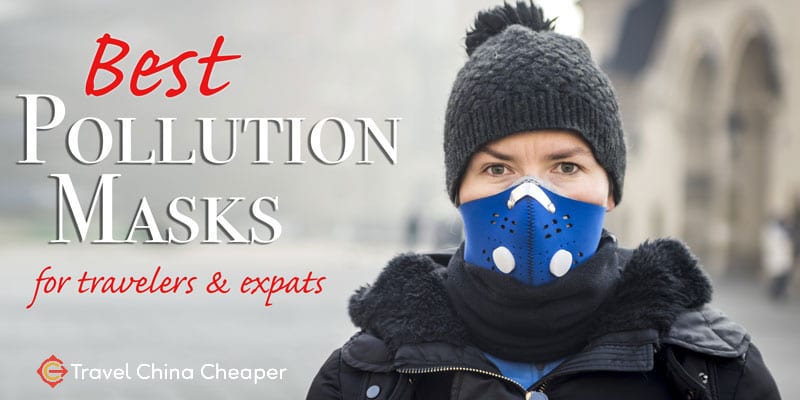 Considering the global increase in pollution, allergens and unhealthy fumes, it's no wonder that you're considering a good pollution mask. Your health is a priority, which is why it's important to know which masks are the best pollution masks at filtering out the bad particles in the air and which masks don't live up to the marketing hype.
Anybody who has ever spent time wearing one of those disposable 3M masks while doing tasks around the house such as woodworking or painting knows that disposable masks are just that…
…disposable.
Not to mention uncomfortable.
Aside from wanting to throw them away after one use, there are a number of other reasons why these masks don't make good sense to take with you when you travel or move to a polluted area.
As we look at what makes some of the best pollution masks worth buying and packing, we'll be rating them based on very specific criteria:
Is it Comfortable? You're not going to want to wear an uncomfortable pollution mask.
Is it Washable / Refillable? Pollution masks, like any filter, get dirty. The best pollution masks give you the ability to either clean or replace the filter easily.
Is it Effective? Of course, just because a mask looks and feels good doesn't make it the best. It needs to be effective. Masks worth buying should be marked by either "N95" or "N99", indicating that they filter out either 95% or 99% of the pollutants respectively.
So with these criteria in mind, I've come up with the following ratings that you can read about further below:
Now, let's take a look more closely at these pollution masks to see what's going to work best for you whether you're in your home country or you're traveling to a heavily polluted country like China or India.
Note: Some of the links in this article are Amazon affiliate links, which means that at no extra cost to you, I may be compensated if you choose to purchase a mask.
---
Base Camp Pollution Mask | Most Comfortable
If you're looking for the most comfortable pollution mask that you can keep on for long periods of time, look no further than the Base Camp mask.
Because it straps around the head, it alleviates the pressure most pollution masks put on the ears.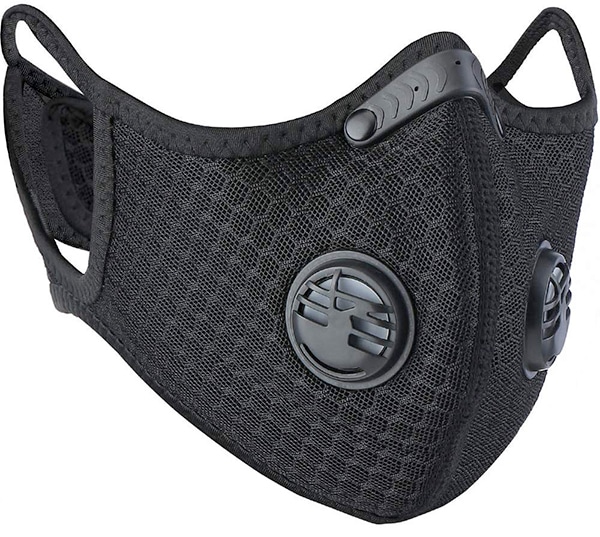 Pros of Base Camp
Rated N99 to filter 99% of all pollution, pollen, and dust;
Comfortable nylon material that wraps around the head instead of around the ears;
Adjustable strap allows for a customized fit;
Replaceable filters and discharge valves;
Cons of Base Camp
Only two color options;
Not particularly suited for small faces;
One of the most popular pollution and dust masks is also one of the most versatile. Base Camp's masks offer an adjustable strap to fit different-sized heads and comes with six (6) extra filters.
Each filter is supposed to last for only 20-30 hours of use (they don't say this, but that's the average life cycle of any air filter).
With six filters, the purchase of one Base Camp pollution mask should theoretically last for a couple months.
---
Cambridge Pollution Mask | Best Value
The Cambridge Mask is the cheapest option on the list here, but don't let that fool you – it's still good quality.
For this reason, I've named it the "best value" on this list of best pollution masks.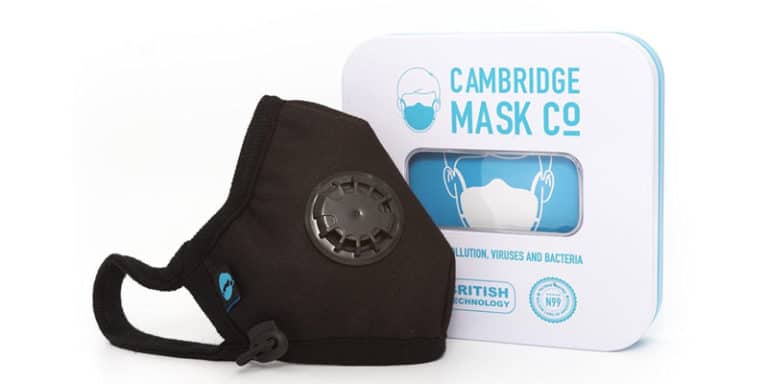 Pros | Cambridge Mask
Rated N99 (removes 99% of all pollutants);
Offered in adult and children's sizing;
Washable respirator (no new filter purchases required);
Multiple fun colors and patterns to choose from
Cons | Cambridge Mask
Washable respirator still has a short shelf life;
Wraps around the ears, which some people find to be uncomfortable;
Founded by a Cambridge University graduate (how did you guess!?), the Cambridge Masks have become so popular that you'll likely find a number of different knock-off style masks on Amazon and other retailers.
If you prefer to a fun color or style, or if you need a mask that will fit your child, these masks are a great option.
The mask and respirator are "washable", but don't let that marketing fool you. They won't last forever and you'll need to replace it eventually.
---
Besungo Face Masks | Best Multi-Purpose Mask
The Besungo face masks are marketed for those who are doing construction, lawn care or sanitation work, but the truth is they're also great at blocking out pollutants.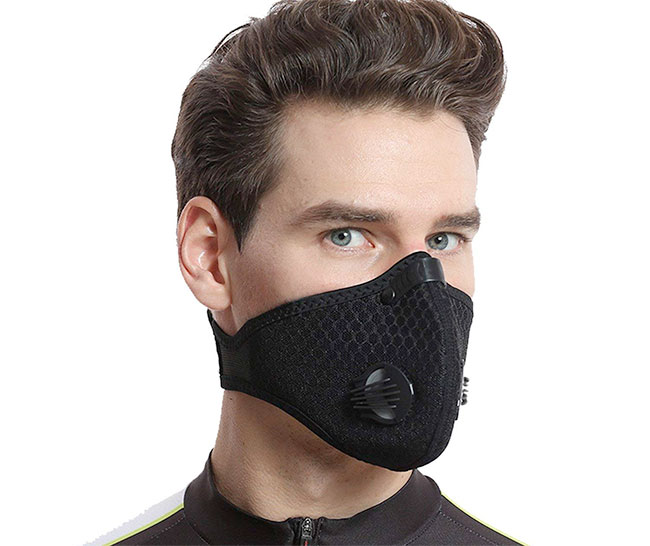 Pros | Besungo Masks
Comfortable mask made of premium nylon & mesh;
Offers multiple colors to choose from;
Velcro fastening makes for easy adjustments;
Replaceable filters available;
Cons | Besungo Masks
Since the mask wraps around the neck, not the head, the fit of this mask changes based on how much you move your head.
Some people prefer to have a mask like the Besungo Dust Mask that fastens at the neck (as opposed to over the ears or behind the head). If that's you, you'll enjoy this mask more than the others listed above.
In my experience, especially when I'm wearing a motorcycle helmet, these kinds of masks tend to slide down easily. Still, it's a quality pollution mask that gets the job done!
---
AQBlue Mask – Best Pollution Mask for China
For those who have already set up roots in China, the AQblue is one of the best pollution masks available that you can purchase within the country (the remainder of the masks in this list are sold through Amazon, which is hard to get in China).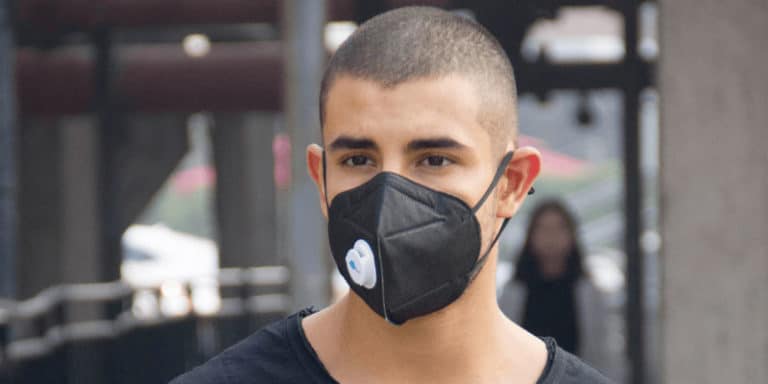 Pros | AQBlue
Multiple sizes fit adults (large), teens (medium) and children (small);
Breathable, quality materials = comfortable fit throughout the day;
KN95 certified (equivalent to N95) to block most dangerous particles;
Cons | AQBlue
Only available in China through Taobao, select hospitals, or direct via WeChat (see QR code below);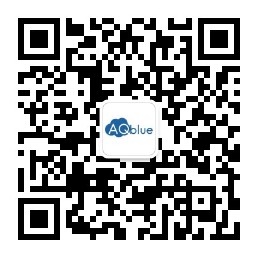 Anybody who has lived in China knows that it's not hard to find a cheap face mask at a store or on Taobao.
The trickier job is finding a mask in China that actually filters out the harmful particles in the air while being comfortable and stylish (i.e. you don't have to sport a Hello Kitty pattern).
That's where the AQBlue mask comes in. This is one of the best pollution masks because it uses two filter layers to clean the air and a material that is comfortable on the skin. Using WeChat, you can scan the QR code you see here to choose from different sizes and colors.
If you message the company on TaoBao and tell them you heard about them here on TravelChinaCheaper, they'll even give you 15% off your order!
---
Final Thoughts | Best Pollution Mask
Sure, you can probably get away with a cheap 3M mask for a short period of time. If your long-term health is important to you, though, that just won't do.
Even as a traveler, while you obviously want to get good travel insurance for emergencies, you also want to be preventative with a best pollution mask.
As an expat who lives in a polluted country, I suggest investing in a good pollution mask that will last a bit longer and be more comfortable.
The Base Camp Masks are a great example of comfortable masks that filter out the dust and allergens without breaking the bank.
Whatever you choose, don't forget to protect all members of your family! Children are most susceptible to the damaging effects of pollutants, so buy them a fun pattern that they'll be excited to wear.
Stay healthy out there! If you have any other suggestions, let me know in the comments below.