BBC presenter faces firing over Nazi comparison
BBC sports host Gary Lineker could face termination at the state broadcaster after comparing UK border policies to "Germany in the 30s."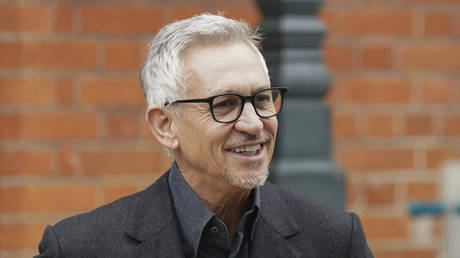 10 Mar, 2023 03:16
HomeWorld News
BBC presenter faces firing over Nazi comparison
The former footballer accused the government of "immeasurably cruel" immigration restrictions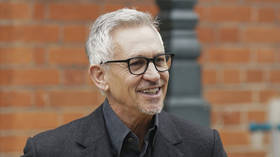 BBC sports presenter Gary Lineker could face termination at the state broadcaster after comparing a new immigration plan to the policies of Germany in the 1930s, according to a former top official at the outlet.
calling the plan "beyond awful" while drawing a comparison to Nazi Germany.
"There is no huge influx [of illegal immigrants]. We take far fewer refugees than other major European countries. This is just an immeasurably cruel policy directed at the most vulnerable people in language that is not dissimilar to that used by Germany in the 30s," he added.
Amid outrage from Conservative MPs and officials – among them Home Secretary Suella Braverman and Culture Secretary Lucy Frazer – the BBC said it was taking the matter "seriously" and would have a "frank conversation" with the 'Match of the Day' host, who said he had been in touch with BBC director-general Tim Davie.
The BBC's former chief of editorial policy, Richard Ayre, suggested Davie would be forced to sack Lineker over the comments, telling BBC Radio 4 "I don't think he is going to have any choice but to let him go unless he can be certain that this is the end of it."
said the "ridiculously out of proportion" response to his tweets seemed to be "abating," indicating that he would not face termination following discussions with higher-ups at the government-owned outlet. Though it remains unclear whether he will see any disciplinary action as a result of the posts, Lineker said he stands by his comments, vowing to "continue to try and speak up for those poor souls that have no voice."
"entitled to say what he likes" on social media, especially given that he does not cover political subjects. Broadcaster Piers Morgan also stepped up to bat for Lineker on similar grounds.
Though BBC reporters are ostensibly required to remain impartial toward political matters in their public commentary, Lineker is not a permanent staffer at the outlet, but rather a freelance employee, meaning he is not subject to the same guidelines. However, the BBC also maintains separate rules governing the use of social media which apply to all of its workers, and warns that violations could lead to "disciplinary action" up to and including "possible termination of employment in serious circumstances."