Bank executive 'urinated' on plane passenger
An Indian Wells Fargo executive was fired and is now wanted by police after allegedly urinating on a passenger during a flight to New Delhi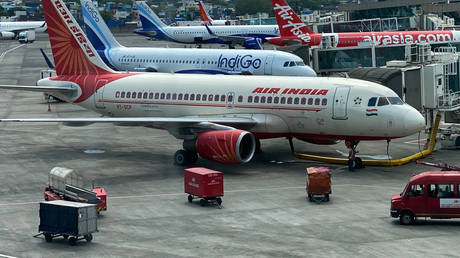 7 Jan, 2023 02:53
HomeWorld News
Bank executive 'urinated' on plane passenger
The Wells Fargo banker was reportedly drunk while on a flight bound to New Delhi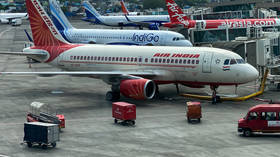 A top Indian Wells Fargo executive has lost his job and is now wanted by law enforcement after allegedly urinating on an elderly passenger aboard a flight to the Indian capital, according to the New Delhi police, who say the man is still at large.
announced the sacking on Friday, and though the American banking giant did not name the employee in question, Indian media outlets have identified the man as Shankar Mishra, reportedly the vice president of the company's India operations based in Mumbai.
"Wells Fargo holds employees to the highest standards of professional and personal behavior and we find these allegations deeply disturbing. This individual has been terminated from Wells Fargo," the bank said in a statement, adding that it is "cooperating with law enforcement."
While exactly what led up to the lewd incident remains unclear, Mishra was said to have been intoxicated while on a flight from New York to New Delhi before relieving himself on a 72-year-old-woman, who said "her clothes, shoes and bag were soaked in urine," according to the India Times. The victim reported the assault to the crew, but did not raise the matter with authorities.
After learning of the incident from the airline operating the flight, Air India, the New Delhi police said Mishra was charged for an obscene act in a public place, assault on a woman "with intent to outrage her modesty," public intoxication and a "word, gesture or act intended to insult the modesty of a woman." He remains on the run, though law enforcement say they have been in touch with the man's family.
"The accused is a resident of Mumbai and the investigators have found that his possible location is in some other state. He will be arrested at the earliest," a senior police official told the Times.
"found it difficult to insist on his arrest or press charges after he expressed remorse." Nonetheless, she ultimately decided to report the assault to the airline.
Mishra, however, has insisted that the matter was quickly settled, with his lawyer releasing a statement saying the former banking exec compensated the woman days after the assault.
"The WhatsApp messages between the accused and the lady clearly show that the accused had got the clothes and bags cleaned on November 28 and the same were delivered on November 30," the statement said. The lawyer added that the victim later returned money given to her in compensation before filing her complaint.
India's aviation regulator has criticized the airline for failing to report the obscene attack sooner, only bringing it to authorities on December 28. While Air India argued "the story is more complicated than has been reported," it acknowledged its slowness to act. The country's Directorate General of Civil Aviation said the company's actions were "unprofessional" and demanded a written response about the incident within two weeks.