At the Joan Didion Estate Sale
Joan Didion with her stingray corvette, Julian Wasser. Courtesy of Stair Galleries. In November, writers began making little pilgrimages from New York City to Hudson to see Joan Didion's things. In fact, thousands of people came to Stair Galleries, an auction house on the main drag of a town filled with antiques stores, farm-to-table restaurants, coffee shops, and stores that all seemed to be selling only five items of clothing. I made my own journey by early-morning train. Didion died this past December at eighty-seven, and a selection of her furnishings, art, books, and other things was being auctioned at an estate sale, with proceeds going to Parkinson's research and the Sacramento Historical Society; prior to the sale, a small exhibition was open to the public, titled "An American Icon: Property from the Collection of Joan Didion." The word icon is fitting and perhaps inadvertently implies the way some people become like relics in life and especially in death. Didion certainly became one, via the mythology and imagery that became attached to her—who hasn't seen that photo of her posed on the white Corvette, or in the black turtleneck, and marveled at her ineffable cool? (Both photographs were for sale.) She came, through her work but more so through her persona, to symbolize something, or a whole set of different and sometimes contradictory somethings, about being a writer, a woman, and a person of certain class at a certain time in America. And now here were her actual relics, the things that outlasted her, which might serve as little metonymies for whatever it was we tried to read into her. The exhibition was neatly siloed into two small rooms, but it really was quite a lot of stuff, actually a quantifiable number of things (224). It was set up like an artificial apartment where Joan might have been caught in medias res for a glossy magazine spread—couches arranged around a coffee table with a cashmere blanket thrown over one of them, desks with typewriters on them, artfully stacked art books. Her books were organized into coherent sets, which would be sold that way in lots: Didion's Hemingway, her Graham Greene, her California cookbooks, a mishmash of political nonfiction like Uncovering Clinton: A Reporter's Story and Bush at War that one might have bought in an airport in 2002. Many of these books possessed a pleasant, weather-beaten quality, their jackets faded like they were abandoned on the patio of a Cape Cod summerhouse. There was something of a shrine constructed to California Joan, with five books about California placed around a photo of her in a straw hat, among the palm trees. Along one wall, there was large glass cabinet full of her dishware, her pots, her glasses, all the small personal odds and ends that we scavenged through. Everything had a tag stating an estimated price, all of which were quite obviously lowballs. The press had been here before me and would come after me, all of us writing lists of her things and descriptions in little notebooks and taking pictures we couldn't resist posting online. (Taking stock of her belongings like this reminds me of seeing Didion's perennially Instagrammed and impossibly chic packing list, which includes "2 skirts, 2 jerseys or leotards…cigarettes, bourbon.") Why were we here? Did we want to know if Didion had good taste? The answer to that question was mostly yes, or at least that she had the good taste of a specific milieu, that of a California WASP in the latter part of the last century: Le Creuset cookware, heavy gilt mirrors, Loro Piana cashmere, monogrammed napkins, a rattan chair, a bamboo-and-lacquer side table. There was plenty to covet, though there was also plenty one wouldn't want—hefty, overwrought silverware, the kind one used to inherit and still might, and some really appalling watercolors. I am always struck by how things that feel like they belong in a particular time and place insist on lasting, lasting past the person who assembled them and made them into a life. Maybe some of us came here for the simple reason that we love Didion's work. There is a certain constellating one wants to do, a close-reading of the way these objects fit into her writing. Sometimes the relationship was quite literal: they were selling the drop-leaf table where her husband, John Dunne, collapsed before he died—as described in a scene in The Year of Magical Thinking—as "Lot 26: Late Regency Inlaid Mahogany Pembroke Table." (This is morbid, you might think, but then this whole affair was morbid in its way.) There were hurricane lamps, also described in this book. She writes, "Clean sheets, stacks of clean towels, hurricane lamps for storms, enough water and food to see us through whatever geological event came our way. These fragments I have shored against my ruins, were the words that came to mind then. These fragments mattered to me." If an estate sale normally saps meaning from the fragments that someone has shored up, dispersing them and making t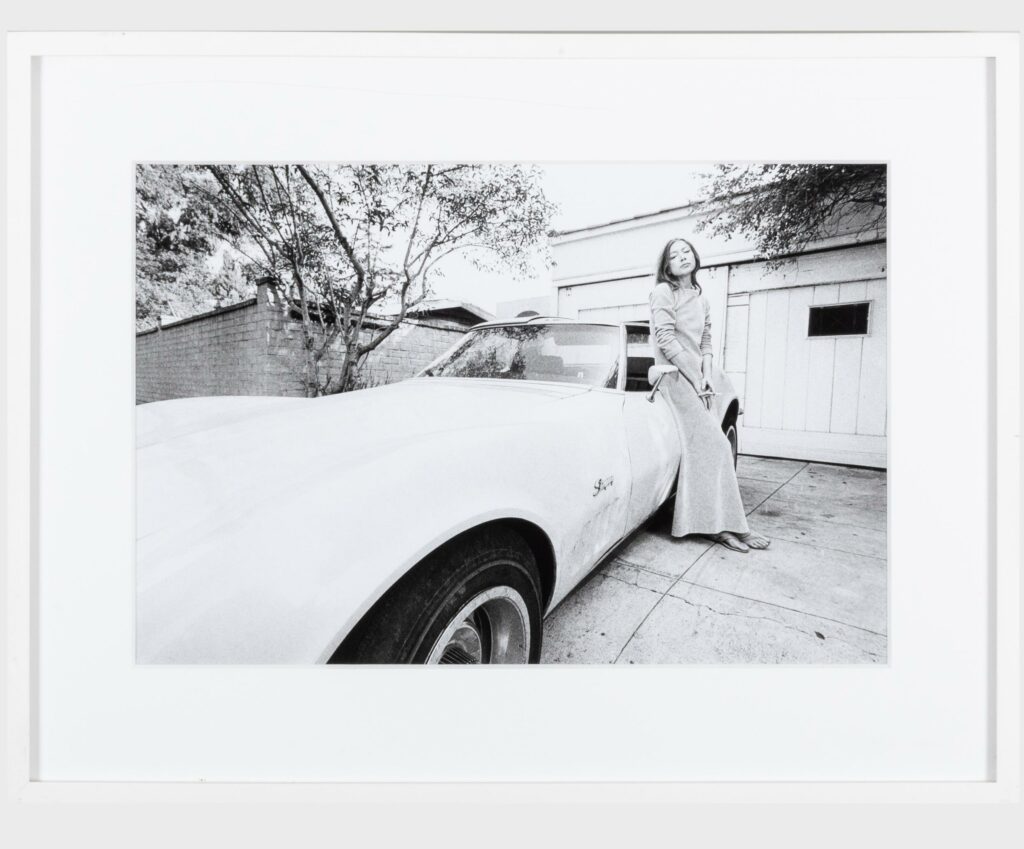 In November, writers began making little pilgrimages from New York City to Hudson to see Joan Didion's things. In fact, thousands of people came to Stair Galleries, an auction house on the main drag of a town filled with antiques stores, farm-to-table restaurants, coffee shops, and stores that all seemed to be selling only five items of clothing. I made my own journey by early-morning train. Didion died this past December at eighty-seven, and a selection of her furnishings, art, books, and other things was being auctioned at an estate sale, with proceeds going to Parkinson's research and the Sacramento Historical Society; prior to the sale, a small exhibition was open to the public, titled "An American Icon: Property from the Collection of Joan Didion."
The word icon is fitting and perhaps inadvertently implies the way some people become like relics in life and especially in death. Didion certainly became one, via the mythology and imagery that became attached to her—who hasn't seen that photo of her posed on the white Corvette, or in the black turtleneck, and marveled at her ineffable cool? (Both photographs were for sale.) She came, through her work but more so through her persona, to symbolize something, or a whole set of different and sometimes contradictory somethings, about being a writer, a woman, and a person of certain class at a certain time in America. And now here were her actual relics, the things that outlasted her, which might serve as little metonymies for whatever it was we tried to read into her.
The exhibition was neatly siloed into two small rooms, but it really was quite a lot of stuff, actually a quantifiable number of things (224). It was set up like an artificial apartment where Joan might have been caught in medias res for a glossy magazine spread—couches arranged around a coffee table with a cashmere blanket thrown over one of them, desks with typewriters on them, artfully stacked art books. Her books were organized into coherent sets, which would be sold that way in lots: Didion's Hemingway, her Graham Greene, her California cookbooks, a mishmash of political nonfiction like Uncovering Clinton: A Reporter's Story and Bush at War that one might have bought in an airport in 2002. Many of these books possessed a pleasant, weather-beaten quality, their jackets faded like they were abandoned on the patio of a Cape Cod summerhouse. There was something of a shrine constructed to California Joan, with five books about California placed around a photo of her in a straw hat, among the palm trees. Along one wall, there was large glass cabinet full of her dishware, her pots, her glasses, all the small personal odds and ends that we scavenged through. Everything had a tag stating an estimated price, all of which were quite obviously lowballs.
The press had been here before me and would come after me, all of us writing lists of her things and descriptions in little notebooks and taking pictures we couldn't resist posting online. (Taking stock of her belongings like this reminds me of seeing Didion's perennially Instagrammed and impossibly chic packing list, which includes "2 skirts, 2 jerseys or leotards…cigarettes, bourbon.") Why were we here? Did we want to know if Didion had good taste? The answer to that question was mostly yes, or at least that she had the good taste of a specific milieu, that of a California WASP in the latter part of the last century: Le Creuset cookware, heavy gilt mirrors, Loro Piana cashmere, monogrammed napkins, a rattan chair, a bamboo-and-lacquer side table. There was plenty to covet, though there was also plenty one wouldn't want—hefty, overwrought silverware, the kind one used to inherit and still might, and some really appalling watercolors. I am always struck by how things that feel like they belong in a particular time and place insist on lasting, lasting past the person who assembled them and made them into a life.
Maybe some of us came here for the simple reason that we love Didion's work. There is a certain constellating one wants to do, a close-reading of the way these objects fit into her writing. Sometimes the relationship was quite literal: they were selling the drop-leaf table where her husband, John Dunne, collapsed before he died—as described in a scene in The Year of Magical Thinking—as "Lot 26: Late Regency Inlaid Mahogany Pembroke Table." (This is morbid, you might think, but then this whole affair was morbid in its way.) There were hurricane lamps, also described in this book. She writes, "Clean sheets, stacks of clean towels, hurricane lamps for storms, enough water and food to see us through whatever geological event came our way. These fragments I have shored against my ruins, were the words that came to mind then. These fragments mattered to me."
If an estate sale normally saps meaning from the fragments that someone has shored up, dispersing them and making them illegible in the context of a single life, the spectacle of the Didion estate sale does just the opposite, freighting these objects with an excess of meaning. There were plenty of things that might just as easily have turned up in a junky antiques store, or been rejected by one, but they belonged to Joan. Like "Lot 189: Miscellaneous Group of Eyewear." This goes on to sell for $10,000.
***
The auction started at 11 A.M. on November 16, online only. It was clear quite quickly that, perhaps as expected, it was going to get out of hand. The third lot, described as "Joan Didion's Favorite Books from the Library of Joan Didion," a grouping even the auctioneer seemed dubious about, sold for $26,000. I have that edition of Robert Lowell, I kept thinking, looking at the photos as the bids climbed and climbed, though of course the point is that I don't: that's the whole logic of this ordeal, that it's not my Lowell but hers. A portrait of her looking sad and waiflike, up next, sold for $110,000. Her Celine sunglasses, estimated to sell for $400–$800, went for $27,000.
The first auctioneer had the air of someone presiding over a high-end country fair, saying things like "Gosh, Walter" to his assistant, or that something was sold to "this lucky devil on the phone." He occasionally tried, a bit half-heartedly, to connect the objects to the work—noting that Didion had written a lot about Las Vegas, to illuminate why one might want an acrylic Willard Dixon painting of urban desert sprawl. The drama of an auction is incremental—sometimes one watches with incredulity as bids pile up; one senses a momentum, even a bidding war between two particular people, and it becomes tantalizing. Other times it drags, prices climbing slowly or not at all. But it is always interesting to watch people spend money irrationally, simply because they want something in a way that makes irrelevant its supposed "value." There were things that were worth real money in this collection, particularly the art—a Richard Serra lithograph, Jennifer Bartlett paintings, a series of works by Ed Ruscha, all of which sold for tens of thousands of dollars. This wasn't what was fun to watch, though—it was the bids on the junk. A group of seashells and pebbles sold for $7,000.
Didion's Hemingways: $13,000. Her group of "desk articles," an assortment of paperweights and a journal: $8,000. A rolling pin and aprons: $6,000. People like sets, neat collections that have some coherence; that's what all these items taken together had, anyway, because nothing makes for a complete collection quite like somebody dying and leaving things behind. Many of my friends were watching on and off all day, enjoying the spectacle in a corner of their screens at work, like they might once have watched the Comey hearings. "The new host has no color," a friend texted when the auctioneers switched, and it was true; we did want to be entertained like we were watching a game show. I become offended on behalf of certain items—a set of the beautiful glass hurricane lamps sold for only $4,250! (This is, of course, more than eight times their worth.)
The bidding on each item took so long that by the end, in the late evening, the proceedings were starting to take on a certain air of comic exhaustion. One of the auctioneers joked about needing coffee, and later about needing a drink. As yet another desk came up for sale, six or seven hours in, the auctioneer said, "As a writer, you need many writing surfaces." But things kept selling. "This is almost Onassis money," said the weary but elated auctioneer, during a bidding war on a group of table napkins monogrammed JDD, referring to the Jackie O. sale at Sotheby's in 1996. The napkins are the kind of thing you might not even notice in a great-aunt's home, but that particular monogram and its cachet are worth something to someone somewhere, actually worth quite a lot to a few people, who bid against one another until they sold for $14,000.
Then there were the three lots of blank notebooks, tied with twine. They went for $9,000, $11,000, and $11,000 each. They were empty, some still wrapped in plastic, yet they were totally talismanic. I wondered: Would you write in these notebooks, having paid that price? Perhaps that's the whole appeal—to write in a blank space that Didion might once have intended to use herself. Maybe the buyer had a hidden wish that somehow her intent might infiltrate their own work—that in owning these notebooks they might crack some secret code to making sentences like hers. There are sillier superstitions. But more likely, I think, you would have paid too much for these notebooks to ever touch them, and they would sit in a drawer or on a desk, unused and empty, just as they sat on hers.
Sophie Haigney is the web editor of The Paris Review.