AOC gloats at 'deplatforming' Tucker Carlson
The New York congresswoman said "deplatforming works," blaming Tucker Carlson for "death threats" to her office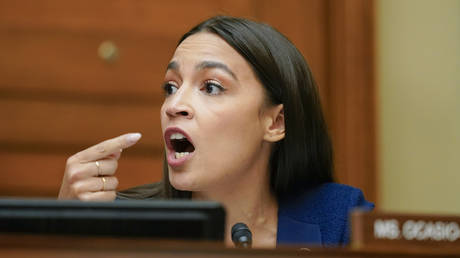 AOC gloats at 'deplatforming' Tucker Carlson
The Fox News host was fired on Monday, eliciting cheers from the Pentagon and numerous public figures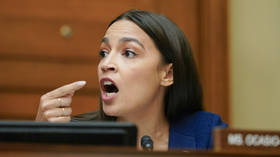 New York congresswoman Alexandria Ocasio-Cortez celebrated the "deplatforming" of Fox News host Tucker Carlson earlier this week in an Instagram video, blaming the popular news anchor for "death threats and violent threats" targeting her office.
"Deplatforming works, and it is important and there you go. Good things can happen," the Democrat gloated on Tuesday. "Couldn't have happened to a better guy."
"I'm very glad that the person that is arguably responsible for the, some of the largest— driving some of the most amounts of death threats and violence threats not just to my office, but to plenty of people across the country [is gone]," Ocasio-Cortez gushed, while admitting she was concerned Carlson would rise again.
"I also kind of feel like I'm like waiting for the cut-scene at the end of a Marvel movie after all the credits have rolled, and then you see, like, the villain's, like, hand re-emerge out to grip over, like, the end of a building or something," she said, making clawing motions with her hand.
Immediately after Fox announced Carlson's firing on Monday, Ocasio-Cortez retweeted a clip of her recent interview with former Biden White House press secretary Jen Psaki – now an MSNBC host – in which she claimed "what Tucker Carlson and some of these other folks on Fox do … is very, very clearly incitement of violence."
In that interview, which aired several days after the announcement that Fox News was settling the defamation lawsuit brought by Dominion Voting Systems for $787.5 million, the self-described Democratic Socialist called for Congress to "explore" legislation restricting speech by media outlets. Inaccurately describing the cable network Fox News as "broadcast television," she argued the channel was already "subject to federal law and regulation in terms of what's allowed on air and what isn't," suggesting Carlson's content ran afoul of those regulations.
While some have suggested Carlson was fired because the Dominion vote-flipping story had cost his employer so much money, the commentator had actually pumped the brakes on the theory that the voting machine manufacturer had handed the election to President Joe Biden, informing his audience that the theory's chief proponent, lawyer Sidney Powell, had refused to provide any evidence for her claims.
Carlson's was the most-watched show on cable news, bringing in over 3 million viewers per night. The announcement of his firing knocked $962 million off the network's share price. Fox News has been the most-watched cable network in the US for over two years.