AI Will Replace Nearly Five Million American Jobs: Challenger Gray Report
With its current pace of development, artificial intelligence (AI) has the potential to replace millions of jobs rather than simply automating specific tasks, according to an executive coaching firm, with the report coming out amid a tightening of the labor market. Chicago-based Challenger Gray asked OpenAI's popular chatbot, "What jobs can ChatGPT replace?" to which the AI answered with a list. The firm took the list, acquired the numbers of people employed in the specific jobs from the U.S. Bureau of Labor Statistics, and added up the information to arrive at 4.8 million—reflecting the number of jobs potentially threatened by the expansion of AI. The details of the jobs were released by the firm on April 4. The job consists of work that is mostly repetitive and predictable. While some of the jobs were estimated to go down over the coming decade, other jobs were expected to increase the number of people working in the sector. "Right now, artificial intelligence should be viewed as a tool to support workers and not as a replacement for their roles. Certainly, predictive language models can be used to automate tasks, giving workers more time to focus on those involving higher thinking," said Andrew Challenger, senior vice president of the firm. Some of the job roles were expected to be on decline by the firm over the next decade, but others were estimated to grow. The report from Challenger Gray came just before the March ADP Employment Report, upon which the report was based, revealing that the number of new jobs added in March has decreased from the prior month. Private-sector employment increased by just 145,000 jobs in March, compared to February's 261,000 jobs. Similarly, the increase in pay has also begun to decline. "Our March payroll data is one of several signals that the economy is slowing. Employers are pulling back from a year of strong hiring and pay growth, after a three-month plateau, is inching down," said Nela Richardson, chief economist at ADP. AI-Expendable Jobs Customer service representative was one of the jobs which ChatGPT said would be replaced. The AI claimed that automated responses would substitute human interaction. According to the Labor Department, there were approximately 2.9 million employed in this sector, with a decline of 4 percent expected over the next 10 years. Technical writer was the next category which the AI said it could replace with automatic technical documentation. User manuals and other such forms of written content could be handled by technology rather than human writers. The sector currently employs around 55,400 people. According to Challenger Gray, the numbers of technical writing jobs are estimated to grow by 6 percent over the next decade. Other jobs threatened by AI-adoption include data entry clerks with 1.4 million employed in the sector, 347,000 copywriters, and 69,400 translators and interpreters. Although clerks and copywriters—given as advertising and promotions managers by the Labor Department—were expected to go down over the next 10 years, and the number of translators was expected to increase by 20 percent. A Goldman Sachs study concurred with the Challenger Gray report, but went beyond the firm's numbers, while stating that AI could lead to the elimination of 300 million full-time jobs. The report took into account employment positions in Europe and the United States. But, like this analysis, the Goldman economists hold the view that AI will also initiate new job openings. AI-Generated Jobs According to the firm, ChatGPT pointed out specific jobs that would increase in relevance and numbers with the proliferation of AI. As data is one of the foundational elements of AI technology, related jobs like machine learning and data science are predicted to grow. Data science is essential for developing AI systems, while machine learning enables AI to make decisions without explicit instructions. Job opportunities in mathematics and statistics will likewise go up, along with computer science. Further evolutions in AI are predicated on the advancement in these sectors. Then there is robotics and automation, which are needed for designing and building machines that are capable of performing tasks autonomously. Business will increase, said ChatGPT, as management students pursue courses and careers in technical fields related to AI. "Another field crucial to AI, and where growth may occur, is linguistics. Linguists study the evolution and flow of language, and while AI can aid in that work as well, human linguists will be needed to program AI models. It is difficult to estimate the number of working linguists in the United States, however, though it is likely a small number. Even fewer are also programmers," said Challenger. Many AI experts are not too optimistic regarding the evolution of AI. Human beings are not ready for a powerful AI under present conditions or even in the "foreseeable future," stated Eliezer Yudkowsky, a decision theor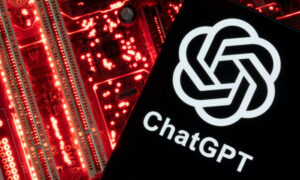 With its current pace of development, artificial intelligence (AI) has the potential to replace millions of jobs rather than simply automating specific tasks, according to an executive coaching firm, with the report coming out amid a tightening of the labor market.
Chicago-based Challenger Gray asked OpenAI's popular chatbot, "What jobs can ChatGPT replace?" to which the AI answered with a list. The firm took the list, acquired the numbers of people employed in the specific jobs from the U.S. Bureau of Labor Statistics, and added up the information to arrive at 4.8 million—reflecting the number of jobs potentially threatened by the expansion of AI. The details of the jobs were released by the firm on April 4. The job consists of work that is mostly repetitive and predictable. While some of the jobs were estimated to go down over the coming decade, other jobs were expected to increase the number of people working in the sector.
"Right now, artificial intelligence should be viewed as a tool to support workers and not as a replacement for their roles. Certainly, predictive language models can be used to automate tasks, giving workers more time to focus on those involving higher thinking," said Andrew Challenger, senior vice president of the firm. Some of the job roles were expected to be on decline by the firm over the next decade, but others were estimated to grow.
The report from Challenger Gray came just before the March ADP Employment Report, upon which the report was based, revealing that the number of new jobs added in March has decreased from the prior month. Private-sector employment increased by just 145,000 jobs in March, compared to February's 261,000 jobs.
Similarly, the increase in pay has also begun to decline.
"Our March payroll data is one of several signals that the economy is slowing. Employers are pulling back from a year of strong hiring and pay growth, after a three-month plateau, is inching down," said Nela Richardson, chief economist at ADP.
AI-Expendable Jobs
Customer service representative was one of the jobs which ChatGPT said would be replaced. The AI claimed that automated responses would substitute human interaction. According to the Labor Department, there were approximately 2.9 million employed in this sector, with a decline of 4 percent expected over the next 10 years.
Technical writer was the next category which the AI said it could replace with automatic technical documentation. User manuals and other such forms of written content could be handled by technology rather than human writers. The sector currently employs around 55,400 people. According to Challenger Gray, the numbers of technical writing jobs are estimated to grow by 6 percent over the next decade.
Other jobs threatened by AI-adoption include data entry clerks with 1.4 million employed in the sector, 347,000 copywriters, and 69,400 translators and interpreters. Although clerks and copywriters—given as advertising and promotions managers by the Labor Department—were expected to go down over the next 10 years, and the number of translators was expected to increase by 20 percent.
A Goldman Sachs study concurred with the Challenger Gray report, but went beyond the firm's numbers, while stating that AI could lead to the elimination of 300 million full-time jobs. The report took into account employment positions in Europe and the United States.
But, like this analysis, the Goldman economists hold the view that AI will also initiate new job openings.
AI-Generated Jobs
According to the firm, ChatGPT pointed out specific jobs that would increase in relevance and numbers with the proliferation of AI.
As data is one of the foundational elements of AI technology, related jobs like machine learning and data science are predicted to grow. Data science is essential for developing AI systems, while machine learning enables AI to make decisions without explicit instructions.
Job opportunities in mathematics and statistics will likewise go up, along with computer science. Further evolutions in AI are predicated on the advancement in these sectors. Then there is robotics and automation, which are needed for designing and building machines that are capable of performing tasks autonomously. Business will increase, said ChatGPT, as management students pursue courses and careers in technical fields related to AI.
"Another field crucial to AI, and where growth may occur, is linguistics. Linguists study the evolution and flow of language, and while AI can aid in that work as well, human linguists will be needed to program AI models. It is difficult to estimate the number of working linguists in the United States, however, though it is likely a small number. Even fewer are also programmers," said Challenger.
Many AI experts are not too optimistic regarding the evolution of AI. Human beings are not ready for a powerful AI under present conditions or even in the "foreseeable future," stated Eliezer Yudkowsky, a decision theorist and leading AI researcher. Yudkowsky has a morbid vision of continued AI growth.
"Many researchers steeped in these issues, including myself, expect that the most likely result of building a superhumanly smart AI, under anything remotely like the current circumstances, is that literally everyone on Earth will die," he said.