'A tour beyond what everyone can imagine': SUGA reveals what fans can expect from first solo world tour
SUGA says his upcoming solo world tour will show who BTS' SUGA, his solo alter ego Agust D, and the real Min Yunki is. The K-Pop star is the first member of the South Korean boy band to embark on a solo jaunt across the world, and each of his personas and the real person behind the music will be present in what he's teased is "a tour beyond what everyone can imagine." He told NME: "This tour will show Suga and Agust D as an artist, and Min Yunki as a person. "I'll just put it like this, 'SUGA, Agust D and Min Yunki's tour that will burn it up'. I dare say it'll be a totally different tour from previous BTS tours, and a tour beyond what everyone can imagine." The 'SUGA Agust D Tour' takes in North America, Indonesia, Thailand, Singapore, South Korea, and Japan. Alongside his debut album, 'D-Day', SUGA's Disney+ documentary, 'SUGA: Road to D-Day', was released last week. The film chronicles the artist's solo album journey, which saw him visit the US, Korea and Japan in search of inspiration for the record, which marks the bookend of his trilogy of solo EPs, following 2016's 'Agust D' and 2020's 'D-2'. The doc features collaborators and friends in the industry, including Halsey, Steve Aoki, Anderson .Paak and the late Ryuichi Sakamoto. The 30-year-old rapper-and-songwriter said: "Just finding joy in travelling is itself a new discovery for me. "Also, I gained a lot from having genuine interactions with greatly renowned international musicians who I had a chance to collaborate with or was very close with personally. It was [a] great lesson for me as an artist and also from person to person."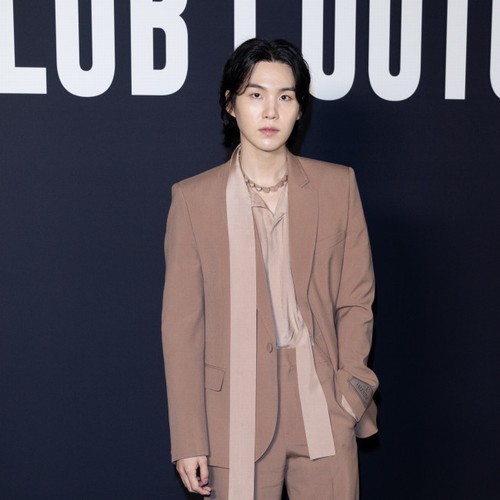 SUGA says his upcoming solo world tour will show who BTS' SUGA, his solo alter ego Agust D, and the real Min Yunki is.
The K-Pop star is the first member of the South Korean boy band to embark on a solo jaunt across the world, and each of his personas and the real person behind the music will be present in what he's teased is "a tour beyond what everyone can imagine."
He told NME: "This tour will show Suga and Agust D as an artist, and Min Yunki as a person.
"I'll just put it like this, 'SUGA, Agust D and Min Yunki's tour that will burn it up'. I dare say it'll be a totally different tour from previous BTS tours, and a tour beyond what everyone can imagine."
The 'SUGA Agust D Tour' takes in North America, Indonesia, Thailand, Singapore, South Korea, and Japan.
Alongside his debut album, 'D-Day', SUGA's Disney+ documentary, 'SUGA: Road to D-Day', was released last week.
The film chronicles the artist's solo album journey, which saw him visit the US, Korea and Japan in search of inspiration for the record, which marks the bookend of his trilogy of solo EPs, following 2016's 'Agust D' and 2020's 'D-2'.
The doc features collaborators and friends in the industry, including Halsey, Steve Aoki, Anderson .Paak and the late Ryuichi Sakamoto.
The 30-year-old rapper-and-songwriter said: "Just finding joy in travelling is itself a new discovery for me.
"Also, I gained a lot from having genuine interactions with greatly renowned international musicians who I had a chance to collaborate with or was very close with personally. It was [a] great lesson for me as an artist and also from person to person."