A shocking moment in Oscars history
Few Academy Awards ceremonies have been as eventful as the one held in 1973, when Marlon Brando sent Native American activist Sacheen Littlefeather to explain why he was rejecting his award. Christina Newland reflects on the controversy.What do you think of when you think of an Oscars controversy? The slip-up in 2017, when Warren Beatty accidentally announced La La Land as best picture instead of Moonlight, and had to course-correct? The 1974 streaker, followed by presenter David Niven's impeccably composed quip? Or perhaps the Will Smith slap heard around the world only last year? More like this: –     Will this WW1 film win best picture? –     Why 1971 was an extraordinary year in film –     Why The Godfather is misunderstood Infamous as they all are, none of those are likely to have caused quite the commotion that occurred on the evening of 27 March 1973, during the ceremony for the 45th annual Academy Awards. In a nutshell, what happened might be put down in two words: Sacheen Littlefeather. When the 26-year-old Native American activist came onstage to decline Marlon Brando's Oscar for best actor – awarded to him for his towering performance in The Godfather – it seems all hell broke loose. The persistent rumours, accusations, anecdotes and exaggerations have been pinballing around the media for half a century now: so perhaps it's best to begin with what is inarguable: what was televised that evening.Sacheen Littlefeather declined the attempt by the surprised presenters Roger and Liv Ullmann to hand her the Oscar (Credit: Getty Images)"Hello, my name is Sacheen Littlefeather," the young woman said, after waving off Roger Moore and Liv Ullmann's attempt to hand her the statuette. "I'm Apache and I am president of the National Native American Affirmative Image Committee. I'm representing Marlon Brando this evening, and he has asked me to tell you... that he very regretfully cannot accept this very generous award." "And the reasons for this being are the treatment of American Indians today by the film industry and on television in movie reruns, and also with recent happenings at Wounded Knee. I beg at this time that I have not intruded upon this evening, and that we will in the future, our hearts and our understandings will meet with love and generosity. Thank you on behalf of Marlon Brando." A milestone in 'radical chic' Today, it's probably difficult to fully grasp just how shocking the moment was to the audience and the 85 million viewers at home: watch it back on YouTube, and you can hear the gasps and boos in the crowd. In the intervening decades, it's become less than shocking for a film star to make a political statement on such an occasion, or for someone in showbiz to express strident activism in an awards show speech: everyone from Susan Sarandon to Sean Penn has done so, on topics from war to LGBTQ rights and more. But it was in the 70s when so-called "radical chic" first flourished – a term conjured up by Tom Wolfe in his 1970 New York Magazine essay "Radical Chic: That Party at Lenny's" to refer to a certain glitzy, celebrity form of leftist political action or speech. Jane Fonda was probably at the forefront of that moment, with her legendary anti-war stance, but any form of activism of this stamp was bound to be divisive in a Hollywood that was still not so far removed from the war veterans who had formed it at the start of the 20th Century. Thus the mixed reaction you can hear in the crowd that night in 1973: some robust applause, and some groans and boos. Clint Eastwood mocked Littlefeather when he followed her at the podium, presenting best picture, remarking, "I don't know if I should present this award on behalf of all the cowboys shot in all the John Ford westerns over the years". It's also important to note that the concerns of the American Indian Movement that Littlefeather was part of – a civil rights organisation founded in 1968, only a few years prior to this unforgettable moment in Oscars history – would have been very topical to an audience in 1973. As Littlefeather acknowledged, the Oscars were taking place in the midst of what would be a three-month occupation and siege of Wounded Knee, South Dakota; at the time of the broadcast this stand-off between Native American activists and US marshals looked untenable and bound to end (as it did) in violence. Given this background, the following day's headlines were, predictably, splashy in tone and knee-jerk with their reactions. The Hollywood Reporter ran an editorial condemning Brando; Godfather producer Robert Evans came out in support of the actor. That divisiveness inevitably led to further stories about how much Littlefeather offended the movie old-timers: as such, off-shoots of the controversy have passed into Hollywood lore, and even had entire controversial lives of their own. The story, oft-repeated by Littlefeather herself, goes that backstage that night was John Wayne ­– as in the star whose iconic cowboy charact

Few Academy Awards ceremonies have been as eventful as the one held in 1973, when Marlon Brando sent Native American activist Sacheen Littlefeather to explain why he was rejecting his award. Christina Newland reflects on the controversy.
What do you think of when you think of an Oscars controversy? The slip-up in 2017, when Warren Beatty accidentally announced La La Land as best picture instead of Moonlight, and had to course-correct? The 1974 streaker, followed by presenter David Niven's impeccably composed quip? Or perhaps the Will Smith slap heard around the world only last year?
More like this:
– Will this WW1 film win best picture?
– Why 1971 was an extraordinary year in film
– Why The Godfather is misunderstood
Infamous as they all are, none of those are likely to have caused quite the commotion that occurred on the evening of 27 March 1973, during the ceremony for the 45th annual Academy Awards. In a nutshell, what happened might be put down in two words: Sacheen Littlefeather. When the 26-year-old Native American activist came onstage to decline Marlon Brando's Oscar for best actor – awarded to him for his towering performance in The Godfather – it seems all hell broke loose. The persistent rumours, accusations, anecdotes and exaggerations have been pinballing around the media for half a century now: so perhaps it's best to begin with what is inarguable: what was televised that evening.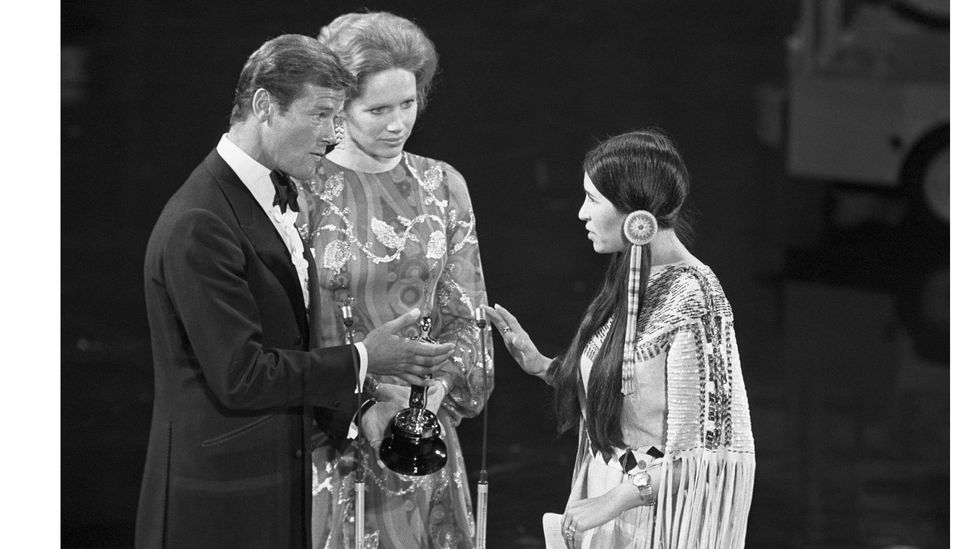 Sacheen Littlefeather declined the attempt by the surprised presenters Roger and Liv Ullmann to hand her the Oscar (Credit: Getty Images)
"Hello, my name is Sacheen Littlefeather," the young woman said, after waving off Roger Moore and Liv Ullmann's attempt to hand her the statuette. "I'm Apache and I am president of the National Native American Affirmative Image Committee. I'm representing Marlon Brando this evening, and he has asked me to tell you... that he very regretfully cannot accept this very generous award."
"And the reasons for this being are the treatment of American Indians today by the film industry and on television in movie reruns, and also with recent happenings at Wounded Knee. I beg at this time that I have not intruded upon this evening, and that we will in the future, our hearts and our understandings will meet with love and generosity. Thank you on behalf of Marlon Brando."
A milestone in 'radical chic'
Today, it's probably difficult to fully grasp just how shocking the moment was to the audience and the 85 million viewers at home: watch it back on YouTube, and you can hear the gasps and boos in the crowd. In the intervening decades, it's become less than shocking for a film star to make a political statement on such an occasion, or for someone in showbiz to express strident activism in an awards show speech: everyone from Susan Sarandon to Sean Penn has done so, on topics from war to LGBTQ rights and more. But it was in the 70s when so-called "radical chic" first flourished – a term conjured up by Tom Wolfe in his 1970 New York Magazine essay "Radical Chic: That Party at Lenny's" to refer to a certain glitzy, celebrity form of leftist political action or speech. Jane Fonda was probably at the forefront of that moment, with her legendary anti-war stance, but any form of activism of this stamp was bound to be divisive in a Hollywood that was still not so far removed from the war veterans who had formed it at the start of the 20th Century. Thus the mixed reaction you can hear in the crowd that night in 1973: some robust applause, and some groans and boos. Clint Eastwood mocked Littlefeather when he followed her at the podium, presenting best picture, remarking, "I don't know if I should present this award on behalf of all the cowboys shot in all the John Ford westerns over the years".
It's also important to note that the concerns of the American Indian Movement that Littlefeather was part of – a civil rights organisation founded in 1968, only a few years prior to this unforgettable moment in Oscars history – would have been very topical to an audience in 1973. As Littlefeather acknowledged, the Oscars were taking place in the midst of what would be a three-month occupation and siege of Wounded Knee, South Dakota; at the time of the broadcast this stand-off between Native American activists and US marshals looked untenable and bound to end (as it did) in violence. Given this background, the following day's headlines were, predictably, splashy in tone and knee-jerk with their reactions. The Hollywood Reporter ran an editorial condemning Brando; Godfather producer Robert Evans came out in support of the actor.
That divisiveness inevitably led to further stories about how much Littlefeather offended the movie old-timers: as such, off-shoots of the controversy have passed into Hollywood lore, and even had entire controversial lives of their own. The story, oft-repeated by Littlefeather herself, goes that backstage that night was John Wayne ­– as in the star whose iconic cowboy characters had been responsible for god-knows-how-many dead Native Americans on-screen – who wanted to rush the stage and/or possibly strike the young woman. As the story goes, it took six security men to hold him back. Recently, however, film historian and critic Farran Nehme wrote a thoroughly-researched debunking of what she believes is an apocryphal tale that proves how easy it is to mix up what sounds true with what is. Although Wayne was hardly the personification of liberal values or racial tolerance, the chances that the terminally ill and temperamentally placid Wayne, recovering from major surgery, would have tried to physically attack someone seem unlikely, at best.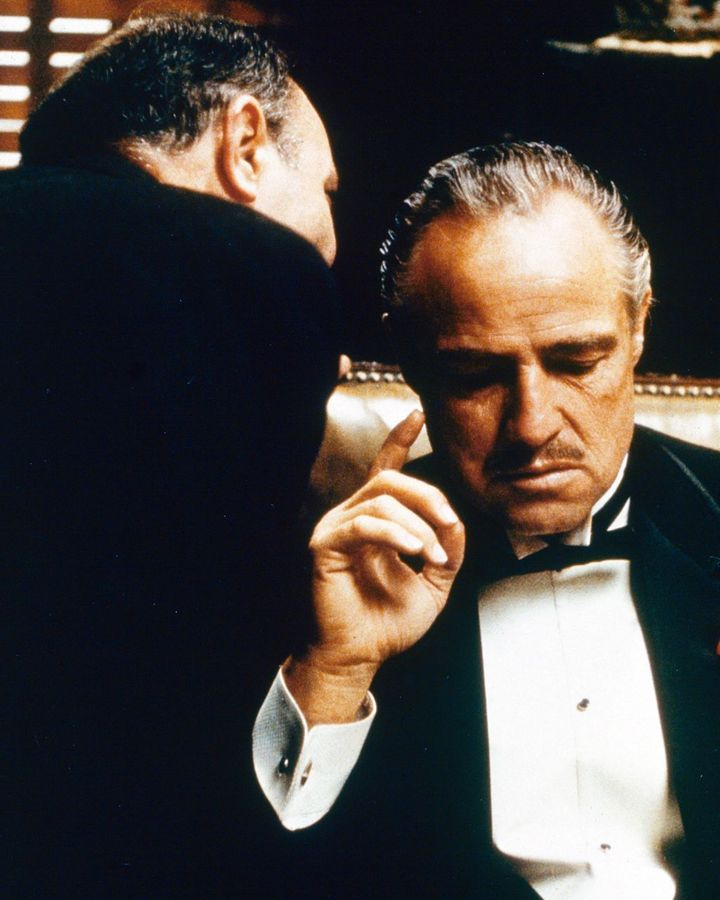 The award Marlon Brando rejected was for The Godfather, although he had previously won best actor for On the Waterfront (1954) (Credit: Getty Images)
What is true, according to Littlefeather, is that she felt harassed and discriminated against for her speech for most of the rest of her life and career, saying she'd been effectively blacklisted by the entertainment industry. By the end of the 70s, after some small appearances in a handful of movies like Freebie & the Bean and a couple of Playboy spreads, any showbusiness career she might have had seems to have sputtered out. In June last year, the Academy issued Littlefeather a formal apology, and subsequently hosted "an evening of conversation, healing and celebration" with the activist only a month or so before she passed away aged 75 in October. Undoubtedly, the apology was long overdue.
A twist in the tale
Complicating matters further, Littlefeather's own Yacqui and Apache background has been called into question over the years, most recently in this San Francisco Chronicle piece. If it is to be believed, there are deep-rooted racial and ethical issues attached to Littlefeather and her appearance on stage that evening. If Littlefeather was actually "Pretendian", as those who falsely claim to be Native American are sometimes called, it may complicate the earnest righteousness of the gesture, and raise questions about how to judge Brando's choice to use her as his mouthpiece.
However, the facts remain cloudy: the writer of the piece, Jacqueline Keeler, has been challenged on some of her fact-finding by Native American community members, making the identifying of Littlefeather's heritage a murky proposition.
Adam Piron, the director of the indigenous programme at Sundance Institute, says: "For me, it's a non-issue to some extent. Whether she was or wasn't enrolled in the tribes she claimed, she clearly had a lot of acceptance from leaders in our community, who knew about these allegations. The thing that happened with Brando with the Oscars had such an estimable impact in the real world: you're able to measure what she did in terms of [breaking] the [media] blackout [around Wounded Knee, where the US Justice Department banned journalists], and how that started to change actual policy and legislation around Native Americans because of visibility."
Considering the text of Brando's full statement, which Littlefeather was not allowed to read in full on the evening but was later shared with the press, it seems difficult not to see to the heart of the matter:
"It has not been my wish to offend or diminish the importance of those who are participating tonight," Brando's full statement said. "Perhaps at this moment, you are saying to yourself, what the hell has this got to do with the Academy Awards? [...] the motion picture industry has been as responsible as any for degrading the Indian. When Indian children watch television and they watch films, and they see their race depicted as they are in films, their minds become injured in ways we can never know. If we are not our brother's keeper, at least let us not be his executioner."
Fundamentally, questions over Littlefeather's precise heritage do not lessen the message she delivered ­– and by extension, Brando's intention to bring awareness to the plight of Native Americans and to their years of insulting and outright racist representation on-screen.
"I think it's up to indigenous people to decide how they feel about Littlefeather's heritage," says Piron. "But because of her actions and the platform Brando allowed this cause to have, there was a measurable impact. [...] It was a part of a larger effort that set the stage for everything that was to follow ­– increased activism across indigenous communities, much more awareness from non-indigenous communities of what our rights were. And different federal policies around increased recognition of indigenous peoples' sovereignty from a legal standpoint, whereas before, the idea of US policy was essentially going to be the termination of the identity of the Native American, so he would just be an American."
Brando – a remarkable actor and a long-time supporter of civil rights, who took part in the 1963 March on Washington – undeniably had his heart in the right place, and in a very modern one, at that, in his invocation of children, cinema, and representation – and as Piron points out, what he and Littlefeather chose to do made a difference that many outside of the indigenous community may not realise. "It kind of flipped the dynamic of the media blackout and the erasure of what was going on. People were looking away, and this sort of forced people to go and look at it."
It may be that the behaviour of a few hundred attendees of one of the most exclusive and renowned Hollywood events seems like the stuff of superficial celebrity gossip or tabloid fodder. But it's clear that such Oscars furores often have more to say than first meets the eye.
It stands to reason, given how audiences are used to projecting values and traits onto film stars. So just as the Will Smith/Chris Rock incident sparked a discourse around racial dynamics, showbiz power, beauty standards, and the acceptability of violence, the Brando/Littlefeather incident has become a litmus test around celebrity activism, political divisiveness in the industry, and the real-world efficacy of making statements from such a platform. Over the years, awards controversies like this one have proved a reliable – if often out-of-left-field – bellwether for the most bruising and provocative subjects in our culture and society at large. Let's hang on tight for Oscars 2023 and see if anything can top it.
Love film and TV? Join BBC Culture Film and TV Club on Facebook, a community for cinephiles all over the world.
If you would like to comment on this story or anything else you have seen on BBC Culture, head over to our Facebook page or message us on Twitter.
And if you liked this story, sign up for the weekly bbc.com features newsletter, called The Essential List. A handpicked selection of stories from BBC Future, Culture, Worklife and Travel, delivered to your inbox every Friday.