A Guide to the Best Edinburgh Photography Locations
Your Guide To The Best Edinburgh Photography LocationsWhere do I start with this character filled city of old world charm and vibrant Scottish tradition? Edinburgh will no doubt end up on your list of favourite cities once you've spent some time here, especially if you're into photography which I believe to be one of the best things to do in Edinburgh. There's a feeling you rarely get elsewhere that's created by mysterious alleys, stone cottages and a country vibe with crags, waterways and mountains framing the city. Edinburgh is so photogenic. Let's just get that set in Scottish stone. I may have even said on numerous occasions during our time there that I could most definitely live there. It's one of those cities that as a photographer would keep you busy for years with so many subjects to capture and scenes to compose not to mention the ever changing weather and light. If you're visiting Edinburgh soon I've put together a guide to the most photogenic locations throughout the city, things to do in Edinburgh and some photo tips on how best to capture them. Trust me, there is no shortage of Edinburgh photography locations, if you're visiting for 24hrs or staying for two weeks, there's so much to keep you occupied whether it's snowing, sunny or a little wet. As always, I'll kick things off with a map to show you exactly where each spot is, then below you'll find a little more information and some sample images of each location. Edinburgh Photo Spots + Photoshoot Locations Read more: For more photography location guides to other cities and regions around the world, click through to the 'Destination Guides' section Edinburgh Photography Locations Calton Hill Possibly the most popular place in Edinburgh to photograph sunset, Calton Hill overlooks the city and definitely delivers with impressive views. From here you can watch a sunny glow appear behind the Edinburgh Castle, capture long exposure shots of Princes Street from The Nelson Monument and watch as the city switches on its lights for the evening. At the top of the hill you'll also find the National Monument of Scotland, a memorial to Scottish soldiers and sailors with giant columns. You'll find a lot of people crawling all over it for photos but personally I like to respect monuments like this, especially when they're memorials and capture a sun burst or beautiful glow from afar. Photo Tip: The Dugald Stewart Monument creates an iconic view over Edinburgh and to capture it, wander up the hill a little more to the stone building where at sunset you'll no doubt find the tripods out in full force. Dean Village If you wander the Water of Leith walkway you'll arrive in Dean Village, a fairytale scene with colourful buildings lining the stream and the feel of a country village. Be sure to walk down Hawthornbank Lane with a beautiful yellow building and cobbled street that leads down to the stream. You can get right down to the water level for reflections and if you cross the bridge and continue walking alongside the stream you'll arrive at a waterfall. Photo Tip: Try for all angles, from the bridge, from the stream, the lanes…there's so much to capture here. Closes + The Royal Mile Mysterious, charming and alluring, the closes of the Royal Mile are in my opinion, somewhere you need to visit when photographing Edinburgh. While thousands of people walk along the main thoroughfare daily, few realise these hidden gems exist and if you look closely you'll discover walkways with an entrance name plate and steps leading down. Narrow and moody, the closes weave between tall buildings and were typically named after a notable resident who once lived in the apartments the staircases pass. Each close is different in appearance with some favourites including Advocate's Close, Old Stamp Office Close and Milne's Close. The Royal Mile itself also offers oodles of photography opportunities with buildings dating back to the early 1800's that lead towards the castle. At the top of the Royal Mile you'll find Castlehill which features a lot of larger buildings however down the end with Holyrood Palace, facades are a little smaller, less ornate but still filled with their own special character. Photo Tip: Visit when the dim street lamps create an eerie old atmosphere. Water of Leith Walkway Rarely in a city do you find a location as tranquil as this walk way. Only ten minutes from Prince's Street you'll be hearing the sound of chirping birds, trickling streams and wandering past stone cottages that may well be from a Beatrix Potter book. Put simply, this walkway is a peaceful city escape. While you can join the walkway in a number of places, the path starts at the corner of Glenogle Rd and Brandon Terrace then weaves its way along the river banks towards Dean Village and then even further to Roseburn. Once you've walked through Stockbridge you'll follow a path through lush green rainforest before arriving at St.Bernard's Well. Discover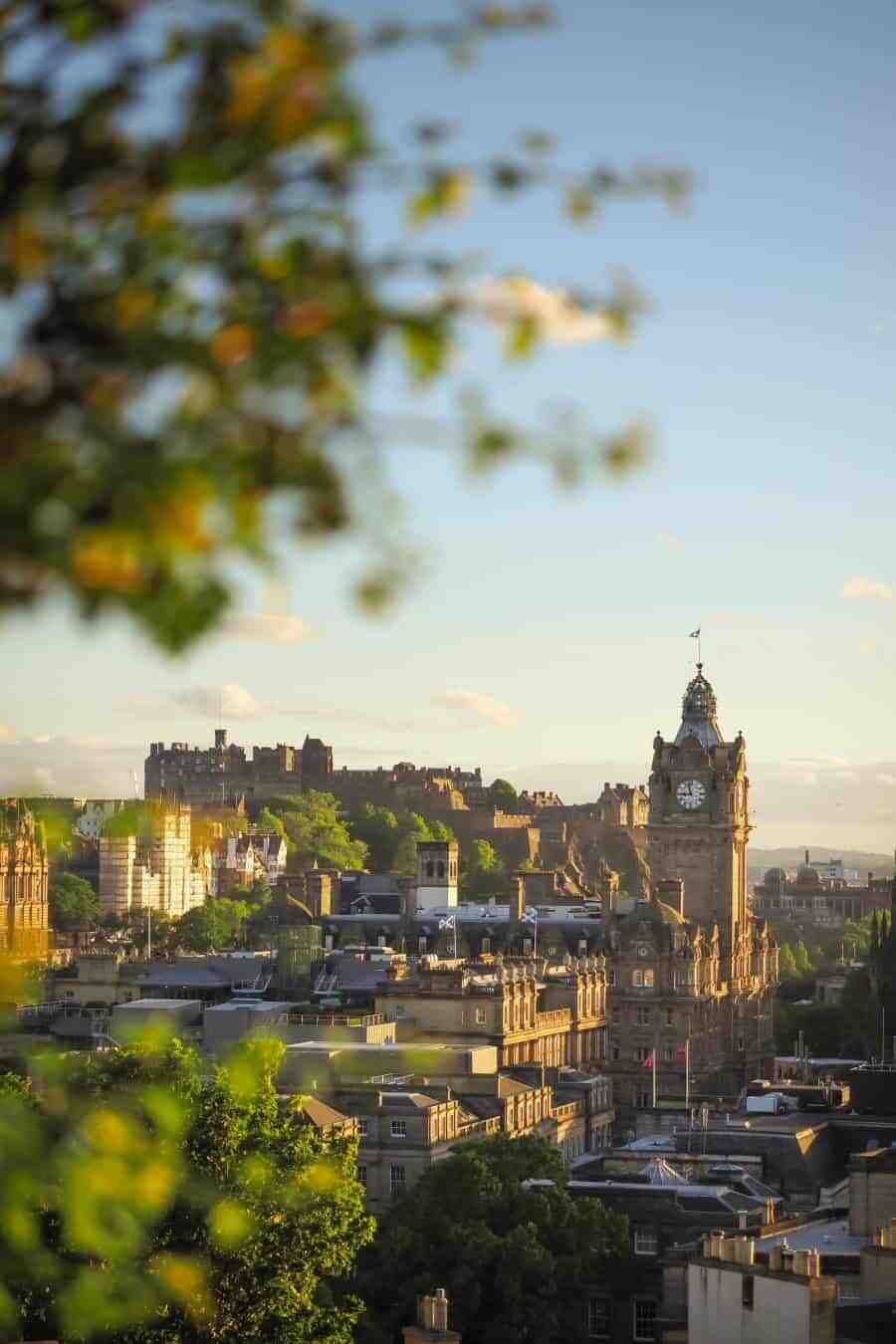 Your Guide To The Best Edinburgh Photography Locations
Where do I start with this character filled city of old world charm and vibrant Scottish tradition? Edinburgh will no doubt end up on your list of favourite cities once you've spent some time here, especially if you're into photography which I believe to be one of the best things to do in Edinburgh. There's a feeling you rarely get elsewhere that's created by mysterious alleys, stone cottages and a country vibe with crags, waterways and mountains framing the city.
Edinburgh is so photogenic. Let's just get that set in Scottish stone.
I may have even said on numerous occasions during our time there that I could most definitely live there. It's one of those cities that as a photographer would keep you busy for years with so many subjects to capture and scenes to compose not to mention the ever changing weather and light.
If you're visiting Edinburgh soon I've put together a guide to the most photogenic locations throughout the city, things to do in Edinburgh and some photo tips on how best to capture them. Trust me, there is no shortage of Edinburgh photography locations, if you're visiting for 24hrs or staying for two weeks, there's so much to keep you occupied whether it's snowing, sunny or a little wet.
As always, I'll kick things off with a map to show you exactly where each spot is, then below you'll find a little more information and some sample images of each location.
Edinburgh Photo Spots + Photoshoot Locations
Read more: For more photography location guides to other cities and regions around the world, click through to the 'Destination Guides' section
---
Edinburgh Photography Locations
Calton Hill
Possibly the most popular place in Edinburgh to photograph sunset, Calton Hill overlooks the city and definitely delivers with impressive views. From here you can watch a sunny glow appear behind the Edinburgh Castle, capture long exposure shots of Princes Street from The Nelson Monument and watch as the city switches on its lights for the evening.
At the top of the hill you'll also find the National Monument of Scotland, a memorial to Scottish soldiers and sailors with giant columns. You'll find a lot of people crawling all over it for photos but personally I like to respect monuments like this, especially when they're memorials and capture a sun burst or beautiful glow from afar.
Photo Tip: The Dugald Stewart Monument creates an iconic view over Edinburgh and to capture it, wander up the hill a little more to the stone building where at sunset you'll no doubt find the tripods out in full force.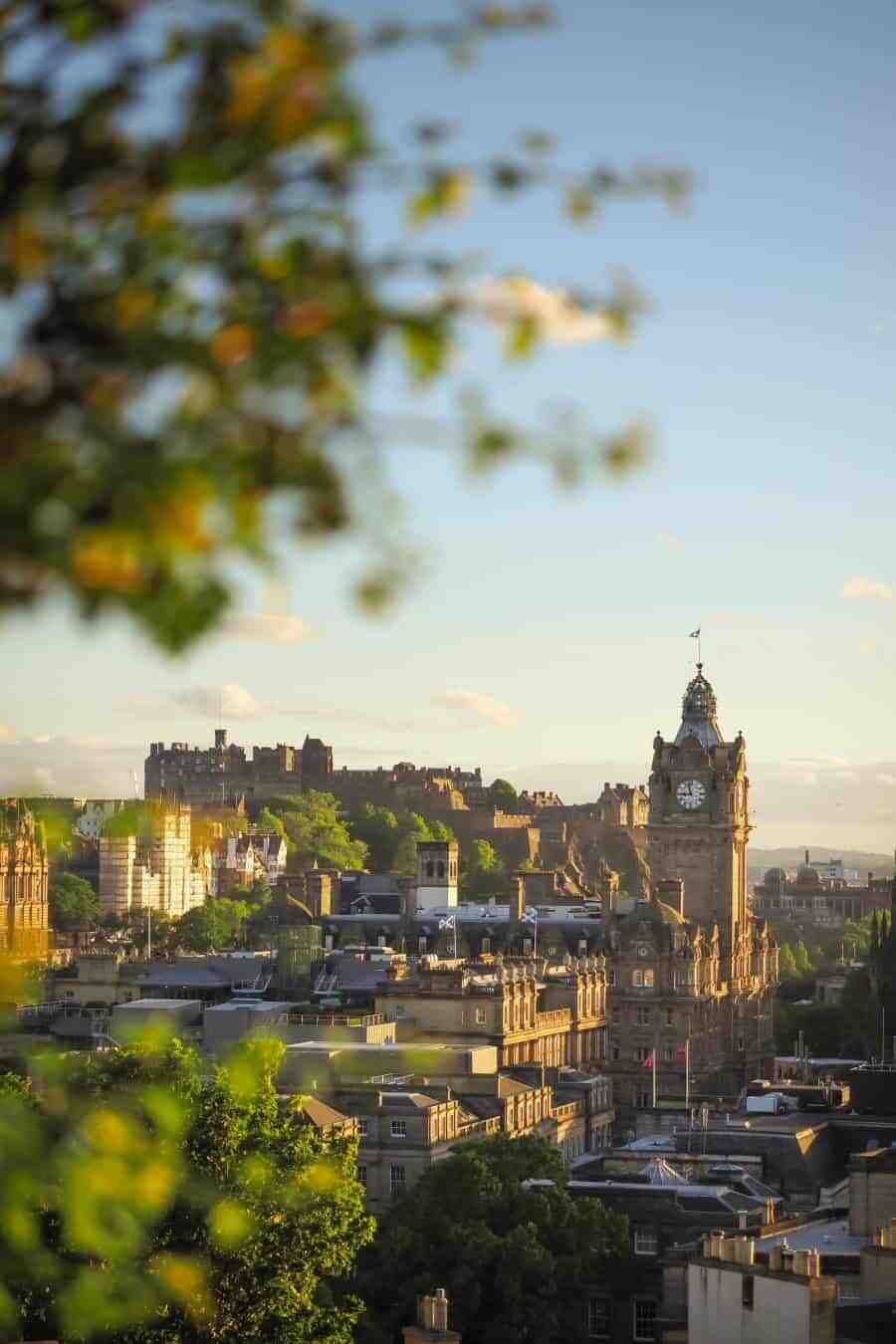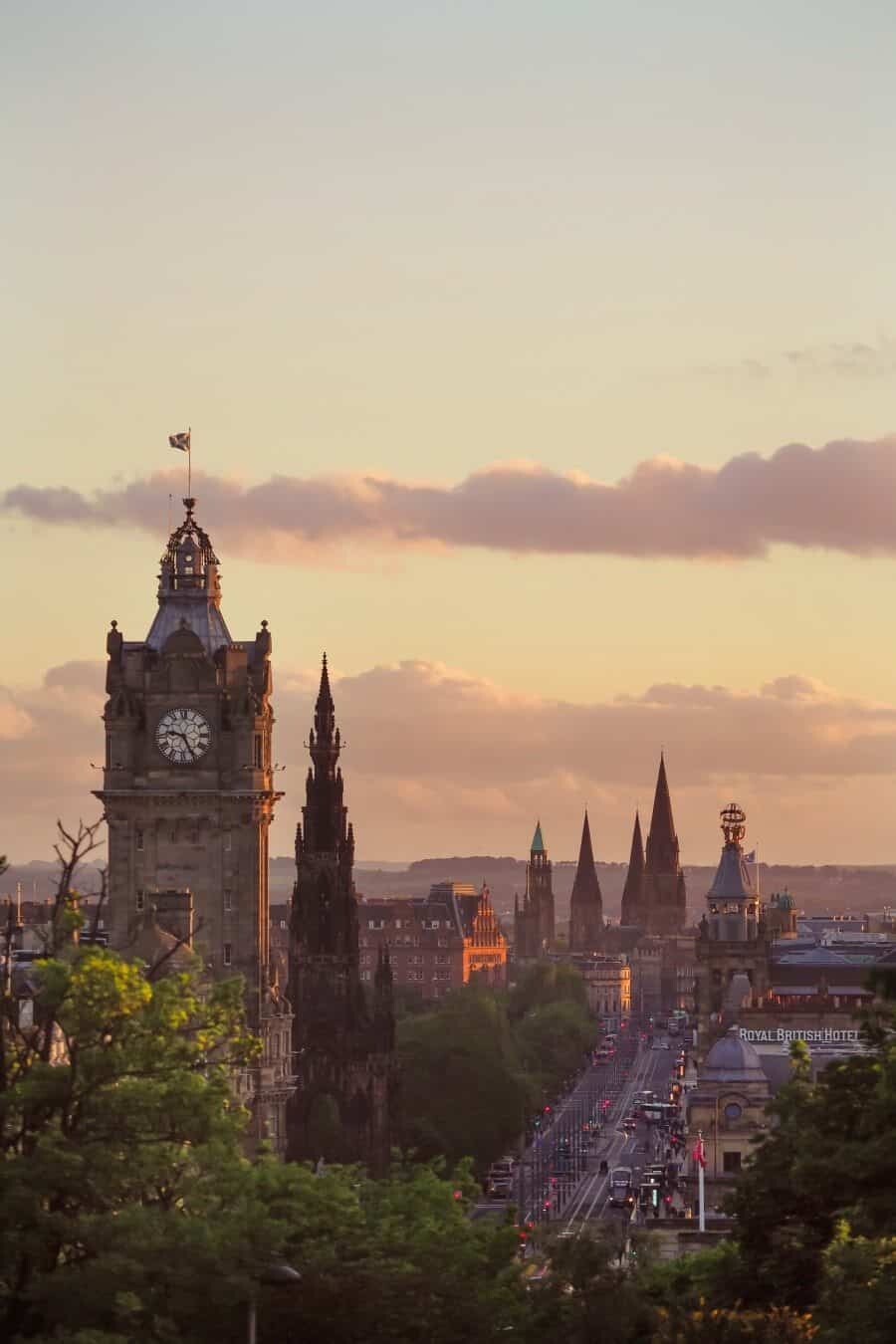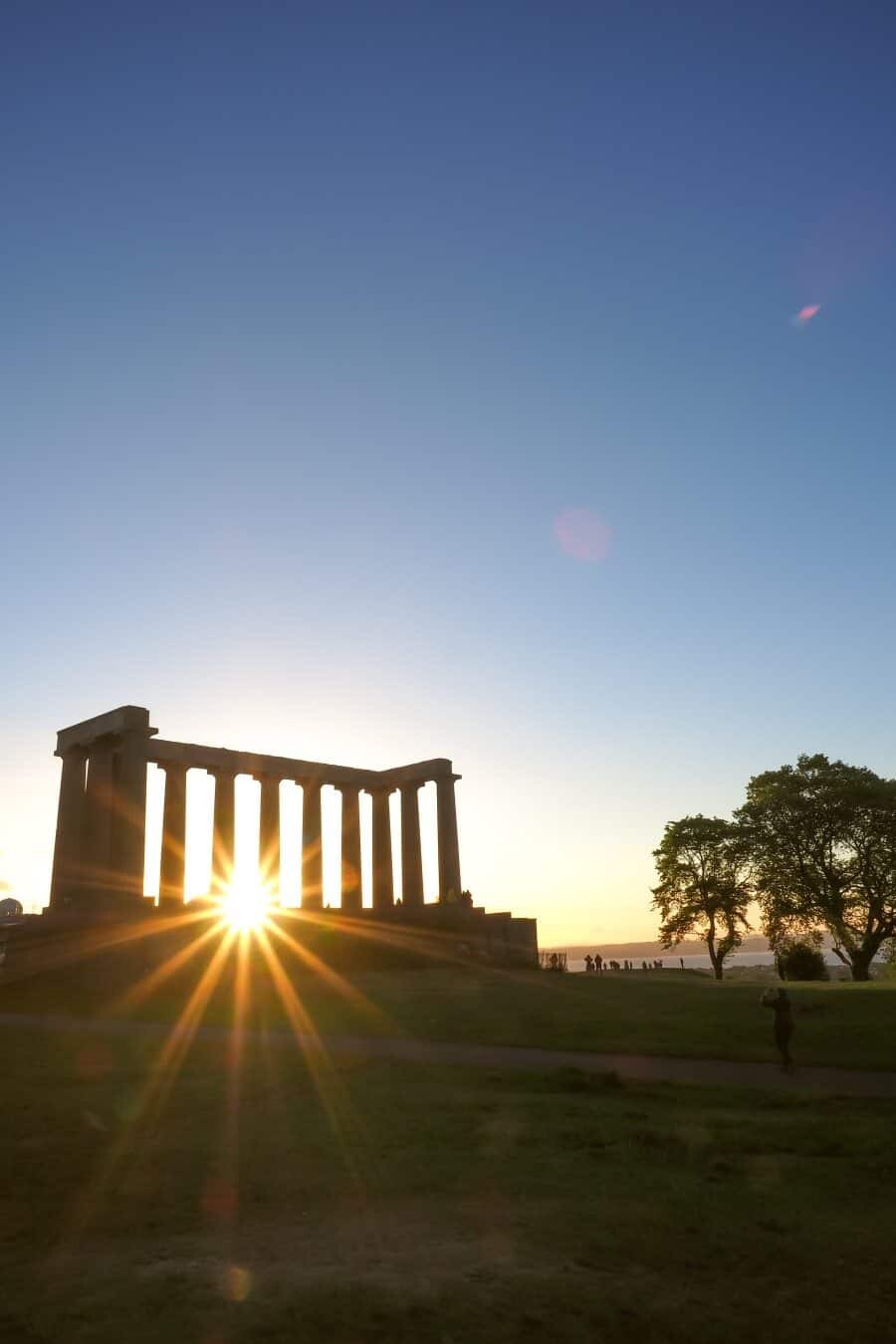 ---
Dean Village
If you wander the Water of Leith walkway you'll arrive in Dean Village, a fairytale scene with colourful buildings lining the stream and the feel of a country village. Be sure to walk down Hawthornbank Lane with a beautiful yellow building and cobbled street that leads down to the stream.
You can get right down to the water level for reflections and if you cross the bridge and continue walking alongside the stream you'll arrive at a waterfall.
Photo Tip: Try for all angles, from the bridge, from the stream, the lanes…there's so much to capture here.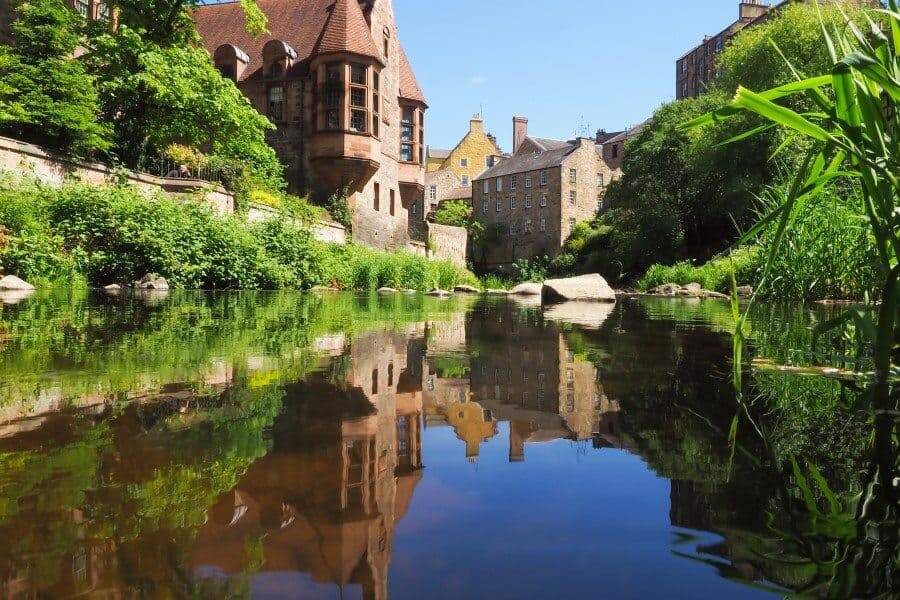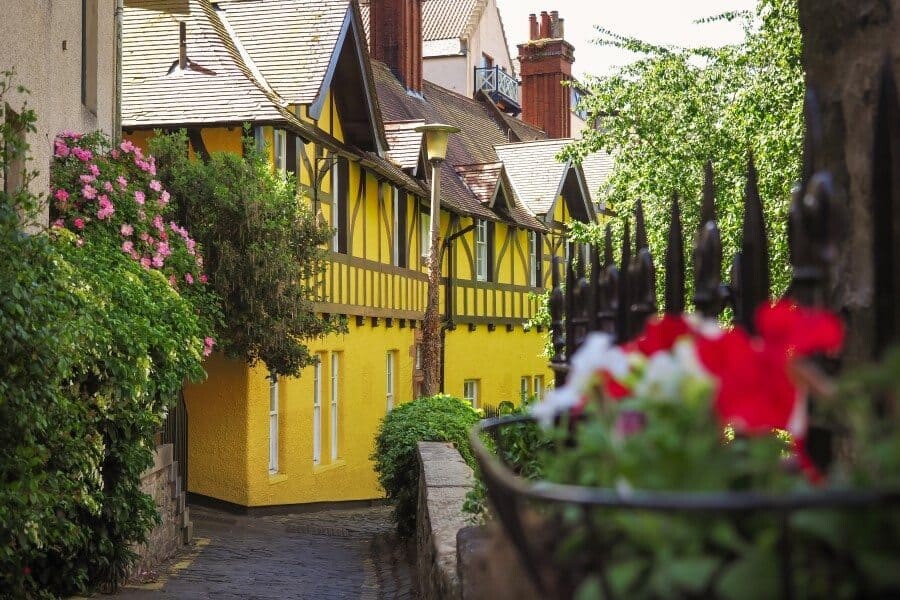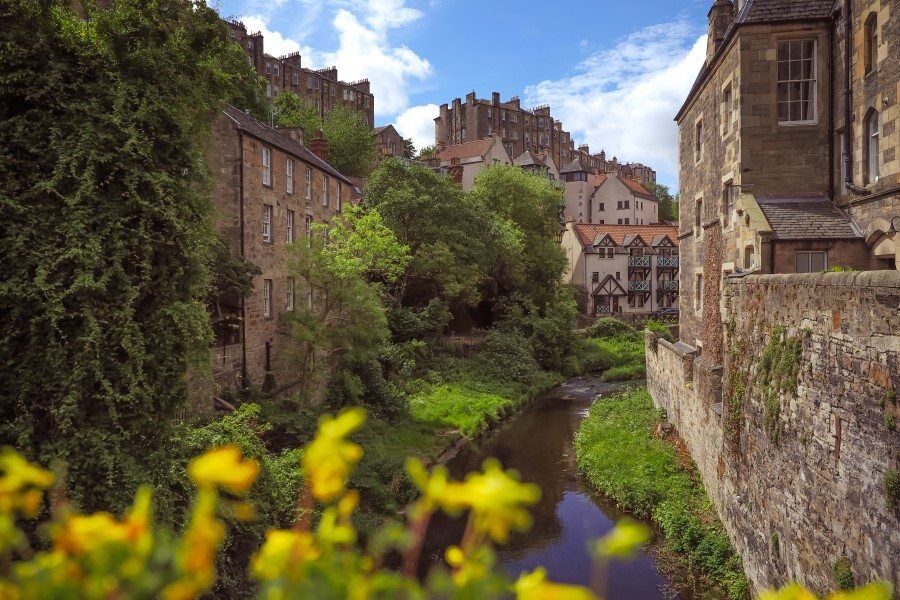 ---
Closes + The Royal Mile
Mysterious, charming and alluring, the closes of the Royal Mile are in my opinion, somewhere you need to visit when photographing Edinburgh. While thousands of people walk along the main thoroughfare daily, few realise these hidden gems exist and if you look closely you'll discover walkways with an entrance name plate and steps leading down.
Narrow and moody, the closes weave between tall buildings and were typically named after a notable resident who once lived in the apartments the staircases pass. Each close is different in appearance with some favourites including Advocate's Close, Old Stamp Office Close and Milne's Close.
The Royal Mile itself also offers oodles of photography opportunities with buildings dating back to the early 1800's that lead towards the castle. At the top of the Royal Mile you'll find Castlehill which features a lot of larger buildings however down the end with Holyrood Palace, facades are a little smaller, less ornate but still filled with their own special character.
Photo Tip: Visit when the dim street lamps create an eerie old atmosphere.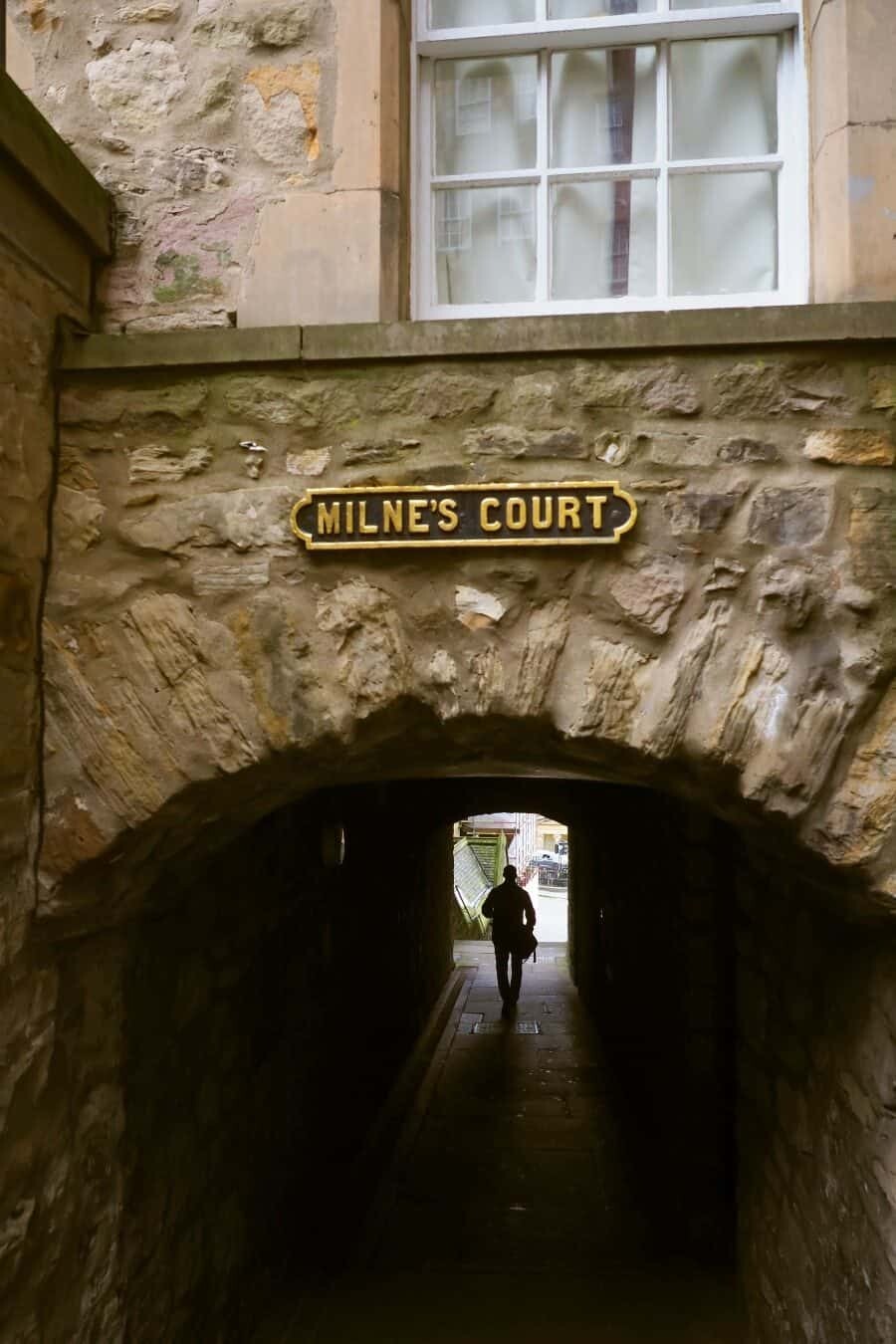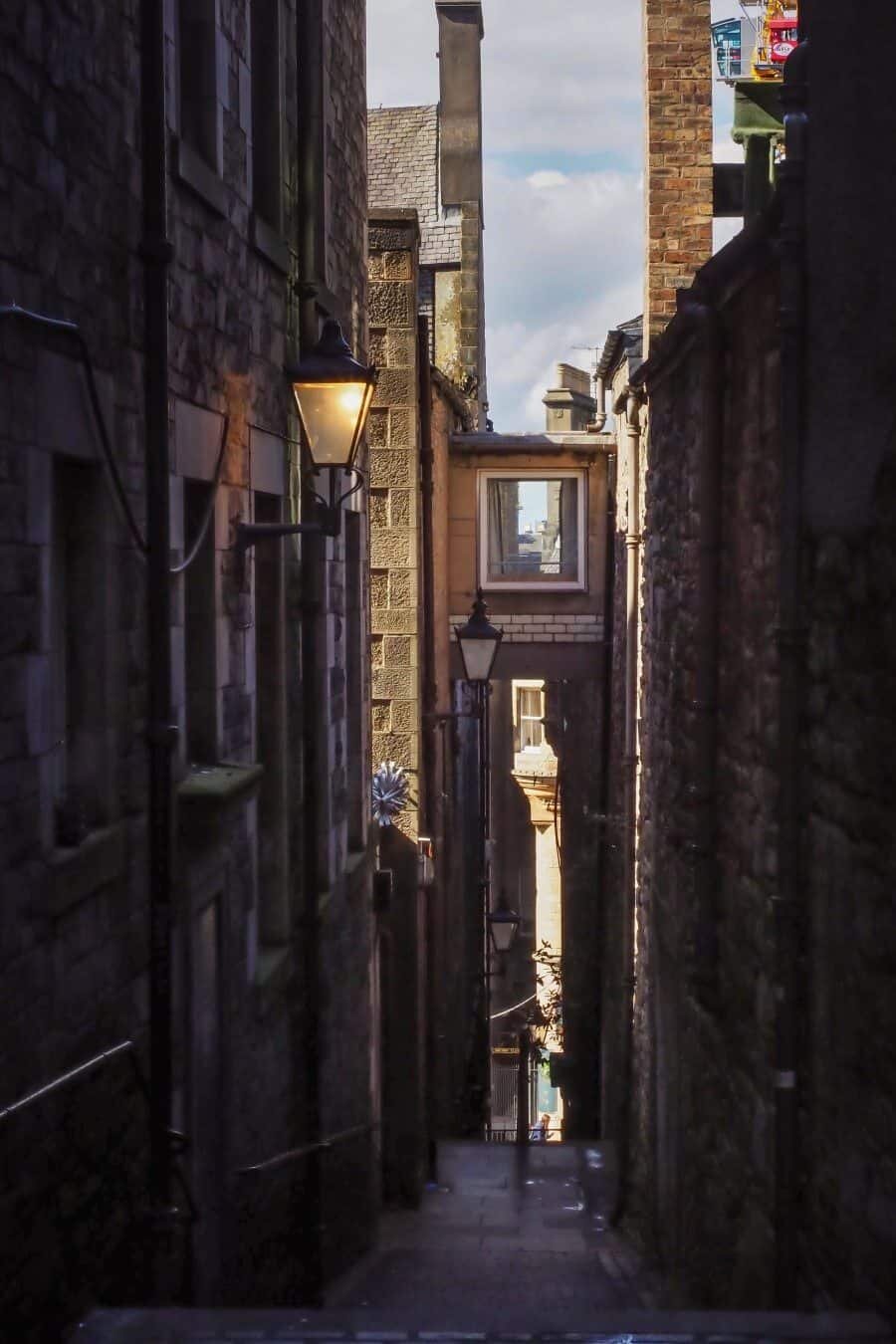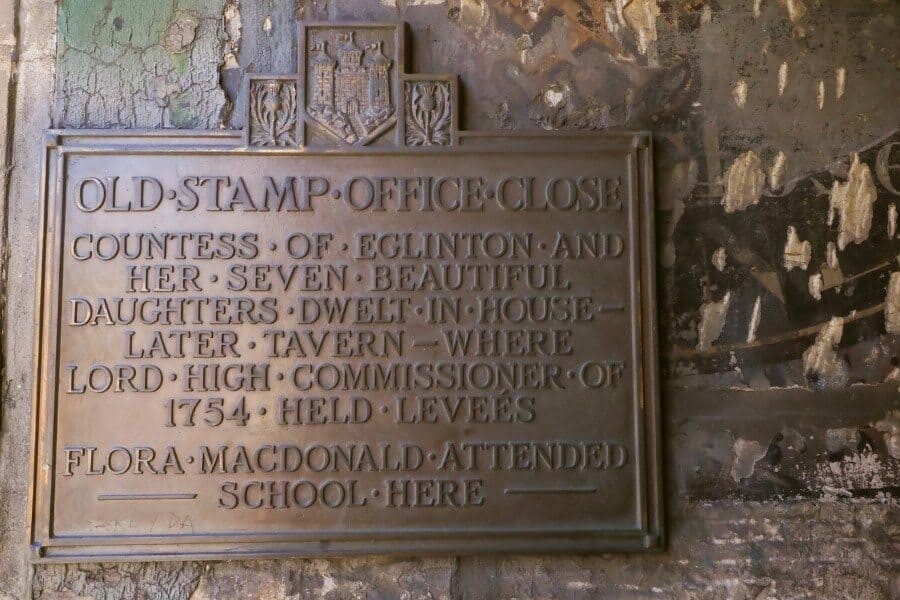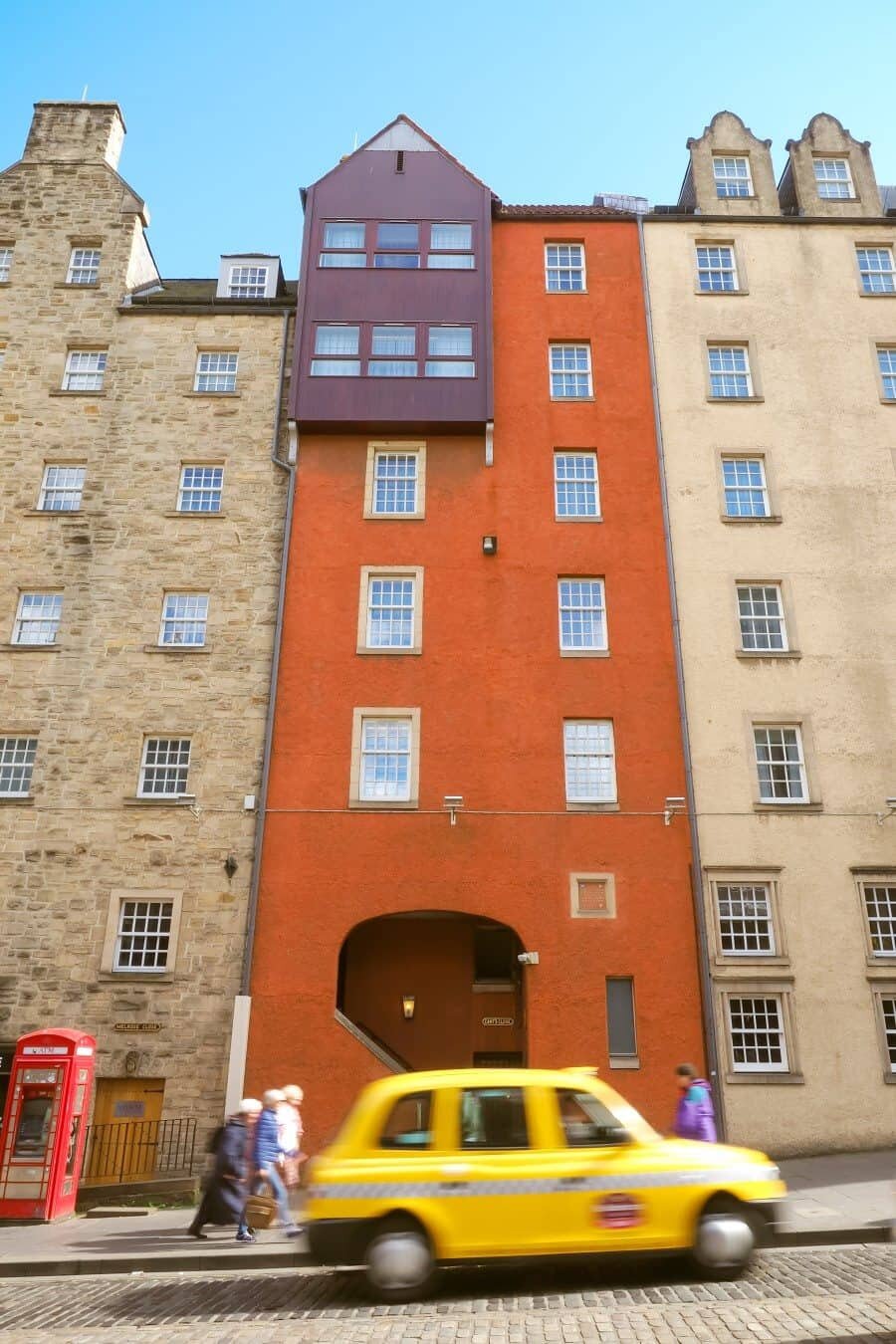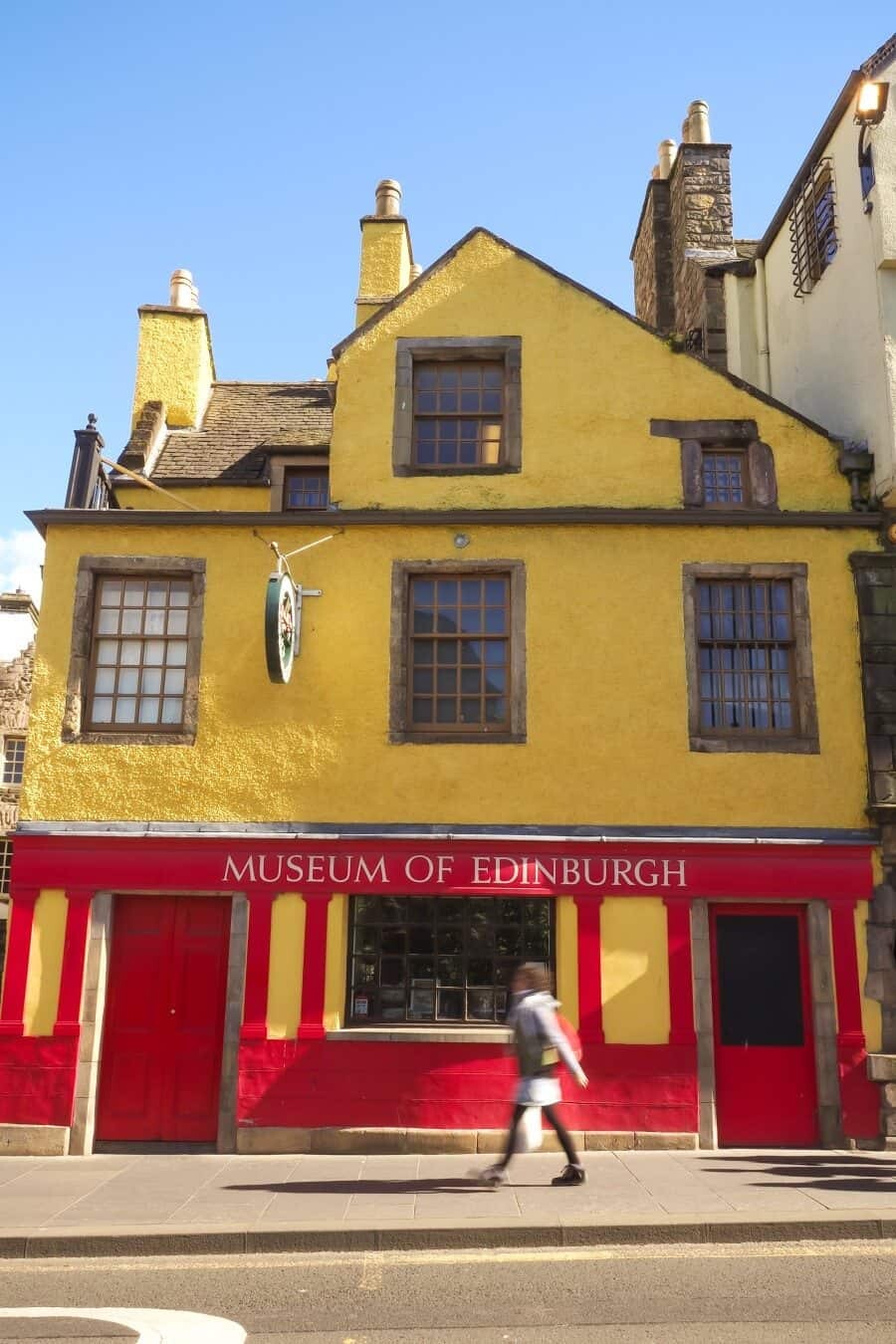 ---
Water of Leith Walkway
Rarely in a city do you find a location as tranquil as this walk way. Only ten minutes from Prince's Street you'll be hearing the sound of chirping birds, trickling streams and wandering past stone cottages that may well be from a Beatrix Potter book. Put simply, this walkway is a peaceful city escape.
While you can join the walkway in a number of places, the path starts at the corner of Glenogle Rd and Brandon Terrace then weaves its way along the river banks towards Dean Village and then even further to Roseburn. Once you've walked through Stockbridge you'll follow a path through lush green rainforest before arriving at St.Bernard's Well. Discovered in 1760, this natural spring was believed to cure all illnesses and has a statue marking its location of Hygeia, the Greek goddess of health. There's a small door to the well which is only open on special days throughout the year so visitors are able to taste the water which is known to have a very strong taste.
Photo Tip: Take the walkway the entire length and keep an eye out for the little cascades, greenery framing the stone houses and staircases just before St.Bernard's Well which work great in photos.
Read more – 'Setting the Scene: Making Water Dance in your Images'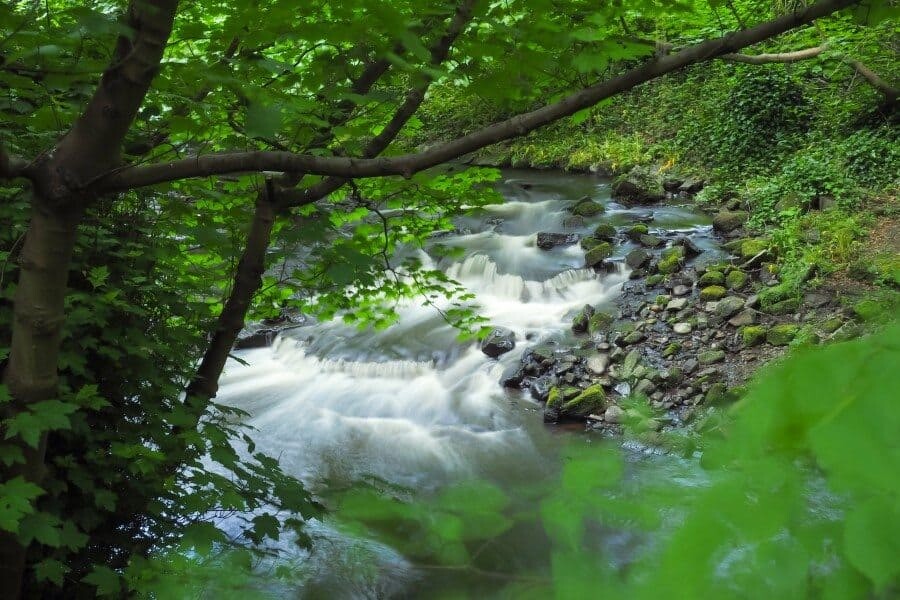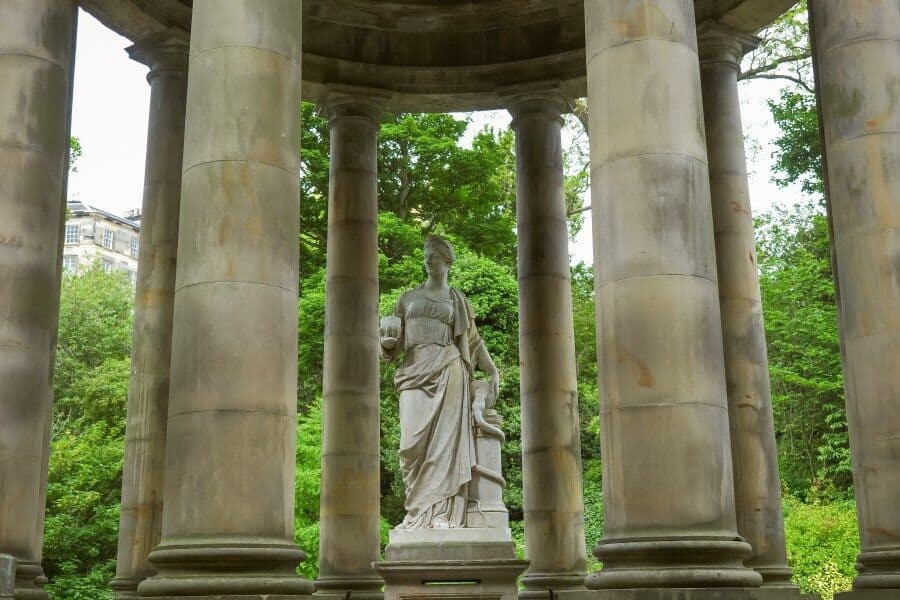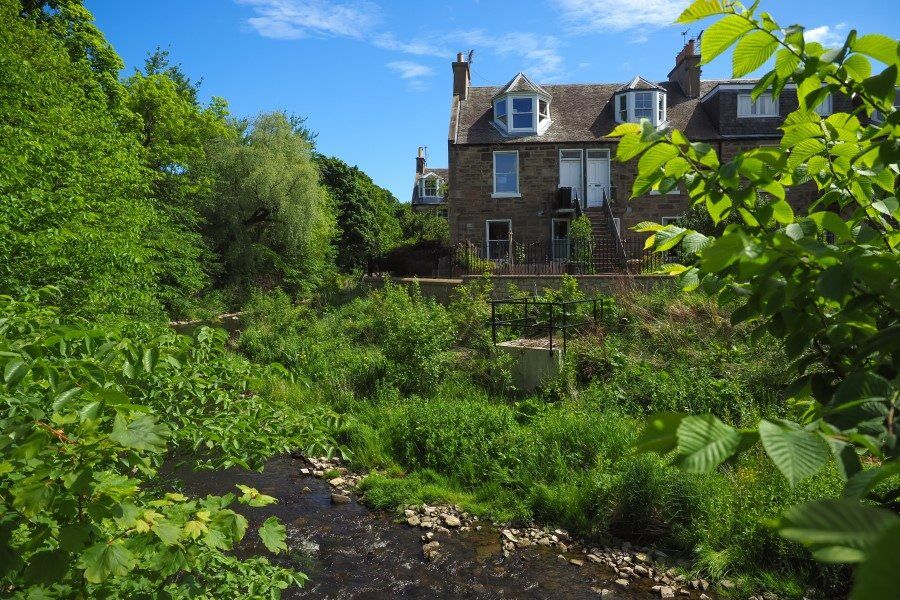 ---
Victoria Street – aka Harry Potter Inspiration!
A curved and cobbled street, Victoria Street is quite possibly the best looking street in Edinburgh. With colourful facades it's often referred to as Diagon Alley (from Harry Potter) and apparently where J.K Rowling took her inspiration, it's worth a stroll to capture the street scenes here.
My favourite store in the whole city is Museum Context which is located right in the middle of Victoria Street and offers an enchanting shopping experience if you're into vintage maps, antiques and of course, the little magician called Harry Potter.
Photo Tip: Climb the staircase to Upper Bow for a great view down over Victoria Street.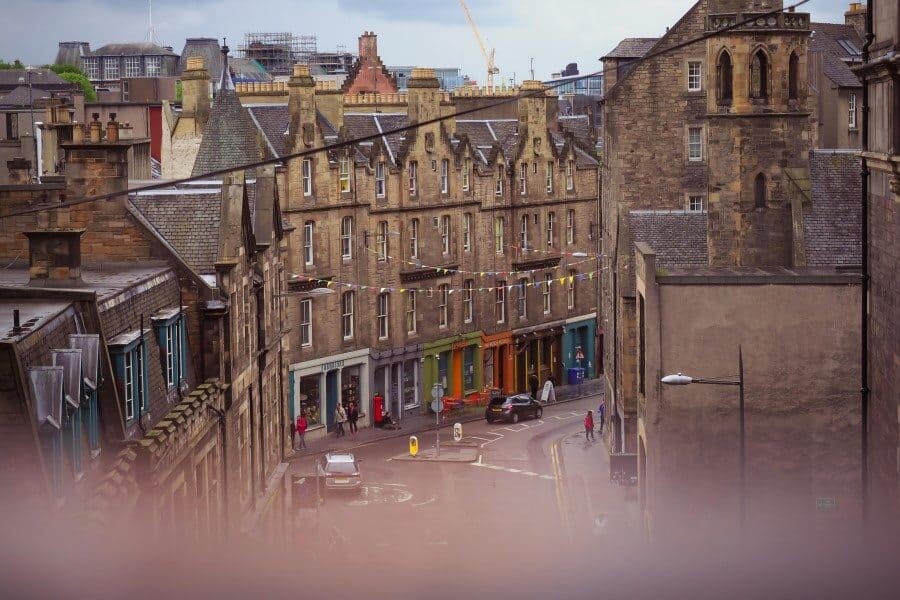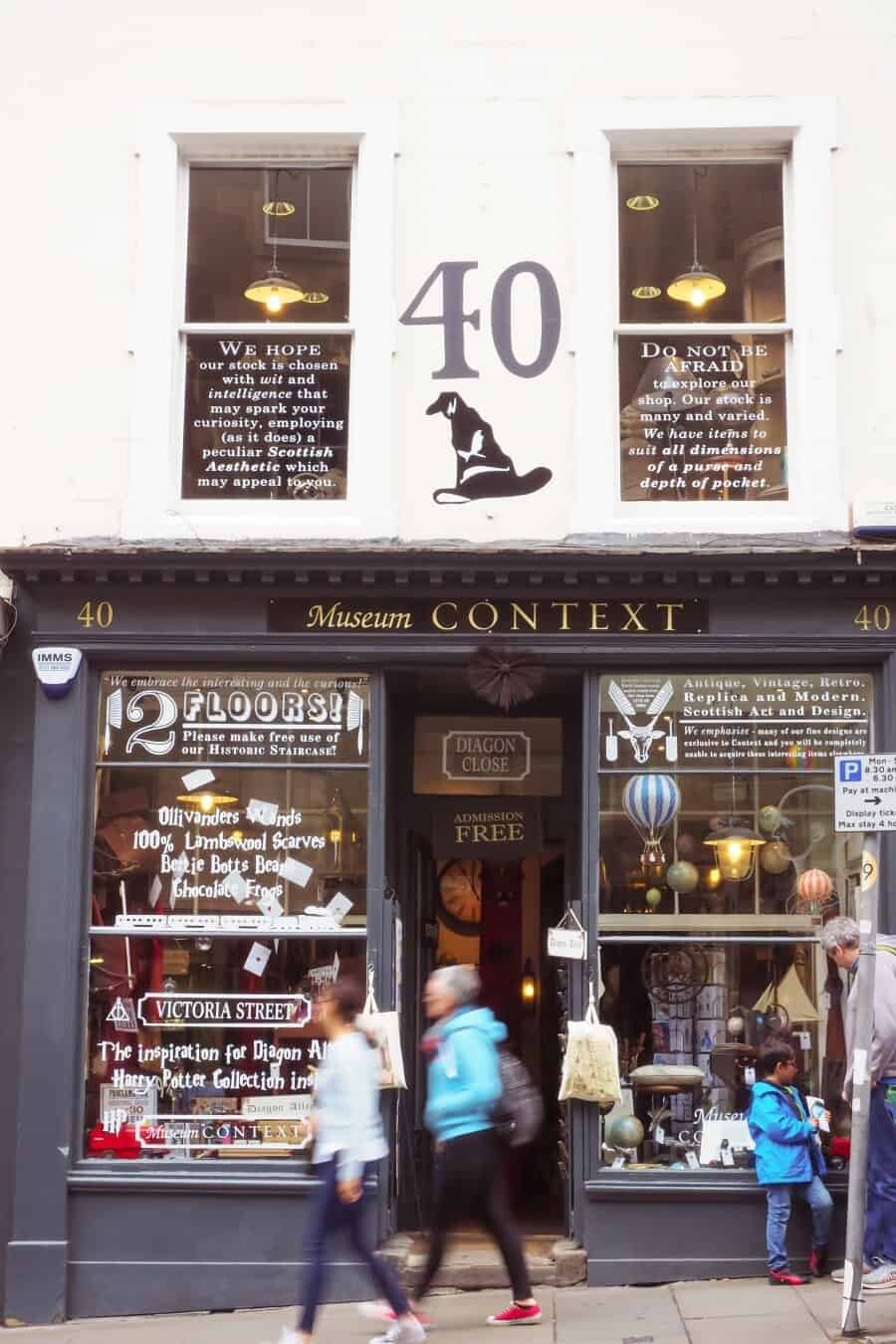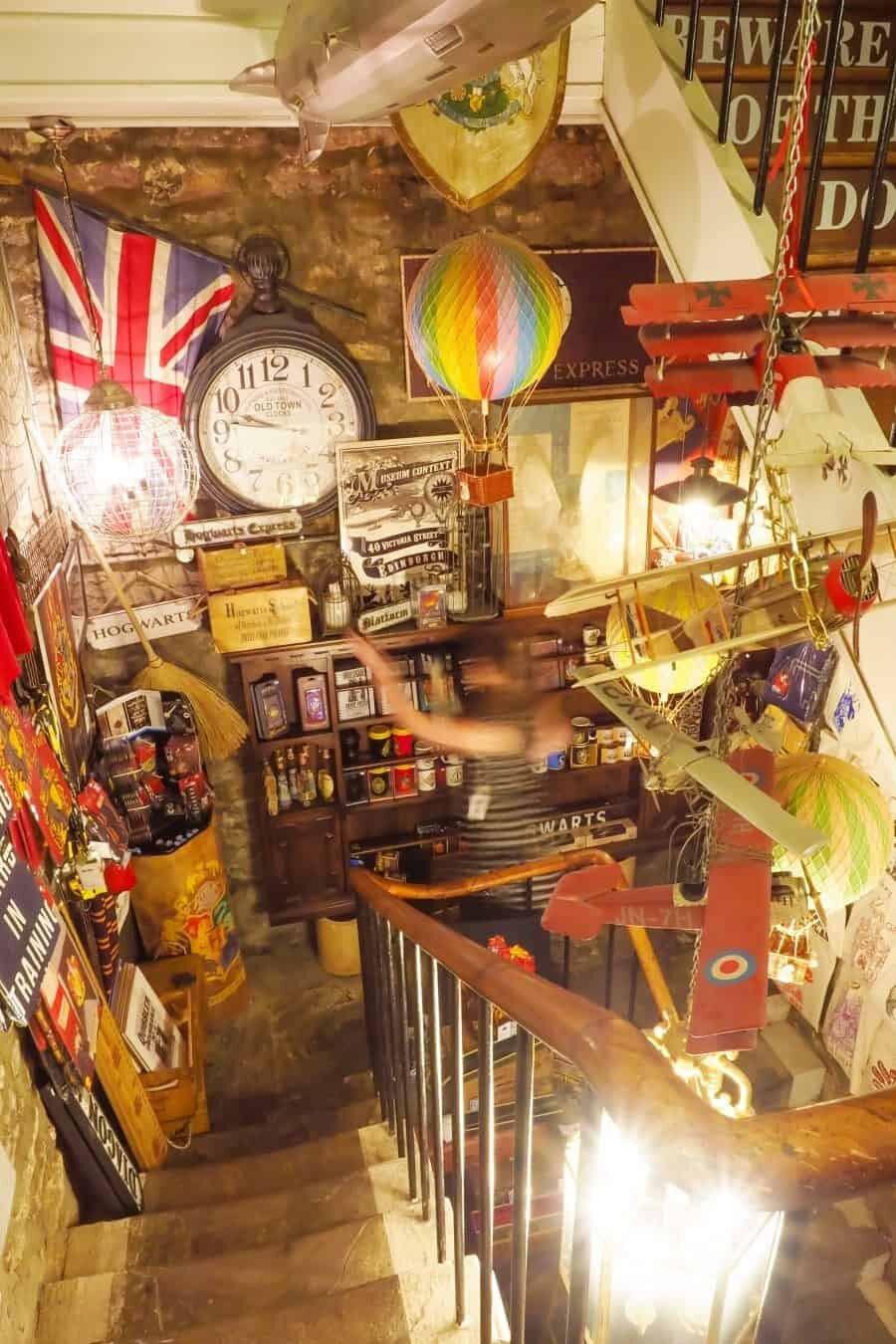 ---
Dunbar's Close Garden
This quiet garden is such a special little gem right in the heart of Edinburgh's Old Town. Designed in the style of a 17th century garden it's elegant shrubs are preened, pretty and blooming. You don't even realise you're in a city once you step off the Royal Mile and into this hidden space. Around the garden are wooden benches where you can sit and soak up the serenity or you can get busy like me and photograph their hedges and neat lines.