7 striking images by Africa's new wave
With the art of the continent and its diaspora increasingly in the spotlight, an exciting new cohort of Gen-Z and young Millennial image-makers is emerging. Precious Adesina meets them.With exhibitions such as Africa Fashion at the Victoria and Albert Museum in London and 1-54 Contemporary African Art Fair in New York, London and Marrakech, African art and the works of the continent's diaspora have gained global recognition. Noticeably, many young artists have been picking up cameras to create pieces influenced by photographers such as the British-Moroccan Hassan Hajjaj, the late Malian Malick Sidibé or the Ghanaian Philip Kwame Apagya. "They have been major influences, not only on African photography but international photography," Touria El Glaoui, the founder of 1-54, tells BBC Culture. "The younger generation can't help but be inspired and influenced by these legends whether it's their approach to studio photography or street photography in particular," adds Aida Amoako, author of As We See It, a book exploring the works of 30 black image-makers. Amoako notes that heritage is often an integral theme for many African artists. "There are artists who were born and raised on the continent and still live there, which has deeply informed their work."  More like this: -         Why 1960 was a turning point for Africa -          A slaveship in a London courtyard -         The photographs reframing Africa However, the ease with which photographs can be taken and shared today has also skyrocketed many contemporary African artists to fame. Many started their careers taking images on their phones, editing them and posting them to their social media accounts, racking up hundreds of thousands of followers. "Technology and less snobbery about the tools that can be used to create art have allowed for a young group of artists to be noticed earlier," says Amoako. "They don't feel they have to wait to get a 'proper camera'." Hajjaj agrees. "There are definitely more African photographers with more confidence in their work. Mobiles and the internet have really pushed this." The distinctively dreamy work of Ismail Zaidy has gained him global recognition – shown here, Find Your Wings (Credit: Ismail Zaidy)1 Ismail Zaidy If the Moroccan self-taught photographer Ismail Zaidy had to choose, he would describe his work as "minimal, poetic and dreamy". The artist started his career taking images on the roof of his home in Marrakech using his Samsung S5 smartphone. "I needed something to capture [images], but I didn't have the means," he says of his decision to pursue photography in the summer of 2017, just before graduating from Marrakech's Cadi Ayyad University with a BA in International Management the following year. "My mum used to be a photographer, so something was bubbling up in me to continue [down the same route]," he adds. Today, Zaidy is globally recognised. And Hassan Hajjaj has also taken him on as a mentee. "I got to know Ismail's works around 2016 to 2017," Hajjaj says. Hajjaj now showcases Zaidy at his latest tearoom and gallery, Jajjah, in Sidi Ghanem, an industrial zone in Marrakech, home to many artists and designers.  Zaidy's photographs are acknowledged for their distinctive pastel colour palette, his subjects' frequently hidden faces, and his use of family members throughout his oeuvre. Most notably, his brother Othmane and sister Fatima are often featured in his images. "In the beginning, finding models and arranging shoots with them would be tricky," he says, explaining that the process can be arduous and expensive. "I would always have my brother and sister readily available, so that's how I navigated around the problem of models." Though the artist does not exclusively photograph his family members, in 2018, Zaidy began the project 3aila (or "family") with Othmane and Fatima, where they all had creative input. "They're not just models. We work on ideas together and support each other."Ghanaian photographer Prince Gyasi digitally manipulates images to create an otherworldly vibrancy (Credit: Prince Gyasi)2 Prince Gyasi When the Ghanaian photographer Prince Gyasi was growing up, his mother would take him fabric shopping at Makola Market, a well-known shopping district in Accra, the city he grew up in. She'd often drop him off at a small photography studio, inspiring him to create his own images. "The photographer would take me around like an intern," he says, noting that the man would walk around the market taking snaps of the sellers as people often did not have time to make it to the studio. "One interesting thing I picked up from him was how smart [his approach was] and how seriously he took his job. He had a blue backdrop. He would paint something on it and put it behind them to take photos." Gyasi began taking his own photos on a Kodak disposable camera his mum bought for him before using a Blackberry and eventually saving up to purchase an iPhone. Today, Gyasi is known for his digitally manipulated pho

With the art of the continent and its diaspora increasingly in the spotlight, an exciting new cohort of Gen-Z and young Millennial image-makers is emerging. Precious Adesina meets them.
With exhibitions such as Africa Fashion at the Victoria and Albert Museum in London and 1-54 Contemporary African Art Fair in New York, London and Marrakech, African art and the works of the continent's diaspora have gained global recognition. Noticeably, many young artists have been picking up cameras to create pieces influenced by photographers such as the British-Moroccan Hassan Hajjaj, the late Malian Malick Sidibé or the Ghanaian Philip Kwame Apagya. "They have been major influences, not only on African photography but international photography," Touria El Glaoui, the founder of 1-54, tells BBC Culture. "The younger generation can't help but be inspired and influenced by these legends whether it's their approach to studio photography or street photography in particular," adds Aida Amoako, author of As We See It, a book exploring the works of 30 black image-makers. Amoako notes that heritage is often an integral theme for many African artists. "There are artists who were born and raised on the continent and still live there, which has deeply informed their work." 
More like this:
-         Why 1960 was a turning point for Africa
-          A slaveship in a London courtyard
-         The photographs reframing Africa

However, the ease with which photographs can be taken and shared today has also skyrocketed many contemporary African artists to fame. Many started their careers taking images on their phones, editing them and posting them to their social media accounts, racking up hundreds of thousands of followers. "Technology and less snobbery about the tools that can be used to create art have allowed for a young group of artists to be noticed earlier," says Amoako. "They don't feel they have to wait to get a 'proper camera'." Hajjaj agrees. "There are definitely more African photographers with more confidence in their work. Mobiles and the internet have really pushed this."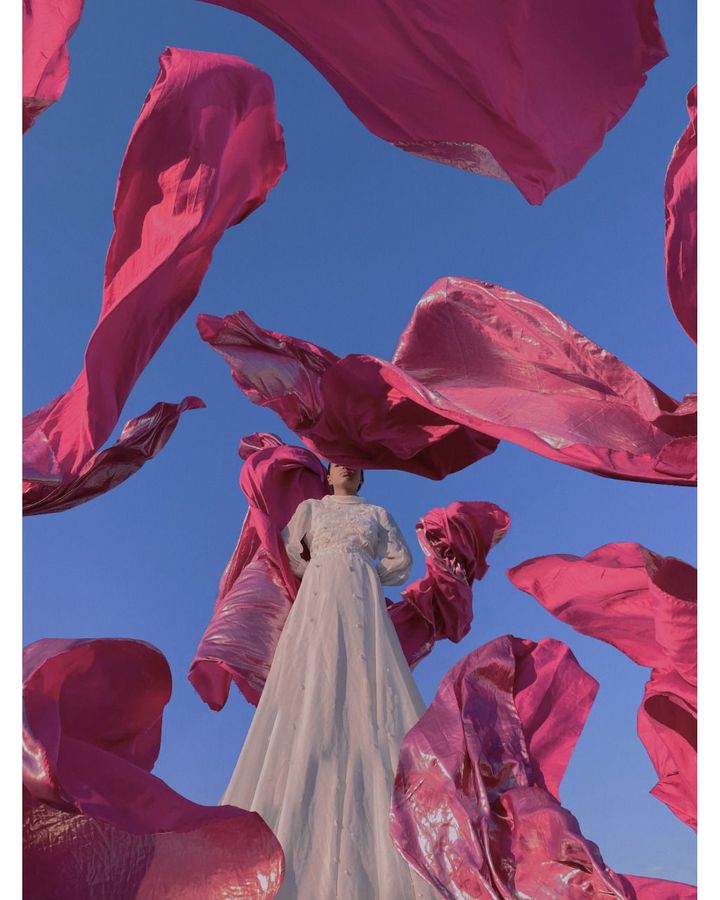 The distinctively dreamy work of Ismail Zaidy has gained him global recognition – shown here, Find Your Wings (Credit: Ismail Zaidy)
1 Ismail Zaidy
If the Moroccan self-taught photographer Ismail Zaidy had to choose, he would describe his work as "minimal, poetic and dreamy". The artist started his career taking images on the roof of his home in Marrakech using his Samsung S5 smartphone. "I needed something to capture [images], but I didn't have the means," he says of his decision to pursue photography in the summer of 2017, just before graduating from Marrakech's Cadi Ayyad University with a BA in International Management the following year. "My mum used to be a photographer, so something was bubbling up in me to continue [down the same route]," he adds. Today, Zaidy is globally recognised. And Hassan Hajjaj has also taken him on as a mentee. "I got to know Ismail's works around 2016 to 2017," Hajjaj says. Hajjaj now showcases Zaidy at his latest tearoom and gallery, Jajjah, in Sidi Ghanem, an industrial zone in Marrakech, home to many artists and designers. 
Zaidy's photographs are acknowledged for their distinctive pastel colour palette, his subjects' frequently hidden faces, and his use of family members throughout his oeuvre. Most notably, his brother Othmane and sister Fatima are often featured in his images. "In the beginning, finding models and arranging shoots with them would be tricky," he says, explaining that the process can be arduous and expensive. "I would always have my brother and sister readily available, so that's how I navigated around the problem of models." Though the artist does not exclusively photograph his family members, in 2018, Zaidy began the project 3aila (or "family") with Othmane and Fatima, where they all had creative input. "They're not just models. We work on ideas together and support each other."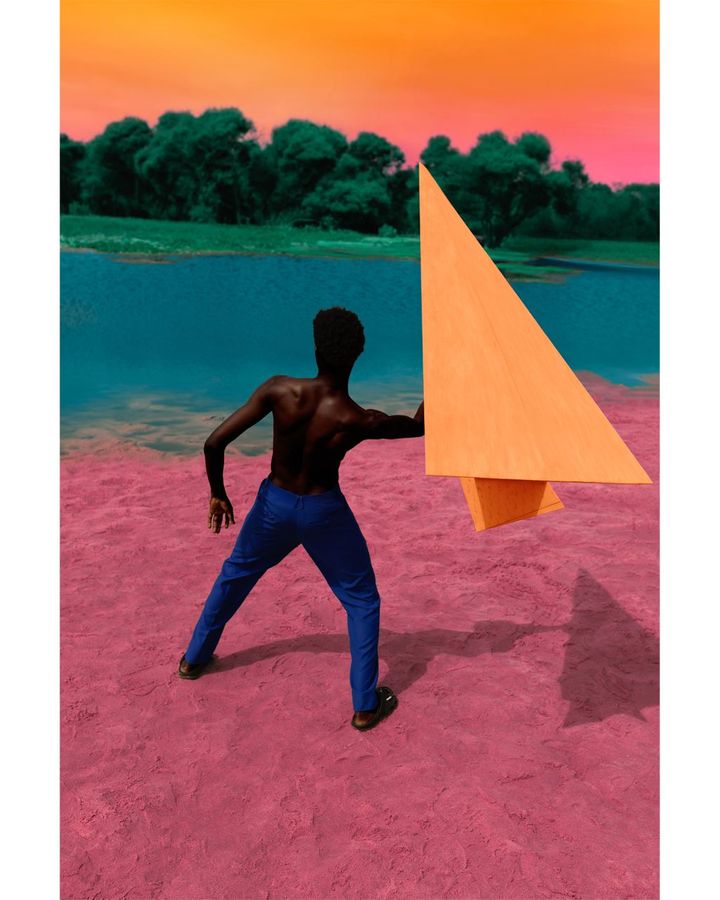 Ghanaian photographer Prince Gyasi digitally manipulates images to create an otherworldly vibrancy (Credit: Prince Gyasi)
2 Prince Gyasi
When the Ghanaian photographer Prince Gyasi was growing up, his mother would take him fabric shopping at Makola Market, a well-known shopping district in Accra, the city he grew up in. She'd often drop him off at a small photography studio, inspiring him to create his own images. "The photographer would take me around like an intern," he says, noting that the man would walk around the market taking snaps of the sellers as people often did not have time to make it to the studio. "One interesting thing I picked up from him was how smart [his approach was] and how seriously he took his job. He had a blue backdrop. He would paint something on it and put it behind them to take photos." Gyasi began taking his own photos on a Kodak disposable camera his mum bought for him before using a Blackberry and eventually saving up to purchase an iPhone.
Today, Gyasi is known for his digitally manipulated photographs of his hometown. His subjects are often placed against textured backgrounds in already vibrant, generously saturated images. "It gives his work an otherworldly aspect without going into total fantasy," says Amoako. "I think it complements his desire to get out of a particular box when it comes to documentary-style photography of communities on the continent." Gyasi also credits his synaesthesia – a condition that creates an overlap between the senses – for his approach to photography. 
Almost seven years ago, Gyasi was moved to start his Boxed Kids series, which explores the struggles of children in Jamestown, a poor fishing community in Accra. "Boxed Kids simply describes children who are trapped in a place or situation that they can't get out of," he explains on his website. "The inspiration came when I helped my mother organise an event for underprivileged children in August 2016." He also helps these children to raise funds and attend school, and his photographs show them working to support their families and friends, opting to portray them in a dignified manner rather than honing in on the less fortunate side of their circumstances.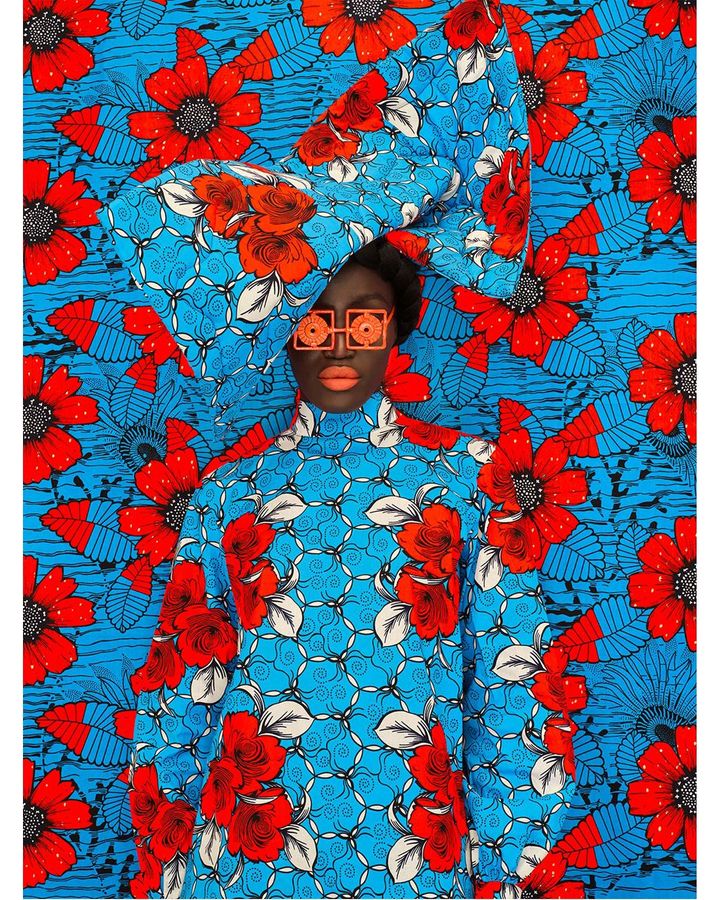 In Thandiwe Muriu's CAMO series the artist uses Ankara fabrics and props to showcase Kenyan beauty (Credit: Thandiwe Murius)
3 Thandiwe Muriu 
Thandiwe Muriu's photographs are inspired by the Vogue covers her older sister used to collect when they were growing up. Her father taught her photography at 14, and by 18, she was signed to a talent agency, shooting global advertising campaigns. "It was just instant chemistry," the Kenyan artist says of her dad first giving her a camera. "I like to say he put one in my hand, and I never let it go. It was just a way for me to process and interpret the world around me." 
Today, Muriu is widely known for her CAMO series, where darkskinned black women are dressed in prints traditionally associated with particular parts of Africa, in front of an almost identical backdrop, causing the models to blend into their surroundings. It's an idea that she says reflects her own personal experiences. "This is me processing my world as a modern woman living in Kenya," she says. She notes that the Ankara fabrics she uses for the images have been widely worn across West, Central and East Africa throughout modern history. "But I'm picking fabrics that my generation would actually wear." 
Props are also incorporated into the images to critique how the outside world views Kenyans. "In the 80s and 90s, Kenya was particularly associated with images of starving children to raise funds for charity. While poverty is a big reality in Kenya, it's not the full story," she says. "I was very keen to, even as I critique and process my culture, address some of the ways I think it has been misrepresented. One interesting thing that has come out of extreme poverty is creative recycling." According to Muriu, lack of resources has encouraged many people in Kenya to solve their problems in different ways by making new items out of old ones. "Because people can't purchase what they need all the time, they use what you have. I think that's almost an artform that we don't realise or celebrate in Kenya."
That said, for Muriu, her work is predominately rooted in how an individual – in her case, a Kenyan woman – finds and loves themselves when surrounded by cultural expectations. "I began to feel like my culture defined or outlined who I should be as a woman, and I began to ask, 'so what happens if I don't fit in?'" she says, explaining that each piece in her CAMO series addresses "different aspects of beauty culture in Kenya that I believe has strongly influenced how we identify ourselves as women." Muriu points out that many of her attributes, including her dark skin and tall and slender frame, are not considered beautiful in her country. Unnaturally straight hair for black women is also a part of the culturally-imposed beauty standards. She showcases these features as admirable in her imagery. "I want Kenyan women and other women to look at the images and say she has natural hair, she has dark skin, and she's still beautiful and captivating, and it's okay for me to look like me."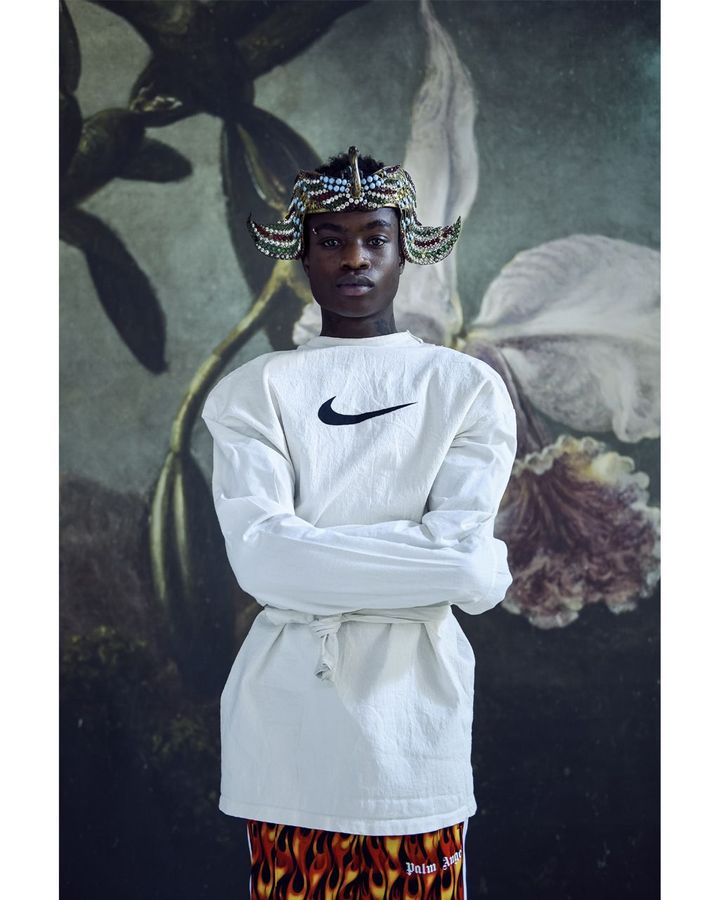 Photographer Mous Lamrabat was born in Morocco and raised in Belgium – his dual identity is reflected in his work (Credit: Mous Lamrabat)
4 Mous Lamrabat
Looking at Mous Lamrabat's photographs is like peeking into the inner workings of his mind. For the artist, who originally trained as an interior architect, photography is not about technical skills but about bringing his visions to life. "A thing I learned doing interior design was thinking about concepts," he says. "It was not about where a wall went or its colour. It was the overall idea. I got so addicted to this." 
Lamrabat was born in the north of Morocco and raised in Flanders, Belgium, and consequently, strongly identifying with two cultures is a constant theme in his work. Often the artist showcases his experiences in these places alongside each other in striking ways that many can identify with. Models predominately dressed in traditional-looking African clothes but also sporting McDonald's, Nike and other well-known Western logos and symbols pose in front of a picturesque backdrop, in a manner reminiscent of fashion photography. "If I had to describe my work, it would be that it's me as a person – a literal translation," he says. "What I've been through, how I grew up, my interests, things that bother me, things that feel nostalgic to me." Lamrabat calls the utopian world he has created "Mousganistan", which he says is a place specifically designed to make sense to him, though it has since sparked the curiosity of others. "People have really started enjoying my work over the years," he says. "I feel like I might not be the only person thinking in this way."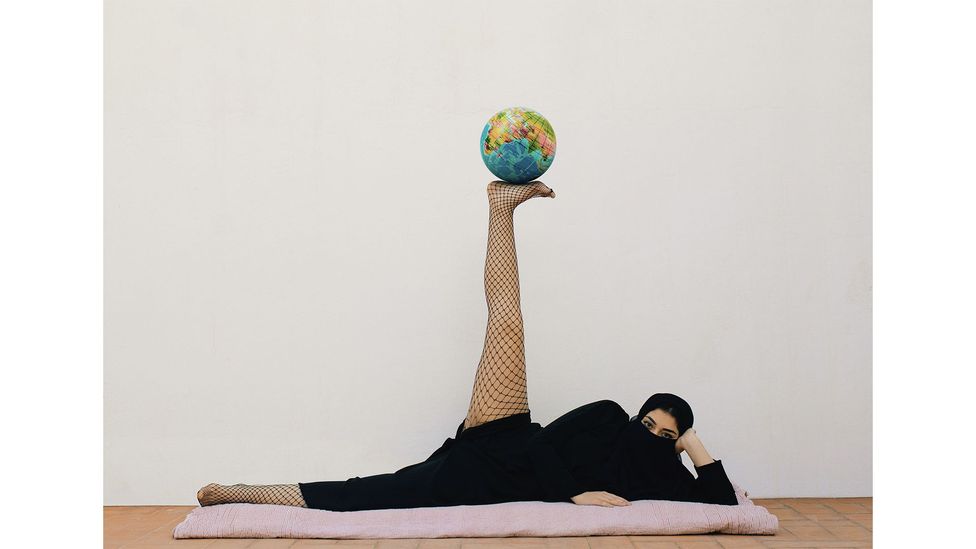 Fatima Zohra Serri's work explores her own experiences of being a woman in Morocco – shown here, We Run This Mother (Credit: Fatima Zohra Serri)
5 Fatima Zohra Serri
Fatima Zohra Serri grew up in a strict environment in Nadar, a northern coastal city in Morocco, and began dabbling in photography "out of sheer curiosity" in 2016. "At the time, I was working as an accountant, and struggling with feelings of depression, loneliness, and a lack of creativity in my daily routine," she says. "Seeking an outlet for my emotions, I turned to photography, starting with street photos taken with the simple lens of a mid-range phone – a Samsung Galaxy J3. Photography soon became a form of entertainment and stress relief for me, a way to break away from the monotony of my desk job."
Although Serri enjoyed street photography, after a while, she decided to explore her own identity through her images, predominately photographing herself and her sister. In one of Serri's pictures, she poses with a sanitary towel, which she uses to mask her eyes. In another, she balances an inflatable globe on the bottom of her foot as she stretches her leg out into the air to reveal the fishnet tights she wears below her modest clothing. The first image, titled Make Art to Speak for Women who Suffer, and the latter, We Run This Mother, explores her own experiences and opinions on being a woman in Morocco. 
"My work is a reflection of both my personal vision and the society in which I live," she says, noting that it particularly challenges the conservative side of her culture, which she finds can be restrictive. "I strive to capture moments and scenes that reveal the beauty and complexity of the world around me, as well as the issues and challenges that exist within it." 
Streets of Bamako, Mali, 2022 – Girma Berta aims to capture beauty, strength and positivity in his photography (Credit: Girma Berta)
6 Girma Berta
Ethiopian photographer Girma Berta pictures ordinary people going about their daily lives. In some images, they are working, in others they are playing, and in a few it's hard to tell what exactly they are doing. But more often than not, they look like they are on their way somewhere, which, according to Amoako, creates a universality to his images. "We're all going somewhere," she says. "There's a sense of an epic tale, a hero's journey with which the viewer can connect empathetically."
In Berta's award-winning series Moving Shadows I and II, the working-class citizens in his hometown Addis Ababa are photographed, cut out, and the isolated figures are placed against vibrant backgrounds. But more recently, the artist has been travelling the continent to find his subjects. One of his more recent series titled The Motion shows people in African capitals on bikes, their background seemingly manipulated to suggest fast movement. "My photography style is focused on capturing the unique energy and personality of people living in urban areas," the artist says. "I'm particularly drawn to the vibrant atmosphere of big cities, where people from all walks of life come together in a bustling mix of cultures, sounds, and sights. 
"Through my photographs, I seek to showcase the vibrancy and diversity of the African continent, emphasising the beauty and strength of its people and creating a space for creativity and positivity to thrive," he adds. "In this way, my work aims to bring about meaningful change and to empower people to embrace a spirit of joy and self-expression."
As We See It by Aida Amoako is published by Hachette.
If you would like to comment on this story or anything else you have seen on BBC Culture, head over to our Facebook page or message us on Twitter.
And if you liked this story, sign up for the weekly bbc.com features newsletter, called The Essential List. A handpicked selection of stories from BBC Future, Culture, Worklife and Travel, delivered to your inbox every Friday.