7 GREAT WAYS TO TRAVEL AROUND LONDON (AND SEE THE SIGHTS)
Planes, Trains and Automobiles. Well, not quite. Aside from hopping on the tube or the sightseeing bus, what are some other great ways to travel around London? Well I'm glad you asked. Note also that the tube might not be so fab if it's rush hour and you've got your nose in the vicinity of an armpit. One that's generally yours I hasten to add. To make the best use of your time, travel in comfort and save money too, here's what I recommend. 1. TRAINS Travelling by train into and around London sounds kind of obvious, but stick with me. If you can nab someone to travel with you, then you can get an array of 2 for 1 offers courtesy of National Rail's Days Out Guide. Top tourist attractions included. Come on down, London Eye, Westminster Abbey, ZSL London Zoo, and Tower Bridge, to name a few. To qualify for the offers here's a list of valid ticket types (for example, Oyster card and Heathrow Express are no-no's). Got a particular attraction in mind? There's a search and dropdown menu including attraction type, with currently 147 attractions up for grabs in London. Also included are exhibitions, concerts, events, food and drink offers, and lots more. Register and follow the easy-peasy instructions on how to claim your offer (top right) to get your vouchers. Not heading to London yet? 2 for 1 also applies to Birmingham, Blackpool, Brighton, Liverpool, Manchester, Southend, Stratford-upon-Avon, and Scotland. 2. BOATS Escape the hustle and bustle of the streets, and the tube squeeze, to travel around London by heading onto the water. As well as guided tours you can also opt for the do-it-yourself variety by jumping aboard the river bus boats. No commentary is included. The Thames Clipper, now partnered and rebranded as the Uber Boat by Thames Clipper, offers a fabulous service on its high-speed fuel-efficient catamarans. Big windows, guaranteed comfy seats (inside or out). An onboard cafe bar serving snacks and soft and alcoholic beverages adds to the laid-back way to view the sights. It's a hop-on, hop-off service operating 7 days a week along 24 pier stops on the Thames. Savings are to be made (up to 22%) by either using a contactless or Oyster card, booking online, or via the app. If you prefer a guided tour Evergreen is offering 2 for 1 on city cruises sightseeing. 3. LIFTS AKA ELEVATORS Hey, hey, it's still a form of travel. These lifts are not only within some fab landmarks but they also transport you to some great views of London. Jump on said lift at The Shard and get ready for some ear-popping. That'll be due to the 6 metres per second whizz – cue Level 1 to Level 68 in sixty seconds. The Shard, standing at a height of 309.6 metres (1,016 ft), contains 11,000 panels of glass (which laid out would cover 8 football pitches).  Located inside are offices, residential apartments, a hotel, and a variety of restaurants and bars. The viewing platforms, the highest in London, are on the 69th and 72nd floors. The latter of which is an open sky deck where you can embrace the elements and sounds of the city. Tickets from £28 with best prices when you book 4 or more days in advance. 2 for 1 is also available on Days Out Guide. However, you could also hop out at the 32nd floor to the lounge bar and restaurant Oblix. It might not be as high as the viewing platforms but still provides pretty spectacular views. The entrance is marked 'Restaurants' and is the 3rd entrance of the Shangri-La hotel. Treat yourself to a cocktail with your saved entrance fee and spot the Walkie Talkie, Cheesegrater, and Gherkin from afar. Dress code does apply so leave the ripped jeans, gym trainers, flip flops, baseball caps, and sportswear at home. Another viewing goodie is to scoot over to the Sky Garden. Nestled within 3 floors of the Walkie Talkie and billed as London's highest public garden. Admittedly at 160 m (525 ft) high, it might not be as lofty as the Shard but still gives great views in a beautiful setting. Take advantage of free access on weekdays 10 am to 6pm and on weekends from 11am to 9pm. At times and if space permits, walk in's, (must show photographic ID and not after 5pm on weekdays), are accepted. I would, however, recommend that you book a free access ticket. Tickets have a date and timestamp and are valid for an hour. 4. CABLE CAR Cool with heights? Then another way to travel around London is to hop aboard the IFS Cloud Cable Car, which travels around 90m (295 ft) above the River Thames. Take a 10-minute jaunt between Greenwich Peninsula and Royal Docks, to get beautiful views of London's skyline, the Thames, and the O2. Nighttime and sunset trips are also on offer. For more info head on over here. 5. WALKING I love travelling on foot. Eco-friendly, fresh air, see all the nooks and crannies whilst at the same time ramping up your 10,000 steps a day. Win-win. There's a variety of walking companies but my fav is London Walks. It also has the accolade of being the oldest walking company in the w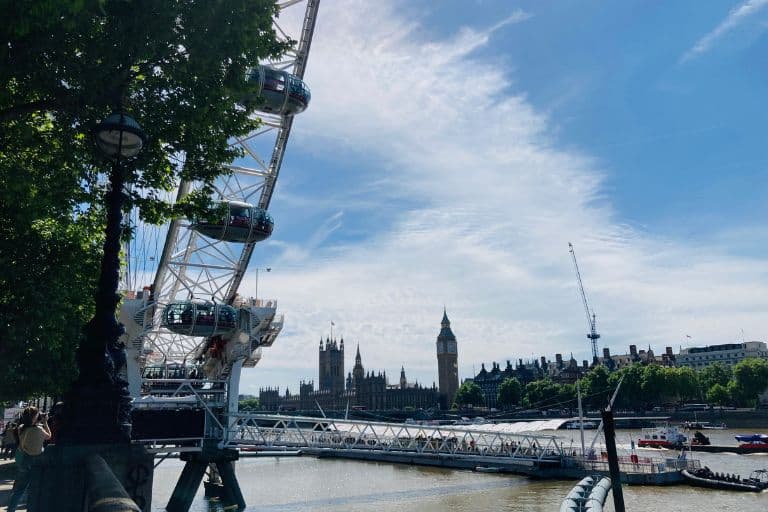 Planes, Trains and Automobiles. Well, not quite. Aside from hopping on the tube or the sightseeing bus, what are some other great ways to travel around London?
Well I'm glad you asked. Note also that the tube might not be so fab if it's rush hour and you've got your nose in the vicinity of an armpit. One that's generally yours I hasten to add.
To make the best use of your time, travel in comfort and save money too, here's what I recommend.
1. TRAINS
Travelling by train into and around London sounds kind of obvious, but stick with me. If you can nab someone to travel with you, then you can get an array of 2 for 1 offers courtesy of National Rail's Days Out Guide. Top tourist attractions included. Come on down, London Eye, Westminster Abbey, ZSL London Zoo, and Tower Bridge, to name a few.
To qualify for the offers here's a list of valid ticket types (for example, Oyster card and Heathrow Express are no-no's).
Got a particular attraction in mind? There's a search and dropdown menu including attraction type, with currently 147 attractions up for grabs in London. Also included are exhibitions, concerts, events, food and drink offers, and lots more.
Register and follow the easy-peasy instructions on how to claim your offer (top right) to get your vouchers.
Not heading to London yet? 2 for 1 also applies to Birmingham, Blackpool, Brighton, Liverpool, Manchester, Southend, Stratford-upon-Avon, and Scotland.
2. BOATS
Escape the hustle and bustle of the streets, and the tube squeeze, to travel around London by heading onto the water. As well as guided tours you can also opt for the do-it-yourself variety by jumping aboard the river bus boats. No commentary is included.
The Thames Clipper, now partnered and rebranded as the Uber Boat by Thames Clipper, offers a fabulous service on its high-speed fuel-efficient catamarans.
Big windows, guaranteed comfy seats (inside or out). An onboard cafe bar serving snacks and soft and alcoholic beverages adds to the laid-back way to view the sights. It's a hop-on, hop-off service operating 7 days a week along 24 pier stops on the Thames.
Savings are to be made (up to 22%) by either using a contactless or Oyster card, booking online, or via the app.
If you prefer a guided tour Evergreen is offering 2 for 1 on city cruises sightseeing.
3. LIFTS AKA ELEVATORS
Hey, hey, it's still a form of travel. These lifts are not only within some fab landmarks but they also transport you to some great views of London.
Jump on said lift at The Shard and get ready for some ear-popping. That'll be due to the 6 metres per second whizz – cue Level 1 to Level 68 in sixty seconds.
The Shard, standing at a height of 309.6 metres (1,016 ft), contains 11,000 panels of glass (which laid out would cover 8 football pitches).
Located inside are offices, residential apartments, a hotel, and a variety of restaurants and bars. The viewing platforms, the highest in London, are on the 69th and 72nd floors. The latter of which is an open sky deck where you can embrace the elements and sounds of the city.
Tickets from £28 with best prices when you book 4 or more days in advance. 2 for 1 is also available on Days Out Guide.
However, you could also hop out at the 32nd floor to the lounge bar and restaurant Oblix. It might not be as high as the viewing platforms but still provides pretty spectacular views. The entrance is marked 'Restaurants' and is the 3rd entrance of the Shangri-La hotel. Treat yourself to a cocktail with your saved entrance fee and spot the Walkie Talkie, Cheesegrater, and Gherkin from afar. Dress code does apply so leave the ripped jeans, gym trainers, flip flops, baseball caps, and sportswear at home.
Another viewing goodie is to scoot over to the Sky Garden. Nestled within 3 floors of the Walkie Talkie and billed as London's highest public garden. Admittedly at 160 m (525 ft) high, it might not be as lofty as the Shard but still gives great views in a beautiful setting. Take advantage of free access on weekdays 10 am to 6pm and on weekends from 11am to 9pm. At times and if space permits, walk in's, (must show photographic ID and not after 5pm on weekdays), are accepted. I would, however, recommend that you book a free access ticket. Tickets have a date and timestamp and are valid for an hour.
4. CABLE CAR
Cool with heights? Then another way to travel around London is to hop aboard the IFS Cloud Cable Car, which travels around 90m (295 ft) above the River Thames. Take a 10-minute jaunt between Greenwich Peninsula and Royal Docks, to get beautiful views of London's skyline, the Thames, and the O2.
Nighttime and sunset trips are also on offer. For more info head on over here.
5. WALKING
I love travelling on foot. Eco-friendly, fresh air, see all the nooks and crannies whilst at the same time ramping up your 10,000 steps a day. Win-win.
There's a variety of walking companies but my fav is London Walks. It also has the accolade of being the oldest walking company in the world. No need to pay in advance just pre-book your walk and you're good to go.
They offer over 500 guided walks around London, each lasting around 2 hours. Operating morning, afternoon, or evening, come rain or shine. Jack the Ripper, Ghost Walks, Pub Walks, Classic London and Village London, are just some of the most popular tours.
Guides are from all walks of life and include thespians, a criminal defence lawyer, a composer, and a museum curator. They know London and will draw you in with their insider stories and engaging delivery.
6. BIKE
Travel around London on two wheels? Not just any old two wheels mind you, these are Brit bikes at their best. Vintage (and rather cute) Pashley bicycles, with the added option of popping a wicker basket on the front to make them even cuter. A wee fact, Pashley Cycles founded in 1926, is also England's longest established bicycle manufacturer.
With a company name like Tally Ho, your passionate, fun, and informative tour guides for this adventure fit the bill. Plus they're normally decked in some kind of hat attire. You too have the option of a helmet or a tweed cap. Go you.
Did I mention that their 3.5 hour, London Landmarks and Secret Gems bike tour also includes a stop at a 399 year old pub for refreshments?
For those Gin lovers, check out their London Gin Safari.
7. LONDON DUCK TOURS
Yep, you read that correctly. If you want to combine road with water, then the amphibious London Duck Tours is the way to go. The Ducks, originally used in the Second World War, have been completely rebuilt and modified to comply with strict safety regulations. Due to losing access to their slipway, tours are on hold at the moment but there's an update due on events for this year.
So there you have it, my 7 great ways to travel around London. If you're itching to jump on a plane and head further afield, may I suggest The Best Solo Trips for Women.
Right, I'm thinking that my favourite way to travel around London is on one of those cute Pashley bicycles. How about you?