7 Female K-Pop Idols Who Look Stunning In The Hime Cut
Guess / JYP Entertainment / CUBE Entertainment Not only do K-Pop idols need to perform well on stage, but they also need to look good while doing it. That's where stylists come in, dressing our favorite idol groups in hip and trendy clothing in order to enhance their already breathtaking visuals. And sometimes, they look so good in a certain outfit or hairstyle that they become absolutely iconic. That's exactly what happened to some idols who donned on the hime cut. The hime cut, also known as the princess cut, is a trendy Japanese hairstyle which is defined by long hair in the back and blunt, usually cheek-length sides. This particular hairstyle has come and gone over the years, but the wearers have always become a hot topic once they go public with their new haircut. Now, let's take a look at some female idols who look absolutely stunning in the hime cut! TWICE's Official Instagram When TWICE's Momo first came out with this hairstyle, fans everywhere went wild with excitement. Many raved on social media sites that she pulled off this styling to perfection, as if she were destined to have it. Not even we can deny how amazing Momo looks with this iconic look. SM Entertainment The Red Velvet leader already exuded an aura that screamed royalty. Although, when she came out with the hime cut, that energy was multiplied tenfold and fans could not stop talking about it! We knew that Irene possessed an overflowing elegance, but coupled with the hime cut, there is absolutely no end! Cube Entertainment Main vocalist, jaw-dropping visual, and sometimes part-time comedian — MiYeon is a multi-talented queen. It seems only fitting that she tried on the hime cut at least once in her career. The styling of the hime cut accentuated her face shape and upgraded her looks to the next level. We must warn you: one glance and you might catch yourself falling for the talented vocalist. NewJeans' Official Instagram While many idols who wear the hime cut emit a royal elegance, HaeRin's cuteness is enhanced and overflows from head to toe. And using that innate cuteness is not a bad thing. She rocks the hairstyle in her own way, proving that the trend is timeless and can be worn at any age. WM Entertainment Rappers are known to be trendy and fashionable, but the word 'princess' is not usually associated with them, even for female rappers! However, OH MY GIRL's Mimi says differently. With the hime cut, she maintains the swag of a rapper while also showcasing an upgraded beauty. Many netizens commented how natural Mimi looked with the hairstyle, as if she were born to wear it! Gyuri's Official Instagram When KARA made their comeback for their 15th anniversary, many became speechless upon seeing Gyuri in a hime cut. Although she hails from the second generation of K-Pop idols, she shows that her visuals are timeless and that she can still pull off anything. There's a reason why one of her nicknames is "Goddess", a title that remains true to this day. Guess As if she wasn't gorgeous enough, Suzy enhanced her visuals even further after donning on the fashionable hime cut. No matter how she styles it, she gives off complete princess vibes that radiates from head to toe. With visuals like that, it's understandable why she was given the title of "Nation's First Love". Which idol do you think looks best in the hime cut? Let us know in the comments! 0 0 votes Rating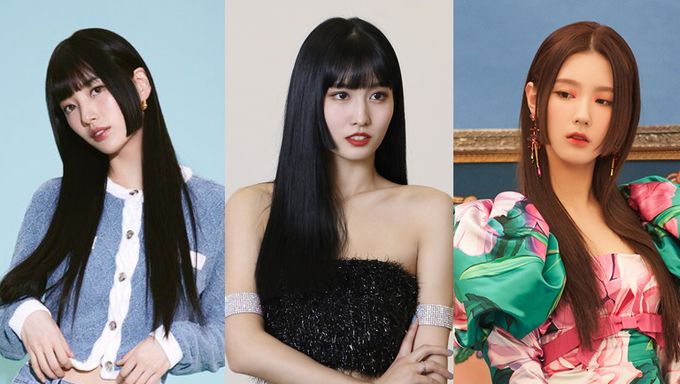 Not only do K-Pop idols need to perform well on stage, but they also need to look good while doing it. That's where stylists come in, dressing our favorite idol groups in hip and trendy clothing in order to enhance their already breathtaking visuals. And sometimes, they look so good in a certain outfit or hairstyle that they become absolutely iconic.
That's exactly what happened to some idols who donned on the hime cut. The hime cut, also known as the princess cut, is a trendy Japanese hairstyle which is defined by long hair in the back and blunt, usually cheek-length sides. This particular hairstyle has come and gone over the years, but the wearers have always become a hot topic once they go public with their new haircut.
Now, let's take a look at some female idols who look absolutely stunning in the hime cut!
When TWICE's Momo first came out with this hairstyle, fans everywhere went wild with excitement. Many raved on social media sites that she pulled off this styling to perfection, as if she were destined to have it. Not even we can deny how amazing Momo looks with this iconic look.
The Red Velvet leader already exuded an aura that screamed royalty. Although, when she came out with the hime cut, that energy was multiplied tenfold and fans could not stop talking about it! We knew that Irene possessed an overflowing elegance, but coupled with the hime cut, there is absolutely no end!
Main vocalist, jaw-dropping visual, and sometimes part-time comedian — MiYeon is a multi-talented queen. It seems only fitting that she tried on the hime cut at least once in her career. The styling of the hime cut accentuated her face shape and upgraded her looks to the next level. We must warn you: one glance and you might catch yourself falling for the talented vocalist.
While many idols who wear the hime cut emit a royal elegance, HaeRin's cuteness is enhanced and overflows from head to toe. And using that innate cuteness is not a bad thing. She rocks the hairstyle in her own way, proving that the trend is timeless and can be worn at any age.
Rappers are known to be trendy and fashionable, but the word 'princess' is not usually associated with them, even for female rappers! However, OH MY GIRL's Mimi says differently. With the hime cut, she maintains the swag of a rapper while also showcasing an upgraded beauty. Many netizens commented how natural Mimi looked with the hairstyle, as if she were born to wear it!
When KARA made their comeback for their 15th anniversary, many became speechless upon seeing Gyuri in a hime cut. Although she hails from the second generation of K-Pop idols, she shows that her visuals are timeless and that she can still pull off anything. There's a reason why one of her nicknames is "Goddess", a title that remains true to this day.
As if she wasn't gorgeous enough, Suzy enhanced her visuals even further after donning on the fashionable hime cut. No matter how she styles it, she gives off complete princess vibes that radiates from head to toe. With visuals like that, it's understandable why she was given the title of "Nation's First Love".
Which idol do you think looks best in the hime cut? Let us know in the comments!