6 Fantastic Annuals to Grow From Seed in the Northwest
There was a time when I used to eagerly await the arrival of seed catalogs in the mail each winter. Then I'd sit in the window and fold down the page edges after marking the packets I wanted with a highlighter. Now I do all my ordering on the internet, but my mission is still the same—to line up my planting menu for my vegetable garden for the year. I especially love to try new things, so besides tried-and-true varieties, edibles such as odd pumpkins and cool tomatoes like 'Dark Galaxy' also make it onto my shopping list. A few years ago, I added flowering annual seeds to my order when I had some extra space to fill. I tossed the flower seeds into the garden and pretty much ignored them—until I noticed them blooming. Wow! It was an incredible show for very little effort. That was the beginning of my love for growing flowers from seed. Here are six of my favorite flowering annuals to grow from seed. They are easy to grow in the Northwest and can easily fit into the vegetable garden or a mixed border. They can all be started indoors under lights or on a windowsill and be ready to put into the garden after the last frost has passed. If you start the seeds in late winter or early spring, using a cold frame can help the transition between indoors and outdoors. Photo: Jennifer Benner 1. Sweet peas are wonderfully colorful flowering vines that can be directly sown in spring Sweet peas (Lathyrus odoratus cvs.) are one of my favorite annual vines. They can be directly sown in the ground even in the coldest spring, started indoors, and moved out early in the spring, or planted as fall seedlings. Soak the seeds in water overnight before sowing, and keep them moist as you wait for them to sprout. Germination takes about 14 days. Provide full sun to partial shade and support for the vines. Also, keep the pods picked and they will bloom throughout the year until a hard frost. I grow mine on a big trellis with a species rose (Rosa sp., Zones 2–8). The sweet peas are great for covering the trellis after the rose is finished blooming in June. This year my sweet peas of choice were a solid blue container variety called 'Electric Blue' that only grows 3 to 4 feet tall, and a taller variety called 'Blue Streamer' with incredible frosted-blue blooms streaked with white stripes and spots. 2. 'Kilimanjaro White' marigold helps repel insects and looks beautiful in the garden 'Kilimanjaro White' marigold (Tagetes erecta 'Kilimanjaro White') is a fairly large flowering annual that is more than just another pretty flower. As a marigold, it is known to attract beneficial insects and repel cabbage-worm moths and mosquitos. The lovely 2-inch-diameter creamy white blooms are striking on 18-inch-tall plants and can be picked and enjoyed inside. Rather than starting the seeds indoors, I like to sow them directly in my vegetable bed. Place them in full sun and good, moist soil, and protect them from slugs when they are young seedlings. After flowering, the developed seeds can be saved at the end of the season and used again the next spring. 'Queeny Lime Blush' zinnia. Photo: Susan Calhoun 3. 'Queeny Lime Blush' zinnia provides a riot of color in the garden and in a vase If you are looking for a gorgeous cut flower, look no further than 'Queeny Lime Blush' zinnia (Zinnia elegans 'Queeny Lime Blush'). The flowers are without parallel, reblooming and sturdy, and are a great addition to mixed bouquets or all together alone in a vase. 'Queeny Lime Blush' grows to 25 inches tall and provides a riot of color on each fully double bloom with lime-green to red ombre petals and a beautiful red center. The seeds can be started early indoors or sown directly after the last frost. Just be sure to give them full sun and good, moist soil as well as slug protection as the seedlings mature. Honeywort. Photo: Jennifer Benner 4. 'Pride of Gibraltar' honeywort offers unique blooms that benefit bees and butterflies 'Pride of Gibraltar' honeywort (Cerinthe major 'Pride of Gibraltar') is a fascinating annual. The rangy stems sprout up without much help and will reseed. The flowers, indigo-violet bells, hang from bronzy blue bracts above gray-green leaves. The plants can be 24 to 30 inches tall and are great in a garden setting with full sun to partial shade. The flowers are also excellent in bouquets. The seeds can just be shallowly placed and covered over with a little soil. I like honeywort at the corners of my veggie beds because they spill nicely over the raised blocks. The flowers also attract bees and butterflies. 5. 'Royal Flush' sunflower is wildly fun with different-colored blooms on the same plant No garden is complete without sunflowers (Helianthus annuus cvs.). I have grown several varieties, but 'Royal Flush' is my new favorite. This wildly fun selection has various colors on the same plant—resulting in the feeling that you are getting numerous plants for the price of one. The bronze-yellow, orange, and sunny yellow blooms grow on strong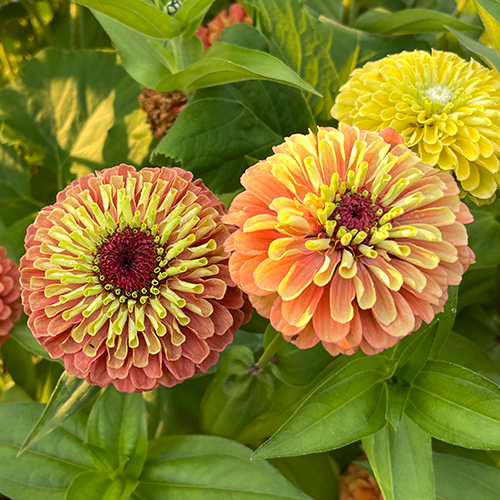 There was a time when I used to eagerly await the arrival of seed catalogs in the mail each winter. Then I'd sit in the window and fold down the page edges after marking the packets I wanted with a highlighter. Now I do all my ordering on the internet, but my mission is still the same—to line up my planting menu for my vegetable garden for the year. I especially love to try new things, so besides tried-and-true varieties, edibles such as odd pumpkins and cool tomatoes like 'Dark Galaxy' also make it onto my shopping list. A few years ago, I added flowering annual seeds to my order when I had some extra space to fill. I tossed the flower seeds into the garden and pretty much ignored them—until I noticed them blooming. Wow! It was an incredible show for very little effort. That was the beginning of my love for growing flowers from seed.
Here are six of my favorite flowering annuals to grow from seed. They are easy to grow in the Northwest and can easily fit into the vegetable garden or a mixed border. They can all be started indoors under lights or on a windowsill and be ready to put into the garden after the last frost has passed. If you start the seeds in late winter or early spring, using a cold frame can help the transition between indoors and outdoors.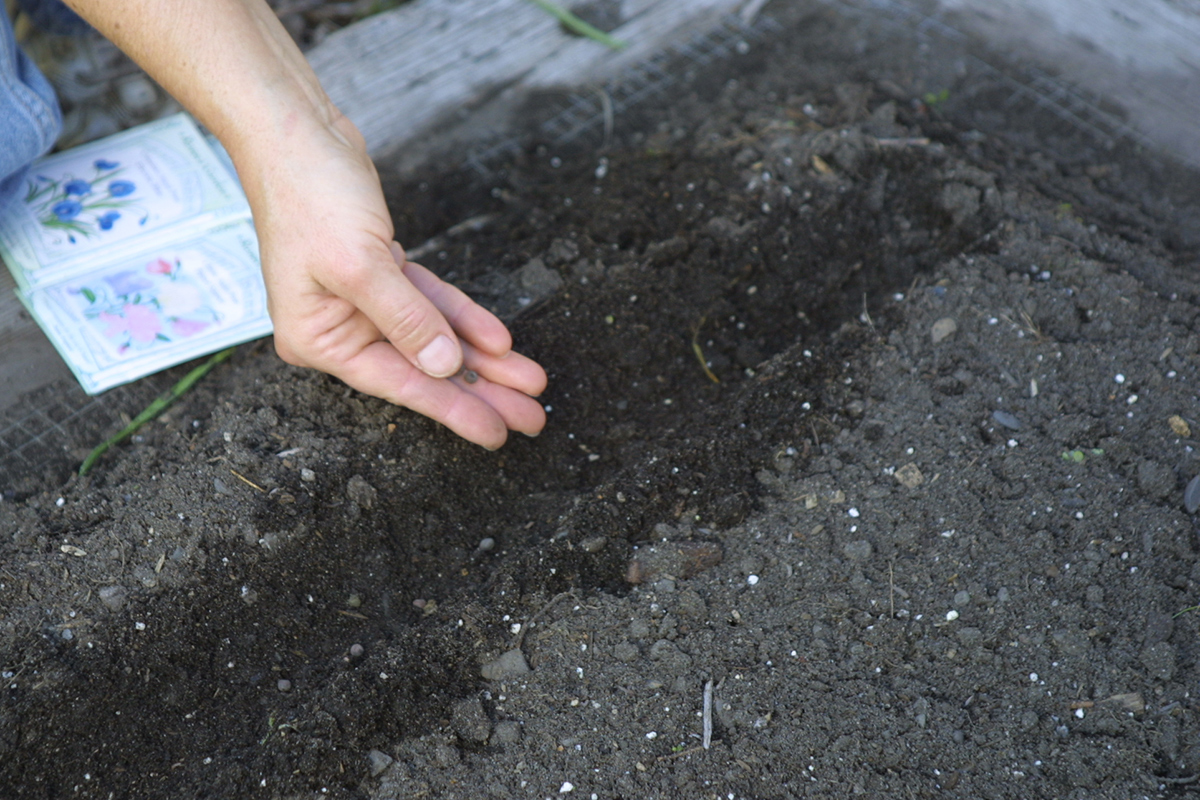 1. Sweet peas are wonderfully colorful flowering vines that can be directly sown in spring
Sweet peas (Lathyrus odoratus cvs.) are one of my favorite annual vines. They can be directly sown in the ground even in the coldest spring, started indoors, and moved out early in the spring, or planted as fall seedlings. Soak the seeds in water overnight before sowing, and keep them moist as you wait for them to sprout. Germination takes about 14 days. Provide full sun to partial shade and support for the vines. Also, keep the pods picked and they will bloom throughout the year until a hard frost. I grow mine on a big trellis with a species rose (Rosa sp., Zones 2–8). The sweet peas are great for covering the trellis after the rose is finished blooming in June. This year my sweet peas of choice were a solid blue container variety called 'Electric Blue' that only grows 3 to 4 feet tall, and a taller variety called 'Blue Streamer' with incredible frosted-blue blooms streaked with white stripes and spots.
2. 'Kilimanjaro White' marigold helps repel insects and looks beautiful in the garden
'Kilimanjaro White' marigold (Tagetes erecta 'Kilimanjaro White') is a fairly large flowering annual that is more than just another pretty flower. As a marigold, it is known to attract beneficial insects and repel cabbage-worm moths and mosquitos. The lovely 2-inch-diameter creamy white blooms are striking on 18-inch-tall plants and can be picked and enjoyed inside. Rather than starting the seeds indoors, I like to sow them directly in my vegetable bed. Place them in full sun and good, moist soil, and protect them from slugs when they are young seedlings. After flowering, the developed seeds can be saved at the end of the season and used again the next spring.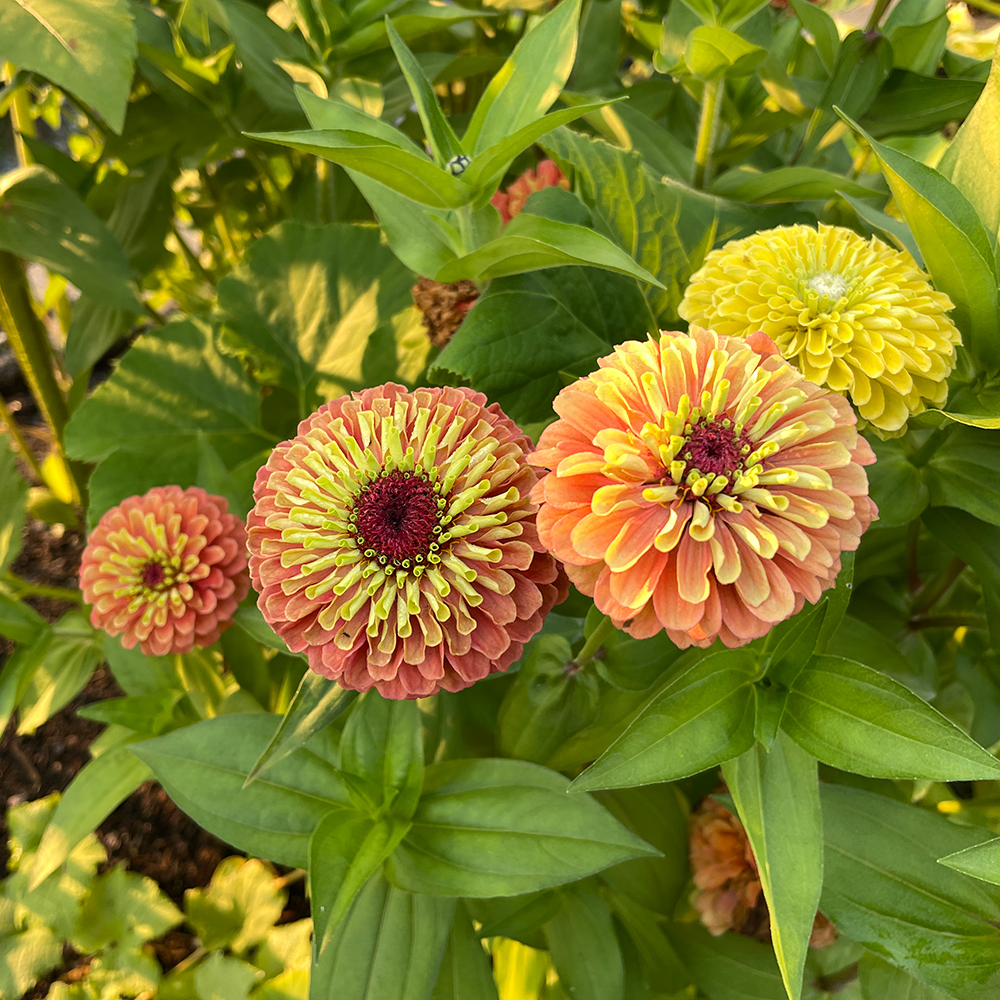 3. 'Queeny Lime Blush' zinnia provides a riot of color in the garden and in a vase
If you are looking for a gorgeous cut flower, look no further than 'Queeny Lime Blush' zinnia (Zinnia elegans 'Queeny Lime Blush'). The flowers are without parallel, reblooming and sturdy, and are a great addition to mixed bouquets or all together alone in a vase. 'Queeny Lime Blush' grows to 25 inches tall and provides a riot of color on each fully double bloom with lime-green to red ombre petals and a beautiful red center. The seeds can be started early indoors or sown directly after the last frost. Just be sure to give them full sun and good, moist soil as well as slug protection as the seedlings mature.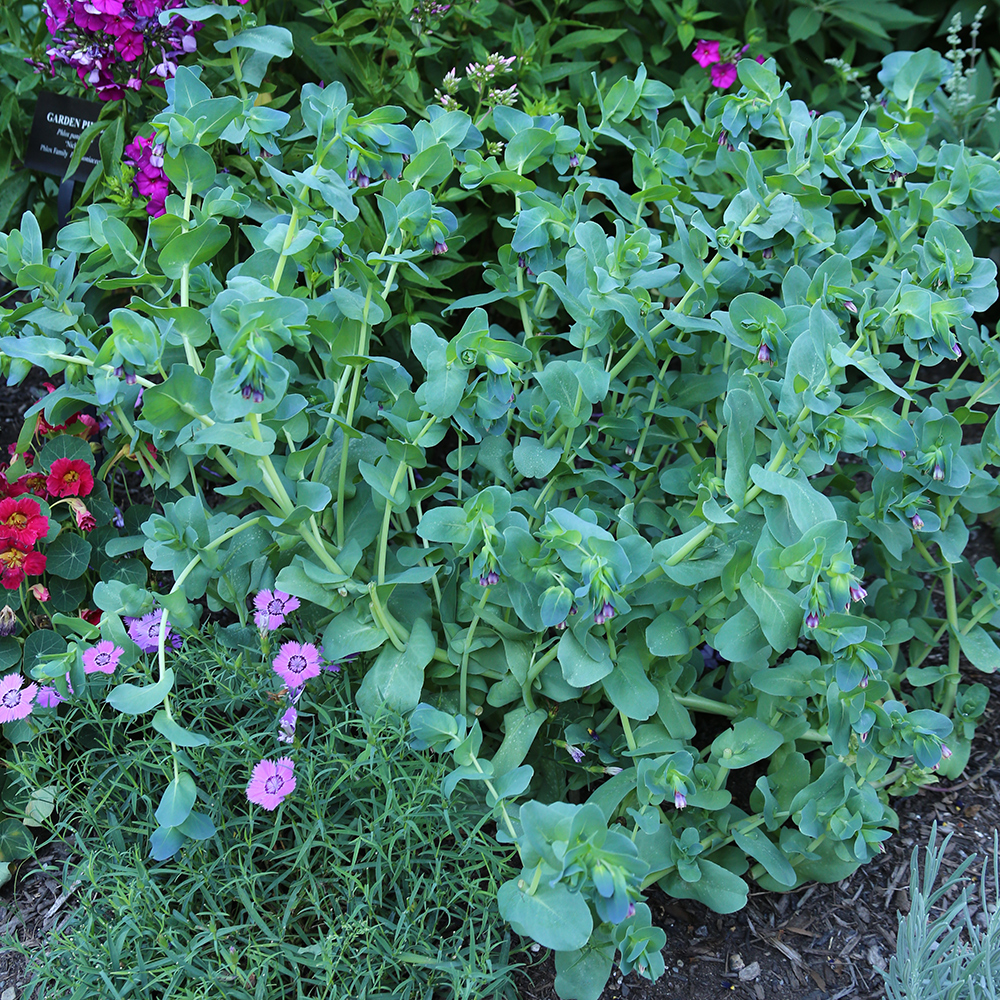 4. 'Pride of Gibraltar' honeywort offers unique blooms that benefit bees and butterflies
'Pride of Gibraltar' honeywort (Cerinthe major 'Pride of Gibraltar') is a fascinating annual. The rangy stems sprout up without much help and will reseed. The flowers, indigo-violet bells, hang from bronzy blue bracts above gray-green leaves. The plants can be 24 to 30 inches tall and are great in a garden setting with full sun to partial shade. The flowers are also excellent in bouquets. The seeds can just be shallowly placed and covered over with a little soil. I like honeywort at the corners of my veggie beds because they spill nicely over the raised blocks. The flowers also attract bees and butterflies.
5. 'Royal Flush' sunflower is wildly fun with different-colored blooms on the same plant
No garden is complete without sunflowers (Helianthus annuus cvs.). I have grown several varieties, but 'Royal Flush' is my new favorite. This wildly fun selection has various colors on the same plant—resulting in the feeling that you are getting numerous plants for the price of one. The bronze-yellow, orange, and sunny yellow blooms grow on strong stems that reach up to 5 to 6 feet tall in full sun and moist soil. The seeds can be sown directly after the last frost. As with the other annuals, be sure to protect the young seedlings from slugs and birds.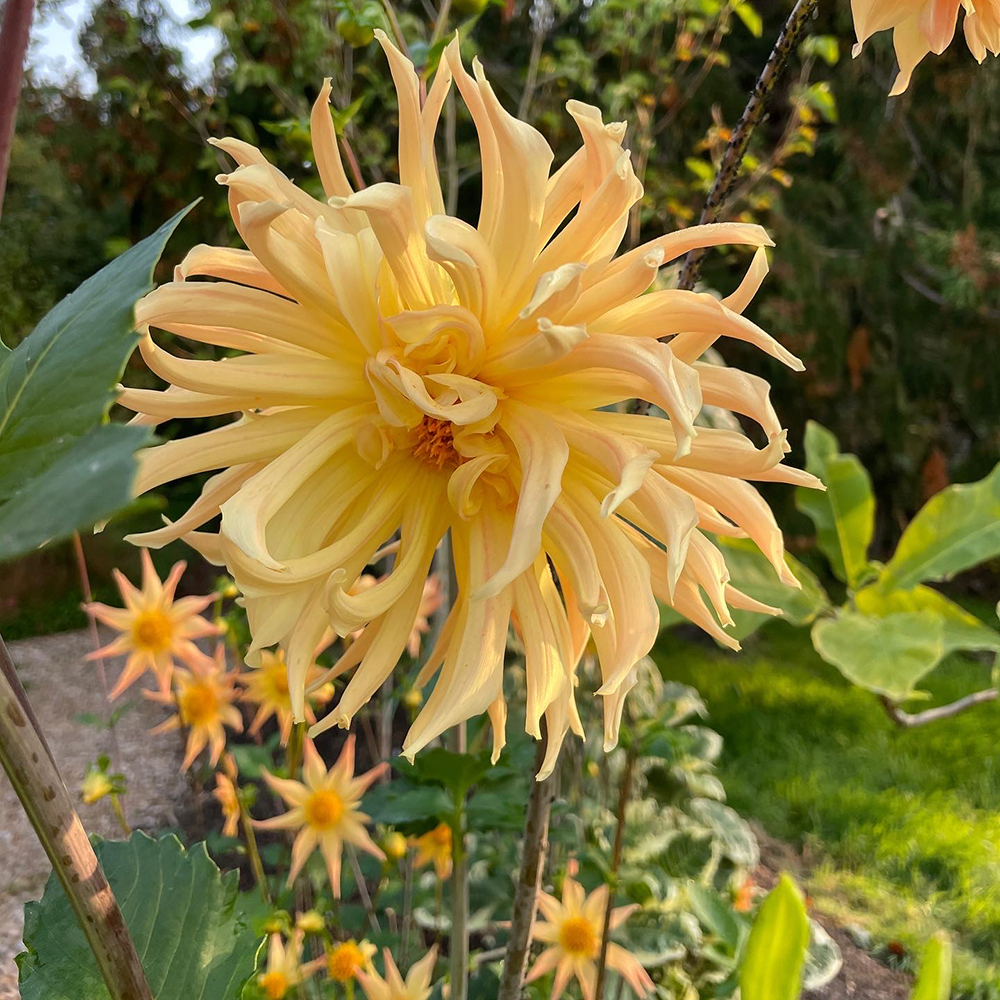 6. Dahlias from seed cost less for the same big, beautiful blooms
I'm a huge fan of dahlias (Dahlia spp. and cvs., Zones 8–11) and have been buying and growing them as potted plants or tubers for years. Last year I decided (on a fluke) to try starting dahlias from seed. Among my early experiments was a cactus-flowered mix from Baker Creek Heirloom Seeds. I started the seeds indoors 4 to 6 weeks before the last frost. I grew them in my greenhouse and then put them in my cold frame to harden off. They looked a little gangly, so I pinched them back a little. They didn't look great when I put them in the ground, but I tossed some slug bait around them and left them to fend for themselves. I wandered by the bed a week later with a couple of stakes to help them along. By the end of the summer the plants were amazing—5 feet tall with loads of blooms on good strong stems. They looked every bit as lovely as the tubers I overwintered from the previous year and planted at the same time. The added benefit was that I could choose the ones I loved and dig the tuber for next year.
When starting any plants from seed, check the seed packet for the growing instructions for both in-ground and inside. This approach is an incredibly easy and inexpensive way to test out new plants and discover new favorites for your garden. If you have never tried growing flowers from seed, I encourage you to try it. I didn't think I had the patience or focus to watch over tiny seedlings. I was wrong, and it's really fun. Just be careful—it can be addictive.