2008 Mr. Olympia, 2012 Masters Olympia Dexter Jackson Looks Jacked in New Training Clips
Jackson still looks like he could shine on stage. Written by Robert Zeglinski Last updated on March 13, 2023Most know Dexter Jackson for his Mr. Olympia victory in 2008. However, the bodybuilder is widely renowned as one of the greatest bodybuilders in the history of the sport. For over 20 years, from 1999 to his retirement after the 2020 Mr. Olympia, Jackson was a prolific competitor. Judging by some recent training clips, the 53-year-old has still got his muscle-building mojo. On Mar. 11, 2023, Jackson posted an Instagram video of himself working through an assortment of arm workouts, including a variety of biceps curls and triceps pushdowns. Just two days later, Jackson shared another clip where he performs various back movements, including seated cable rows and dumbbell rows. It is unclear if both videos were filmed the same day, but Jackson has an identical outfit adorned in each recording. Either way, they showcase a ripped Jackson seemingly powering through his training as he once did in his heyday. More from Breaking Muscle: It'd be impossible to parse any serious competitive intentions from two tidbits of Jackson getting after it in the gym, but his videos could be related to a pending comeback. With the 2023 Masters Olympia returning this late summer in Romania, the now-older Jackson would qualify for the hallowed contest. Notably, Jackson won the 2012 Masters Olympia — the last time the competition was held before its upcoming return. A potentially lucrative prize would await Jackson were he to make a competitive comeback at the 2023 Masters Olympia. In late February 2023, the contest's organizing body revealed that the overall prize purse would be $229,000. Jackson would also potentially not be the only older established athlete, past or current, to feature in the competition. Due to a younger age, seven-time Olympia winner Phil Heath must wait for at least two iterations, but former 212 Olympia champion (2019) Kamal Elgargni has stated his interest in potentially aiming for the Masters crown at 51 years old. Regardless of his coming steps, Jackson's overall resume has stood the test of time. In the late-2000s, Dexter Jackson shocked the bodybuilding world. After the end of Ronnie Coleman's mostly unprecedented Mr. Olympia dynasty run, Jay Cutler looked poised to follow in his footsteps. As Cutler vied for a third consecutive title in 2008, the then-three-time Arnold Classic (AC) champion (2005-2006, 2008) Jackson would topple the defending Olympia king. Jackson rising to the top of bodybuilding right as a new "Hulk" emerged might be one of the more legendary Olympia victories in the competition's history. To this day, "The Blade" is one of only four bodybuilders who have ever won at least one AC and the Olympia. The others are Coleman, Cutler, and Brandon Curry. Jackson is also the only bodybuilder to win the AC, Mr. Olympia, and Masters Olympia titles. Here's an overview of the main achievements from Jackson's competitive career: Dexter Jackson | Career Highlights Arnold Classic champion: (2005-2006, 2008, 2013, 2015) — The record for the most AC wins Mr. Olympia champion: (2008) Masters Olympia champion: (2012) More from Breaking Muscle: Even if Jackson doesn't return to a stage, it's probably not surprising to see him continue to crush it with weights in hand. Icons like Jackson may retire from formal competition, but that doesn't mean the fire to improve ever goes away. Featured image: @mrolympia08 on Instagram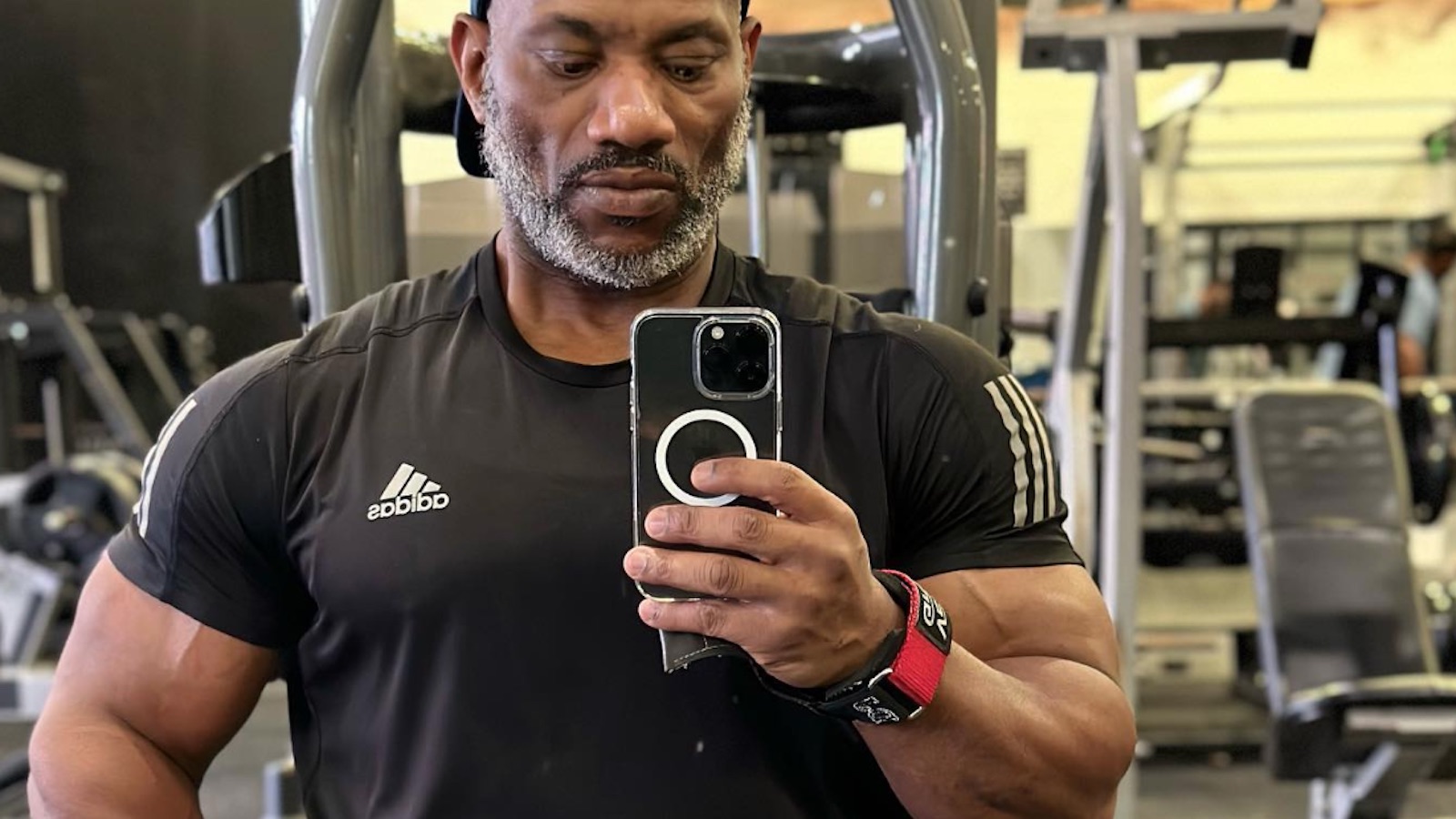 Most know Dexter Jackson for his Mr. Olympia victory in 2008. However, the bodybuilder is widely renowned as one of the greatest bodybuilders in the history of the sport. For over 20 years, from 1999 to his retirement after the 2020 Mr. Olympia, Jackson was a prolific competitor. Judging by some recent training clips, the 53-year-old has still got his muscle-building mojo.
On Mar. 11, 2023, Jackson posted an Instagram video of himself working through an assortment of arm workouts, including a variety of biceps curls and triceps pushdowns. Just two days later, Jackson shared another clip where he performs various back movements, including seated cable rows and dumbbell rows. It is unclear if both videos were filmed the same day, but Jackson has an identical outfit adorned in each recording. Either way, they showcase a ripped Jackson seemingly powering through his training as he once did in his heyday.
It'd be impossible to parse any serious competitive intentions from two tidbits of Jackson getting after it in the gym, but his videos could be related to a pending comeback. With the 2023 Masters Olympia returning this late summer in Romania, the now-older Jackson would qualify for the hallowed contest. Notably, Jackson won the 2012 Masters Olympia — the last time the competition was held before its upcoming return.
A potentially lucrative prize would await Jackson were he to make a competitive comeback at the 2023 Masters Olympia. In late February 2023, the contest's organizing body revealed that the overall prize purse would be $229,000. Jackson would also potentially not be the only older established athlete, past or current, to feature in the competition. Due to a younger age, seven-time Olympia winner Phil Heath must wait for at least two iterations, but former 212 Olympia champion (2019) Kamal Elgargni has stated his interest in potentially aiming for the Masters crown at 51 years old.
Regardless of his coming steps, Jackson's overall resume has stood the test of time.
In the late-2000s, Dexter Jackson shocked the bodybuilding world. After the end of Ronnie Coleman's mostly unprecedented Mr. Olympia dynasty run, Jay Cutler looked poised to follow in his footsteps. As Cutler vied for a third consecutive title in 2008, the then-three-time Arnold Classic (AC) champion (2005-2006, 2008) Jackson would topple the defending Olympia king. Jackson rising to the top of bodybuilding right as a new "Hulk" emerged might be one of the more legendary Olympia victories in the competition's history.
To this day, "The Blade" is one of only four bodybuilders who have ever won at least one AC and the Olympia. The others are Coleman, Cutler, and Brandon Curry. Jackson is also the only bodybuilder to win the AC, Mr. Olympia, and Masters Olympia titles. Here's an overview of the main achievements from Jackson's competitive career:
Dexter Jackson | Career Highlights
Arnold Classic champion: (2005-2006, 2008, 2013, 2015) — The record for the most AC wins
Mr. Olympia champion: (2008)
Masters Olympia champion: (2012)
Even if Jackson doesn't return to a stage, it's probably not surprising to see him continue to crush it with weights in hand. Icons like Jackson may retire from formal competition, but that doesn't mean the fire to improve ever goes away.