15 Romantic Date Ideas in Los Angeles
Looking for some romantic date ideas in Los Angeles? We got you! The City of Angels has plenty of places for the perfect date whether you're looking for laid back couples activities in Los Angeles, an idea for a first date, or for a ten year anniversary with your spouse, there are lots of romantic date ideas in Los Angeles. From upscale restaurants to interesting activities, and just getting out and exploring the city, there are a variety of entertaining date ideas. You can dazzle your date with an array of charming places and adventures in the city. Continue reading to find out about some of the best date spots in LA! Disclaimer: This post contains affiliate links. Best Date Spots in LA Yamashiro Hollywood Editorial credit: Kit Leong 1999 N Sycamore Ave Nestled in the Hollywood Hills Hotel is Yamashiro, an upscale Asian fusion restaurant that offers some of the best views in Los Angeles. Once you step inside, the marvelous architecture and peaceful atmosphere will make you feel like you've been transported out of Los Angeles. You'll be surrounded by serene gardens and an eye-catching koi pond while you dine on sushi and specialty cocktails. There is a business casual dress code, so you'll need to break out your fancy attire when you visit this date spot in Los Angeles. Mulholland Drive There's something very calming about driving along a winding road with music playing and the windows down. If that sounds like a good time to you, cruising out to Mulholland Drive is a perfect romantic date idea in Los Angeles. You'll cruise up into the Hollywood Hills, where there will be many scenic overlooks to stop and catch glimpses of the city down below. During the day, the Universal City Overlook and the Stone Canyon Overlook are great places to take in the view. When it turns dark, the Jerome C. Daniel Overlook is the perfect spot to look down at the lights of the city. Driving along Mulholland Drive is a great choice for a relaxing date night in Los Angeles. Visiting Los Angeles and don't have a car? Don't worry! You can still enjoy this romantic date spot in Los Angeles by booking a private 3-hour tour in an SUV with a guide to epic spots like Mullholland Drive! Better yet, since this tour is private they will customize it to hit up several spots you were hoping to see during your visit! Book here. Spire 73 If you're looking to impress your date, make a reservation at Spire 73 for a dazzling date night in Los Angeles. Situated in the InterContinental Los Angeles Downtown Hotel, on the 73rd floor, this restaurant's claim to fame is that it has the highest rooftop bar in the Western Hemisphere. You'll have amazing views of the city while you dine on appetizers and crafted cocktails in a cool and modern atmosphere. Before going, you'll want to ensure you make a reservation and wear business casual attire. As long as you're both not afraid of heights, this is one of the best date spots in LA. Swan Boats at Echo Lake Park If being out on the water is your idea of a fun date, checking out the Swan Boats at Echo Lake Park should be on your list! You and your date can hop aboard one of the famous swan pedal boats while exploring the lotus beds and fountain on the lake, as well as taking in the surrounding scenery. For a more romantic date idea in Los Angeles, come here at night. The Swan Boats light up when it gets dark, so you and your date will have a warm glow adding to the ambiance while you peddle together around the lake. You will need to reserve a Swan Boat in advance, so be sure to book before embarking on this fantastic couples activity in Los Angeles! Japanese Garden For a cute day date idea and one of the most romantic things to do in Los Angeles, scope out the idyllic Japanese Garden. Spread out on 6 ½ acres, a dry Zen meditation garden, a "wet-strolling" garden, and a tea garden comprise the overall Japanese Garden. You can make your way through the gardens, and take in the serene and peaceful atmosphere. There is no fee for admission, but reservations are required and a reservation will get you a one hour time slot. For some quality time together, the Japanese Garden is one of the best date spots in LA. Picnic at El Matador State Beach A picnic at the beach is, perhaps, one of the best romantic date ideas in Los Angeles. El Matador State Beach in Malibu is ideal for this date idea, because it has picnic tables that overlook the Pacific Ocean, and the actual beach is a short trail walk away. Not to mention this is one of the best beaches in Los Angeles. For a great day date, drive out to Malibu, while enjoying the scenic Pacific Coast Highway. Stop in at Vintage Grocers to pick up some cheese and charcuterie, a bottle of wine (secretly, wink wink), and then make your way over to El Matador State Beach. Then you've got the perfect picnic by the ocean! Getty Villa Editorial credit: Roka / Shutterstock The Getty Villa is one of the best date spots in LA for a great day outin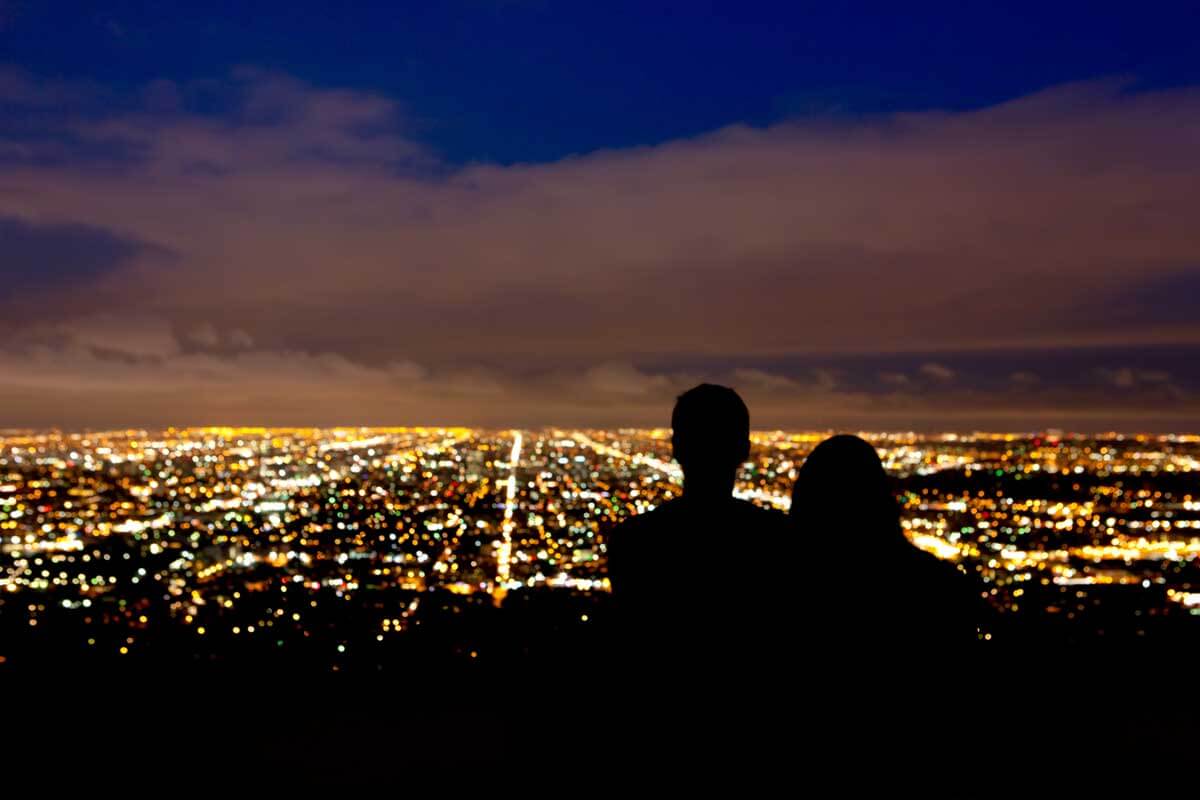 Looking for some romantic date ideas in Los Angeles? We got you! The City of Angels has plenty of places for the perfect date whether you're looking for laid back couples activities in Los Angeles, an idea for a first date, or for a ten year anniversary with your spouse, there are lots of romantic date ideas in Los Angeles.
From upscale restaurants to interesting activities, and just getting out and exploring the city, there are a variety of entertaining date ideas. You can dazzle your date with an array of charming places and adventures in the city. Continue reading to find out about some of the best date spots in LA!
Disclaimer: This post contains affiliate links.
Best Date Spots in LA
Yamashiro Hollywood
1999 N Sycamore Ave
Nestled in the Hollywood Hills Hotel is Yamashiro, an upscale Asian fusion restaurant that offers some of the best views in Los Angeles. Once you step inside, the marvelous architecture and peaceful atmosphere will make you feel like you've been transported out of Los Angeles.
You'll be surrounded by serene gardens and an eye-catching koi pond while you dine on sushi and specialty cocktails. There is a business casual dress code, so you'll need to break out your fancy attire when you visit this date spot in Los Angeles.
Mulholland Drive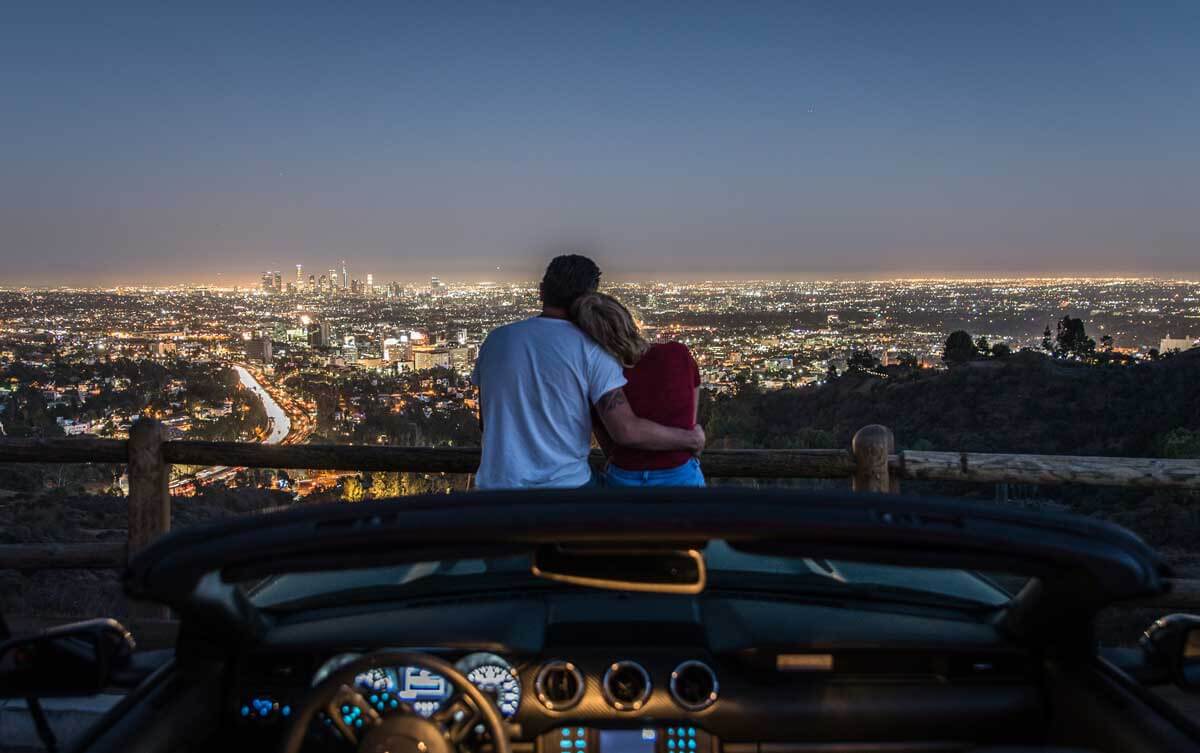 There's something very calming about driving along a winding road with music playing and the windows down. If that sounds like a good time to you, cruising out to Mulholland Drive is a perfect romantic date idea in Los Angeles.
You'll cruise up into the Hollywood Hills, where there will be many scenic overlooks to stop and catch glimpses of the city down below. During the day, the Universal City Overlook and the Stone Canyon Overlook are great places to take in the view.
When it turns dark, the Jerome C. Daniel Overlook is the perfect spot to look down at the lights of the city. Driving along Mulholland Drive is a great choice for a relaxing date night in Los Angeles.
Visiting Los Angeles and don't have a car? Don't worry! You can still enjoy this romantic date spot in Los Angeles by booking a private 3-hour tour in an SUV with a guide to epic spots like Mullholland Drive! Better yet, since this tour is private they will customize it to hit up several spots you were hoping to see during your visit! Book here.
Spire 73
If you're looking to impress your date, make a reservation at Spire 73 for a dazzling date night in Los Angeles. Situated in the InterContinental Los Angeles Downtown Hotel, on the 73rd floor, this restaurant's claim to fame is that it has the highest rooftop bar in the Western Hemisphere.
You'll have amazing views of the city while you dine on appetizers and crafted cocktails in a cool and modern atmosphere.
Before going, you'll want to ensure you make a reservation and wear business casual attire. As long as you're both not afraid of heights, this is one of the best date spots in LA.
Swan Boats at Echo Lake Park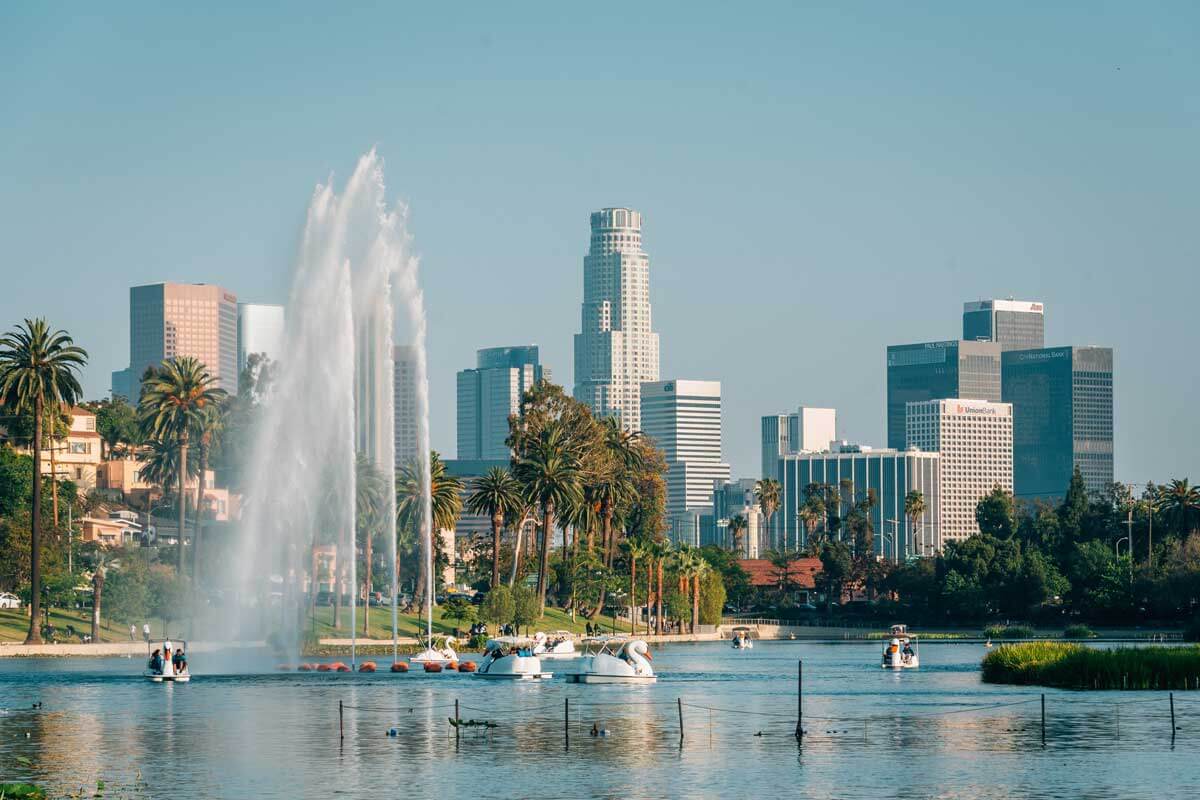 If being out on the water is your idea of a fun date, checking out the Swan Boats at Echo Lake Park should be on your list! You and your date can hop aboard one of the famous swan pedal boats while exploring the lotus beds and fountain on the lake, as well as taking in the surrounding scenery.
For a more romantic date idea in Los Angeles, come here at night. The Swan Boats light up when it gets dark, so you and your date will have a warm glow adding to the ambiance while you peddle together around the lake.
You will need to reserve a Swan Boat in advance, so be sure to book before embarking on this fantastic couples activity in Los Angeles!
Japanese Garden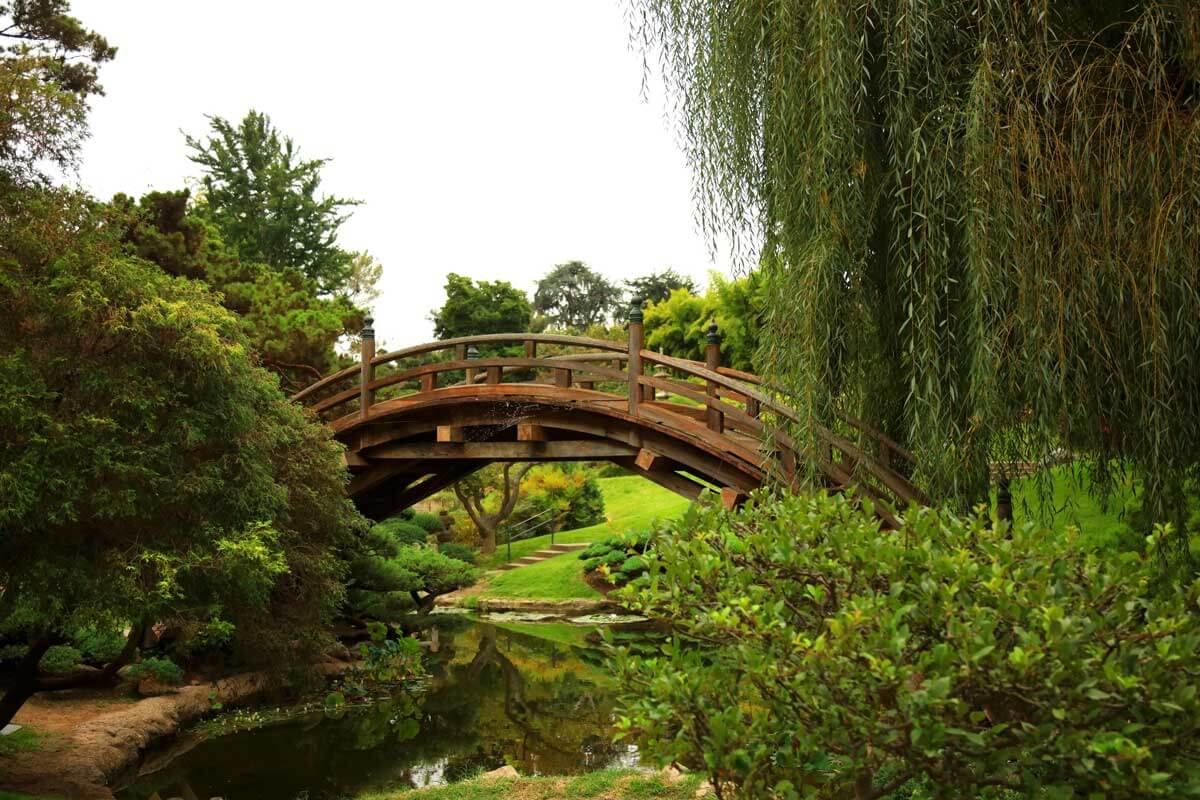 For a cute day date idea and one of the most romantic things to do in Los Angeles, scope out the idyllic Japanese Garden. Spread out on 6 ½ acres, a dry Zen meditation garden, a "wet-strolling" garden, and a tea garden comprise the overall Japanese Garden.
You can make your way through the gardens, and take in the serene and peaceful atmosphere. There is no fee for admission, but reservations are required and a reservation will get you a one hour time slot. For some quality time together, the Japanese Garden is one of the best date spots in LA.
Picnic at El Matador State Beach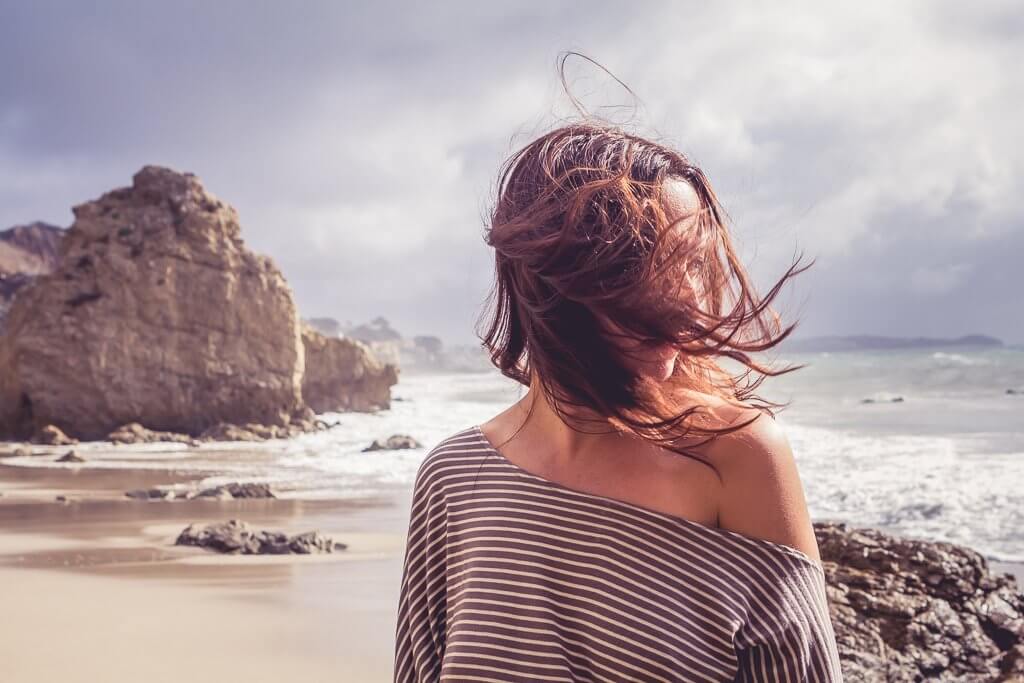 A picnic at the beach is, perhaps, one of the best romantic date ideas in Los Angeles. El Matador State Beach in Malibu is ideal for this date idea, because it has picnic tables that overlook the Pacific Ocean, and the actual beach is a short trail walk away. Not to mention this is one of the best beaches in Los Angeles.
For a great day date, drive out to Malibu, while enjoying the scenic Pacific Coast Highway. Stop in at Vintage Grocers to pick up some cheese and charcuterie, a bottle of wine (secretly, wink wink), and then make your way over to El Matador State Beach. Then you've got the perfect picnic by the ocean!
Getty Villa
The Getty Villa is one of the best date spots in LA for a great day outing. You and your date can explore the art and gardens that are on display at this museum. Inside the Getty Villa, there are exhibitions showcasing ancient Greek and Roman art, and outside there is a garden with a reflecting pool and walkways.
There is no fee for admission, just be sure to make a reservation in advance. This is a wonderful couples activity in Los Angeles. Afterward, check out some of the best things to do in Malibu to add on to your fun date!
Check out more amazing museums in Los Angeles too for more fun date ideas!
Grand Central Market
For a unique culinary experience to share with your date, Grand Central Market is the place to go. There are dozens of vendors, covering a variety of different cuisines, for you to taste.
You and your date can wander around the bright aisles and check out the offerings from all the different stalls. If your timing is right, you may be able to catch a live performance, or other event, at Grand Central Market. Be sure to include this date spot in Los Angeles on your list.
And while you're at it, if you and your date are having fun and you want to continue your day/night out, check out more of the fun things to do in Downtown Los Angeles to try out nearby.
Outdoor Movies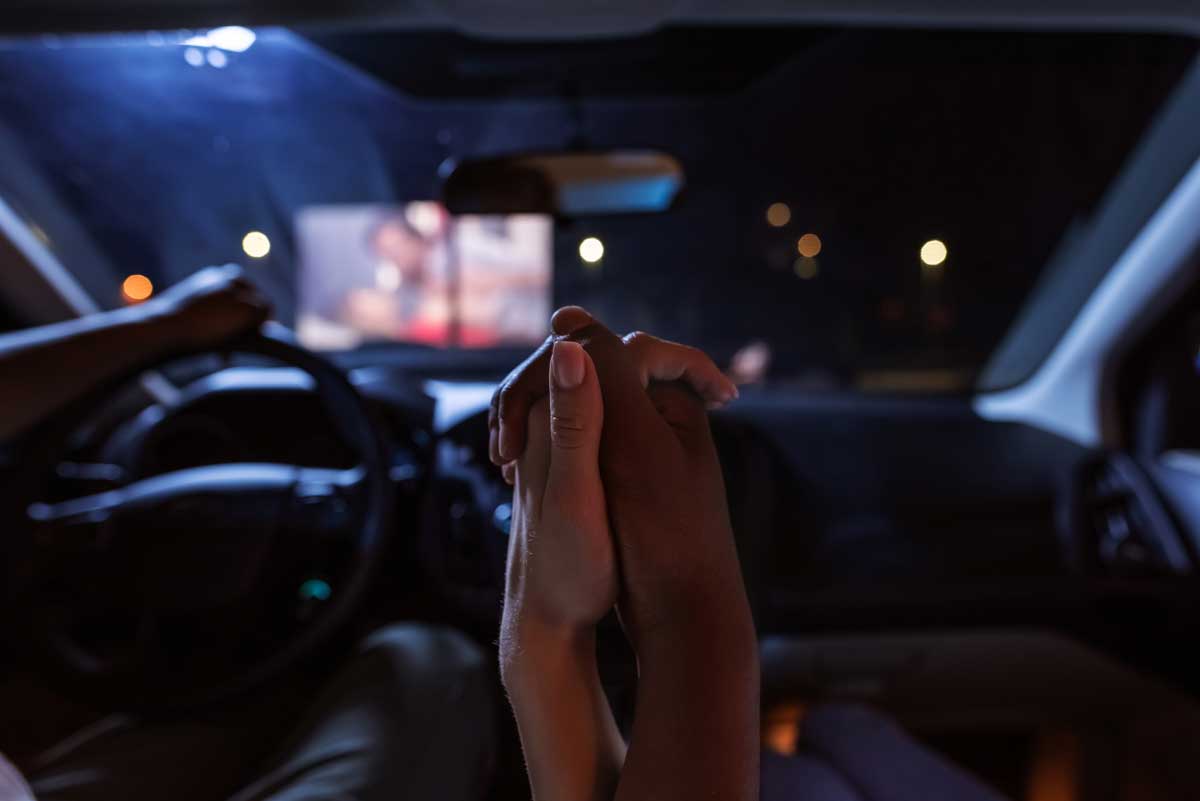 Dinner and a movie is a quintessential date idea in Los Angeles and just about everywhere, not to mention you're in Tinseltown. For a twist, take your date to an outdoor movie for a romantic date idea in Los Angeles.
The Rooftop Cinema Club offers views of the city, personal headphones, and food and drink while you relax in a deckchair and watch the movie of the evening.
If movies played in a cemetery are your thing, Cinespia plays films like Back To The Future and American Psycho in the Hollywood Forever Cemetery.
The Melrose Rooftop Theatre shows new and classic movies, which guests enjoy while drinking a cocktail and using provided wireless headsets.
And at the Vineland Drive-In, you can watch movies from the comfort of your car, as long as you've got an FM radio!
Highland Park Bowl
Having a playful time showing off your bowling skills is a fun couples activity in Los Angeles. Highland Park Bowl is a vintage bowling alley, located in a refurbished building that is almost 100 years old.
The establishment originally held doctors' offices, a pharmacy, music shop, and a recreation area. The building transformed over the years, and underwent a restoration in modern times to showcase the original look and feel of the place.
This is a great date spot in Los Angeles to have a fun time! Also, this is a great double date spot in LA too!
Hollywood Bowl
If you are in the mood to enjoy live music at an iconic venue in the city, seeing a performance at the Hollywood Bowl is the perfect date night in Los Angeles. Since opening its doors in 1922, this destination has garnered a reputation for being one of the best places to catch live music at an outdoor amphitheater.
Billie Holiday, The Beatles, and Yo-Yo Ma have performed in the Hollywood Bowl's recognizable band shell. Grab your date, and take in a show at one of the best date spots in Los Angeles.
Afternoon to Evening in Arts District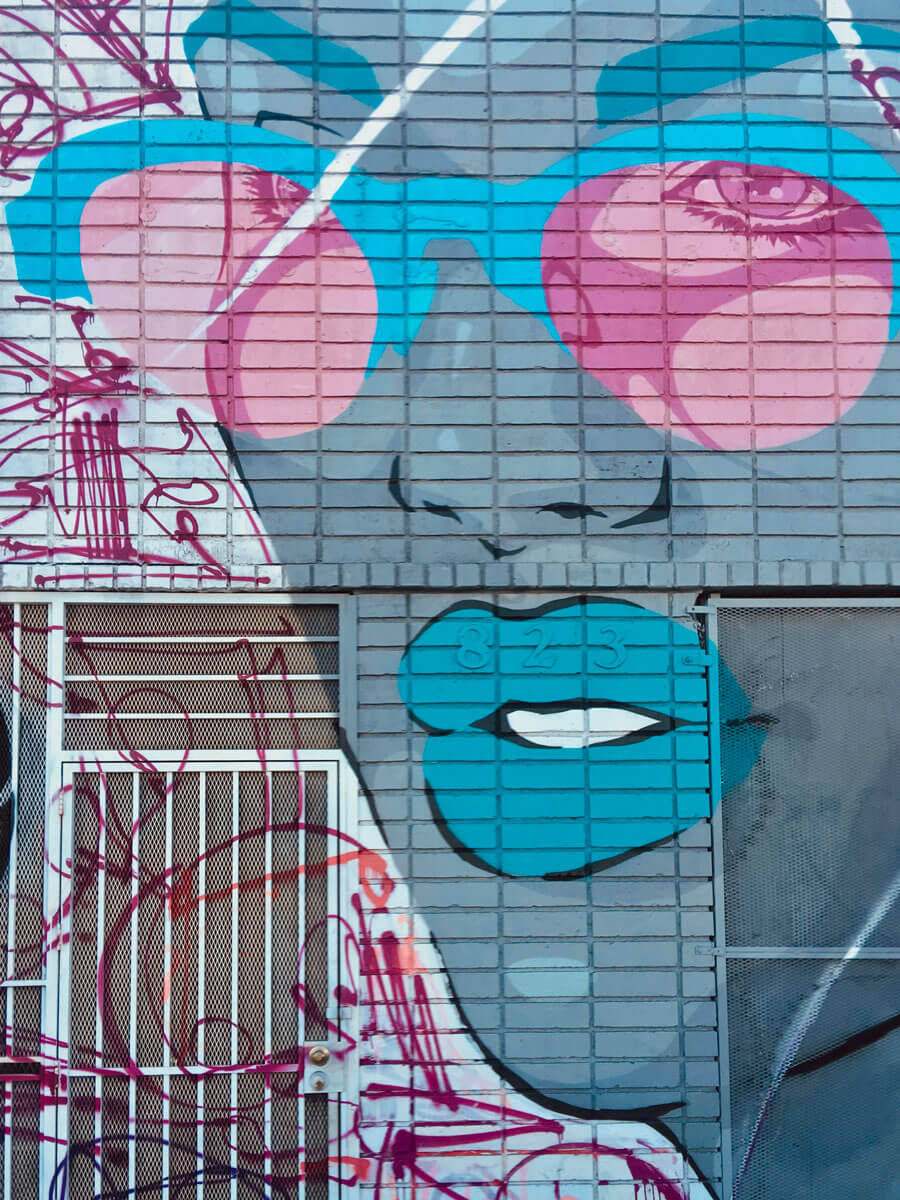 For a fun and easygoing date night in Los Angeles, head over to the Arts District for food, art, and fun! There are a variety of restaurants, bars, galleries, shops, and murals to see in this area. Start out walking around and popping in and out of various shops during the afternoon, like the Arts District Co-Op where artists sell their work.
Then head to one of the many restaurants or breweries for the evening, like Bavel for Middle Eastern cuisine. One cool place to check out is Two Bit Circus, which is a modern amusement park that has story rooms, virtual reality, and an arcade. With the variety of things to do here, the Arts District is one of the best date spots in LA.
Afternoon to Evening in Old Town Pasadena
Old Town Pasadena is the ideal spot for a date night in Los Angeles, because you've got restaurants and cafes, galleries, and live music.
Dos Besos is a lovely restaurant that serves Spanish and Mediterranean fare. The Norton Simon Museum is perfect to stop in and check out some art exhibits. The One Colorado courtyard hosts live music performances for you to listen to as you stroll around the area.
f you and your date are in the mood for dinner, drinks, and a show, IPIC Theater is the place to go. They show current and older movies, and offer favorites like nachos and chicken wings, to snack on while you enjoy the experience. IPIC also offers beer, wine, and cocktails, so if you get dinner elsewhere, you can still grab drinks here.
Huntington Library
Spending an afternoon to peruse the exhibits and explore the botanical gardens at Huntington Library is a great couples activity in Los Angeles. This establishment hosts an array of temporary and ongoing exhibits where you can look at antique books, American and European works of art, and other historical objects.
Once you've explored the Library, you can head over to the Huntington Botanical Gardens and saunter around the 16 themed gardens. If you get hungry or thirsty while you're visiting, there are a couple of cafes and a coffee shop. You can book a tour in advance, and it's worth checking out the blooming calendar to figure out the best gardens to visit.
First Fridays in Venice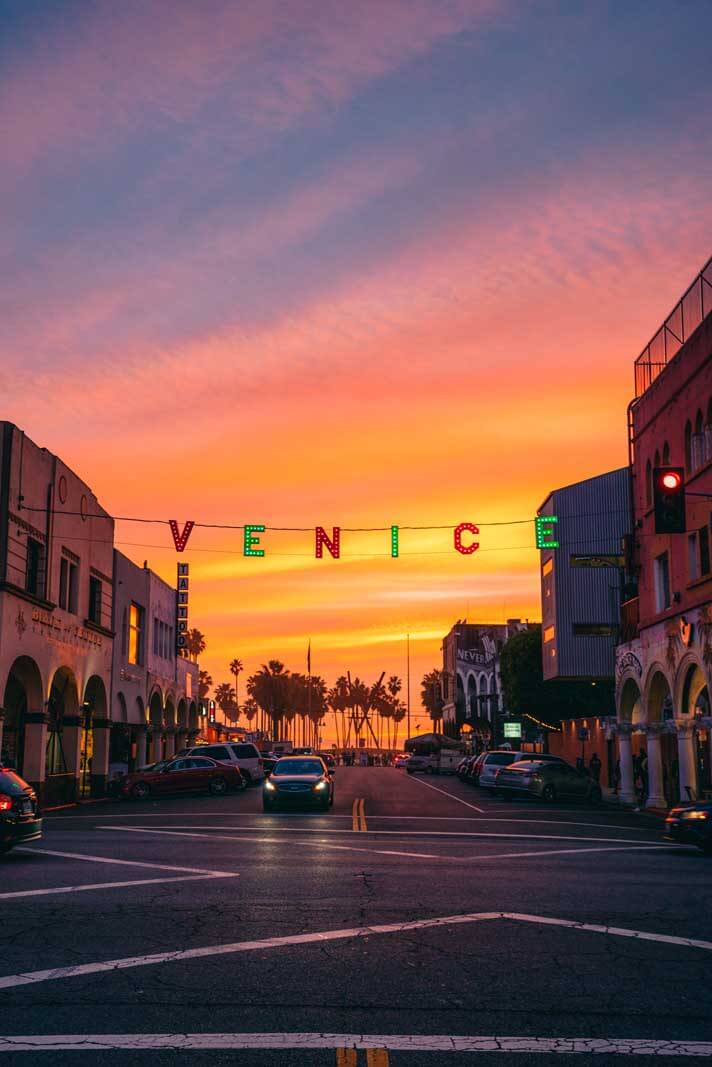 If it's the beginning of a new month, and you're looking for a couples activity in Los Angeles, check out First Fridays in Venice. This event is held on the first Friday of the month on Abbot Kinney Boulevard, and the big attraction is the diverse array of food trucks that set up there for the evening.
Once you've loaded up on food and drinks, you can head over to Palms Boulevard to grab a picnic table. And while you're in the area, you can stroll the Venice canals, and grab a sunset drink at a rooftop bar. High Rooftop Lounge and the Venice Whaler are a couple of the best rooftop bars in Venice.
This is a great place to come with your date and spend the evening enjoying each other's company. And while you're there, check out the best things to do in Venice Beach, or even if its not the first of the month there are plenty of date-friendly activities here too!