10 Restaurants you need to visit when in Shanghai
1)  Ultraviolet Address: UnknownPrice per head: £££££Opening times: 6.30pm – 11pm Cuisine: European, FrenchLaunched in 2012 by renowned chef Paul Pairet, Ultraviolet is a culinary experience like no other. Even getting to the restaurant is unusual, as the location of Ultraviolet is kept a secret. Instead diners must gather at Mr & Mrs Bund, another distinguished Pairet restaurant in Shanghai, from where they are escorted to Ultraviolet. The strangeness does not end here, walking into the venue you will find the dining area is an isolated room, where the walls have been wrapped in large monitors, and in the centre of the room a single table set for 10 guests. There is a 20-course set menu, with distinct music, smells and imagery to complement each course, creating a truly multisensory experience that overwhelms all 5-senses. Yet most importantly, the menu can stand on its own, and the everything else simply adds to rather than distracts from. As you probably suspect, reservations must be made months in advance.(Imagery courtesy of http://theshanghaikid.com/ultraviolet-shanghai-kid-review/). 2) 8½ Otto e Mezzo Bombana Address: 6th floor at Associate Mission historical building n.169 in Yuanmingyuan RoadPrice per head: ££££Opening times: 6pm-11pmCuisine: Italian 8½ Otto e Mezzo Bombana began in Hong Kong where it became the only Italian restaurant outside of Italy to receive 3-Michelin stars. Following on from its success, in 2012 Chef Umberto Bombana opened a branch in Shanghai. The restaurant is a celebration of all things Italian, starting with its name which is a nod to the classic Italian Federico Fellini film '8½'. The restaurant is located in the up-and-coming Rockbund district, adjacent to the bund. 8½ honours the 'less is more' mantra with the menu, which intricately balances the flavours of its obvious premium ingredients.  Menu highlights include the steamed lobster, the roasted veal chop and make sure to try 8½'s signature tiramisu. (Imagery courtesy of http://www.ottoemezzobombana.com/shanghai/).3) Hakkasan Address: Level 5, Bund 18, 5/F 18 Zhongshan Dong Yi LuPrice per head: £££Opening times:Lunch: 11am – 2.30pm, Afternoon Tea: 2.30pm – 5pmDinner: Monday – Thursday - 5.30pm – 11pm, Friday – Saturday - 5.30pm – 12am, Sunday – 5.30pm – 10.30pmCuisine: Chinese, Cantonese Hakkasan is a Michelin-starred Chinese chain that somewhat unconventionally comes to China from London. The restaurant interior is sleek and modern yet at the same time comfortable, comprising of a consortium of dark colours broken up by blue and white lights. Housed in the Bund 18 building, the restaurant also provides spectacular views of the Shanghai skyline. The menu is formulated by chef Tong Chee Hwee and takes inspiration from Cantonese cuisine. Whilst the restaurants signature Peking duck does come at a hefty price tag of 1,288RMB, it is well worth the price. The duck is sautéed in your choice of sauce and accompanied by freshly steamed pancakes layered with baby cucumber julienne and mounds of caviar. However, if you don't want to spend almost 1300RMB on a single dish, the rest of Hakkasan's menu is also very strong. Additional recommendations include the dim sum platter, the silver cod with champagne and honey and the stir-fry black pepper Angus rib eye. (Imagery courtesy of http://www.thatsmags.com/shanghai). 4) Lost Heaven Address: No. 17 Yan An East R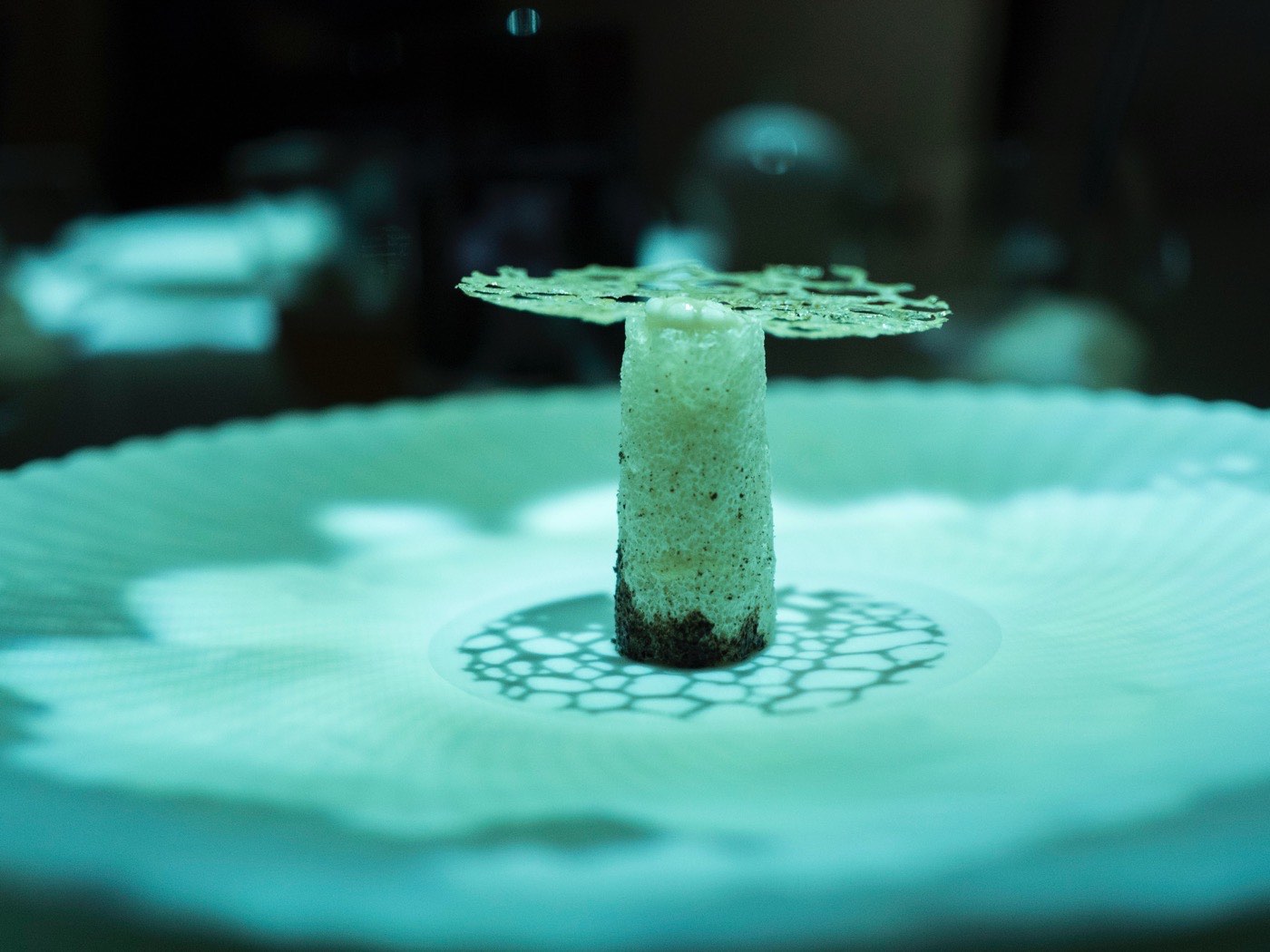 Address: Unknown
Price per head: £££££
Opening times: 6.30pm – 11pm
Cuisine: European, French
Launched in 2012 by renowned chef Paul Pairet, Ultraviolet is a culinary experience like no other. Even getting to the restaurant is unusual, as the location of Ultraviolet is kept a secret. Instead diners must gather at Mr & Mrs Bund, another distinguished Pairet restaurant in Shanghai, from where they are escorted to Ultraviolet. The strangeness does not end here, walking into the venue you will find the dining area is an isolated room, where the walls have been wrapped in large monitors, and in the centre of the room a single table set for 10 guests.
There is a 20-course set menu, with distinct music, smells and imagery to complement each course, creating a truly multisensory experience that overwhelms all 5-senses. Yet most importantly, the menu can stand on its own, and the everything else simply adds to rather than distracts from. As you probably suspect, reservations must be made months in advance.
(Imagery courtesy of http://theshanghaikid.com/ultraviolet-shanghai-kid-review/).
2) 8½ Otto e Mezzo Bombana
Address: 6th floor at Associate Mission historical building n.169 in Yuanmingyuan Road
Price per head: ££££
Opening times: 6pm-11pm
Cuisine: Italian
8½ Otto e Mezzo Bombana began in Hong Kong where it became the only Italian restaurant outside of Italy to receive 3-Michelin stars. Following on from its success, in 2012 Chef Umberto Bombana opened a branch in Shanghai. The restaurant is a celebration of all things Italian, starting with its name which is a nod to the classic Italian Federico Fellini film '8½'. The restaurant is located in the up-and-coming Rockbund district, adjacent to the bund. 8½ honours the 'less is more' mantra with the menu, which intricately balances the flavours of its obvious premium ingredients. Menu highlights include the steamed lobster, the roasted veal chop and make sure to try 8½'s signature tiramisu.
(Imagery courtesy of http://www.ottoemezzobombana.com/shanghai/).
3) Hakkasan
Address: Level 5, Bund 18, 5/F 18 Zhongshan Dong Yi Lu
Price per head: £££
Opening times:
Lunch: 11am – 2.30pm, Afternoon Tea: 2.30pm – 5pm
Dinner: Monday – Thursday - 5.30pm – 11pm, Friday – Saturday - 5.30pm – 12am, Sunday – 5.30pm – 10.30pm
Cuisine: Chinese, Cantonese
Hakkasan is a Michelin-starred Chinese chain that somewhat unconventionally comes to China from London. The restaurant interior is sleek and modern yet at the same time comfortable, comprising of a consortium of dark colours broken up by blue and white lights. Housed in the Bund 18 building, the restaurant also provides spectacular views of the Shanghai skyline. The menu is formulated by chef Tong Chee Hwee and takes inspiration from Cantonese cuisine. Whilst the restaurants signature Peking duck does come at a hefty price tag of 1,288RMB, it is well worth the price. The duck is sautéed in your choice of sauce and accompanied by freshly steamed pancakes layered with baby cucumber julienne and mounds of caviar. However, if you don't want to spend almost 1300RMB on a single dish, the rest of Hakkasan's menu is also very strong. Additional recommendations include the dim sum platter, the silver cod with champagne and honey and the stir-fry black pepper Angus rib eye.
(Imagery courtesy of http://www.thatsmags.com/shanghai).
4) Lost Heaven
Address: No. 17 Yan An East Road, No. 38, Gao You Road
Price per head: ££
Opening times: Lunch: 12pm-2pm,
Dinner: 5.30pm-10.30pm
Cuisine: Chinese, Yunnan
Lost heaven takes inspiration from Yunnan cuisine, this region houses a large number of ethnic minorities and these influences can be seen in its food. Lost Heaven has two locations in Shanghai, the first in the former French concession and the second near the Bund area; both locations decorations stylishly infuse opulent dark wooden furniture and flooring with Yunnanese folk-inspired decor, all being cascaded over by soft lighting. The restaurants do get extremely busy, even still the service remains impeccable throughout the evening. The menu infuses traditional Yunnan cooking, with Western and Southeast Asian flavours; recommended dishes include the Dai li style chicken with chilli & green onions, Steamed cod with Dai Tribe salt black bean and the Yunnan style hot & spicy tofu.
(Imagery courtesy of http://lostheaven.com.cn/restaurant/lost-heaven/).
5) Fu He Hui
Address: 1037 Yuyuan Road, Changning District
Price per head: £££
Opening times: Lunch: 11am - 2pm
Dinner: 5.30pm - 11pm
Cuisine: Chinese, Shanghainese, Vegetarian
Fu He Hui, directly translating to Fortune Harmony Wisdom is a vegetarian restaurant conceptualized by Chef Tony Lu and Fang Yuan; the duo behind the acclaimed Fu 1015, Fu 1039 and Fu 1088 restaurants. The venue is decorated in a museum-worthy display of Ming and Qing dynasty artefacts and provides a tranquillity that instantly transports you away from the bustling Shanghai streets outside the front door. Diners have a choice of eight-course tasting menus ranging in price from RMB 380 to 880. The menu is seasonal; however, dishes are designed to highlight complementary textures, alongside creative and delicate refined flavours.
A word of advice, when presented with the walnut bowl, make sure to crack into the real walnuts; roasted to perfection, with a fudge like centre, they will undoubtedly be the most delicious walnuts you have ever tasted.
(Imagery courtesy of https://www.ft.com/content/362ccbd6-d5ca-11e5-829b-8564e7528e54).
6) Yang's dumpling
Address: Multiple
Price per head: £
Opening times: 6.30am - 8pm
Cuisine: Chinese, Shanghainese
Yang's dumplings started life as a humble food stall and has now blossomed into a successful restaurant chain, with over 140 locations in Shanghai. The chain is known for its sheng jian bao, a pan-fried pork dumpling; be careful when eating these fluffy delights, the broth inside is boiling. The key is to nibble at the top of the dumpling, then gently slurp on its juices to cool it down, before going in for a proper bite. At 8RMB for 4 dumplings, these succulent freshly made dumplings are extremely good value for money.
(Imagery courtesy of http://www.thatsmags.com/shanghai).
7) Jia Jia Tang Bao
Address: 90 Huanghe Lu
Price per head: £
Opening times: 6.30am – 8pm
Cuisine: Chinese, Shanghainese
We now move on to Shanghai's other famed dumpling, Xiao Long Bao, a steamed soup dumpling. Excellent Xiao Long Bao can be brought from another chain with locations across Shanghai called Din Tai Fung. However, if you want the best Xiao Long Bao you need to head to a small shop near the people's square called Jia Jia Tang Bao. The shop itself is unassuming but you will be able to recognise it by the massive queues that never seem to fade. The staff speak very little English, but you can ask for an English menu, which comprises of 8 fillings; pork, shrimp & pork, chicken & pork, egg & pork, crab roe & pork, chicken, shrimp and crab roe. Prices range from 13RMB through to 99RMB for a dozen dumplings. The shop closes when they sell out, this is usually around late afternoon or early evening, but be aware that close to the closing time many of the fillings may be sold out.
(Imagery courtesy of https://foursquare.com/dixsonlv).
8) Xindalu
Address: 1st floor, East Tower, Hyatt on the Bund, 199 Huangpu Lu
Price per head: £££
Opening times: 11.30am-2.30pm, 5.30-10.30pm
Cuisine: Chinese, Shanghainese
Xindalu can be found in the lobby of the Hyatt on the Bund, its menu draws upon the various states of China, with an emphasis on Shanghai, Suzhou and Hangzhou. Whilst the whole menu is solid, the restaurant is renowned for its Peking duck, Beggar's chicken and Pyramid braised pork, which is its adaptation of tung po. The Peking duck is cooked in specially imported ovens from Beijing that are fuelled on freshly cut wood from apple and date trees, this infuses the duck with distinct aromatic flavours that has put it in the conversation for the best Peking duck in the city. The Beggar's Chicken is equally as impressive, however if you wish to enjoy this dish, it must be ordered 24hours in advance of your arrival. (Note: it also worth ordering the Peking duck in advance, to guarantee that you don't miss out on the experience). What's more, the restaurant has an open kitchen, allowing you to watch the chefs prepare your food, which only adds to the theatre of your visit.
(Imagery courtesy of https://chope.net.cn/shanghai-restaurants/).
9) Xibo
Address: 83 Changshu Rd, Jingan Qu, 3/F, 1/F, Bldg 5, 99 Jiangwancheng Lu, 2/F, No. 16, Building F, Lane 281 Maoming Bei Lu
Price per head: ££
Opening times: 12pm – 11.30pm
Cuisine: Chinese, Xinjiang
Established in 2009, Xibo celebrates the cuisine of Xinjiang, the most north-westerly province of China. Originally opening in Changshu Lu, the brand has now expanded into three branches across Shanghai. The restaurant has managed to refine traditional Uyghur dishes, whilst maintaining the same hearty and comforting bold flavours associated with the region. Some menu favourites include its cold appetiser of noodles, with chicken and cilantro, its lumpia wrappers stuffed with scallions and red peppers in a spicy black bean sauce, and its fried lamb and bread salad, which may not be a salad in the typical sense but is a delight.
(Imagery courtesy of http://www.xiboxinjiang.com/).
10) The Chop Chop Club
Address: Three on the Bund, 2/F, 17 Guangdong Lu
Price per head: £££
Opening times: 6pm-11pm
Cuisine: European, French
Chef Paul Pairet was mentioned earlier in this list with his restaurant Ultraviolet, however, with a capacity of 10 it is extremely difficult to gain a reservation, and with this reservation comes a hefty price tag (4000RMB per head). Whilst his other restaurant Mr and Mrs Bund is slightly easier to get a reservation for, the bill is still not for the faint hearted. The Chop Chop Club allows you to experience Chef Pairet at a much more affordable price, however, as you would expect from Pairet, it is not your traditional dining experience. The restaurant draws inspiration from the family dining dynamic; home meals aren't made to order or chosen from a menu, instead you are called to the table when the food is cooked, and you eat whatever is prepared. In this fashion, at The Chop Chop Club, dishes are prepared for specific timeslots and it is up to the diners to get the food they wish to purchase when it is made.
This is done over two sittings, with each sitting serving around 7 or 8 mains, and each main only being served in a specific 15-minute time interval. Make sure to be quick when ordering, as there is a finite quantity made for each interval, and with other diners competing to get the dish, they don't stick around for too long, hence the name "chop chop". This process becomes far easier to understand once you look at the prototype menu below:
For example, if you wished to eat the Vineyard Chargrilled Cote de Boeuf Bernaise, you would order this at 7pm. Conversely, if you wanted the Chargrilled Chicken Americaine Lemon & Garlic, this would be available at 8.45pm.
(Imagery courtesy of http://www.unicoshanghai.com/ccc/).
Key:
£ 0-100 RMB per head
££ 100-300 RMB per head
£££ 300-1000 RMB per head
££££ 1000-2500 RMB per head
£££££ 2500+ RMB per head
Team T.G.