10 Awesome Day Trips from Portland, Oregon
Paying a visit to the Pacific Northwest? These day trips from Portland, Oregon feature some of the best highlights of the region.  Whether you live in Portland, Oregon, are just visiting the city, or are on a larger Oregon road trip, you'll be blown away by the amazing things found in the city and nearby. From city tours to outdoor adventures to delicious food, there are many great day trips from Portland. Don't have a car? Don't worry, some of these Portland day trips also have tour options you can join so you'll be in good care with an expert guide. Gather some friends, blast some music, and grab some snacks before you hit the road and explore these epic places around Oregon and Washington. Disclaimer: This post contains commissionable links.  Best Day Trips from Portland, Oregon Mount St. Helens Just about a 2-hour drive from Portland sits the famous volcano, Mount St. Helens, which is without a doubt one of the most popular day trips from Portland. You've probably heard of Mount St. Helens before, this active volcano gained its fame from its 1980 eruption, one of the biggest volcanic explosions on record in North America. It's actually considered the most active volcano in the Cascade Mountain Range. At the Johnston Ridge Observatory, you can view the volcano from the north side, where the eruption happened.  There are a few short trails to wander around and read informational signs to learn more about the mountain, plus an indoor visitor center with more information. If you have a bit more time, head out onto the 8-mile Harry's Ridge trail to explore more of the blast zone and hike down to Spirit Lake. On the southern side of the mountain, you'll find Ape Cave, one of the longest lava tubes in the country. Head underground and navigate your way through 2-miles of darkness and a truly unique hike. Other fantastic quick-stopping points include Lahar Viewpoint, the mudflow area from the eruption of Mount St Helens that offers a great view of the south side of the volcano. Another option is the Trail of Two Forests, which is literally visiting two different forests that have about 2,000 years difference. The one forest has a ton of greenery including trees, ferns, moss, and shrubs that were once covered in lava nearly 2,000 years ago. The other forest is the 'ghosts of trees that once stood here. You can visit both on a .25-mile loop which also has the option of crawling through a lava tube along the path. Try a Tour!  This full day trip and tour to Mount St. Helens includes everything you need from pick up and drop off at your hotel, to food, snacks, and all the gear you'll need along with an experienced guide to take you on an epic guided day trip from Portland to Mount St Helens. On this tour, your professional guide with take you hiking, climbing, and crawling (through lava tubes) on this epic adventure including stops at the Ape Cave, viewpoints of the volcano, views of Spirit Lake, a climb to see other mountains including Mt. Hood and Mt. Rainer (to name a few), as well as walk through the old growth forests and see a waterfall! Book your full-day Mount St Helens Tour here. Mount Hood As the tallest mountain in Oregon and one of the closest volcanoes to Portland, it's a must to head to Mount Hood as a day trip from Portland. The beautiful 11,249-foot stratovolcano features hikes, skiing, and incredible views. You can even spot Mount Hood all the way from Portland on a clear day. One of the best things to do near Mount Hood in the winter is to head up for a day of skiing on one of the three resorts. Mt. Hood Ski Bowl is at the lowest elevation, while Mount Hood Meadows and Timberline Lodge are both a bit higher on the mountain. All three offer great skiing and snowboarding as well as epic views all the way down to Mount Jefferson in the south and Mount St. Helens to the north. If you're visiting in the summer, hiking is one of the best ways to see the area. Tamanawas Falls is a shorter hike to a waterfall and Tom, Dick, & Harry Mountain is a 9-mile trail to a viewpoint of Mount Hood. Trillium Lake is a beautiful easy hike around the lake that features one of the best views of Mount Hood. Since Mount Hood is only 1.5 hours from Portland, it's the perfect way to spend a day and an easy day trip from Portland, Oregon if you're looking for some outdoor adventures. Try a Tour!  Enjoy a full day tour from Portland to Mount Hood taking in all the majestic beauty of the Columbia River Gorge with a small guided tour that stops at Multnomah Falls, Timberline Lodge, as well as stops in the city of Hood River. Book this day tour here. This day tour to Mount Hood National Park comes with a professional guide and transportation along with some of the best stops the region has to offer. You'll make your way through the Historic Columbia River Highway to enjoy different viewpoints and stops that offer incredible views of the Columbia River Gorge and surrounding mountains as well as water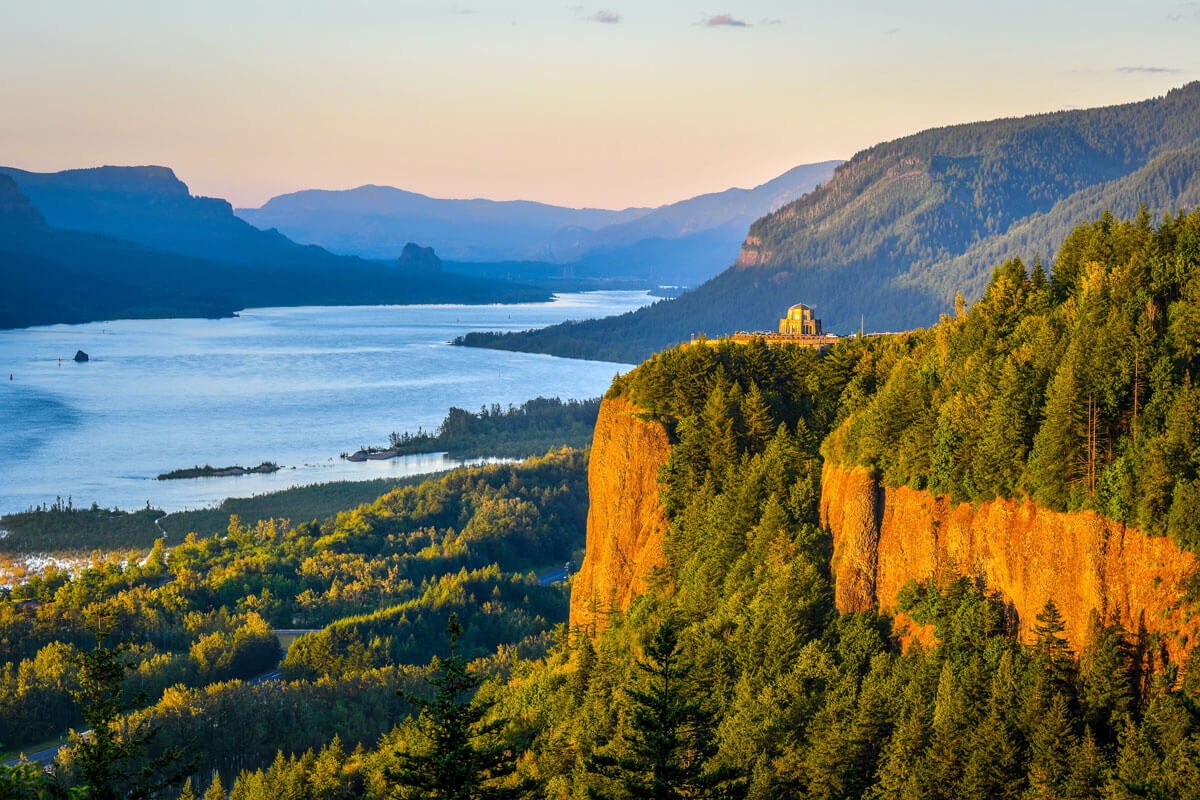 Paying a visit to the Pacific Northwest? These day trips from Portland, Oregon feature some of the best highlights of the region.
Whether you live in Portland, Oregon, are just visiting the city, or are on a larger Oregon road trip, you'll be blown away by the amazing things found in the city and nearby. From city tours to outdoor adventures to delicious food, there are many great day trips from Portland.
Don't have a car? Don't worry, some of these Portland day trips also have tour options you can join so you'll be in good care with an expert guide.
Gather some friends, blast some music, and grab some snacks before you hit the road and explore these epic places around Oregon and Washington.
Disclaimer: This post contains commissionable links.
Best Day Trips from Portland, Oregon
Mount St. Helens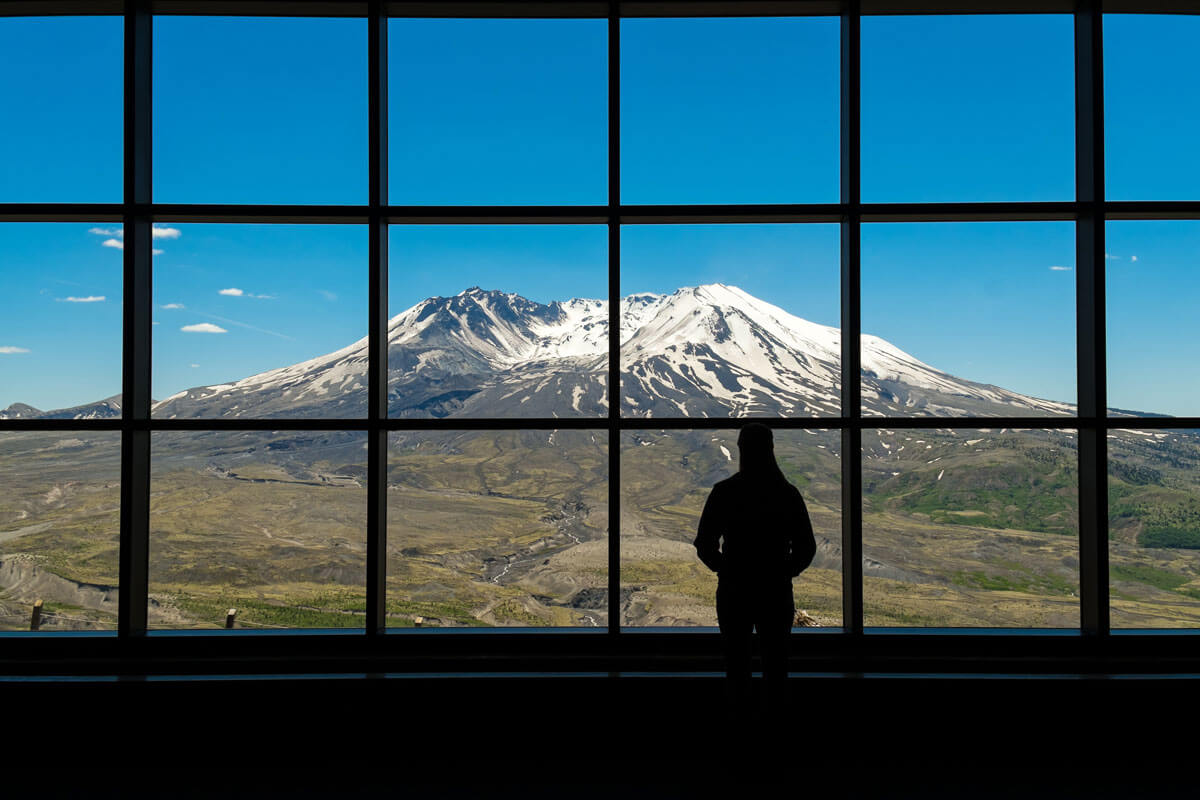 Just about a 2-hour drive from Portland sits the famous volcano, Mount St. Helens, which is without a doubt one of the most popular day trips from Portland.
You've probably heard of Mount St. Helens before, this active volcano gained its fame from its 1980 eruption, one of the biggest volcanic explosions on record in North America. It's actually considered the most active volcano in the Cascade Mountain Range.
At the Johnston Ridge Observatory, you can view the volcano from the north side, where the eruption happened.
There are a few short trails to wander around and read informational signs to learn more about the mountain, plus an indoor visitor center with more information.
If you have a bit more time, head out onto the 8-mile Harry's Ridge trail to explore more of the blast zone and hike down to Spirit Lake. On the southern side of the mountain, you'll find Ape Cave, one of the longest lava tubes in the country. Head underground and navigate your way through 2-miles of darkness and a truly unique hike.
Other fantastic quick-stopping points include Lahar Viewpoint, the mudflow area from the eruption of Mount St Helens that offers a great view of the south side of the volcano.
Another option is the Trail of Two Forests, which is literally visiting two different forests that have about 2,000 years difference. The one forest has a ton of greenery including trees, ferns, moss, and shrubs that were once covered in lava nearly 2,000 years ago. The other forest is the 'ghosts of trees that once stood here. You can visit both on a .25-mile loop which also has the option of crawling through a lava tube along the path.
Try a Tour!
This full day trip and tour to Mount St. Helens includes everything you need from pick up and drop off at your hotel, to food, snacks, and all the gear you'll need along with an experienced guide to take you on an epic guided day trip from Portland to Mount St Helens.
On this tour, your professional guide with take you hiking, climbing, and crawling (through lava tubes) on this epic adventure including stops at the Ape Cave, viewpoints of the volcano, views of Spirit Lake, a climb to see other mountains including Mt. Hood and Mt. Rainer (to name a few), as well as walk through the old growth forests and see a waterfall! Book your full-day Mount St Helens Tour here.
Mount Hood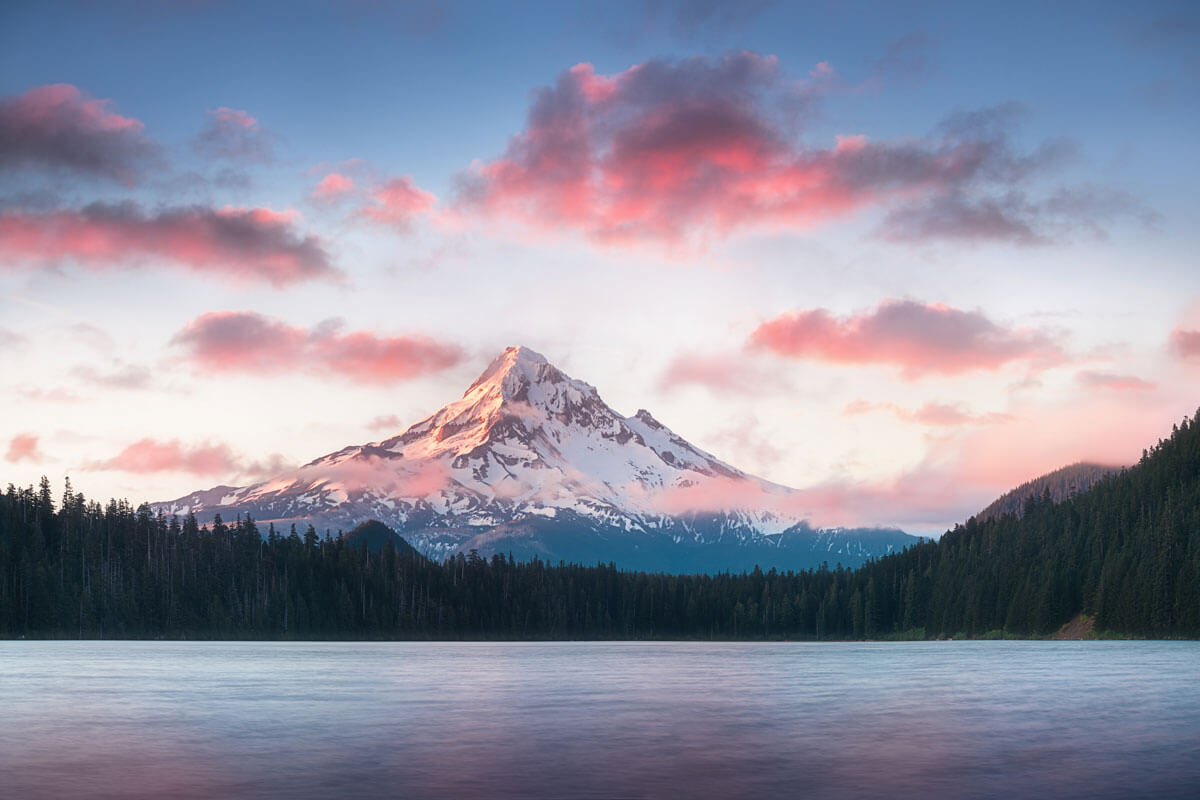 As the tallest mountain in Oregon and one of the closest volcanoes to Portland, it's a must to head to Mount Hood as a day trip from Portland. The beautiful 11,249-foot stratovolcano features hikes, skiing, and incredible views.
You can even spot Mount Hood all the way from Portland on a clear day.
One of the best things to do near Mount Hood in the winter is to head up for a day of skiing on one of the three resorts. Mt. Hood Ski Bowl is at the lowest elevation, while Mount Hood Meadows and Timberline Lodge are both a bit higher on the mountain.
All three offer great skiing and snowboarding as well as epic views all the way down to Mount Jefferson in the south and Mount St. Helens to the north.
If you're visiting in the summer, hiking is one of the best ways to see the area. Tamanawas Falls is a shorter hike to a waterfall and Tom, Dick, & Harry Mountain is a 9-mile trail to a viewpoint of Mount Hood. Trillium Lake is a beautiful easy hike around the lake that features one of the best views of Mount Hood.
Since Mount Hood is only 1.5 hours from Portland, it's the perfect way to spend a day and an easy day trip from Portland, Oregon if you're looking for some outdoor adventures.
Try a Tour!
Enjoy a full day tour from Portland to Mount Hood taking in all the majestic beauty of the Columbia River Gorge with a small guided tour that stops at Multnomah Falls, Timberline Lodge, as well as stops in the city of Hood River. Book this day tour here.
This day tour to Mount Hood National Park comes with a professional guide and transportation along with some of the best stops the region has to offer. You'll make your way through the Historic Columbia River Highway to enjoy different viewpoints and stops that offer incredible views of the Columbia River Gorge and surrounding mountains as well as waterfall stops like Latourell Falls and Multnomah Falls. As well as stops in Hood River, farm stands, and Timberline Lodge for great views of Mount Hood. Book this Mount Hood day tour here.
This flight tour of Mount Hood is one of the most unique ways to see the beauty of this region from above! Guests will have incredible aerial views of the Columbia River Gorge passing sights like Multnomah Falls and Mount Hood! Book your Flightseeing Tour of Mount Hood here.
Bend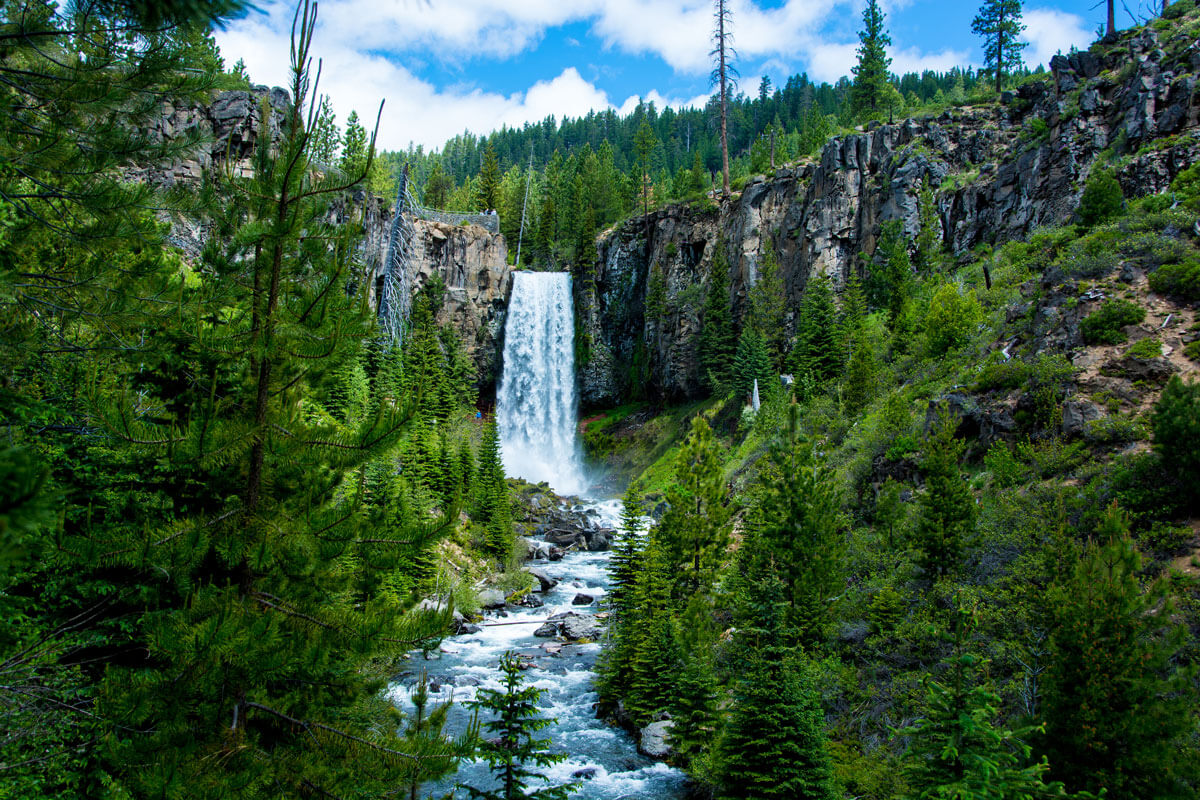 One of the furthest day trips from Portland on this list is Bend, Oregon, which is just over a 3 hour drive, but worth it! But if you're a planner and able to make it an earlier morning, head down into central Oregon and do some exploring.
Within just a few minutes of town, you'll find some epic hiking trails including Tumalo Falls, Tumalo Mountain, and Lava River Cave.
Just 30 minutes north of Bend, Smith Rock State Park is one of the best places for hiking in Oregon. It'll feel like you're on another planet if you climb to the top of Misery Ridge! Rock climbers also really enjoy visiting this state park because of the views and the epic climbing.
If you're visiting in the winter months, hit the slopes at Mount Bachelor Ski Resort, known to have some of the best skiing in the state. Or you can join a beer and snowshoeing tour, a 4-hour excursion where you get to drink local brews while taking in the mountain views while snowshoeing!
Aside from outdoor exploration, Bend also has a ton of breweries that are perfect for enjoying lunch or dinner. Or if you want to enjoy the local brews with the great outdoors, try this 4-hour tour kayaking the Cascade Lakes with local beer! What a way to make the most of your day trip from Portland to Bend!
The Old Mill District and downtown Bend are also great places to explore, especially if you're up for a bit of shopping.
Columbia River Gorge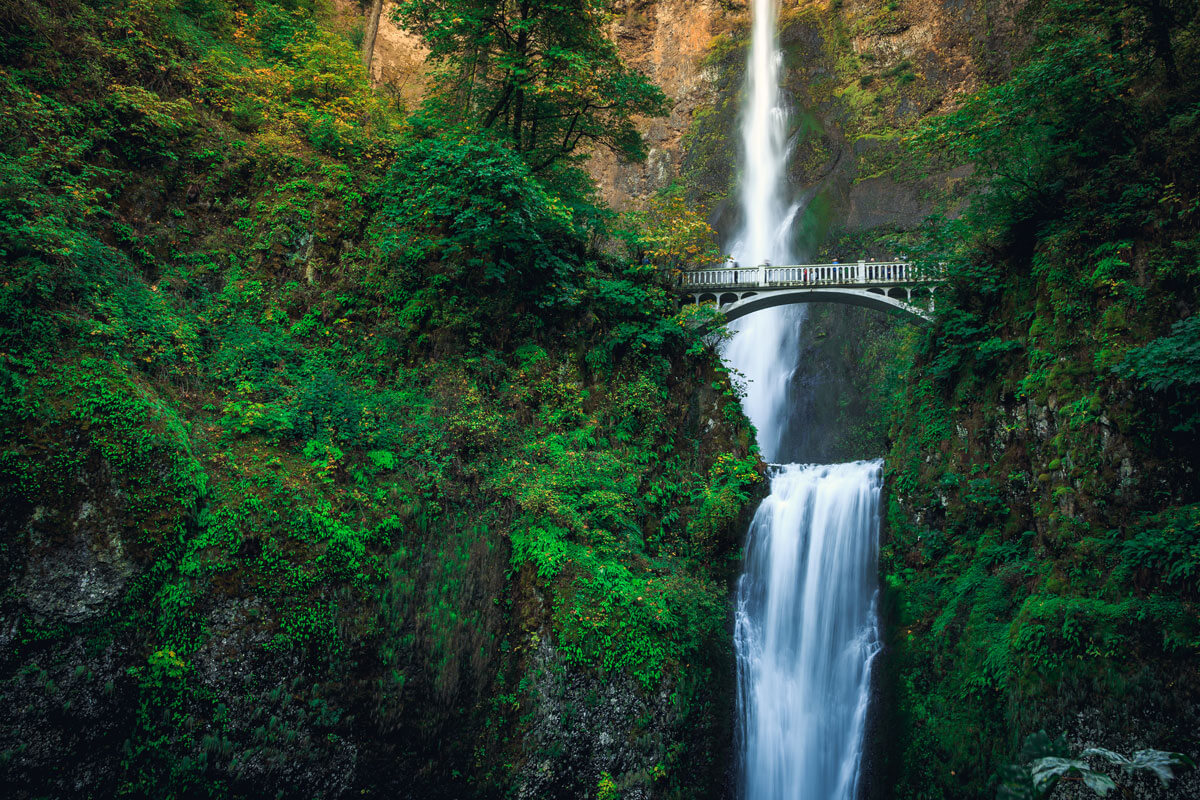 The closest place on this list of epic day trips from Portland is the Columbia River Gorge, which is only about 20 minutes from the center of Portland.
The Columbia River Gorge is an 80-mile-long deep canyon that cuts right through the Oregon and Washington border before it runs into the Pacific Ocean. Along both sides of the gorge, there are tons of beautiful hikes and places to explore.
On the Oregon side, there are over 90 waterfalls to see, many of which are right on the highway and easy to get to. Multnomah Falls is the tallest waterfall in Oregon and is accessible to most people because it's a short paved walk to the viewpoint.
The Vista House is a beautiful viewpoint where you can see high above the river. This served as a rest stop along the Historic Columbia River Gorge Highway and there are great views, a gift shop, and even tours here today.
On the Washington end of the Columbia River Gorge, be sure to check out Beacon Rock and Dog Mountain. These are some of the best hikes. Dog Mountain is especially beautiful in the spring when wildflowers start to bloom.
Spirit Falls is a one-of-a-kind waterfall that can only be reached by a really intense hike, but it's worth the effort and the potential to see kayakers making their way down the falls.
Try a Tour!
The Columbia River Gorge has a few great day trip options from Portland via a guided tour with a professional guide.
This half-day tour of Multnomah Falls and Columbia River Gorge starts in the morning where your driver/guide will pick you up from your Portland hotel and take you along the Columbia River Highway National Scenic Byway with stops at the falls of Multnomah, Latourell, and Bridal Veil before returning you back to your hotel. Book this half-day tour here.
This slightly longer half-day tour of Columbia River Gorge from Portland follows the route of the Lewis and Clark expedition making stops at Vista House at Crown Point and Multnomah Falls. This tour also leaves in the morning and is on a coach. You'll also pass other beautiful scenery and waterfalls along the way before being dropped back off in Portland. Book this half-day tour here.
Cannon Beach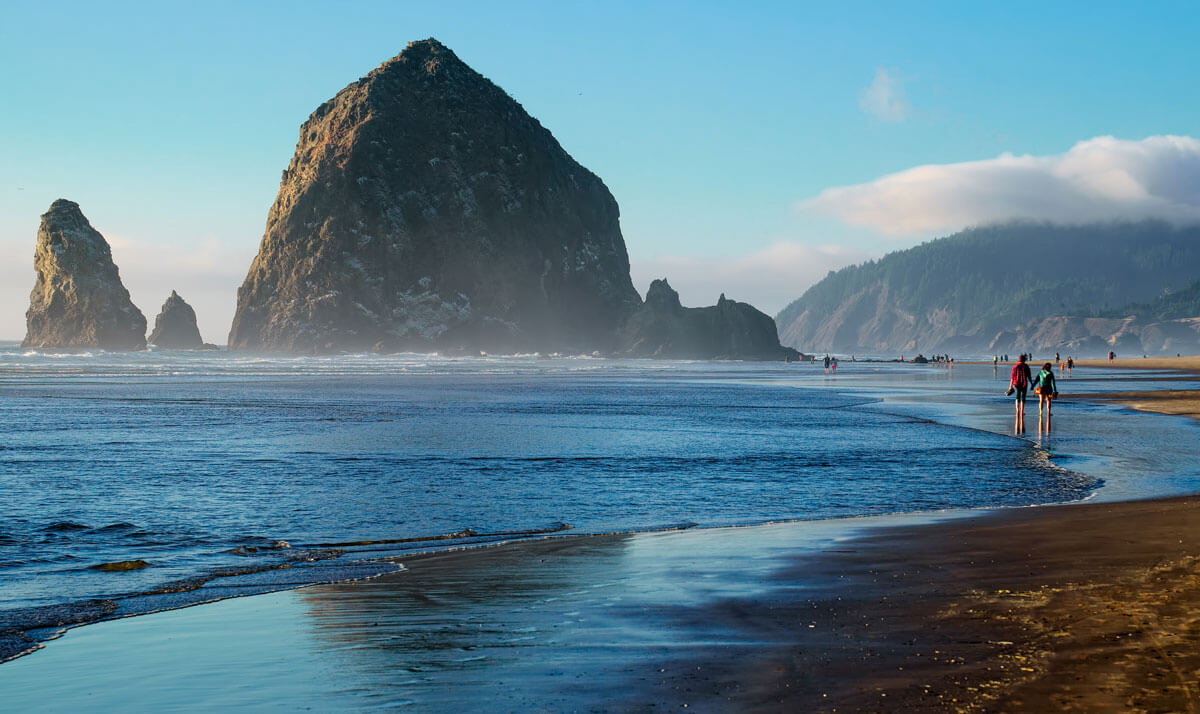 The Oregon Coast is one of the most beautiful places in the state to both explore and spend time relaxing. Perhaps the most popular place to visit is Cannon Beach, about 1.5 hours drive and one of the easiest day trips from Portland.
Once you've arrived at the beach, you'll be blown away by the phenomenal Haystack Rock jutting out in the Pacific Ocean. Admire this beautiful natural occurrence and be on the lookout for puffins, as they nest on the rock during certain months of the year.
Ecola State Park is a beautiful park near Cannon Beach that offers fantastic views of the Ocean and also allows you to see where popular movies such as "The Goonies" and "Twilight" have been filmed. If you thought that this place looked familiar, it's probably because it was in those famous films. Walk along the beach, look for shells, and even check out the tide pools when the tide is low.
Many people also enjoy having a bonfire on the beach, especially while watching the sunset behind the ocean waves.
For dinner, grab a bite to eat at the delicious Pelican Brewing and restaurant, not too far from the beach.
If you're finding you have extra time, head to the nearby city of Astoria which has more dining, shopping, and other fun things to do including finding more Goonies filming locations, hike to the Cathedral Tree, and check out the museums to name a few of the attractions here.
Try a Tour!
This full-day tour takes you to Cannon Beach from Portland and includes stops along the Oregon coastline with a guide including snacks and drinks! Stops include Ecola State Park, Indian Beach (if time permits), Cannon Beach, Neahkahnie Overlook, Oswald West State Park, and a short hike at Short Sand Creek to Smugglers Cove getting back to Portland in time for dinner in the city. Book this full-day tour here.
Silver Falls State Park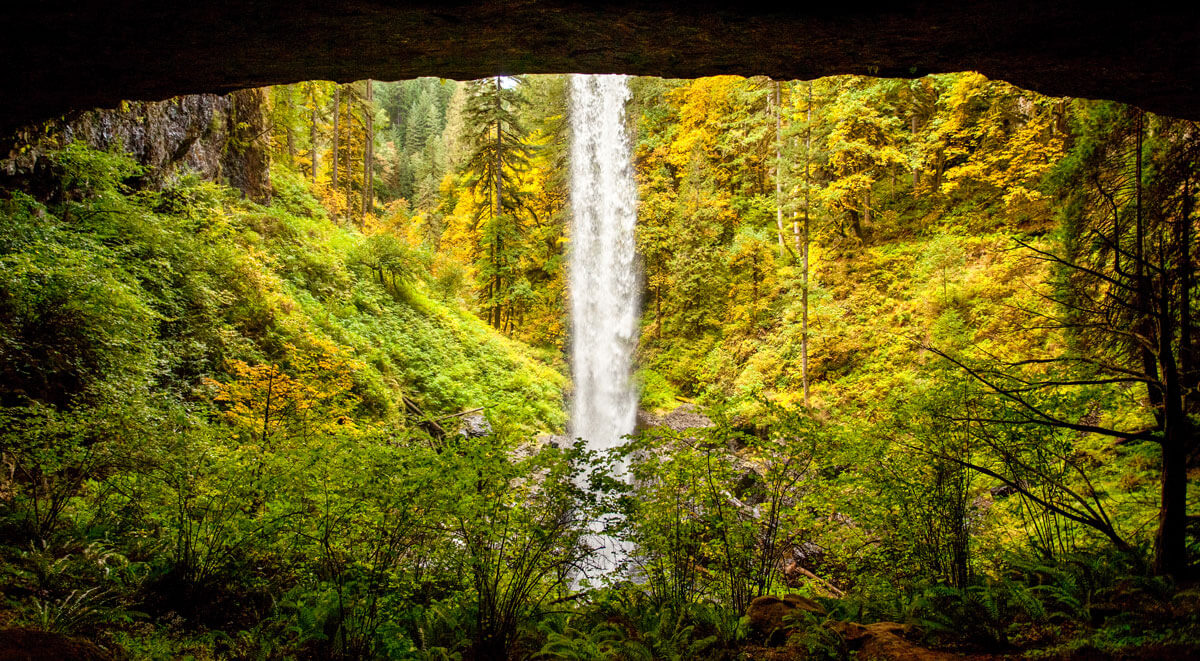 With so many beautiful waterfalls in Oregon, it's no surprise that one of the best day trips from Portland is to Silver Falls State Park. This state park has an 8-mile hike with 10 waterfalls right along the trail, hence the name, The Trail of Ten Falls.
Along this moderately challenging route, you'll pass 4 waterfalls that you can walk behind and feel the mist on your face. Some of them are shorter, while some are taller, but they're all spectacular to see. There are also many branches off on the trail, so it's easy to shorten the hike if you aren't feeling up for 8 miles.
After you've finished seeing the waterfalls, there's also a designated swimming area near the South Falls Day Use Area where you can cool down.
If you're in the mood for one more waterfall before you head back to Portland, Abiqua Falls is another option nearby. If you visit in the springtime, you'll be able to see the water flowing at its strongest for all of the falls!
Try a Tour!
Try this full day tour to Silver Falls State Park plus wine tasting in the Willamette Valley! This combination tour is 10 hours long and includes a morning hiking to the waterfalls of Silver Falls State Park with a picnic lunch. Afterward, you'll head to two of the best wineries in Willamette Valley to taste the region's specialty wine; Pinot Noir. Book this full-day waterfall and wine tour here.
Hood River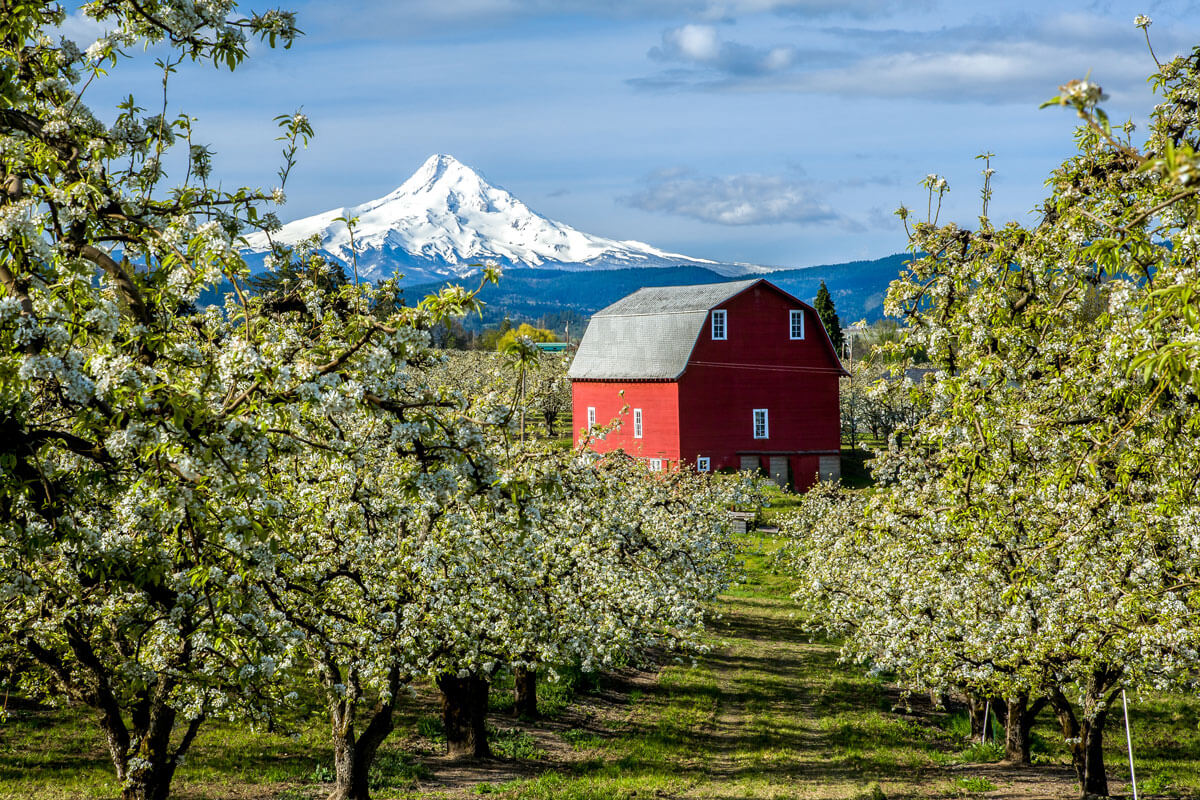 Another adorable town to visit on a day trip from Portland is Hood River. Located on the Columbia River Gorge, about an hour away, making it the perfect stop to pair with a waterfall tour on the gorge.
Known as the windsurfing capital of the world, a visit to Hood River is the perfect opportunity to give this unique sport a try. There are a few places around town to rent from and get lessons to better your skills!
While in Hood River, you must take a drive on the 'Fruit Loop,' a 35-mile loop with 27 farms filled with fruit stands, wineries, breweries, and flowers. The self-guided tour of these local farms is the perfect way to spend an afternoon. It's especially best during the summer when you can make a few stops at some of the fruit stands and pick your own delicious, locally grown produce along with the backdrop of Mount Hood!
During your visit, head up to Panorama Point to see an epic view of Mount Hood on a clear day. You may also even be able to spot Mount Adams. For lunch, make a stop at the delicious Broder Øst for a Scandinavian-inspired meal.
Mount Rainier National Park
Although also a bit further away, another one of the most epic Portland day trips is a visit to Mount Rainier National Park is a must-do on a beautiful, clear day.
This is one of the best day trips from Portland you can access in under a 3-hour drive because of how much beauty you'll be able to see in just one area and you'll be entering Washington State.
As the tallest peak in Washington, Mount Rainier dominates the skyline in Seattle (on a clear day) and surrounding areas. You'll likely see it long before you enter the park! Mount Rainer is 14,411 feet above sea level and truly is one of the most magical places in the state and the entire Pacific Northwest.
As soon as you drive into the park you'll be mesmerized by the mountain, but head out on a few hiking trails to truly experience this park. The Skyline Loop is one of the most popular with phenomenal views. Fremont Lookout is best for sunrise or sunset and gives a pretty great chance at seeing a cloud inversion. Naches Peak Loop is a moderately easy trail where you can see wildflowers surrounding the trail and views of Mount Rainier.
Mountain goats call Mount Rainier National Park home, so you may have the chance to see a few of these magical mountain creatures. If you prefer not to hike, even just a drive around the park will leave you feeling amazed.
Make stops at both the Paradise and Sunrise visitor centers and you'll still get epic views of the mountain without having to leave the parking lot!
Cape Kiwanda State Natural Area
This epic Oregon coast location is one of the best day trips from Portland that is similar to Cannon Beach but offers a bit more exploration opportunities. Cape Kiwanda State Natural Area is found in Pacific City, about 2 hours from Portland.
The huge rock jutting out from the ocean is enough to make you stand in awe at how incredible the coast is! Aside from the rock, you're able to climb some huge sand dunes to get a pretty spectacular view of the Pacific Ocean.
Once you've completed the tough hike to the top of the dune, you'll be met with views for miles in all directions of the water, beaches, towns, and more. The sandstone that lines the dunes is an orange color that contrasts beautifully with the blue of the ocean.
If you're up for trying something new or bettering your skills, many people also enjoy surfing at the beach and rentals are available nearby.
During the winter migration and spring migration seasons, you may be lucky enough to spot a gray whale migrating out in the ocean. Keep a close eye out for the spouts of air that they breathe out! Stay for sunset at Cape Kiwanda and you'll have experienced one of the most beautiful places on the Oregon coast!
Astoria
Another popular destination near the Oregon coast is Astoria, which sits on the Columbia River about 2 hours from Portland. This small town is the perfect destination for a bit of history, eating delicious food, and exploring movie filming locations.
One of the most unique things to do in Astoria is to visit Fort Stevens State Park which features an old shipwreck that's extremely easy to get to, the Peter Iredale Shipwreck.
Another fun adventure in Astoria is climbing to the top of the Astoria Column. After a 164-step climb, you'll be able to see for miles in all directions.
A visit to the Oregon Film Museum is a great time, where you can learn about many of the popular movies that have been filmed here, including The Goonies!
For lunch or dinner, grab a cup of clam chowder at the famous Mo's Seafood and Chowder. To make this day trip from Portland even more fun, pair Astoria with Cannon Beach for one epic adventure as it's not too far from here.